►
◄
latest
habitat tv
blog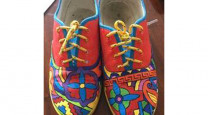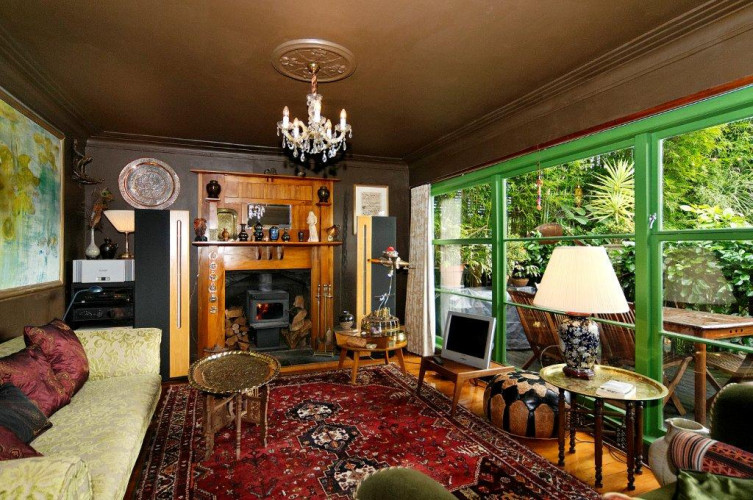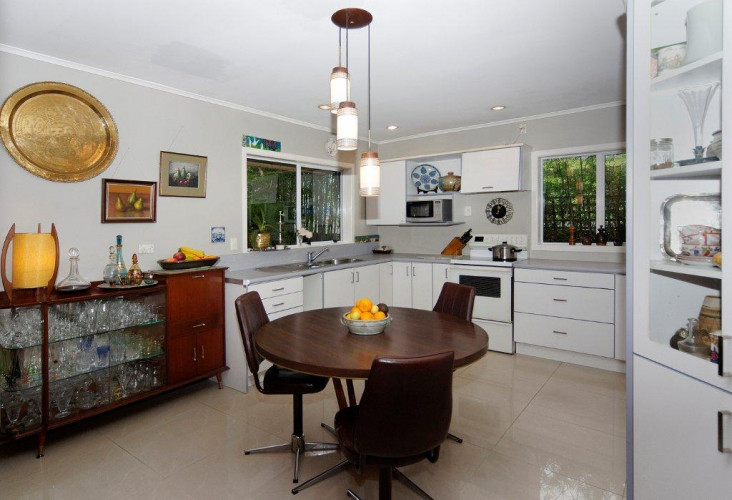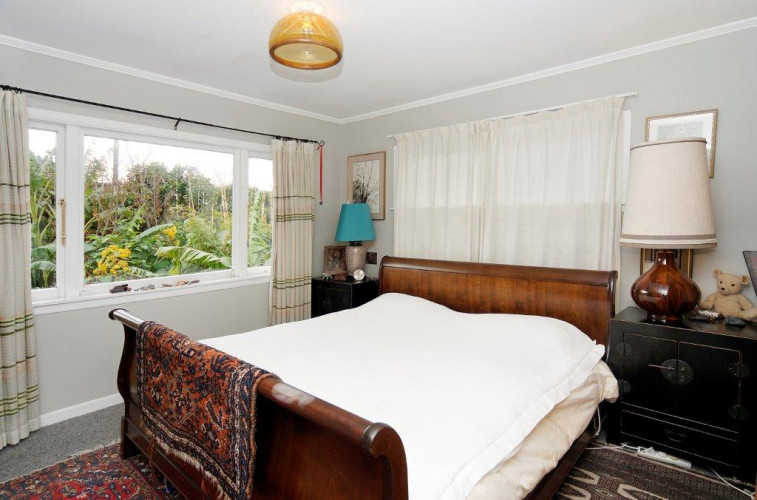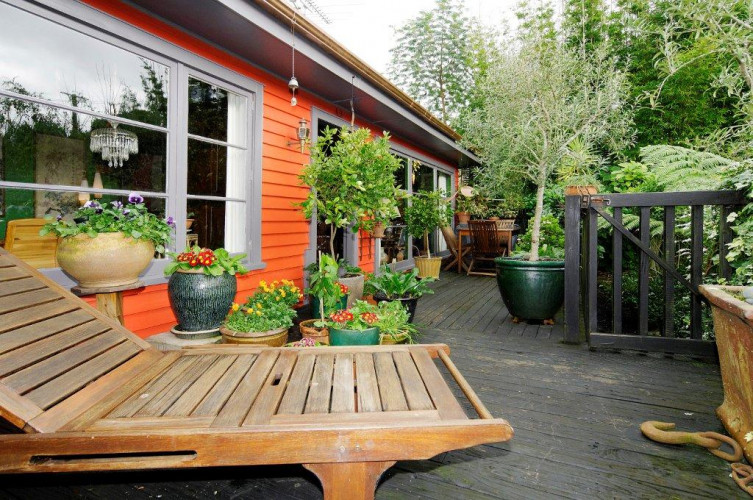 Dennis and Alhazmi's Unique Haven
25 Aug 2011
Do you have a home full of wonderful Resene paint and colour? Send us some snaps by emailing [email protected].
Reinventing the bungalow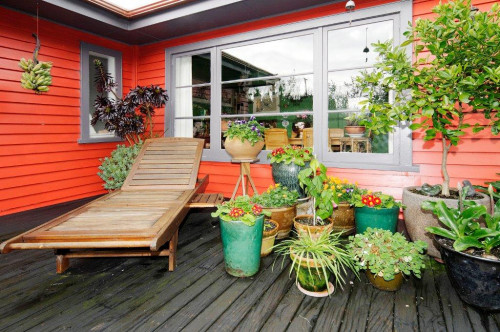 Dennis and Alhazmi's Avondale home was a traditional 1950s bungalow until they transformed it outside and in, with bold colour choices and a garden makeover. The exterior of the once-white house is now Resene Catalyst orange and Resene Escapade blue-grey. Inside, the dining room has been painted Resene Bilbao green and the front living room is now Resene Double Otter brown, with Resene Bilbao green window and door frames. These are bold colours to use on such a large scale, but perhaps to be expected from the author of a book entitled Colourful Gardens! Dennis painted the entire house himself, as he loves to play around with colour, and wanted to see how different colours looked in various lights before he settled on a final palette.
Although the colours are bold and modern, much of Dennis and Alhazmi's furnishings are antiques. Their many chandeliers, Persian rugs and other ornate treasures look even more stunning when set against the vivid paint colours.
The garden itself is a lush and magical place, full of natives, fruit trees and bright flowers. At this time of year, there are plenty of tuis, too, as they come to feed on the flowering cherry trees. The north-facing sunny deck is home to many potted plants as well as a sun lounger and a hammock, since this is a favourite reading spot. Dennis and Alhazmi are currently selling their home, but say that they will miss the spacious house and unique haven that they have created. We just want to see what colours Dennis paints the next house! Watch this space.
Get the look: If you want to be adventurous with colour, a great way to get started is to find something from nature that you love and use those colours to inspire your colour scheme. To make this easier you can use Resene's Palette Generator – simply upload your image and then the Resene Palette Generator will turn it into a Resene colour palette for you. You can then click on the suggested colours to find out more about them. Or try out Resene Find-A-Colour - select your favourite colour and it can find you the closest Resene colours and suggest complementary colours to go with them.
pictures
Photography by Dennis Rundle
The green room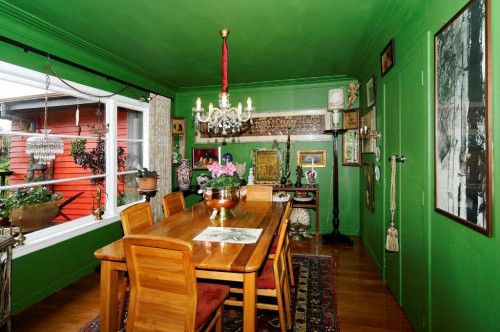 Painted in Resene Bilbao, the fourth bedroom has been used as a dining room.
Chocolate box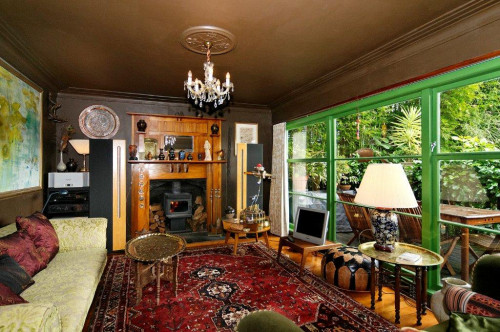 Chocolate brown Resene Double Otter combines with native timber floors to create a warm ambience in the front living room.
Go retro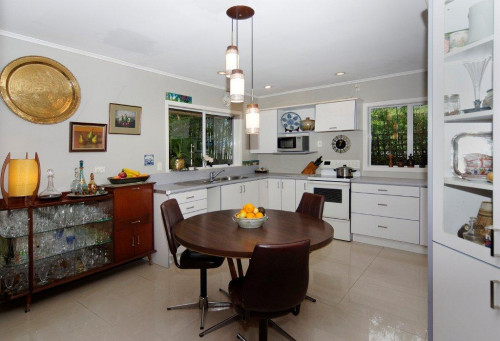 In the the kitchen, an antique cabinet, retro kitchen table and light fitting reflect Dennis and Alhazmi's eclectic style.
East meets rest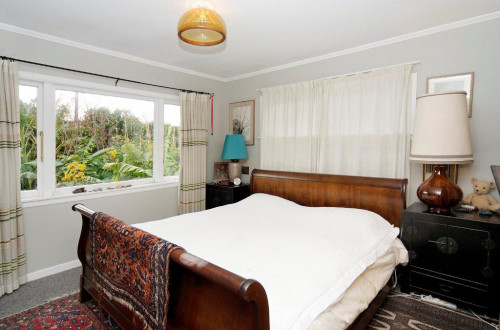 More rich woods and Persian rugs in the master bedroom, although this time against a neutral backdrop of Resene Half Rakaia.
Going native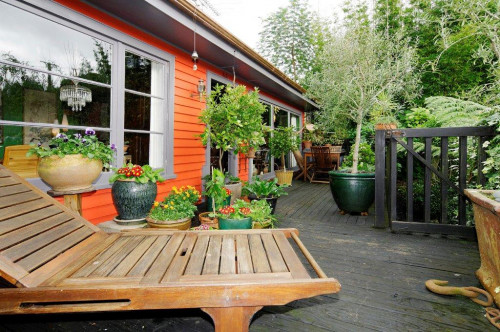 Surrounded by native bush and fruit trees, the house nonetheless gets lots of sunshine, thanks to its north-facing aspect.
the look
If you're stuck on what
colour to use or need colour
advice, try out the Resene
Ask a Colour Expert service.