►
◄
latest
habitat tv
blog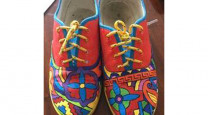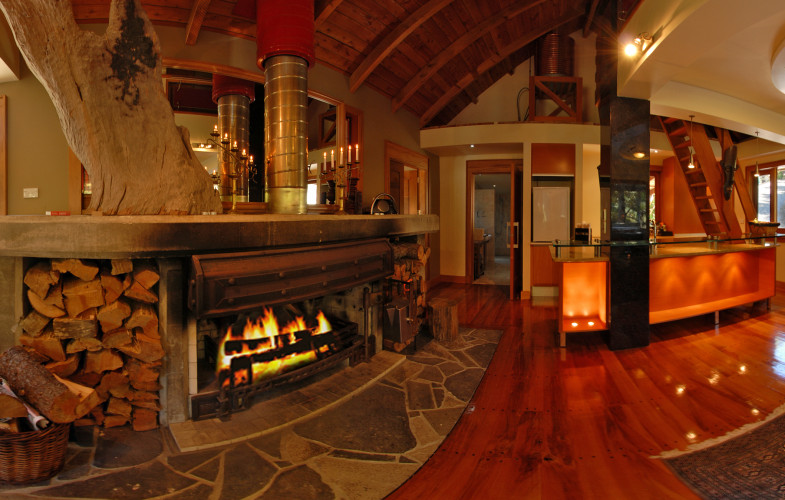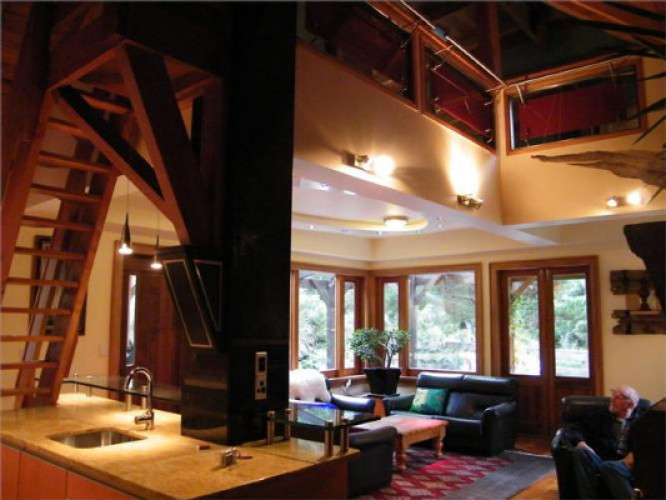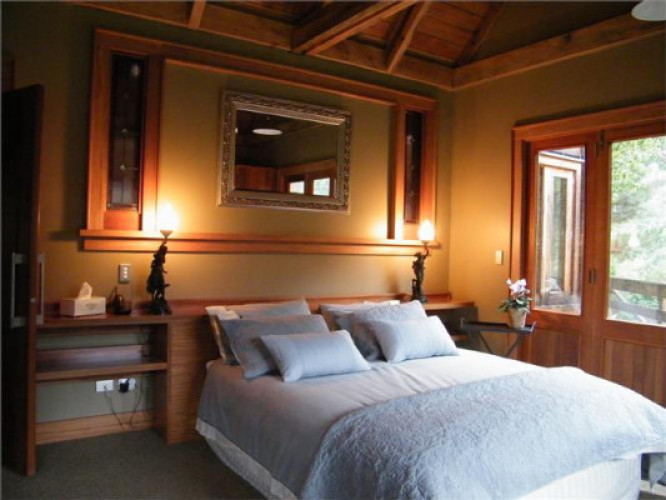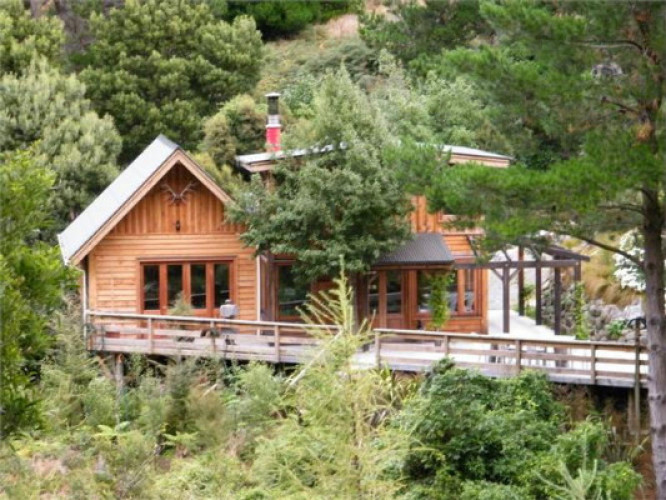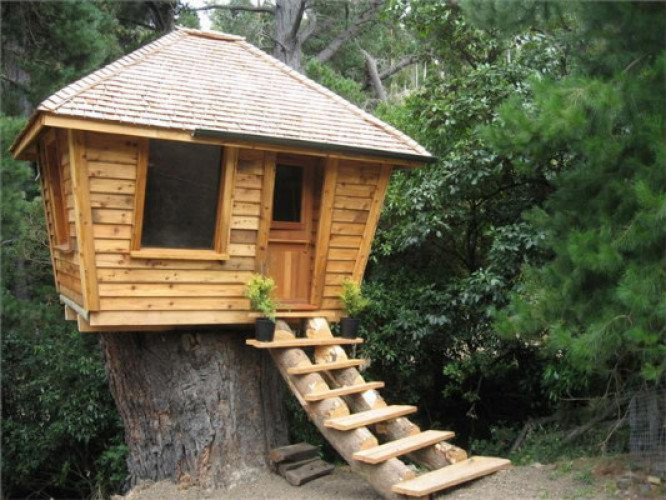 Greg and Tanya's Unique Tree House
28 Jul 2011
Do you have a home full of wonderful Resene paint and colour? Send us some snaps by emailing [email protected].
Modern style and rustic charm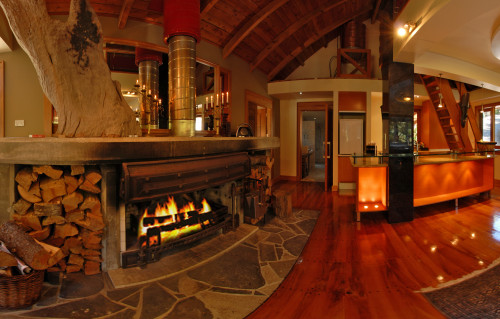 With a huge open fireplace at its heart, Greg and Tanya's sunny home in Little River, on Banks Peninsula, is about as cosy as you can get at this time of year. It looks as warm and inviting as it feels, too, thanks to golden wood panelling and beams, and walls painted in soft green Resene Colins Wicket.
Greg designed and built the house himself, using a 120-year-old pine tree that was felled specially for the job. A joiner "all his life", his passion is working with wood, and it shows. "It's tactile and inviting," he points out. The abundance of wood lends a rustic quality to the home which is offset by clean lines, modern furniture and the use of glass, marble and granite.
Surrounded by trees and bush, the house has stunning views of the valley below. The open-plan living area, with a mezzanine floor, centres around the open fireplace and a marble kitchen, while outside there are large decks and a "tree house", which sleeps three and comes complete with power and phone.
What was the greatest success with your home's interior design? Definitely the fireplace. It creates a very warm and inviting space in both summer and winter.
Which space do you get your greatest satisfaction from? The main living area because of the ambience created by the massive fireplace, the vistas from every window and the easy indoor/outdoor flow.
What is your advice for someone trying to achieve a similar look? Search out a skilled designer who is good at listening.
Why did you choose these colours? The light tone of Resene Quarter Spanish White provides the maximum amount of light inside that is possible, and it creates an airy, clean space. The green, Resene Colins Wicket, mirrors the outside bush environment. We also chose this muted tone of green because it is a very restful shade.
What is your favourite thing in the house? The beautifully finished rimu joinery that contrasts with the boldness of the concrete fireplace.
pictures Photography by www.spin360.co.nz This house is available for rent as a holiday home. For details see www.akaroaluxuryretreat.co.nz/main.html Get the look: If you're a fan of the natural look and wood panelling, bear in mind that bare timber will soon look the worse for wear if you don't look after it. Finish it in a clear finish such as Resene Aquaclear or on floors, Resene Qristal ClearFloor. The clean finish will help protect the timber and keep it looking good for years. If you have timber which is a little washed out, you can enhance the colour first using Resene Waterborne Colorwood or Resene Colorwood Enhance. They will add more depth of colour to the timber while still allowing the natural grain to show through. You can then overcoat it in your choice of clear finish, depending whether you want a satin or higher gloss finish. That way the coating will suffer all the wear and tear - not the timber itself.
On another level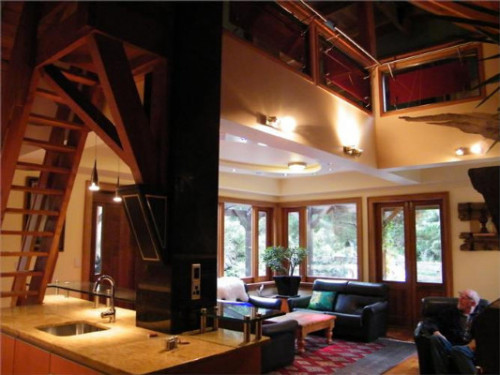 The living area features built-in wooden steps to the mezzanine floor above.
Mirror mirror on the wall...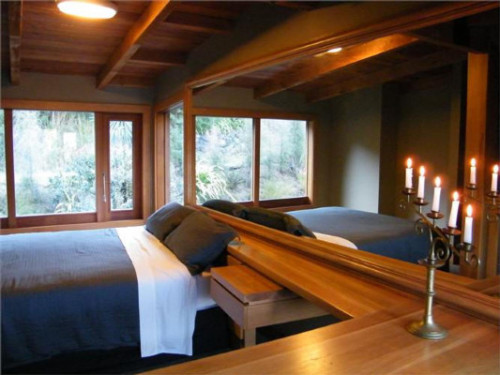 The mezzanine floor bedroom has been painted in Resene Colins Wicket.
Dreamy green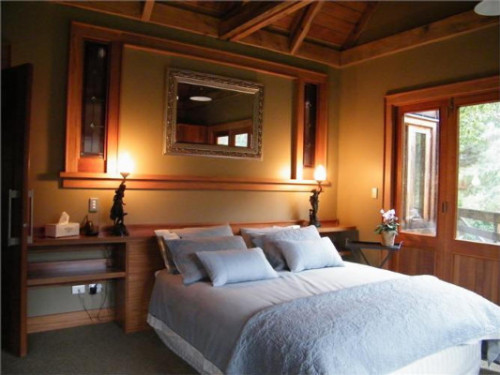 The sunny master bedroom, painted in Resene Colins Wicket, has double doors opening on to a deck.
Peaceful retreat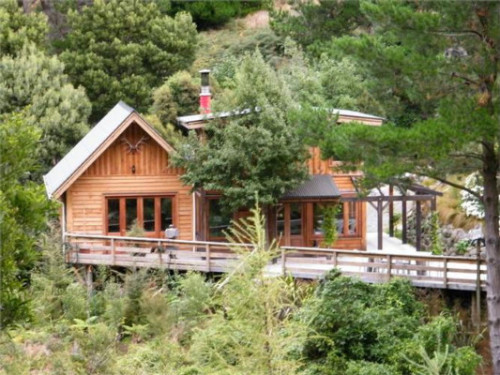 On a hillside overlooking the valley, Greg and Tanya's Little River home is surrounded by bush.
Tree house
The "tree house" is built on the stump of the giant 120-year-old pine tree that was felled and used to make the house.
Resene Quarter Spanish White
the look
If you're stuck on what
colour to use or need colour
advice, try out the Resene
Ask a Colour Expert service.