►
◄
latest
habitat tv
blog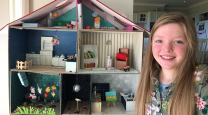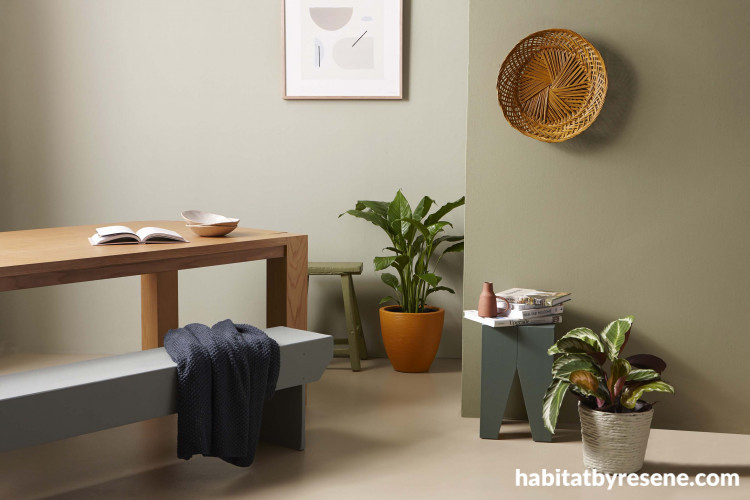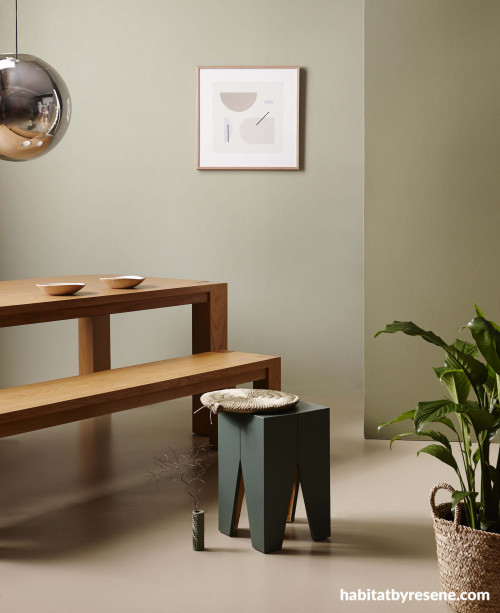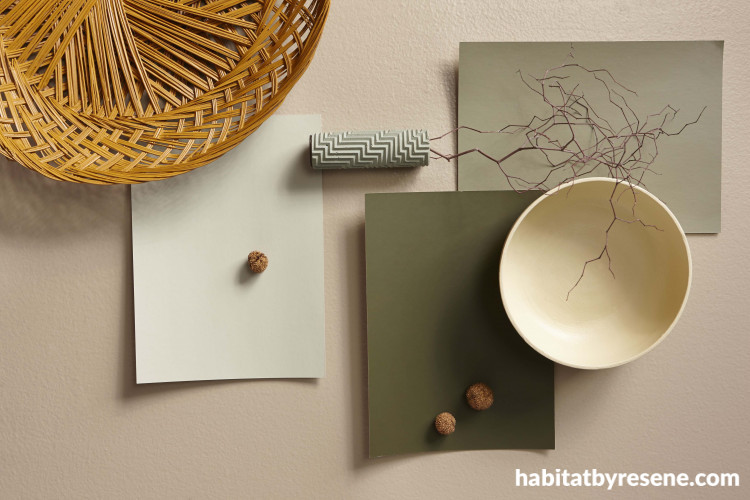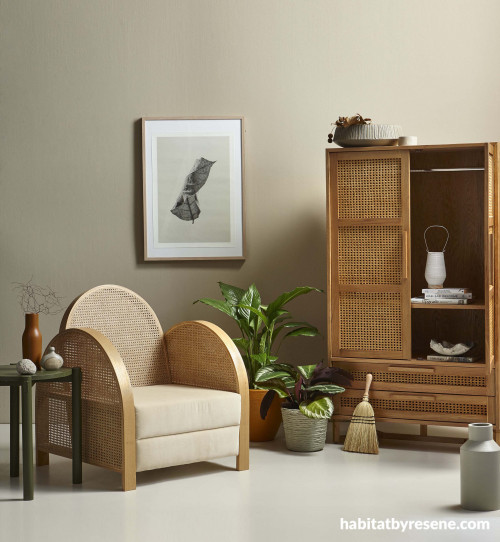 The wabi sabi way
First there was hygge, now there is wabi sabi. It's time to start speaking a different language if you want to understand the latest philosophies behind global decorating.
While the Danish word hygge is more of a feeling created as a result of the interiors you assemble – cosy and charming – wabi sabi is a Japanese philosophy about appreciating the beauty in imperfection and acknowledging that we live in a naturally imperfect world. Translated into decor, it's about a looser, relaxed approach with asymmetric layouts, aged surfaces, raw and natural materials, and handmade products.
Perhaps we have tired of matchy-matchy interiors where everything is so perfect and lined up that it looks like it has been home-staged for sale. That no-one lives there. No shoes left askew on the floor, or throws crumpled on the sofa.
The wabi sabi look marries beautiful with the re-emergence of the artisan, someone who creates by hand and whose work bears the imperfections of being made by hand. It's a rebellion against all of the mass-produced stuff that fills our world and our shops.
Paint effects are also on the rising popularity stakes, giving our walls and furniture personality and character .It doesn't matter if the effect isn't perfect; the wabi sabi way is meant to look a bit wonky.
Check out the Resene FX range which includes Paint Effect Medium. Also, Resene Colorwood Whitewash and Resene Colorwood Greywash, two timber stains that give a weathered and aged look to floors and furniture.
Click here to see the Habitat Plus Paint Effects booklet, for more ideas and inspiration.
According to census data, New Zealand is now home to four main cultural groups – Asian, European, Maori and Pacific – and we have always been a country of early trend adoption and a desire to take the best influences from abroad and adapt them to our own homes in our own ways.
We've always been a nation of jandals and shorts, casual rather than buttoned-up. So perhaps the wabi sabi way is going to become our way.
The colours of the wabi sabi look tend towards the earthy and neutral tone, lots of neutrals, soft greens and warm greys – think of rocks, sand, grasses, pale sued and bark.
When it comes to paint schemes, adapting the wabi sabi style may look tricky at first but is easy to do with the way the Resene palette cards are designed.
Instead of using a single palette card to give you a more uniformly tonal look, skip to the next palette card instead – the colours will be similar but will have changed slightly in colour composition. So for a soft green scheme, use palette cards R30 (grey-greens), R31 (soft greens) and R32 (greens with a touch more yellow). Taking colours across these three cards will still give you a restful look but not a perfectly tonal one.
The same approach applies if you are using the popular Resene Whites & Neutrals range.
Be inspired by these two rooms to achieve the look.
Published: 15 Mar 2018
Do you have a home full of wonderful Resene paint and colour? Send us some snaps by emailing [email protected].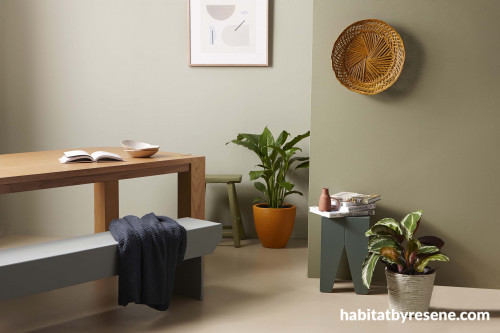 The table is on an angle, the bench seat doesn't match the table, and there's a casual arrangement of pots, plants and stools. The two wall colours are fairly tonal – Resene Bud is used on the back wall and Resene Siam on the side wall – but the floor colour, Resene Cargo, is a hempy green/brown so a slight mismatch.
Add deeper vegetative greens, like Resene Paddock and Resene Jurassic, to enrich the tonal appeal of the room; these are used on the stools.
Burnt terracotta is a natural accent partner to greens, added here with painted pots and basketry in Resene Mai Tai and Resene Rusty Nail. The space has a contemporary vibe, yet the colours and textures add just enough of earthy edge to keep us grounded and reminded of nature.
pictures
Wendy Fenwick, styling by Gem Adams. Avenue Dining Table, Avenue Bench Seat and Sphera Ceiling Pendant from Freedom Furniture. Herringbone Bud Vase No 13 by Phil Cuttance from Everyday Needs, books, Holly Houston Bowl and Moss Stitch Throw from Paper Plane, plants from Palmers, Teresa Watson Jug from Blackbird Goods, Elements No 3 Art Print by Samantha Totty from Endemic World.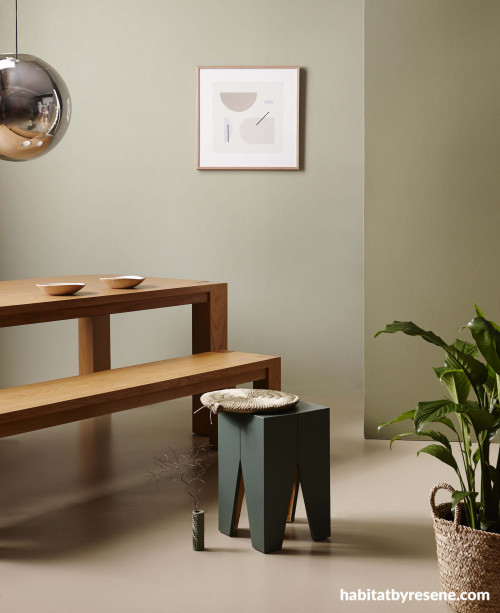 For a simpler look, the room has been restyled but in keeping with the quirky nature of the wabi sabi look, an unexpected element has been added – the shiny disco-ball style pendant light.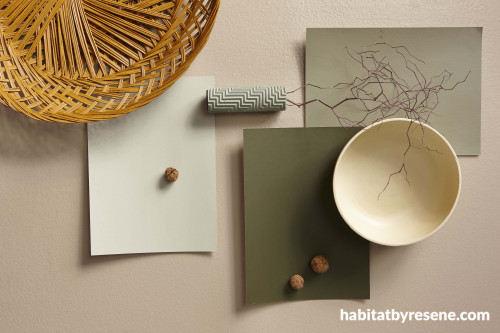 Here's the moodboard used to create the room. The background is in Resene Cargo, the bowl is in Resene Yuma, the basket is Resene Rusty Nail and the A4 swatches (from left to right) are Resene Bud, Resene Scrub and Resene Siam.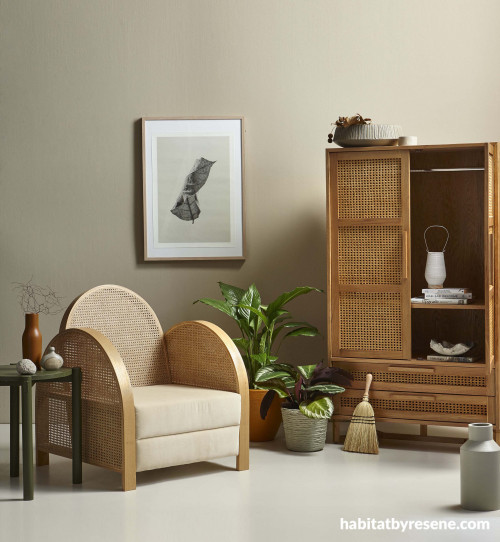 This soothingly organic space has a definite zen style… mixed with a Scandi sensibility. Let's call it Japandi. The cabinet is pulled out from the wall, and set askew, while the plant pots and vases are placed almost haphazardly on the floor. The colours are mix of toasty neutrals and those with a grey-green tinge, an unusual mix of warm and cool.
Texture is the hero element, on the furniture and accessories. The walls are in painted Resene Double Sisal, the floor is in Resene Parchment, the side table is Resene Scrub and the jug is Resene Korma. The plant pot is in Resene Mai Tai, the basket planter is Resene Double Lemon Grass and the tall vase is Resene Triple Ash. The wide bowl on top of the cabinet is in Resene Soya Bean.
pictures
Wendy Fenwick, styling by Gem Adams. Raffles Robe from Freedom Furniture, Arch Chair from Douglas and Bec, Michiyuki-Tou LED Paper Lantern from Everyday Needs, Rice Straw Hand Brush and Sabi Leaf 04 Print from Paper Plane, in A1 size frame from Factory Frames.
Ceramic bowl, stylist's own.
Another element to add to the scheme is textured anaglypta wallpaper. This mood board has design RD171 from the Resene Wallpaper Collection painted in Resene Colins Wicket. The background is in Resene Parchment, the A4 swatches are (left to right) Resene Double Lemon Grass, Resene Soya Bean and Resene Triple Ash, while the jug is Resene Korma.