►
◄
latest
habitat tv
blog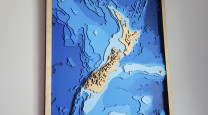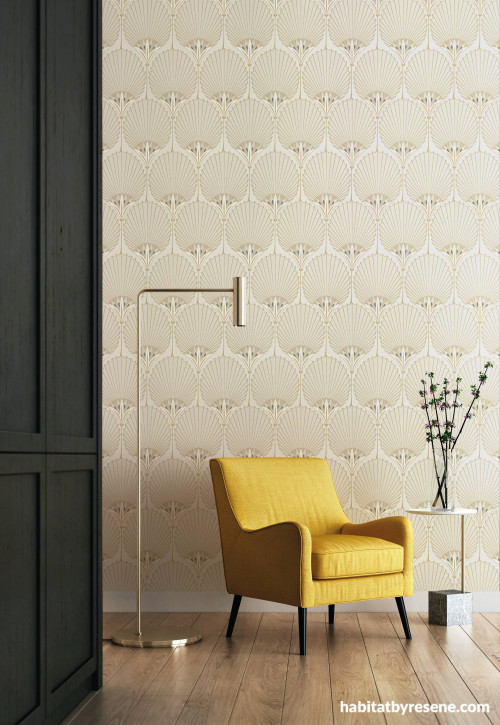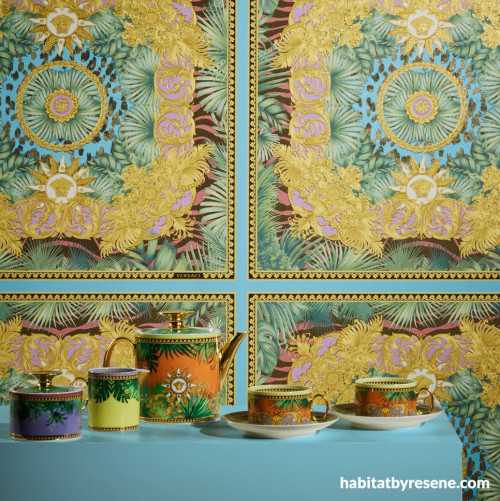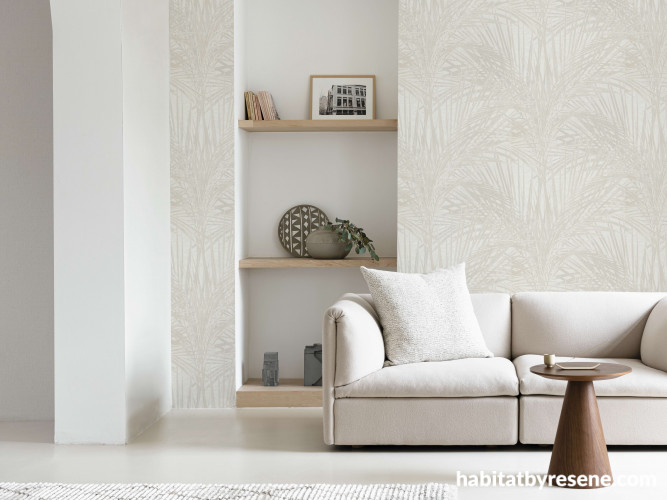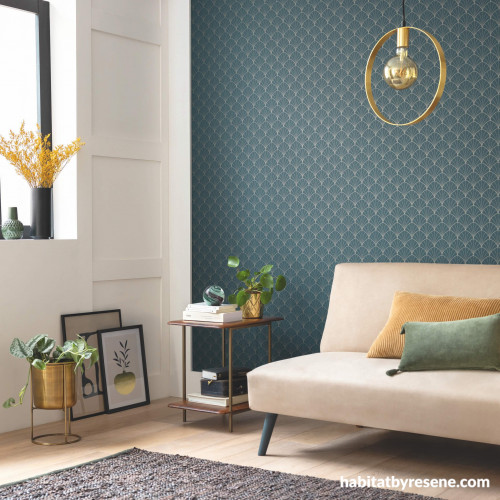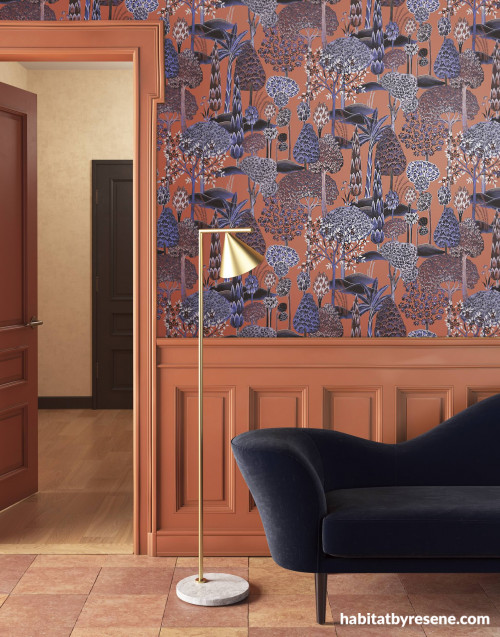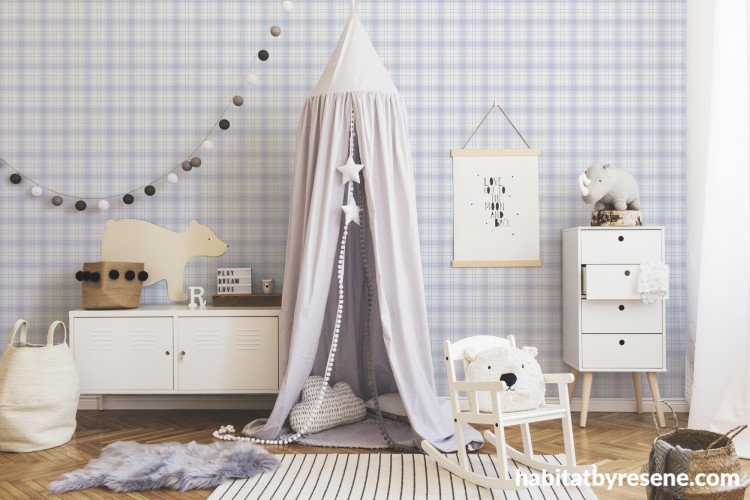 Wallpaper inspiration: Six trendy looks from new Resene Wallpaper Collections
From subtle neutrals to vibrant colours and extravagant Versace designs, you're sure to find your dream wallpaper in these collections We're taking a look at a design from each of Resene's latest wallpaper collections. Be sure to click on the links to view the full range if you find something that catches your eye. Remember to visit your Resene ColorShop to view the wallpaper – there's nothing like seeing the physical sample to appreciate its colour, design and texture in real life. We've paired these with some great colour suggestions to make it easy for you to create a cohesive look in your home.
Resene Asperia Wallpaper Collection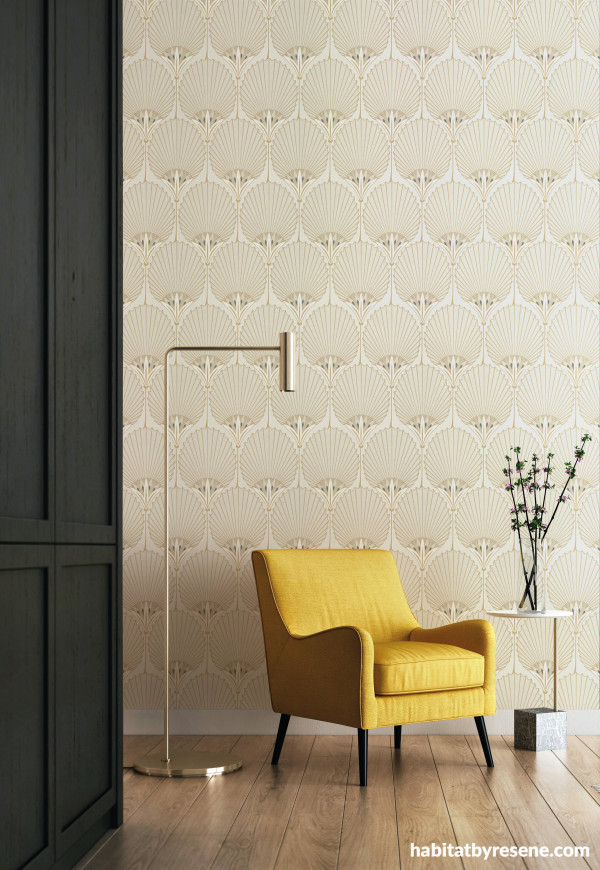 Finding a wallpaper to suit both a traditional and contemporary space is a great find. Resene Wallpaper Collection A54903 provides a subtle yet sophisticated feel that looks great in any space from a cosy fire lit lounge to a bright entryway.
The Resene Asperia Wallpaper Collection will transport you to a fantastic world, where fireflies illuminate the night, plants burst into life and photographic prints are more realistic than ever. This trendy design, Resene Wallpaper Collection A54903, with tropical leaves in a monochromatic colour scheme has a touch of metallic shimmer and can make any space feel stylish and sophisticated.
To keep the colour scheme monochromatic and really allow this pattern to pop, team it with near black shades like Resene Nero and Resene Element or a rich dark brown like Resene Coffee Bean. Or add pops of colour through décor and furniture like this bright yellow chair, vibrant artwork or fresh spring blooms.
Resene Versace 5 Wallpaper Collection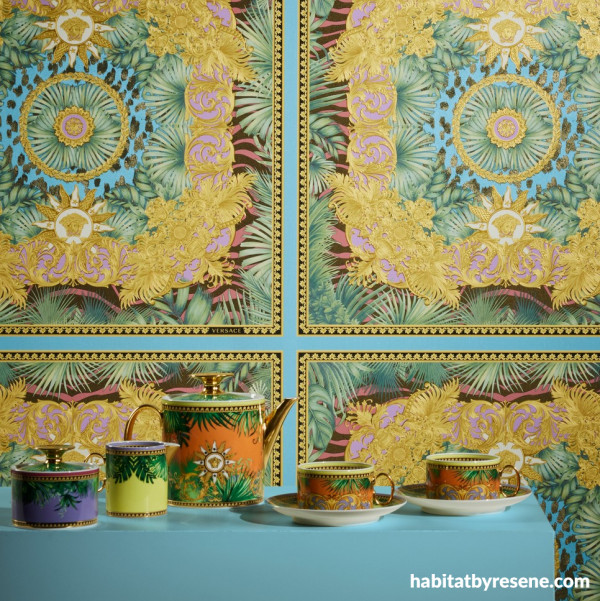 Go for gold, be brave and bold! Turn your kitchen or bedroom into a unique and dramatic statement with Resene Wallpaper Collection 387031. With rich hues and cleverly clashing patterns, this is sure to be a conversation starter at your next dinner party.
Give your home an opulent and baroque feel, with the Resene Versace 5 Wallpaper Collection. A treasure trove of design inspiration for your walls, these carefully considered patterns are adorned ever so carefully in rich hues. The intricate patterns that Versace are known for combine designs, shapes, colours and patterns that clash together to create a unique allure. Although it's not everybody's cup of tea, this collection is certainly a great option to create a unique space in your home.
With the many shades in each wallpaper, you won't find it difficult to find complementary paint pairings. For Resene Wallpaper Collection 387031, pair it with bright blues like Resene Picton Blue, gentle yet regal purples like Resene Marionette or electric greens like Resene Crusoe. If you're really going all out, add some fabulous shine to décor and accessories with the Resene FX Metallics and special effects range.
Resene Inspire Wallpaper Collection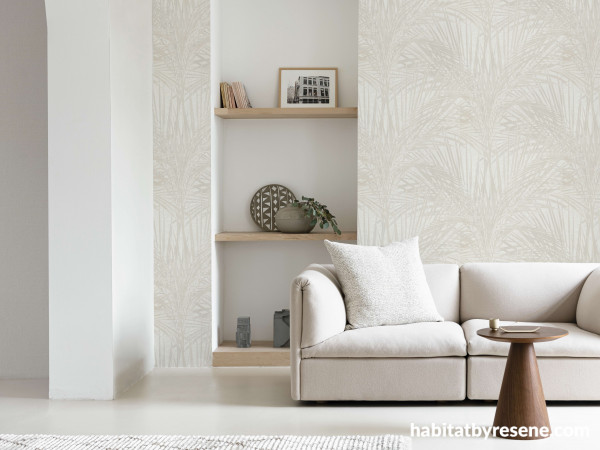 Lean into the ever-popular neutral palette with the added beauty and texture with Resene Wallpaper Collection 218743. This stylish and welcoming pattern is perfect for a living room or bedroom feature wall.
The Resene Inspire Wallpaper Collection is home to botanical prints that bring the outdoors in, warming textures that add depth and interest and feather designs that lend a touch of whimsy. Botanical prints don't always have to be full of bright colours, they can be made modern and subtle through neutral tones, like Resene Wallpaper Collection 218743. This design adds some texture and warmth to an otherwise all-white space. To complement this design, layer in shades of warm whites, taupe and sandy browns like Resene Rice Cake, Resene Bone, Resene Half Biscotti and Resene Sand.
In this collection you'll also find crocodile skin-like designs, cubic-geometric style patterns and an ode to wild safari animals – all of which can bring a touch of vintage glamour, contemporary twist or artistic flair to your home.
Resene Golden Age Wallpaper Collection
This luxurious design would suit both a modern and traditional home. Resene Wallpaper Collection 103826217 adds a touch of elegance and refinement to any space.
Calling all repeat pattern lovers – the Resene Golden Age Wallpaper Collection is for you. From the classic stripes and geometric designs to flora and birdlife, all in classic yet contemporary colours for a new look for your home that will look good for years to come. To really make these designs stand out, use them as a feature on one wall to create a focal point in your chosen space.
Resene Wallpaper Collection 103826217 is used in this living room with surrounding walls in a crisp white and pops of greens and golds. The sophisticated and classy emerald shade with a lush, gilded pattern pairs well with cool, clean whites like Resene Black White, Resene Alabaster or Resene Quarter Merino. It looks great as a feature wall in a living room, bedroom or home office.
Resene Summer Wallpaper Collection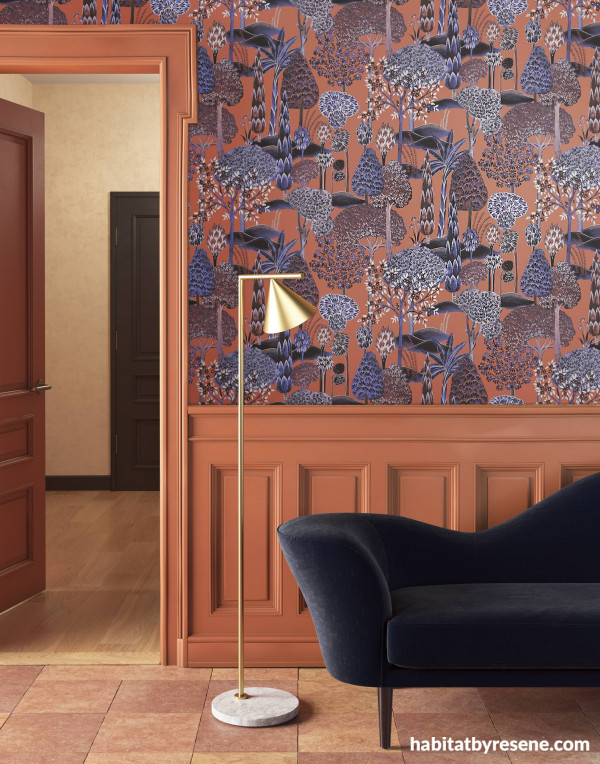 This look is both bubbly and inviting for summer, yet warm and cosy for winter. Resene Wallpaper Collection SUM005 is a great choice if you want to bring a nature theme into your home but stick to a warmer or modern colour palette.
The Resene Summer Wallpaper Collection captures the carefree magic of summer, transforming spaces into havens of elegance and tranquillity. The essence of Indian culture is celebrated in the designs and colourways with impeccable craftsmanship for a timelessly elegant result. In this space, the earthy clay tones are taken from the design and used on the walls to create a cohesive and perfectly blended look. For this design you could also pair it with blue, black or dusky pink shades, such as Resene Kashmir Blue, Resene Blackjack or Resene Vintage.
Resene Little Love Wallpaper Collection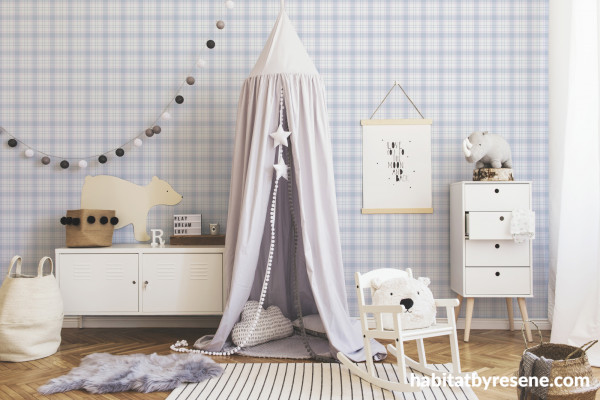 This gender-neutral pattern is a great choice for any child's room. Resene Wallpaper Collection 38122 is calming and gentle, and easily paired with whichever theme or décor you are opting for.
The Resene Little Love Wallpaper Collection is designed to capture the hearts of young and old with whimsical designs to dance across your walls and bring joy and wonder to any child's room. The collection includes many classic designs, from simple and elegant stripes perfect for parents who want a clean and minimalist look for their child's bedroom through to playful and rainbow-whimsy watercolour patterns. This gentle plaid pattern, Resene Wallpaper Collection 38122, would work well with pastel blues like Resene Frozen and Resene Comfort Zone, as well as classic whites like Resene Alabaster and Resene Merino.
If you've always wanted to try and wallpaper in your home but are unsure where to start, check out our tips on How to Hang Wallpaper. You could start with a feature wall, or even the inside of a cupboard to get confident with the hanging process before trying much larger spaces. Once you know how, wallpapering is fairly easy, especially with today's paste-the-wall products. Check with your local Resene ColorShop staff if you need any more information before you start the work.
Get a taste of the Resene Wallpaper Collection online, and be sure to follow habitat by Resene on Instagram for more inspiration. Remember wallpapers are always best viewed in real life so do visit your local Resene ColorShop and view the wallpaper books in-store so you can truly appreciate the colour, texture and pattern of each design before you make your final choice.
Published: 17 Oct 2023
Do you have a home full of wonderful Resene paint and colour? Send us some snaps by emailing [email protected].