►
◄
latest
habitat tv
blog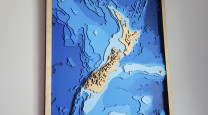 Warm up your home: Paint it orange for Arthritis NZ
When it comes to decorating your home, paint plays a crucial role in setting the mood and defining your living spaces. Colours have the power to transform any room from bland to brilliant, and among the vibrant options at your disposal, orange stands out as a colour that can bring warmth, energy and sophistication to your interiors. With Resene's range of orange hues, you'll find plenty of inspiration to add this vibrant shade to your home.
You can also make the most of testing out colours with Resene testpots – this November Resene is running a Paint it Orange campaign for Arthritis NZ. For every orange testpot you buy at a Resene ColorShop (NZ only), Resene will donate $1 to Arthritis NZ!
Citrus cottage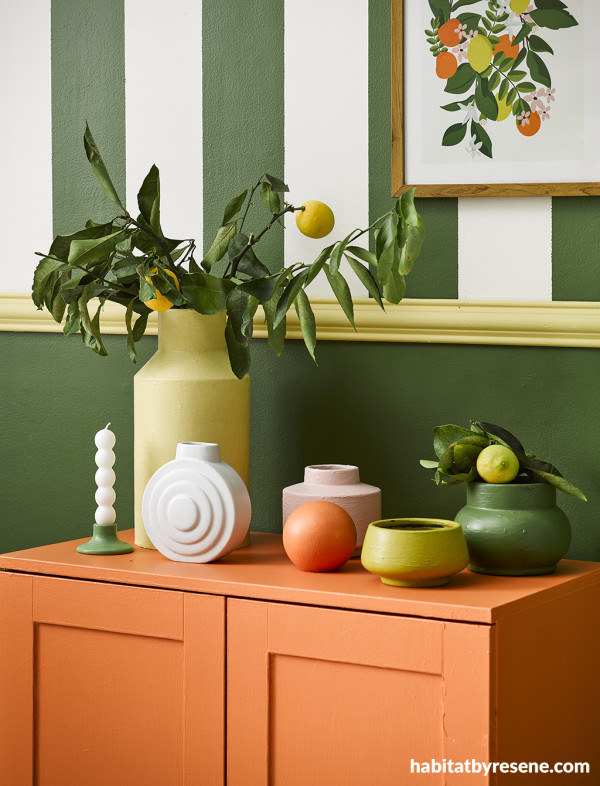 In this cheery citrus coloured kitchen, the cabinet and ball are painted in bright Resene Smoke Tree, lower wall in Resene Clover, striped wall in Resene Clover and Resene Rice Cake with the dado rail and large vase in Resene Chenin, candleholder in Resene Dingley, circle vase in Resene Midwinter Mist, pink vase in Resene Paper Doll, bowl in Resene Lemon Ginger and green vase in Resene Green Leaf. Project by Vanessa Nouwens, image by Wendy Fenwick.
Sharper, livelier colours are often what we turn to after periods of disruption and distress – so it's no wonder that bright and bold citrus shades are back in favour. Is there anything more rejuvenating and positive than an unexpected bright splash of citrusy orange? You could go all out on a feature wall or use Resene testpots and add pops of colour on accessories like vases, photo frames and plant pots. Try fresh, vibrant colours that represent a collective desire for sunnier, brighter times like Resene Sunshade, Resene California and Resene Adrenalin. Orange tones also work well with fresh greens like Resene Clover, Resene Green House and Resene Dell.
Retro revival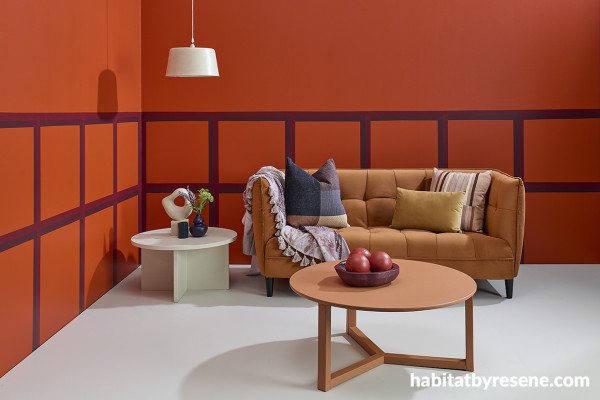 In this bold retro space, the walls are painted in Resene Thunderbird, wainscotting in Resene Incarnadine and Resene Pandemonium, floor in Resene Half Tea, side table in Resene Meringue, sculpture on side table and pendant in Resene Tua Tua, vase on coffee table with greenery in Resene Grape Escape, small vase on coffee table in Resene Black Doris, coffee table in Resene Tuscany, bowl in Resene Pandemonium and balls inside bowl in Resene Arriba. Sofa from Danske Mobler, cushion (left) from Città, cushions (right) from Freedom. Project by Annick Rennell, image by Bryce Carleton.
The living room is the heart of any home, and what better way to inject life and energy into this space than with a bright, vibrant shade of orange? This retro room exudes vivacity, with a dominant orange colour scheme. To balance the warmth, a light floor creates a beautiful contrast, preventing the room from feeling overwhelming and small. Make your living room a place of joy and social gathering with orange shades like Resene Kamikaze and Resene Fire. If you're after a muted more subtle orange, try Resene Negroni or Resene Manhattan.
Host with warmth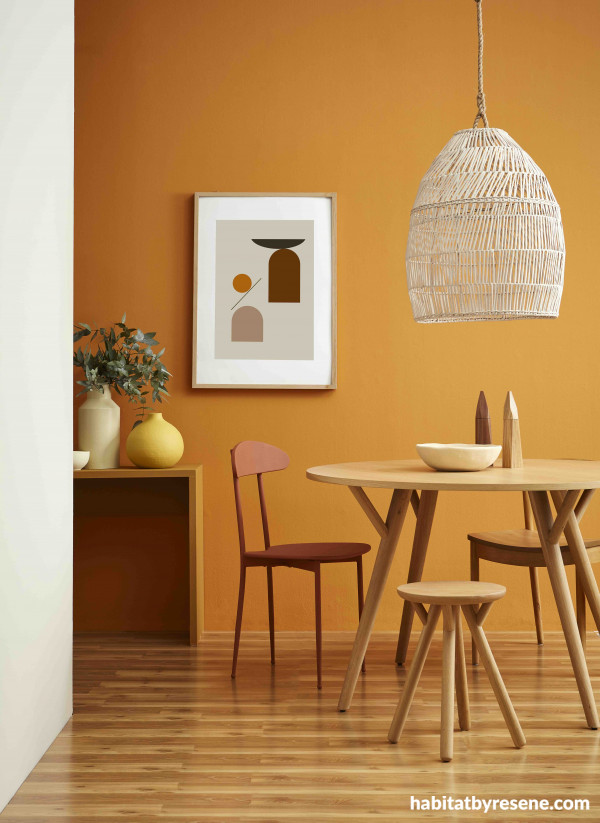 This dining room is toasty warm with walls painted in Resene Twisted Sister (back) and Resene Half Spanish White (side). The floor is stained in Resene Colorwood Natural, the sideboard is painted in Resene Swiss Caramel, rattan pendant in Resene Spanish White, chair in Resene Moccasin and the short round vase is in Resene Thumbs Up. Chair, table and stool from Freedom. Project by Gem Adams, image by Wendy Fenwick.
Host your next dinner party with warmth by creating a cosy and inviting space in your dining room. Not all oranges are sharp, and Resene Twisted Sister is like a holiday sunset for the soul. In dining rooms, orange can create an inviting atmosphere that stimulates conversation and connection. This wooden table and floor grounds the space, making it feel cosy and welcoming. For more yellow tinted or sandy oranges, try Resene Whiskey Sour, Resene Corvette and Resene Carpe Diem.
Orange pop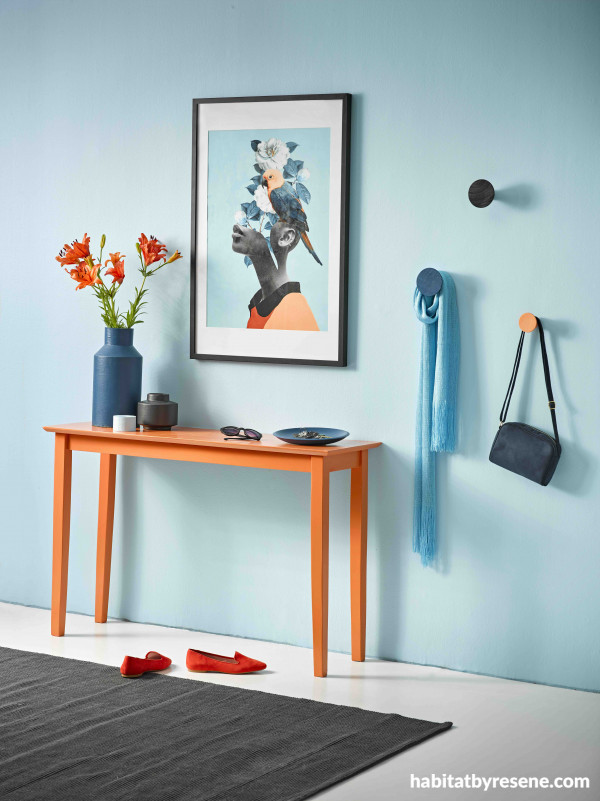 In this fresh blue room, the wall is painted in Resene Bluetooth, floor in Resene Alabaster, table in Resene Jailbreak, large vase and bowl in Resene Wishing Well, short vase in Resene Noir and candleholder in Resene Slipstream. Rug from Freedom, artwork from Pop Motif. Project by Vanessa Nouwens, image by Melanie Jenkins.
Sometimes, it's the unexpected colour combinations that create the most stunning effects. In this light blue room, a painted orange table serves as a delightful contrast. The room feels both playful and sophisticated, demonstrating how a simple addition of orange can infuse life into any space. Resene's orange shades offer endless possibilities for adding a touch of magic to any room. Try a darker, more red orange like Resene Vesuvius, a caramel orange like Resene Chelsea Gem or a fantastic pulsating orange like Resene Hyperactive.
Muted elegance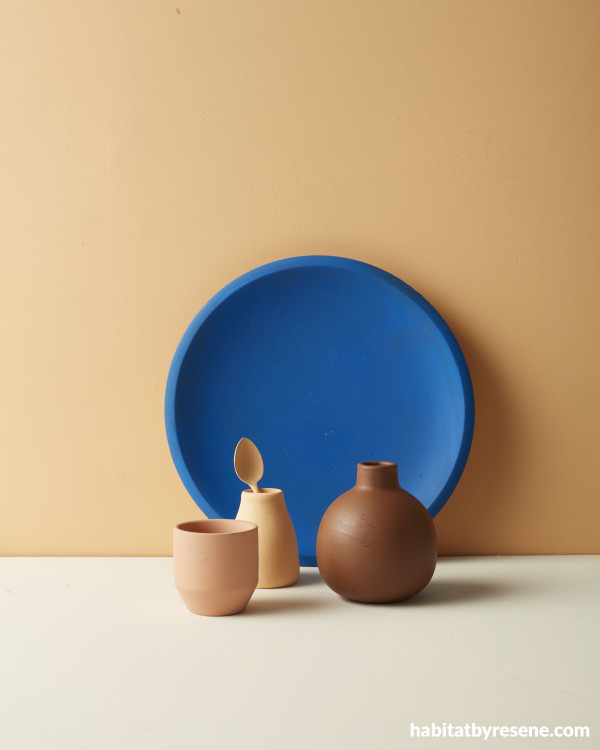 A pop of bold classic blue offsets the softer desert tones in this forward-focused colour palette. The wall is painted in Resene Tacao, the tabletop in Resene Carrara, plate in Resene Wet N Wild and the vases (from left to right) are in Resene Just Dance, Resene Tacao and Resene Route 66. Project by Leigh Stockton, image by Bryce Carleton.
For those who prefer a more understated approach, muted oranges and apricot shades are a perfect choice. Choosing a subtle tone means you can let your accessories and other décor take centre stage and create some incredible colour schemes and contrasting looks. This pairing of the Mediterranean blue of Resene Wet N Wild with Resene Tacao is absolutely stunning. Try pale apricots, oaty oranges like Resene Tequila and Resene Bone, paired with contrasting shades like Resene Grass Hopper, Resene Log Cabin and Resene Deep Koamaru.
By incorporating orange into your home decor, you can harness the power of colour to define the mood and character of your living spaces. Let your imagination run wild and transform your home into a sanctuary of style and personality, filled with the beautiful hues of orange.
Paint it Orange! Grab some orange testpots this month and support Arthritis NZ. For every orange testpot you buy at your local Resene ColorShop (NZ), Resene will donate $1 to Arthritis NZ.
Arthritis New Zealand aims to improve the life of every person affected by arthritis. It provides information, advice and support to people diagnosed with any of the more than 140 forms of arthritis. Arthritis affects more than 700,000 New Zealanders and is a leading cause of disability. There is no cure, but the condition can usually be managed effectively. Most people with arthritis continue to lead productive and fulfilling lives.
Find out more on the Arthritis New Zealand website, www.arthritis.org.nz, or donate now, www.arthritis.org.nz/donate/
Published: 31 Oct 2023
Do you have a home full of wonderful Resene paint and colour? Send us some snaps by emailing [email protected].