►
◄
latest
habitat tv
blog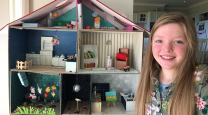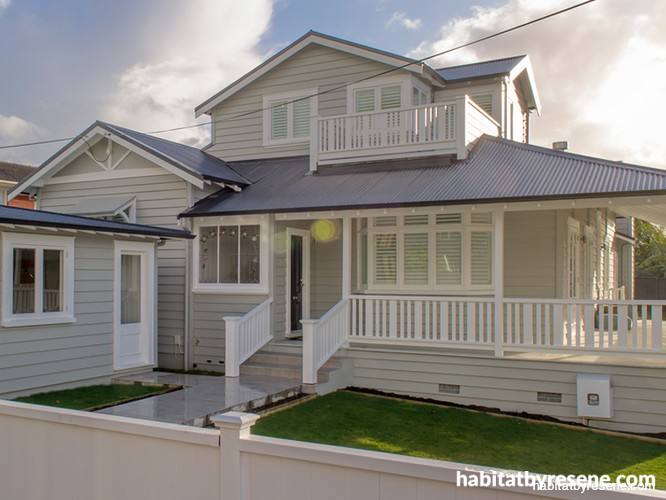 What colour should my roof be?
It's often the last colour decision you make for an exterior – the roof. Just because the roof is the finishing touch to a house it doesn't mean it should be the last thing on your mind.
Whether it is a re-paint of an existing roof, or a new roof, whether it's powder-coated, textured or flat finished metal tile or a terracotta or concrete traditional tile – at the end of the day it comes back to colour.
If you start with a powder-coated roof, be aware that there are a limited number of colours available, so it's best to choose the one you want before any other house colour decisions. The Resene colour collection is so vast, you will always find a colour to fit with the roof… but not necessarily the other way around.
The same advice applies to the guttering, aluminium joinery and the garage door – pre-set colours for these may be limited.
See the colour for real
With powder-coat colours (COLORSTEEL®, COLORBOND®, ColorCote® etc) it is essential to see larger metal samples to get the best possible idea of how the colours truly look. Brochures are helpful but may not be a true representation.
It's also very helpful to see houses that have those particular colours on their roofs (or garage doors or joinery). Ask your suppliers for real-life examples you can drive by and look at.
It is amazing how your ideas can change when you see good examples of the colours and styles that are available. In reality, they may look more blue/brown/red/green etc than on a sample or brochure.
What about the guttering?
From a purely practical point of view the guttering is usually the same colour as the roof – even plastic guttering comes in metal-look finishes these days. Sometimes the garage door is as well. When options are limited, it pays to consider how these elements harmonise and tie everything together. Joinery can match the roof but sometimes lighter, more neutral, colours are chosen so that they co-ordinate with both the exterior and interior paint colours.
Working with an existing roof
Sometimes we inherit a coloured (paint, powder-coat or tile) roof when we buy a house. If it is in mint condition, you're unlikely to want to replace or repaint it in the foreseeable future. Sometimes, that existing colour may be flexible enough for you to repaint other parts of the house exterior and still look good.
Sometimes, however, the roof colour is so distinctive (a euphemism for 'ugly' or 'discordant') that every time you look at it your heart sinks through your boots. If the roof isn't painted (and therefore you can't repaint it easily), you're stuck with it – time to get in touch with a Resene colour expert at your local Resene ColorShop or use the online Resene Ask a Colour Expert service to see what can be done. Total freedom of colour choice only comes with a painted roof.
A corrugated iron roof in need of a repaint offers multiple colour options. Apart from the standard selection of colours found on a Resene Roof Colour System chart, there may be even more colours that are appropriate. Just ask the staff at your local Resene ColorShop.
So, in regards to roofs – are they important? Absolutely.
Should they be considered first in the scheme of things? Definitely.
Will the colour (or style) have to be lived with for far longer than the house colour? Certainly.
Is there a roof whose colour isn't important? Probably only the few roofs that can never be seen.
---
Did you know…
That there's a new gloss level available in the Resene Summit Roof range? With any paint type, gloss level is as important as colour. Glossier paints are easier to clean, while flatter paints tend to hold onto dirt.
Resene Summit Roof is now available in a semi-gloss finish, which provides a durable option with improved cleanability without the glare of a higher gloss. It's available in the complete range of Resene Roof Systems colours, and Resene CoolColour technology as well as an extensive range of other Resene colours. Available from Resene ColorShops.
Published: 16 Feb 2016
Do you have a home full of wonderful Resene paint and colour? Send us some snaps by emailing [email protected].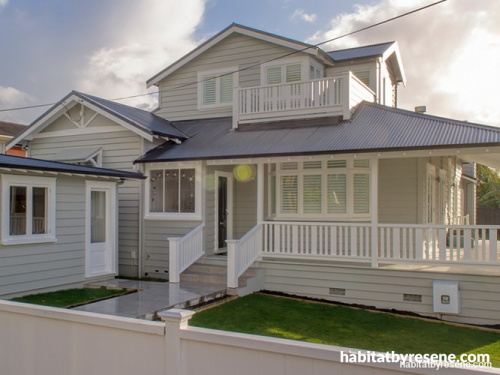 Resene Grey Friars is the perfect roof colour for this house. The weatherboards are Resene Half Tapa and the trims are Resene Quarter Sea Fog.
the look
If you're stuck on what
colour to use or need colour
advice, try out the Resene
Ask a Colour Expert service.