►
◄
latest
habitat tv
blog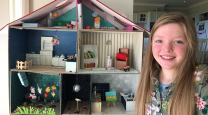 What's on trend for whites?
White paint colours are the mainstay of many interiors and for a long time now the go-to whites of the decorating world have been clean, cool and dense. These 'cool' white paints have just enough black in them to create a soft misty feel that provides a serene backdrop for many interior styles.
And for the past decade or so, the list of Top 20 paint colours sold by Resene has been dominated by cool whites like Resene Alabaster and Resene Black White – the latter colour was, in fact, formulated 35 years ago.
These misty whites will remain popular for years to come but joining them this season are warmer, creamier whites. While cool whites suit an urban look, warmer whites are a little more relaxed, for those who like a more rustic and earthy feel.
As with any colour fashion, the type of white we like to use in our homes is not only cyclical but needs to complement the other colours and furnishings in the room. Back in the day, Resene Spanish White and Resene Pearl Lusta were the most used whites. They were and still are creamy, comforting and very versatile.
And many of the fashion colours this year suit being matched to warm whites. Muted pastels, dusky darks, peaches, rich browns and soft greens are all well supported by creamier, fleecy whites used in trims, ceilings and as a home's main neutral.
It may be that these whites are more the colour of pale oatmeal or cooked noodles in look rather than less-subtle heavy yellow-creams, but they are definitely warm, not cool.
Whatever the style of white, why is it such a mainstay of our home decorating?
White is a timeless colour that allows you to change out your furniture and accessories to ring in the fashion changes. White is an elegant colour and gives a sense of refinement. It's a relaxing colour, which can help reduce visual busy-ness.
There is also a distinct geographical preference for warm versus cool whites. In warmer, northern areas of the country, grey whites are popular. But in cooler, southern climes, warm yellower whites are more commonly used.
Whites used within a scheme are best used as one temperature or another, not a mix of cool and warm.
Deciphering whites
Faced with an array of white paint swatches, it can be difficult to determine which is cool and which is warm.
Resene make it easier by including a colour code on their palette cards, printed in underneath a paint swatch in the right-hand corner.
If the code starts with Y, that means yellow, therefore warm. If it starts with N, that stands for neutral, and therefore cool. G means green, which indicates an interesting white: green is made up of blue (cool) and yellow (warm) so these whites are high mutable, changing in character depending on the light and situation.
Some paint colours cross from one base to another depending on their strength, for example, Resene Half Pearl Lusta's code starts with a Y but Resene Quarter Pearl Lusta starts with a G. The science of paint is intriguing.
Resene has the perfect tool to help with the search for the right white. The Resene Whites & Neutrals collection is home to a host of whites as well as darker neutral colours – greys, beiges and blacks. It's made up of 28 palette cards, with 12 individual colours on each card, often organised into colour 'families' or varying strengths of the one colour. Some of the colours have up to six strength variations, which can help build a tonal colour scheme.
Classic warm whites

Other warm whites for today's homes

Crossover whites to try – with a green-base these whites can go cool or warm, depending on the situation.

Like a chameleon
More than any other colour, whites and off-whites are influenced by other elements in the room. If you have off-white walls and a lot of green accessories, expect your walls to take on a green look. Use a strong blue rug or furniture, and your walls will pick up on the blues.
Different parts of the room also reflect light differently. An off-white used under a window will look darker than the same colour used on the opposite wall. An off-white used on the ceiling will look much darker than the same colour on the wall because there is less light reflected. Use a half or quarter strength of your wall colour on your ceiling to ensure the two are well balanced.
The subtle undertones of off-whites combined with your lighting and furnishings can make the colour seem very different to the colour chip, even though they are the identical colour. This is because the lighting, the amount of the colour and colour reflections from the furnishings can make your eyes view the colour differently.
Published: 03 May 2018
Do you have a home full of wonderful Resene paint and colour? Send us some snaps by emailing [email protected].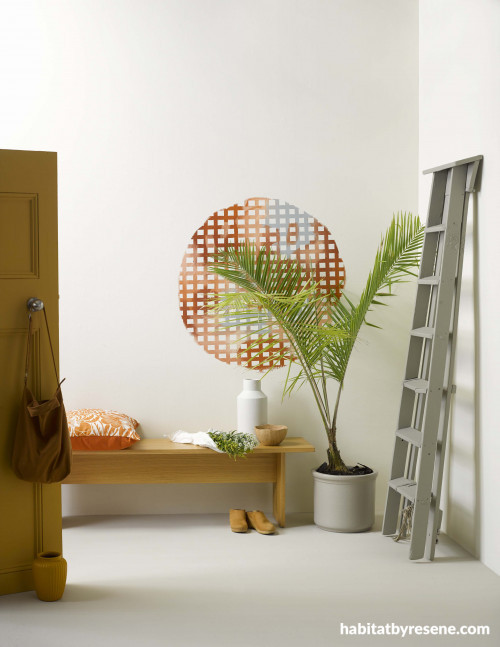 An inviting hallway has walls painted in Resene Quarter Spanish White, with a floor painted in Resene Eighth Arrowtown, door in Resene Tussock, a ladder in Resene Taupe Grey, a pot planter in Resene Fifty Shades and a DIY artwork in various Resene testpots.
pictures
Melanie Jenkins; styling by Gem Adams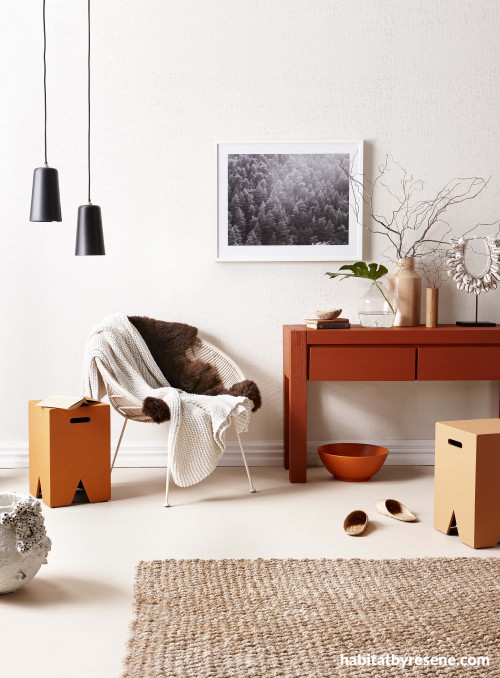 Warm whites look superb with some texture, and rich terracotta accessories. Here Resene Wallpaper Collection Anagylpta 2011 (design RD3360) is painted in Resene Albescent White and paired with a floor in Resene Double Biscotti. The sideboard is painted in Resene Desperado with peg stools in Resene Rumour Has It (left) and Resene Entourage (right).
pictures
Wendy Fenwick; styling by Gem Adams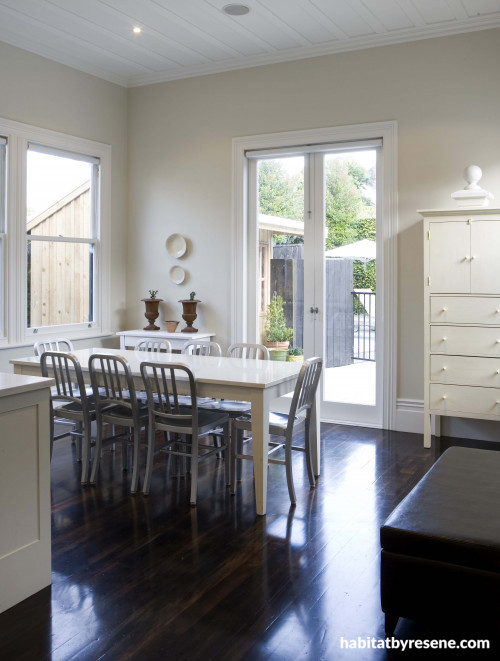 Resene Ecru White is a warm, mutable white used in the dining room of this home. The trims are in Resene Black White.
pictures
Mark Heaslip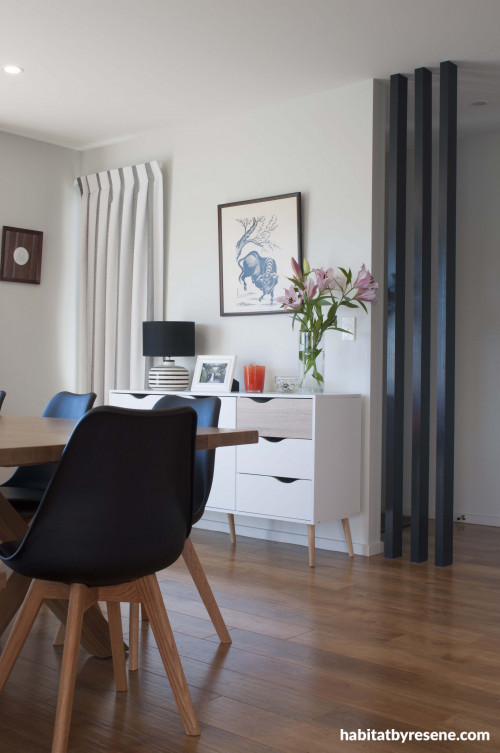 The warm fleecy white of Resene Double Merino walls is a good backdrop for more colourful furnishings. The feature posts are in Resene Foundry.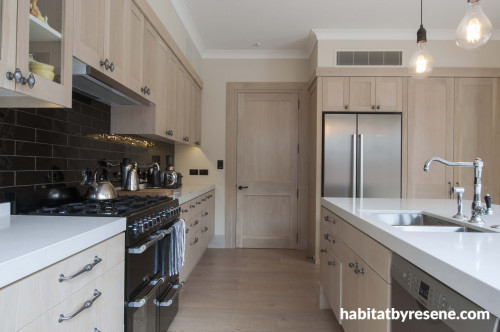 Oak kitchen cabinets finished in Resene Colorwood Whitewash are complemented by warm white walls in Resene Spanish White and trims in Resene Quarter Villa White.
pictures
Juliet Nicholas
Resene Quarter Pearl Lusta
the look
If you're stuck on what
colour to use or need colour
advice, try out the Resene
Ask a Colour Expert service.