►
◄
latest
habitat tv
blog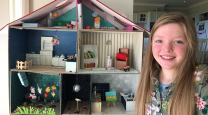 Which white is right?: How to choose the best Resene white or neutral for your home
Did you know that among Resene's top 20 most popular paint colours, 18 of them are variations of white.
White is one of the most versatile - and most commonly used - colours in all our decorating. The trick to using it effectively is finding the right white.
That may seem like overcomplicating things for the sake of it, but as soon as you dip your paintbrush into the world of whites, it becomes apparent there are almost as many shades of white as there are ideas for using it.
Whether you are using white as the main shade in a minimalist, monochromatic space, or simply painting a ceiling and window trims there are some design choices to consider before committing to your choice of whites.
Do you want a cool or warm finish? Are you looking for a crisp contrast that makes other bold colours pop? Do you want to layer multiple whites with other neutrals for a tonal effect that still has plenty of depth? Do you want your whites to almost disappear and let other room features or colours dominate?
A Resene colour consultant can give you excellent advice on different whites to try that are best suited to your desired finished result. You can also start to narrow the choices down yourself by understanding Resene colour codes and what makes up your favourite whites.
Each paint swatch in the Resene Whites and Neutrals fan deck has a code as well as a name. Those codes will start with a letter that tells you the base colour of the paint: Y for yellow; BR for brown; G for green and N for neutral, which can have a white, black or grey base.
Yellow and brown whites such as Resene Spanish White or Resene Merino are warmer in tone, while green based whites such as Resene Rice Cake are cooler. As a rule when you are choosing whites to match your colour palette you should keep to an all warm, or all cool palette. Neutral whites such as Resene Alabaster work well with most cool or warm shades, but, as with any paint choice, use Resene testpots to try them on your surfaces first to see how they look in different lights at different times of the day and against other colours and the rest of your furnishings.
Top tip: Test your whites by painting two coats of the Resene testpot onto large A2 card (available from Resene ColorShops), leaving a white border approx. 2cm wide around the edge. Move it around your space at different times of the day to see how it changes with the lighting.
Monochrome with more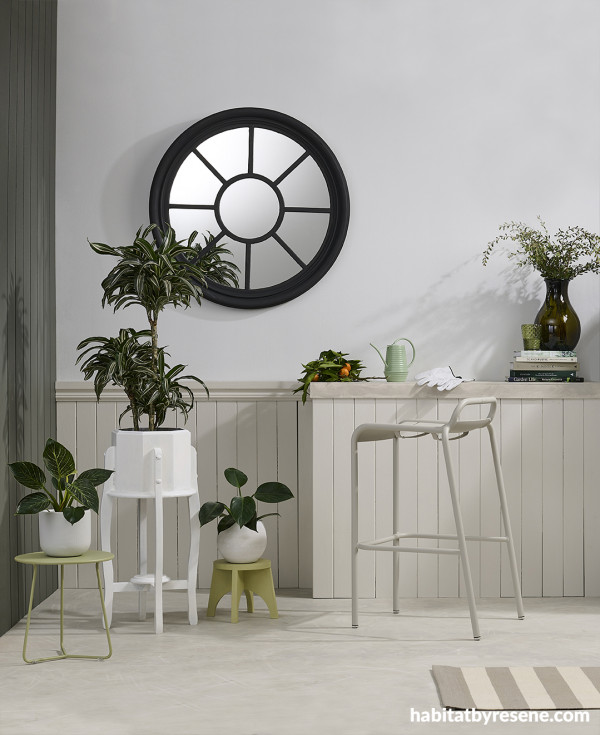 Bursts of black and charcoal in Resene Quarter Karaka on the left wall and a Resene Nero mirror, are given added impact by different strengths of a neutral. The top of the rear wall is Resene Double Merino, while the lower panel is in Resene Quarter Merino. The bench top is Resene Quarter Merino with Resene FX Paint Effects medium mixed with Resene Foggy Grey. The white planter painted in Resene Enamacryl tinted to Resene Quarter Merino. The small plant stand is Resene Quarter Crisp Green. Project by Kate Alexander, image by Bryce Carleton.
Classic black and white can be given a modern, fresh spin by layering different shades. Instead of sticking simply to two shades, think about subtle differences that will bring texture and depth to a space.
Try charcoal or deep greys in addition to black, and opt for different creamy, or even grey-toned whites to add interest. Using different strengths of the same white can also be a particularly useful way to keep your room looking unfussy but interesting.
If you do opt for a classic black and white palette, consider adding a third colour in small pops; about 10% of your finished space for proportion. It will make your finished space really eye-catching, and showcase your blacks and whites perfectly. Adding plenty of plants can also be a simple way to soften a monochrome look while keeping it looking fresh.
Minimalism with flair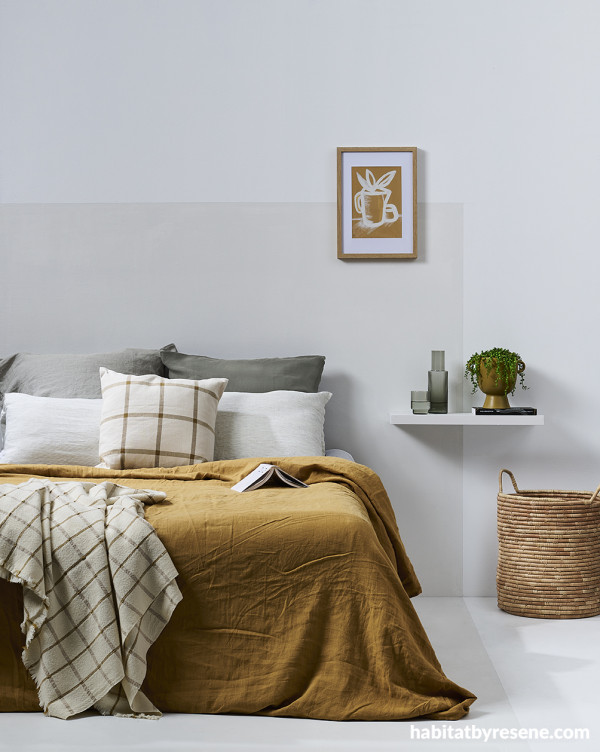 Resene Black White on the floor and walls is set off by a simple rectangle in Resene Double Black White. The pendant lamp is Resene Colorwood Whitewash. Project by Laura Lynn Johnston, image by Bryce Carleton.
The stark, chalkiness of Resene Black White is a perennial favourite of minimalists looking for a dramatic, crisp and clutter-free white on white finish that's not overly bright.
But the other reason this subtly grey-toned white is always near the top of Resene's list of most popular paints, is because it co-ordinates well with most other colours, allowing for a touch of flair in a minimalist world.
Other colours that work well in a similar context are Resene Alabaster, Resene White Pointer and Resene Half Rice Cake. These neutral-based whites are the work horses of minimalist looks creating stylish blank canvases that elevate other colours.
For drama try them with bursts of bold shades like hot pink Resene Disco or primary colours like Resene Jalapeno red, Resene Galliano yellow or Resene Aviator blue. For subtler effect, these neutral whites also work well with on-trend muted or dusty tones, and even pastels.
Try spiced gold Resene Mandalay or Resene Dusky Pink for warmth. To cool down the white brightness try pastel Resene Hawkes Blue or dreamy Resene Soft Peach, and anchor it all with notes of something darker like Resene Redemption blue.
Top tip: Your paint finish can also impact how well your chosen white works in your room as the level of shine - whether it is gloss, semi-gloss, low sheen or flat - will change how it reflects light. A higher gloss finish, like Resene Enamacryl, will look lighter and brighter. A lower sheen finish, like Resene SpaceCote Low Sheen, will make the colour look softer and more diffused.
Warm layers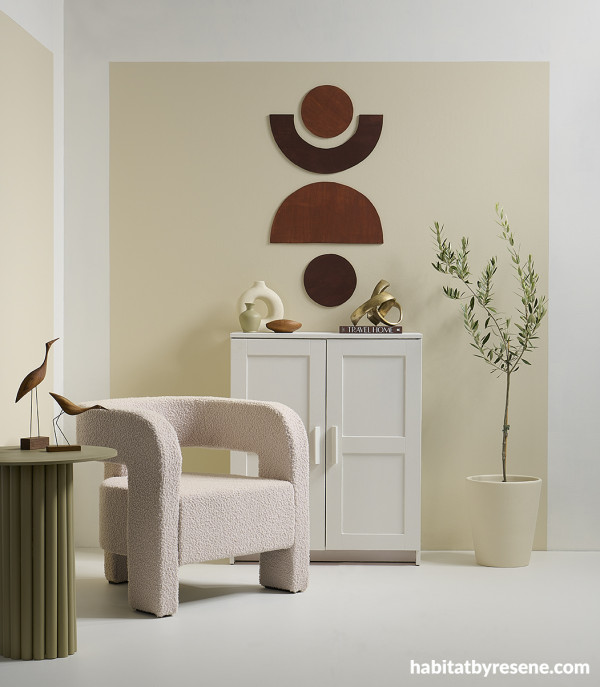 The rich cream of Resene Double Spanish White is framed with borders of Resene Eighth Spanish White with Resene Quarter Spanish White. The cabinet is also in Resene Quarter Spanish White and the plant pot is in Resene Double Spanish White. The wooden wall art is stained in Resene Colorwood Meranti and Resene Colorwood Dark Oak. The tall table is in Resene Clay Creek. Project by Melle van Sambeek, image by Bryce Carleton.
If you're after some warmth from your whites, perhaps in south facing or darker rooms, try white shades that are yellow or brown based. One of the most popular is Resene Spanish White and it's a particularly good shade for creating tonal layers from one colour, because it comes in everything from softly gold-hued Resene Triple Spanish White to Resene Eighth Spanish White which has just a hint of pale cream.
Layering different strengths of your white gives you a beautifully textured room that appears to use several different colours, yet remains cohesive and, in the case of these warmer hues, cosy. Layers of warm-toned whites can also be a really good way to make darker rooms - particularly bedrooms and living areas - seem brighter while still feeling comfortable and snug.
One useful thing to note about using different strengths of the same colour is that they may not all be the same yellow, brown, green or neutral base. For example, Resene Double Merino has a yellow base, but Resene Quarter Merino has a neutral base. It's another reason to test your paint combinations out before committing, just to make sure everything works together.
Other popular Resene whites and neutrals that run from triple to eighth strengths include Resene Tea, Resene Black White and Resene Sea Fog.
Cool elegance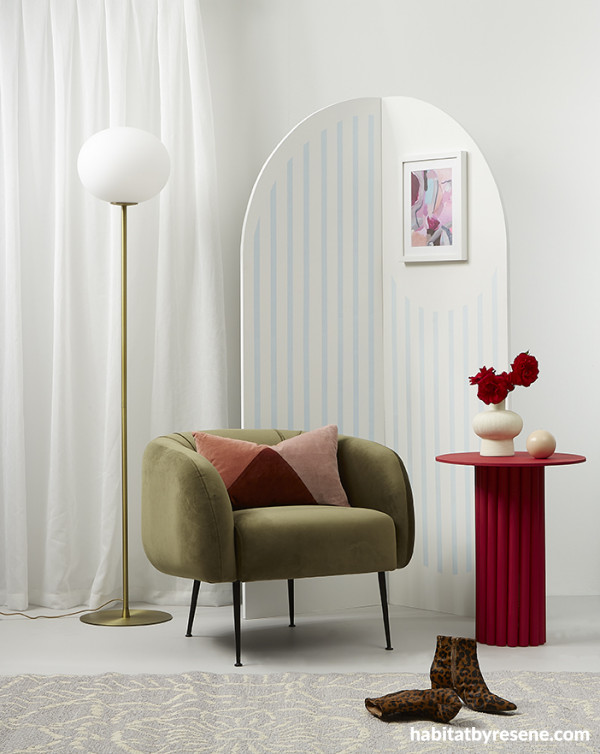 Resene Half Alabaster walls and flooring in Resene Rakaia create a cool, sophisticated backdrop to bolder shades. An arch in Resene Half Alabaster with stripes in Resene Pattens Blue adds visual interest. The tall side table is in Resene Code Red and the case is in Resene Pale Rose. Project by Melle van Sambeek, image by Bryce Carleton.
The secret to using cooler whites that feel bright, inviting and fresh is to try using them in rooms that are naturally light and warm and pair them with soft, even luxurious textures like velvet, wool, linens and suede.
You can also subtly tweak the shades used on the floor, ceiling and trims so you're not confronted with a vast or overly-bright mono-toned white wall on entering a room.
Subtle decoration and changes in texture from curtains, furnishings like rugs and cushions and your favourite decorative objects will make it easier to drink in the cool charm of your space, creating corners of shadow and contrast that are inviting and refreshing to be in.
For a sophisticated look that is less minimalist and more relaxed, try pairing cool whites with deep, bold muted tones to soften the finish. A splash of burnt orange Resene Vesuvius or deep blue Resene Coast will emphasise the simple glamour of your cool white canvas.
For dreamier spa-like surrounds, blend your cool whites with pale pastels for calm and spring freshness. Try the cool green of Resene Granny Apple or the sorbet pink of Resene Cinderella.
Top tip: If you're not completely sold on a white or neutral for your walls, try a pale, pastel shade like Resene Iceberg or Resene Canterbury Clay in an eighth or quarter strength, for a subtle backdrop with just a hint of colour.
A word on wallpaper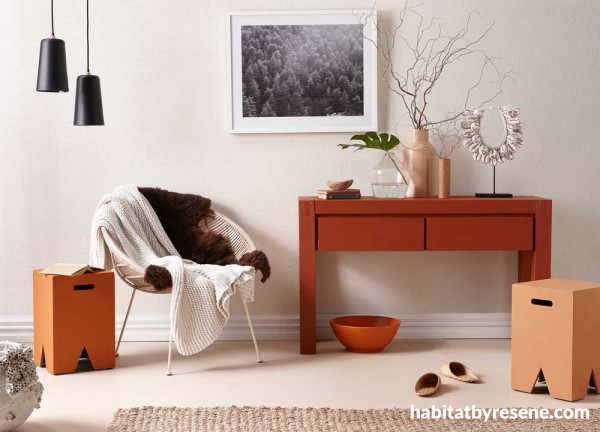 Resene Anaglypta Wallpaper RD3360 from Resene ColorShops painted in Resene Albescent White, is the perfect textural backdrop for a sideboard in Resene Desperado and a peg stool in Resene Entourage. The floor is painted in Resene Double Biscotti, the tall vase is in Resene Calibre and the smaller vase is in Resene On Track. Project by Gem Adams, image by Wendy Fenwick.
Resene wallpaper is an effective way to add instant texture or even pattern to white monochrome space or create a simple backdrop to bold use of colour and design elsewhere in a room.
Use a simple minimalist design like the lined geometric pattern of Resene Daniel Hechter Wallpaper Collection 37522-1 which looks fresh and dramatic against bold leafy plants or deep green accents in hues like Resene Cyprus.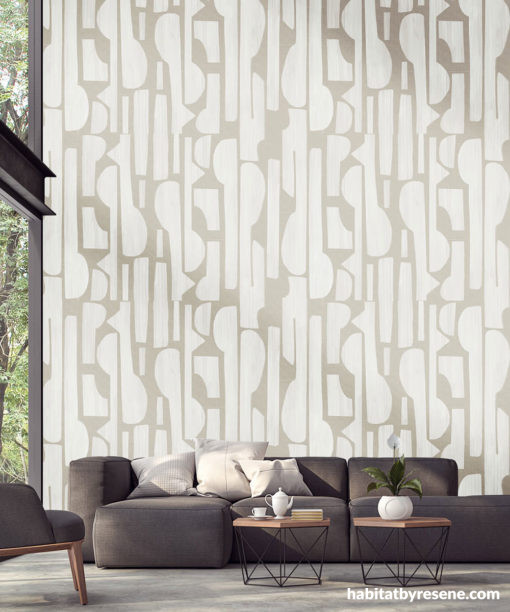 For a touch of drama in a room with a high ceiling, try an oversized pattern like Resene Wallpaper Collection E395895 paired with flooring stained in Resene Colorwood Mid Greywash and finished with Resene Aquaclear.
But white and neutral wallpapers can also be bold and eye-catching with abstract designs such as Resene Bold Wallpaper Collection E395895 paired with golden tan Resene Hot Toddy for a mid-century modern vibe. Or opt for whimsical botanicals with the white of Resene English Style Wallpaper Collection MR71808 paired with deep red Resene Code Red or plush purple Resene Blackberry to recreate an elegant Bridgerton-style drawing room.
Textured Resene Anaglypta wallpapers, which come in white, are a very effective way to quickly add texture to all white walls. Paint over them in your chosen warm or cool white to break up large sections of wall in a monochrome space.
Every home is different, and some spaces are best suited for warm whites, while cool whites are ideal for others. Whether you colour your home with best-selling Resene Black White or Resene Alabaster, soft and creamy Resene Spanish White, cosy Resene Merino or add texture with a Resene wallpaper, there's a white and neutral that's the perfect fit for your home.
Published: 24 Feb 2022
Do you have a home full of wonderful Resene paint and colour? Send us some snaps by emailing [email protected].