►
◄
latest
habitat tv
blog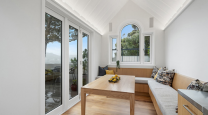 Master Builders' Chief Executive David Kelly shares his tips for building in the challenging climate.

Planning... more
White done right: Shades of white and green transform this 1930s bungalow
Interior designer Litsa Jackson has a way with white. Ever since she began her interior design business, Inside Storey, she's loved the way the perfect white can bring a space to life. Renovating her own tired 1930s bungalow provided Litsa with a fantastic opportunity to get adventurous and explore the hundreds of whites and neutrals Resene has to offer. Opting for a colour palette of whites and green-tinted neutrals, Litsa merged traditional features with modern spaces to create an incredible home for her young family.
Litsa and her husband Jacko share the bungalow with their three sons, seven-year-old Jonathan, eleven-year-old Jimmy and thirteen-year-old Sydney. Litsa wanted to create a thoughtful design for their home that would stand the test of time – and three young boys running around the house. "Our colour palette of soft neutrals and soft shades of green was chosen as it suited the traditional bungalow style," says Litsa. "Most are warm shades which are cosy and inviting.
"They provide the perfect background to the colourful furniture and accessories that decorate our home."
Guests are greeted in the elegant entranceway by Resene Half Linen walls and an incredible ceiling with carved mouldings in crisp Resene Alabaster. Resene Half Linen is a shadowy ash green that creates a warm glow within the space. "I love this soft green grey shade," says Litsa. "It works well with the other neutrals throughout the house."
Resene Alabaster, a near white with a blackened edge, is continued throughout the home on the ceilings and trim. In the kitchen Litsa paired the bright ceiling and trim with pale, lacey Resene Albescent White. "Resene Albescent White looks gorgeous in daylight," says Litsa, who is proudest of the kitchen renovation. She chose Shaker-style cabinetry and tapware to suit the style of the home, then modernised it with engineered stone benchtops, modern appliances and lighting to create an elegant and timeless space.
"We love our kitchen, we opened up the wall between the kitchen and dining room and took some space from the adjoining large bathroom to create a large classic kitchen."
Litsa carried her kitchen colour palette through to the lounge and dining area, where Resene Albescent White on the walls constantly shifts and changes with the light conditions and reflects hues from Litsa's colourful décor. "I love our light-filled, cosy lounge with its beautiful bay window," she says. Litsa describes her furniture as an eclectic mix of antique and modern. "We have decorated in my favourite colours, green and pink, with Sanderson curtains in a green and pink floral and a matching green velvet sofa.
"Resene Albescent White is my favourite colour, it's a warm, soft neutral that isn't yellow or grey. It has a different shade in each room and it works so well in our home, complementing the Resene Alabaster ceilings and window treatments."
With a range of bright, modern colour choices at her fingertips, the biggest challenge for Litsa was trying to preserve the traditional characteristics of the home. She kept the traditional profiles of the joinery when she extended the home to include a fourth bedroom, family room and office, and sourced matching flooring and traditional ceilings for the extension. "The main heritage aspects of our home are the architraves, ceilings and timber floors," says Litsa. "We modernised these by restoring them to their former glory; painting the ceilings matte to enhance the detail, sanding back our rimu timber floors, and choosing colours and fabrics in classic designs to complement the traditional elements.
"My style is classic – modern design with choices that won't date and will stand the test of time while still updating the home."

Litsa introduced a splash of calming colour in the bathroom, with Resene Alabaster on the tongue-and-groove panelling and Resene Half Periglacial Blue on the walls. "In our bathroom we were inspired by the bungalow style," says Litsa. "This soft blue looks gorgeous with the white woodwork and bathroom fixtures.
"We have always used Resene in our renovations and are familiar with the brand, paint quality and colours.
For the bedrooms, office and family room, Litsa chose Resene Ecru White, a barely-there beige tinted with a sharp green. "Having tried a few neutrals, it was the only colour that didn't look cold and grey in our light," says Litsa. "It works really well with our carpet and furnishings as it goes with all colour schemes.
"I've really enjoyed decorating our home with gorgeous colourful fabrics. Complementing these with Resene neutrals has worked so well and given me the confidence to suggest these colours to my clients as I know they are tried and trusted to suit all schemes.
"I encourage my clients and friends to embrace patterns and colours that they love for their home, to use what they love rather than follow the latest trend."
Take a look at Litsa's work and her business, Inside Storey, see her website
Top tip: If you want to give feature ceilings a fresh update while still maintaining their detail, try Resene SpaceCote Flat washable wall and ceiling paint. Resene SpaceCote Flat is designed to bring enamel-style toughness to walls and ceilings, including in wet areas, allowing you to get a desirable flat finish without sacrificing durability. It also comes in kitchen and bathroom option, formulated with anti-bacterial silver and MoulDefender to provide extra protection in bathrooms, kitchens and laundries.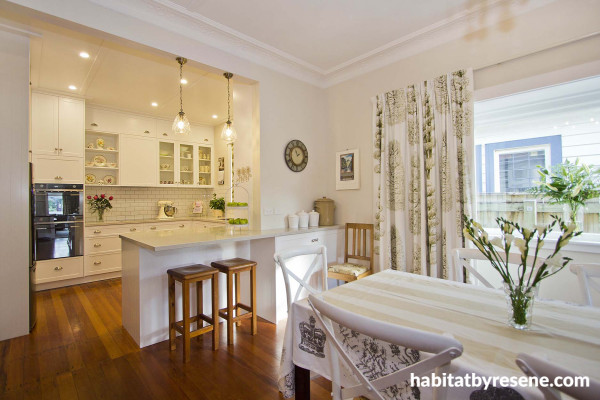 Litsa's 1930s bungalow received a fresh update when she removed the kitchen wall and painted the walls of the dining room and kitchen in Resene Albescent White with Resene Alabaster trim.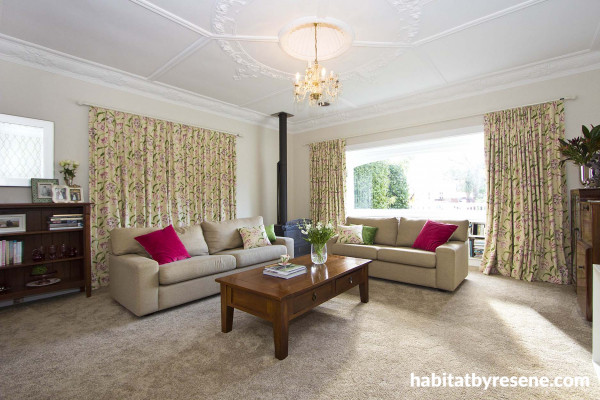 The lounge ceiling was painted in Resene Alabaster and the walls are in warm Resene Albescent White.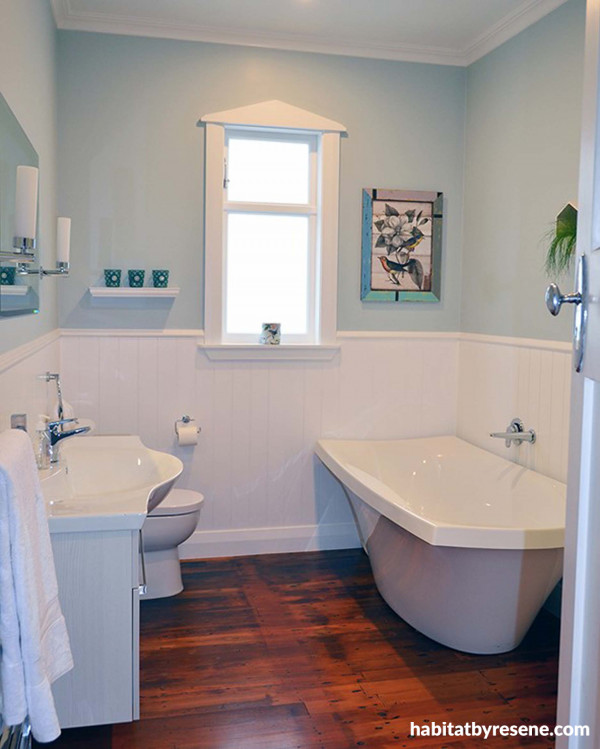 Litsa's classic bathroom was taken to new heights with bright Resene Alabaster on the ceiling and tongue-and-groove panelling and Resene Half Periglacial Blue on the walls.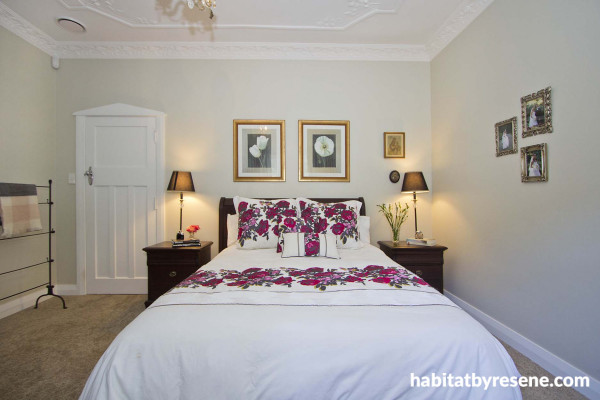 The sophisticated and classic master bedroom is in Resene Ecru White with Resene Alabaster trim.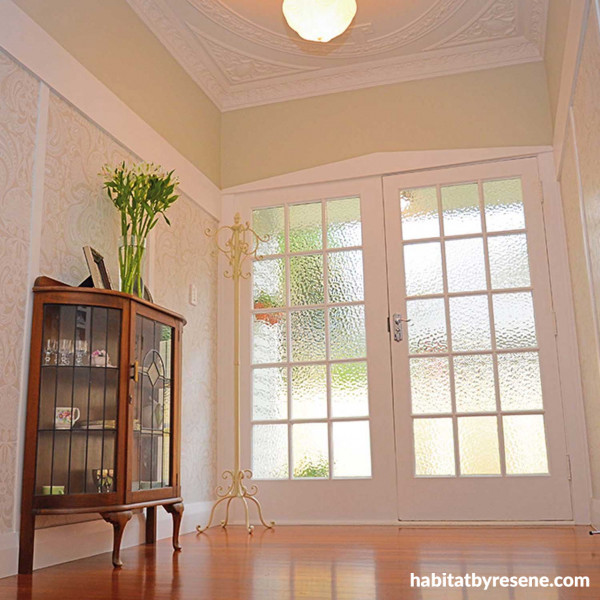 Resene Alabaster on the trim and ceiling highlights the carved mouldings in the elegant entrance. The walls are in dreamy Resene Half Linen.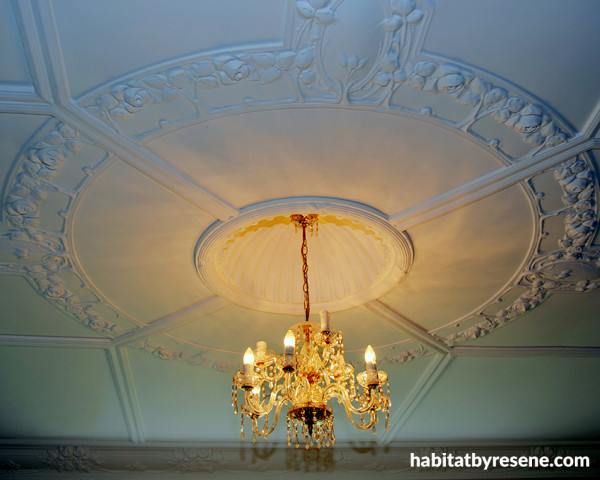 The ornamental ceiling is one of the many classic features Litsa decided to keep in the bungalow. Painting the ceiling in Resene Alabaster allowed her to highlight the intricate detail while still creating a modern space.
Published: 16 Sep 2021
Do you have a home full of wonderful Resene paint and colour? Send us some snaps by emailing [email protected].
Resene Half Periglacial Blue
the look
If you're stuck on what
colour to use or need colour
advice, try out the Resene
Ask a Colour Expert service.