►
◄
latest
habitat tv
blog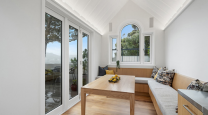 Master Builders' Chief Executive David Kelly shares his tips for building in the challenging climate.

Planning... more
Why neutral lovers should try pastels: Seven spectacular ways to incorporate pastels in your home
Soft, simple, and playful, pastels are back – and these gentle tones will pack unexpected punch to your interior. Embrace the optimism of the 50s in your home with Resene's range of pastels in fresh pinks, minty greens, and lovely lemons.
They might be pale, but pastels may have more power than you think. Pastel tones bring lightness to an interior space, making it feel larger. They can add a sense of calm through soft and fresh décor or can act as a cheerful alternative to a neutral colour palette.
When you're painting with pastels, any look is possible. Create your own vintage country cottage room by painting your furniture in a variety of Resene colours reminiscent of wildflowers or pair some pastel décor with dark greys for a modern, breezy look.
Power to the pastel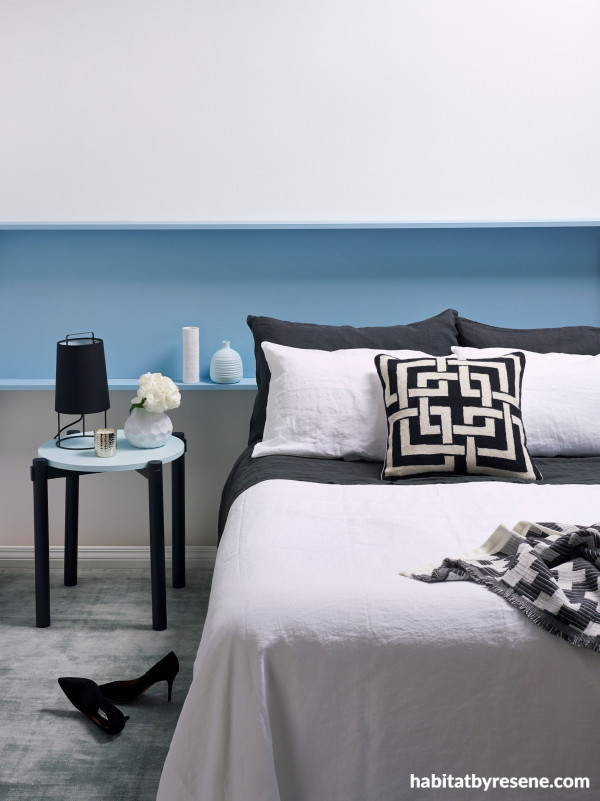 Walls in Resene Black White with a Resene Frozen headboard transform this bedroom into a soothing retreat. The bedside table is in Resene Cut Glass and Resene All Black, with vases in Resene Quarter Alabaster and Resene Cut Glass. Project by Claudia Kozub. Image by Melanie Jenkins.
If you're looking to add a twist to your bedroom's white walls, look no further than this pastel hack. Break the mould and dress up your room with a strip of colour in a soothing pastel blue, such as Resene Frozen. Blue is known to create feelings of calm in a space and a pastel blue adds an extra lightness perfect for relaxation. Add body to the room by framing the strip of colour with painted shelves on the top and bottom. When dealing with an airy pastel colour palette, you can add depth by incorporating bolder patterns and dark colours such as Resene Nero. These bolder colours act as grounding accents while also highlighting the bright pastel tones.
Lower your tone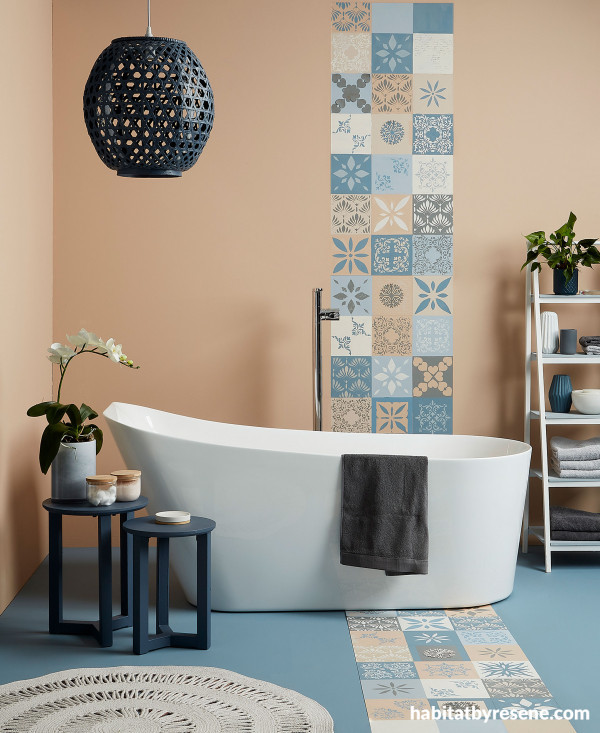 This bathroom haven pairs a wall in Resene Cashmere with a painted floor in Resene Lynchpin. Cleverly stencilled tiles are brought to life with Resene Solitaire, Resene Gull Grey, Resene Double Stack, Resene Sour Dough and Resene Longitude. The rattan lampshade adds a touch of moodiness in Resene Rhino and complements the tables in Resene Avalanche. The shelves are in Resene Eighth Black White with accents in Resene Gull Grey. Project by Megan Harrison-Turner. Image by Bryce Carleton.
Make a splash in the bathroom with powdery blues and gentle corals that are sure to soak the stress away. If you're cautious to use colours in the bathroom, then pastels are for you. Muted pastels such as Resene Longitude are a great step up from neutral colours. They're easy on the eye and have the flexibility to be paired with an eclectic range of décor but add an extra sparkle of personality. Having a muted pastel neutral also allows you to be bold with your décor. Try dark charcoal accents, such as Resene Rhino, to ground your airy pastel look or pair those muted pastels with earth tones such as Resene Cashmere that subtly define the space.
It's in the detail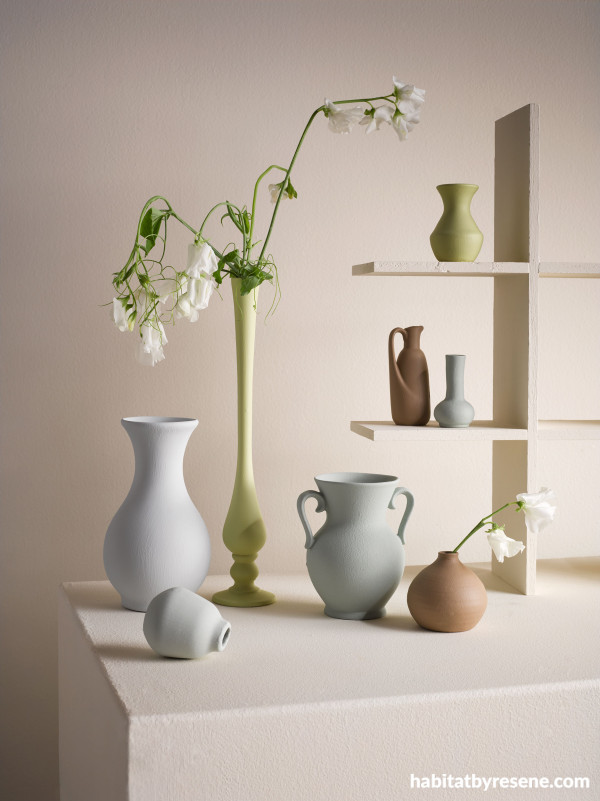 This neutral wall, plinth and shelf is in Resene Bleach White. Vases add a soft pop of colour in Resene Quarter Powder Blue, Resene Robin Egg Blue, Resene Donkey Brown, Resene Crisp Green and Resene Quarter Crisp Green. Project by Amber Armitage. Image by Melanie Jenkins.
Sometimes a pop of pastel can be just as effective as an entire wall. Painting your wall in a clean white, such as Resene Alabaster, provides the perfect base to mix and match décor in pale Resene Crisp Green or muted Resene Robin Egg Blue. If you want a more permanent colour accent, try painting your architraves and skirtings in a pastel Resene Quarter Powder Blue. This will bring some colour into the space and define your wall without feeling overwhelming. This technique is especially good for smaller rooms, where keeping things light and simple is key to creating the illusion of space.
Colour me happy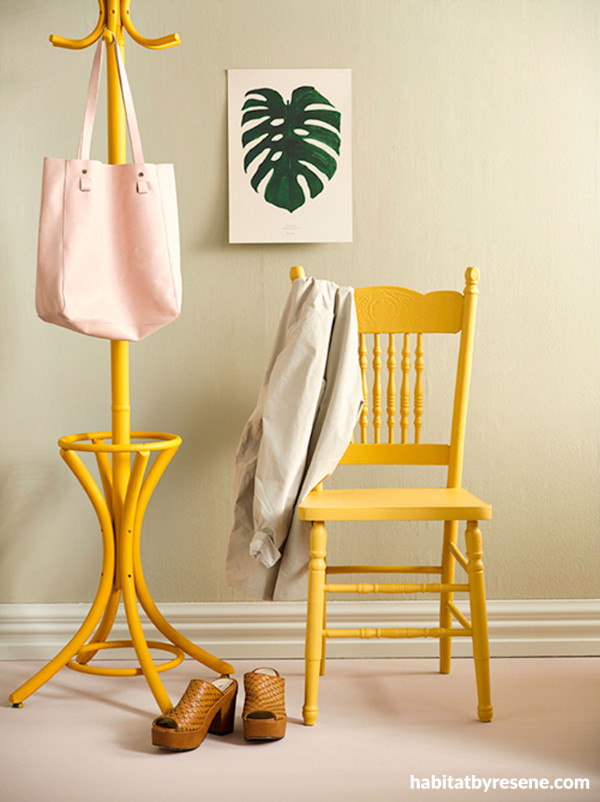 Strong pops of pastel are often the perfect way to kick off a colour scheme. This pale wall in Resene Tana has a crisp Resene Alabaster skirting and is paired with a coat rack and chair in vibrant Resene Hot Toddy. Project by Gem Adams. Image by Melanie Jenkins.
Create an entranceway that will give you that feel-good feeling every time you walk through the door. Yellow is the perfect colour to begin an uplifting colour scheme and there's a yellow for every room, from creamy Resene Hot Toddy to warm Resene Moonbeam. Keep it upbeat but not too jarring by using a mix of pale pastels bordering on neutral hues and more colourful, vibrant pastels. Ensure most of your pastels have that muted, dusky quality similar to what you would find in nature. This will guarantee your pastels work well together and complement other elements in the room. Finish the look with a crisp white trim, such as Resene Alabaster, to give your pastels a defined edge and keep them looking fresh.
Out of the blue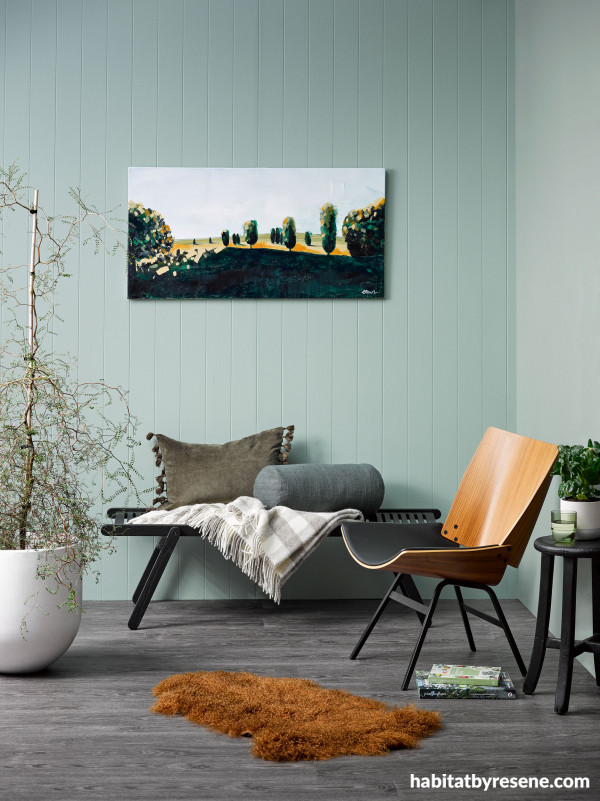 Try a calming green room with a panelled wall in Resene Pewter and surrounding walls in Resene Spanish Green. The floor is in Resene Colorwood Dark Ebony. The pot is in Resene Quarter Duck Egg Blue. Project by Amber Armitage. Image by Melanie Jenkins.
Create a soft outdoor vibe in your living room with walls in pastel green. Try a back wall in Resene Pewter, a neutral soft grey green with subtle hints of blue, or Resene Spanish Green, a mellow green. Green is believed to help relieve stress, and a living room in pastel greens engages that calming energy without darkening the space. Pair it with accents painted in Resene Quarter Duck Egg Blue and natural earthy furniture for a forest look.
Tickled pink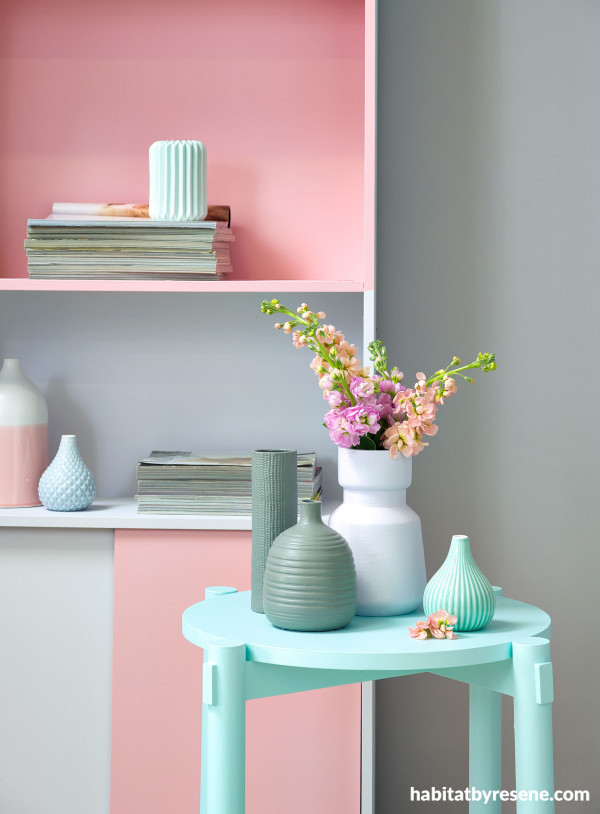 The perfect pair; pink and grey shine in this storage nook with a wall in Resene Rakaia and asymmetric shelving units in Resene Sweet Spot and Resene Seashell. A splash of vibrant blue Resene Reservoir colours the side table. Project by Claudia Kozub. Image by Melanie Jenkins.
Jazz up those dreary pigeon greys with a pop of flamingo pink. The classic 80s pink and grey combo are here to ruffle your feathers in the best way and are a perfect addition to your nest this winter. Whimsical and dreamy, a storage space in alternating Resene Seashell and rosy Resene Soothe is just the thing to add interest to a space without detracting from other colourful décor. If your home has an abundance of neutral whites and greys, use a pale pastel pink to give the space a subtle lift. Just a dash of Resene Wax Flower or Resene Dust Storm is enough to add interest and warmth to a space.
Dinner and a show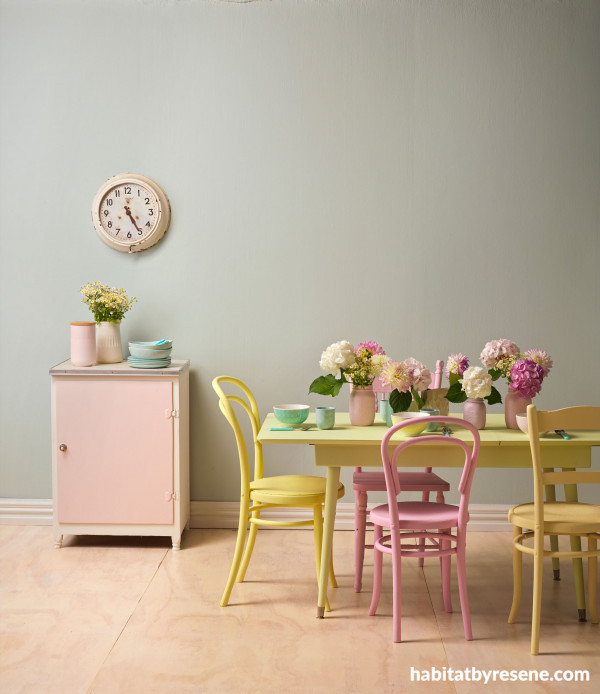 This cheerful dining room pairs a Resene Nebula wall with a skirting and sideboard in Resene Pink Lace. The table and chairs are in Resene Moonbeam, with pastel pink chairs and vases in Resene Princess. Project by Claudia Kozub. Image by Melanie Jenkins.
Create a feast for your eyes with this array of pastel hues. Your dining room is a place to celebrate good food and excellent company, so why not take a chance and create a pastel party in your home. To start your pastel colour scheme, choose a subtle wall colour that will work well with your existing décor and the amount of light in the space. A wall in pastel blue, such as Resene Nebula, will cool down a space and requires a touch more natural light than a brighter wall, such as pale yellow Resene Sweetcorn or pale pink Resene Soothe. Bring in brighter pastel hues to paint your décor and up the contrast with complementary colours. If you're after an earthier atmosphere that's easier on the eye, try pairing your pastel wall with a floor in Resene Colorwood Whitewash.
Published: 24 Jun 2021
Do you have a home full of wonderful Resene paint and colour? Send us some snaps by emailing [email protected].