►
◄
latest
habitat tv
blog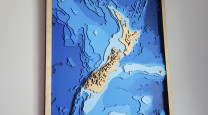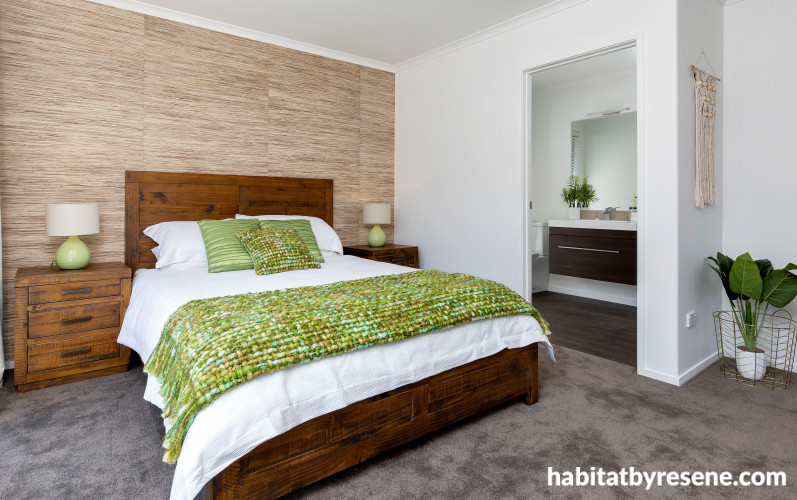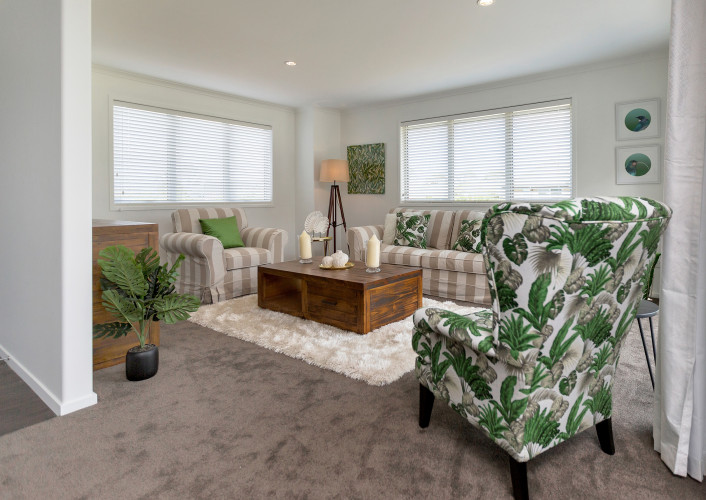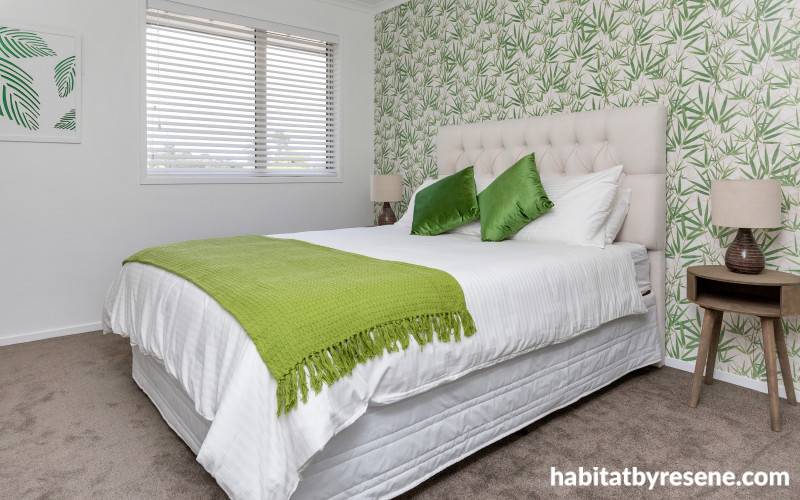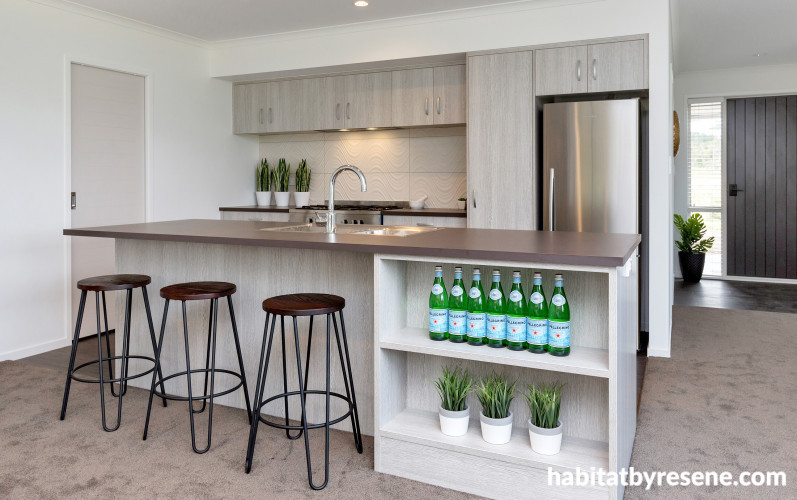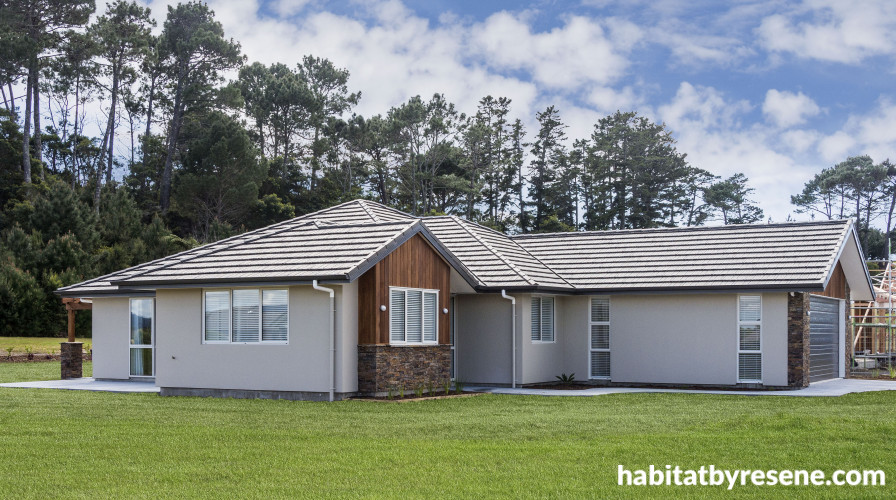 Yvette's tropical heart-felt paradise
When Yvette Parker of Studio Y Interior Design was asked to design the interiors of a house for the Heart Foundation Lottery, she decided to use light fresh Resene colours to underpin the tropical theme.
The foundation runs regular lotteries with a brand new home as the prize. This particular house was in Northland near the sea, and built by Jennian Homes. Its style was modern with some traditional features on the exterior. Natural materials like cedar and schist tie in with the overall brief for a tropical-inspired home.
Whangarei-based Yvette tell us more.
What as the brief and how do your design and colour choices respond to that?
The initial brief was tropical, but not in a palm beachy way. This meant researching tropical accommodations and dwellings to get a feel for the correct style. There's a fine line between 'resort tropical' and 'palm beachy tropical', so I had to get it right! This meant choosing light, crisp and fresh colours, as well as adding textured elements in natural fibres, and dark timber furniture. Adding splashes of green helped support the tropical vibe and gave the home pops of colour.
Even though the house isn't for a particular person or family, I personalised it by including artwork by local artists. Each piece of furniture was given consideration as to how practical and functional it made the space, and of course, each item of the home had to have an element of beauty in it.
What Resene colours and products were used, and what inspired those choices?
Resene Quarter Rice Cake was used for the ceilings and walls to provide a fresh, crisp white backdrop. This made a subtle yet distinguishable difference to doors and architraves, which were painted in Resene Eighth Napa – this colour gave continuity between the interior and exterior, which was painted in Resene Napa. The master bedroom features a wonderfully textured wallpaper (Grasscloth 2015, 21408) from Resene ColorShops, which was chosen for its multitude of intertwining colours and woven detailing.
In another bedroom, for a bit of a 'wow' factor, I chose a bamboo leaf print wallpaper from the Just Like It collection (J67504) from Resene ColorShops as a feature wall. As this was a highly patterned wallcovering, a simple bed-setting was required, with a few touches of green to complement and not overpower the feature wallpaper.
What part of the design are you most happy with?
I absolutely love how the whole home has come together, from the furniture styles to the fabrics used, to the many shades of green. However my absolute favourite is the textured grasscloth wallpaper from my local Resene ColorShop – it gives depth to the master bedroom, and adds another dimension with the texture. I love that it's not a print, and is actual woven materials, which is fantastic to the touch!
What was the biggest design challenge for this project?
The overall 'tropical' theme was exciting, however, I'm personally not fan of the colour green, so initially this was a little daunting! During the project I kept being drawn to things coloured green, whether it was something for the project or not! Now, I'm a fan of green after seeing the varied ways it can be used.
For more of Yvette's work, see www.studioy.co.nz.
For more about the Heart Foundation lottery, click here.
Photography by Kellie Extance Photography.
Published: 18 Jan 2017
Do you have a home full of wonderful Resene paint and colour? Send us some snaps by emailing [email protected].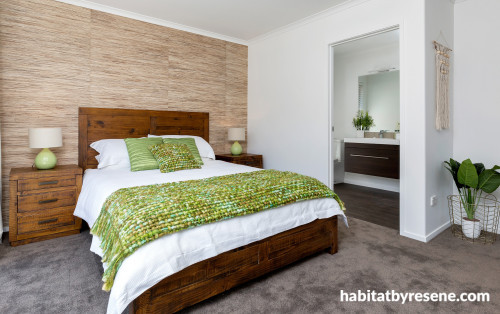 The master bedroom is Yvette's favourite room in the house, with its highly textured wallpaper (Grasscloth 2015, 21408) from Resene ColorShops used as a feature wall behind the bed. The other walls are painted in Resene Quarter Rice Cake with trims in Resene Eighth Napa.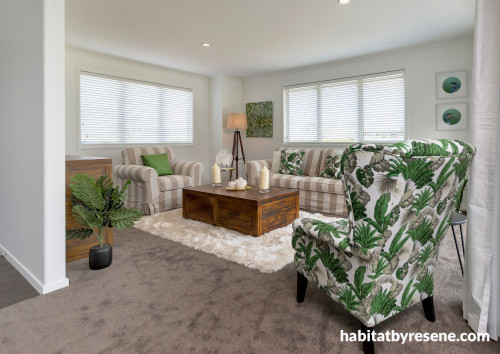 Yvette wanted to give the lottery house a tropical vibe without it being overpowering, so chose fresh green printed fabrics to complement the Resene Quarter Rice Cake walls in the living room.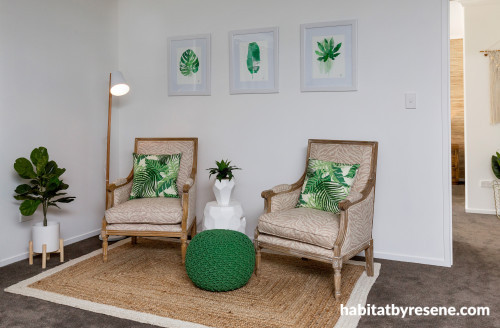 Another small sitting area is a great place to relax and continues the tropical beachy theme with fabrics and prints. The walls are in Resene Quarter Rice Cake with trims in Resene Eighth Napa.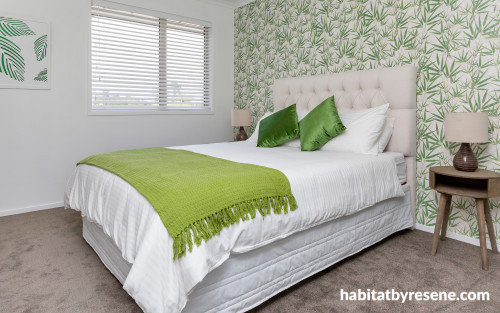 Another bedroom also uses a wallpaper feature wall, this time in a green bamboo print, from the Just Like It collection (J67504), available at Resene ColorShops.
Soft mocha-coloured woodgrain cabinets in the kitchen are framed by the Resene Quarter Rice Cake walls. Yvette chose the paint colour as her main wall and ceiling colour for its fresh look.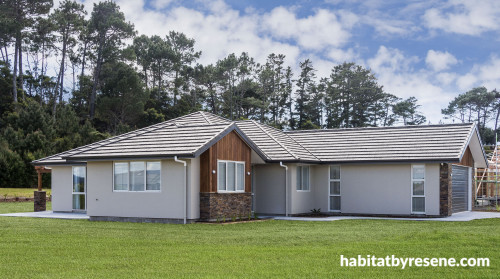 The home was built by Jennian Homes with the exterior cladding finished in Resene Napa.






the look
If you're stuck on what
colour to use or need colour
advice, try out the Resene
Ask a Colour Expert service.