►
◄
latest
habitat tv
blog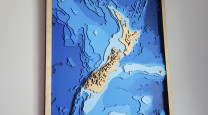 10 favourite homes from 2019
While we loved each and every unique, creative and inspirational House of the Week we featured in 2019, these ten homes in particular really caught our readers' eyes with their genius design solutions and clever use of Resene paint colours and wallpapers.
Kelly Gammie's gorgeous Grafton transformation
Published: 09 Jan 2020
Do you have a home full of wonderful Resene paint and colour? Send us some snaps by emailing [email protected].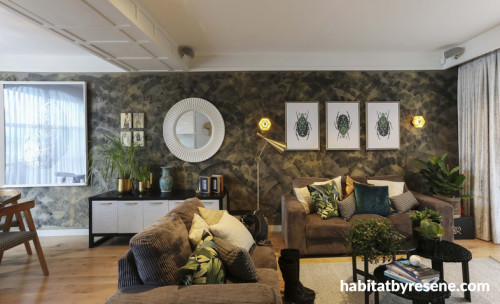 Having an artistic eye certainly pays off, as interior designer Kelly Gammie of Eucalyptus Design proved by transforming this previously vanilla 1990s townhouse into the sophisticated and chic home it is today. She even had a custom Resene colour created to get just the right hue. Get a closer look here.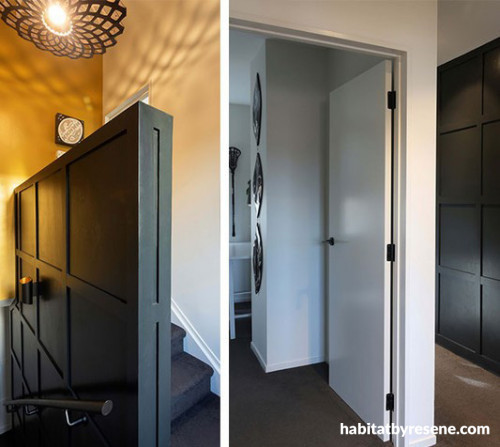 Batten walls in Resene Double Cod Grey and Resene Ecru White walls on the entrance level are complemented with trim in Resene Milk White, a handrail in double strength Resene Colorwood Ebony and Resene Alabaster ceilings.
Jonathan Smith's superb Ponsonby sawtooth expansion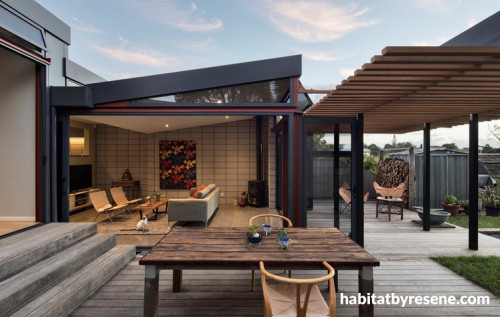 Matter Architects' Jonathan Smith gave this Ponsonby villa a much-needed facelift, extending the back of the house in a way that creates an enviable and adjustable bridge between indoors and out. Find out just how he achieved fluid continuity using quality materials and a palette of strong Resene colours.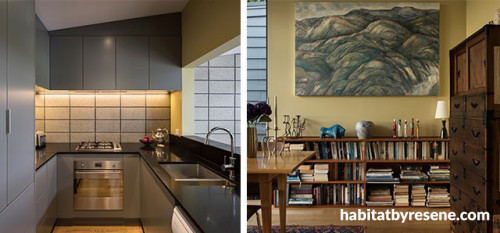 Cabinets in Resene Dusted Blue contrast the Resene Butter walls in the kitchen and dining areas.
Maurice and Marije's alpine hideout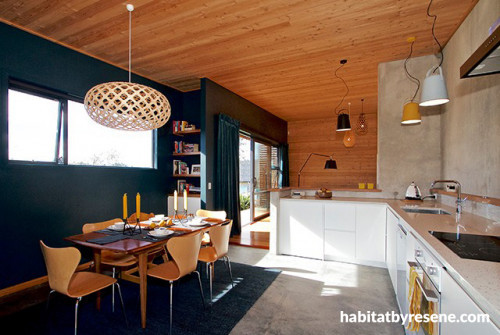 This beautifully simple and serene alpine hideaway is another superb study in indoor outdoor flow. Maurice and Marije of MnM Design created a cabin that not only works well with its natural surroundings, but is full of warmth and character. We especially loved their use of Resene Elephantto provide contrast against the cabin's concrete features.
Cove Construction's bach beauty in Matarangi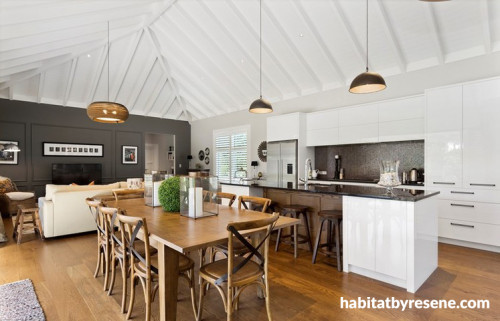 This generously-sized bach has all the charm of a holiday home with the luxuries of modern living – all tied together with a rich palette of Resene colours. Expert builders, Cove Construction, used Resene Half Mondo and Resene Truffle throughout the living areas, making this Matarangi bach a real home away from home.
Sharon Skylark's terrific tiny home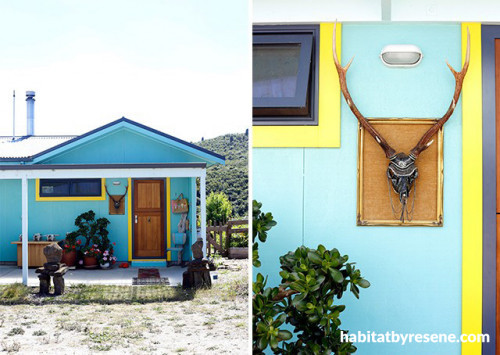 You loved Sharon Skylark's modestly sized 104m2 home, which proves small spaces can make a big style statement when well-crafted and creatively coloured. Find out how she used splashes of Resene colour to turn her tiny home into a work of art.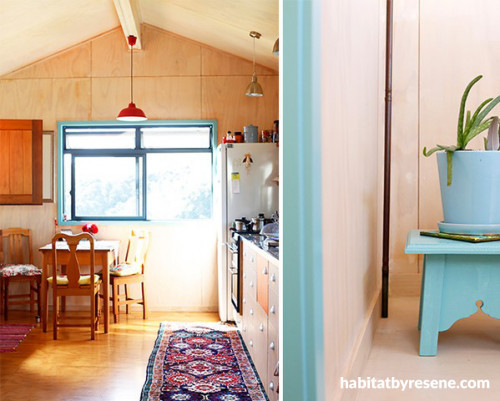 Form meets function in Sharon's joint kitchen and dining area. The ply walls have been stained with Resene Colorwood Whitewash waterborne wood stain with Resene Aqua trims to frame the exterior view. On the right, a plant stand in the corner of the room has been painted Resene Aqua to match the door trims.
Sandra and Doug's grand old Victorian beauty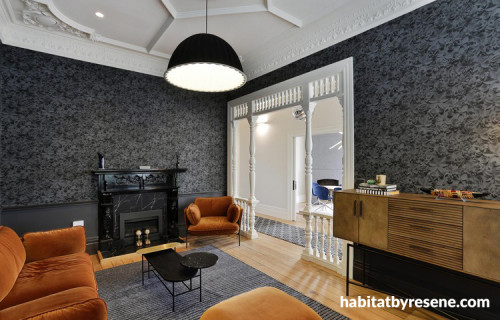 This once-tired Victorian home was transformed into a spectacular boutique accommodation by Sandra and Doug's inspiring attention to detail, highlighting the best of its classic design while adding modernised comforts. The grand parlour is a real triumph with moody accents in Resene Fuscous Grey.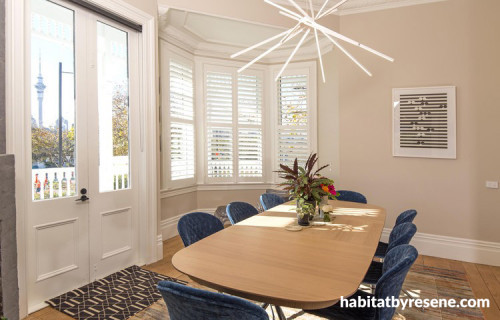 Doug and Sandra chose Resene Sandspit Brown, a classic warm taupe, for the dining room.
Chris and Kim's lavish Lockwood in Nelson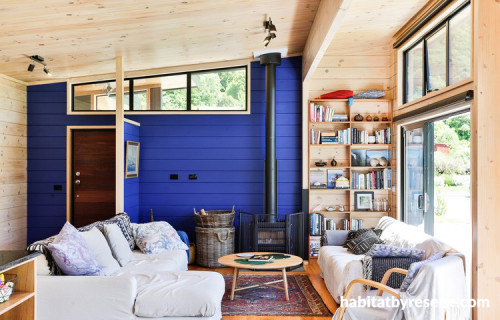 Resene Aviator is the star of Chris and Kim's stellar Lockwood, appearing on feature walls in the living room, lounge, kitchen and bedrooms in striking contrast to the timber. Take a closer look at their customised haven here.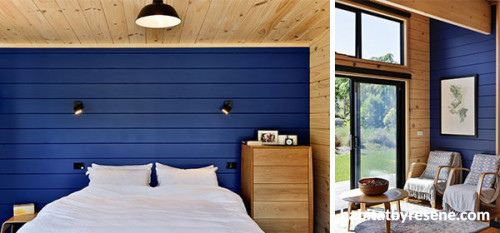 Feature walls in the living room, lounge, kitchen and bedrooms have all been painted in striking Resene Aviator.
Annabel Berry's fantastic Northern Otago farmstead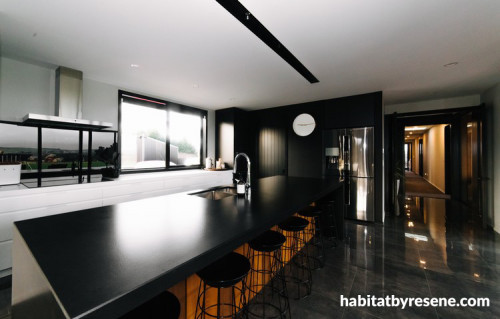 Overlooking farmland and the Kakanui mountain, this North Otago farmstead impressed with its contemporary clean lines and carefully chosen neutral palette including Resene Double Alabaster and Resene Half Foggy Grey. Find out how Annabel Berry of Design Federation landed on each colour while keeping the owners' personalities and lifestyle in mind.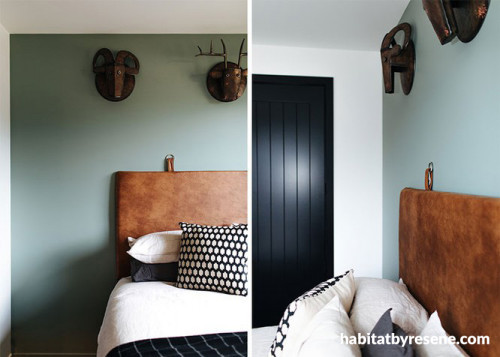 In the spare bedroom, the feature wall in Resene Smoky Green has been painted behind the leather bedboard – inspired by the North Otago landscape. The other walls and ceiling are in Resene Double Alabaster and the door and trim are in Resene Nero.
Charlotte and Greg's colourful character home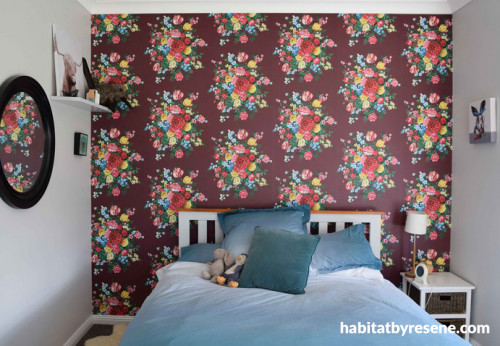 Inspired to bring a little bit of Great Britain back to New Zealand, Charlotte and Greg built a new home full of character and personalised touches – including a number of spectacular designs from the Resene Wallpaper Collection. See more of their cheerful choices here.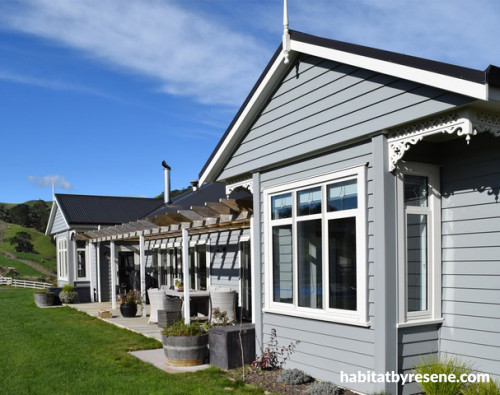 The outside of Charlotte and Greg's new build features weatherboards painted in Resene Double Stack and heritage-style details and trims in Resene Double Alabaster.
Debra & Tony's jaw-dropping period property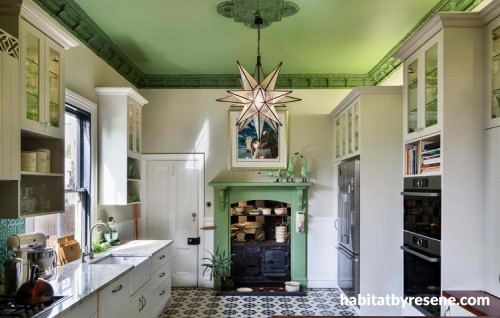 Masterful designer Debra DeLorenzo took her turn as the client in creating this crown jewel in the heart of Wellington. A project ten years in the making, Debra's exquisite use of colour to highlight her home's heritage details is a serious head turner. Take the full tour here.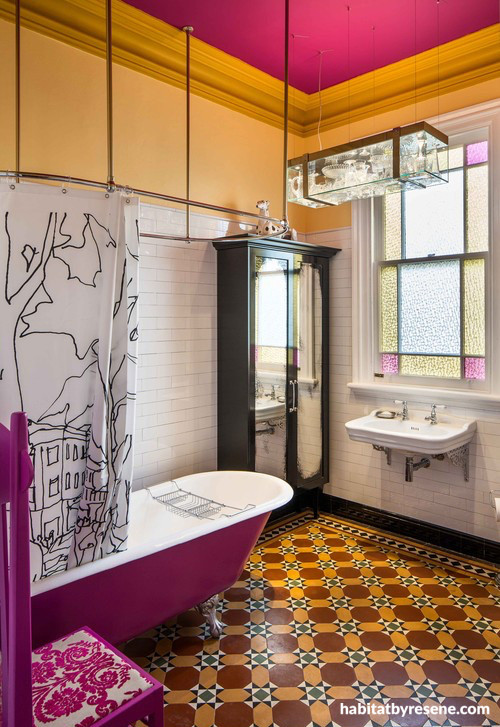 Debra's main bathroom houses a range of vivid colours that alongside original tessellated tile and stained-glass window brings the room to life. The ceiling is painted in Resene Sassy, the cornice is in Resene Pizza, the walls are in Resene Golden Glow and the cupboard is in Resene Black.