►
◄
latest
habitat tv
blog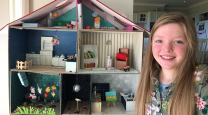 10 room makeover projects for under $500 (that you can do in a weekend)
If you're strapped for time and strapped for cash, then these ideas are for you. Having a budget before you start your renovation is a great way to stay on track during your product selection. A home renovation doesn't have to break the bank and you can easily get your home looking spick and span for under $500. Whether it's painting your front door or creating an elegant gallery wall, it only takes a weekend, and often just an afternoon, to liven up your living space with Resene paint.
Leave it hanging

This gallery wall comes to life with rich Resene Pohutukawa on the walls and Resene Half Foundry for the painted words. The moose head is in Resene Tiki Tour with an eclectic mix of frames painted in Resene Half Foundry, Resene Tiki Tour, Resene Gold Dust and Resene Proton. Project by Megan Harrison-Turner. Image by Melanie Jenkins.
A picture is worth a thousand words and the photographs and artwork in your home are often more than just décor; they tell the story of who you are. It's time to stop thinking of the wall as just a frame to hold up the house and start thinking of it as a blank page. Creating a gallery wall is an inexpensive and effective way to cohesively connect the artwork in your home. A gallery wall is effectively a feature wall whose position in the room and wall colour have been chosen based on what will make your art shine. Choose a wall next to a window, or under a bright light so the pieces will always look their best. Not sure what colour to paint your gallery wall? Select a colour that has a similar tone to one of your artworks to begin your colour scheme or go for rich colours such as Resene Pohutukawa or Resene Paua to make your art stand out.
Show them the door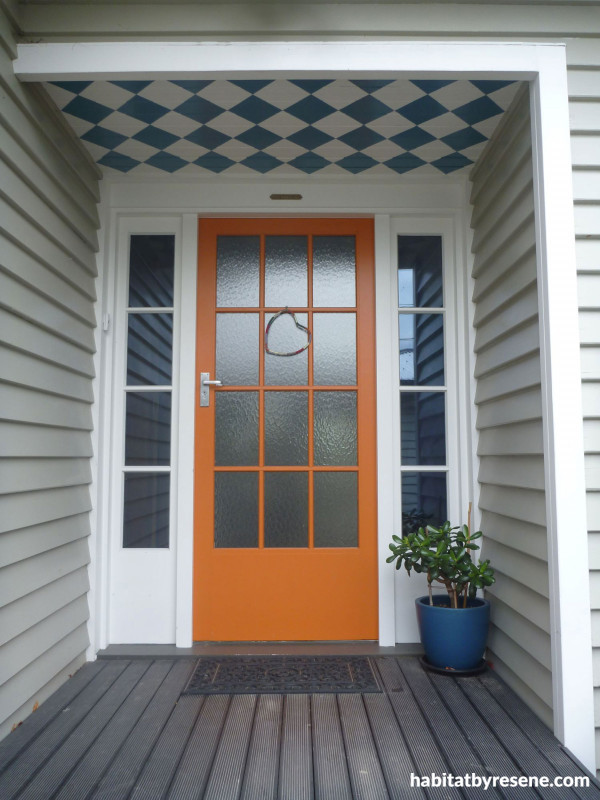 This front door is painted in striking Resene Clockwork Orange with surrounding trim in Resene Quarter Thorndon Cream. The weatherboards are in Resene Triple Ash and the creative harlequin ceiling uses Resene Bismark to create a geometric pattern. Project and image by Fleur Thorpe.
Open the door to big possibilities with a small budget. Painting your front door gives you the opportunity to do something wonderful with a simple lick of Resene paint. When the exterior starts looking tired, many people discount their front door in favour of tackling the entire exterior. But painting your door has the capability to transform the exterior of your home and get it looking sharp and polished again. The front door welcomes you home every day and is the first thing your guests see when they visit. People across the world are embracing the chance to experiment with bold colour, painting their doors in reds, yellows, and oranges. Do some research before you paint to see what colours work best with your home's style. Deep colours such as rich Resene Salsa or Resene St Kilda are timeless on villas and heritage homes, while more contemporary homes can increase brightness with sunny yellows such as Resene Turbo or fresh blue Resene Hullabaloo.
Lazy days

This cosy bedroom uses deep Resene Coast for the walls. The creative and subtle painted headboard defines the bed space and is painted in Resene Seachange. Project by Gem Adams. Image by Nikki Astwood.
Add a bit of sparkle to your bedroom with this creative headboard idea that won't break the bank. If you're looking for a way to add a personal touch to your bedroom or guest room, look no further than the painted headboard. Painting the shape of a headboard directly onto the wall gives you the freedom to change it as your style changes. Create a cosy atmosphere with a headboard in the shape of a square or half-circle painted in dark and moody Resene Coast or Resene Licorice. Darker, cooler colours for your bedroom wall act as recessive features, making your walls feel further away and giving the impression of space. To ensure your painted headboard is eye-catching for all the right reasons, use masking tape to create geometric shapes and get that extra crisp outline.
A clean sheet of wallpaper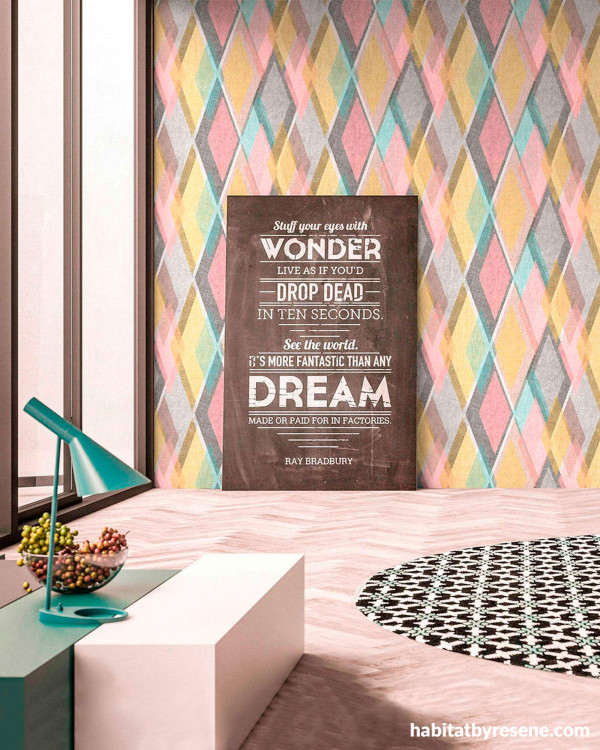 A colourful wallpaper, such as Resene Wallpaper Collection 35591-3, does wonders to transform a wall from drab to fab. To make your wallpaper truly shine, surround the wall in a neutral trim painted in Resene Alabaster.
Colour is a proven mood booster, so brighten your walls and create a happy home. If you're looking to add interest to a space or are after a feature wall with a difference, try a cheerful wallpaper from your Resene ColorShop. Bold and colourful, wallpaper is a style statement that catches the eye and enhances any room. For a thrifty hack, try wallpapering a single wall in your living space for an instant feature wall. Paint the surrounding trim in a neutral colour that complements the wall. For example, use warmer whites such as Resene Eighth Pearl Lusta with colourful patterns, such as Resene Wallpaper Collection 35591-3. If you're hesitant to decorate with wallpaper ask the friendly Resene ColorShop staff for help and pick up the habitat plus - Wallpaper guide for lots of tips and tricks. Resene now have several ranges of wallpaper, from paintable to pre-pasted, so you can update your walls as your style grows.
Spice up your kitchen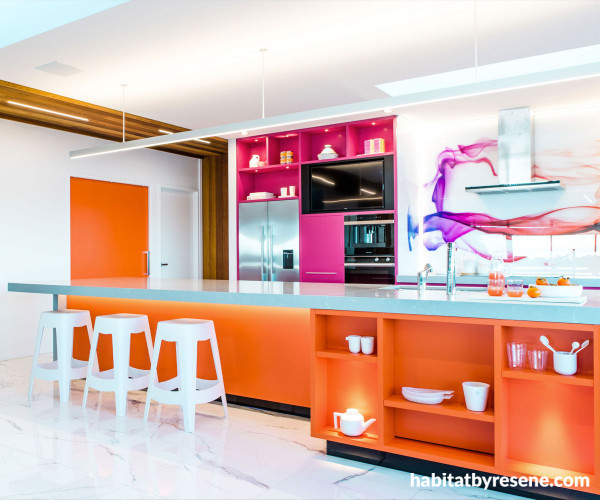 A bold kitchen island can liven up the space in an instant. This island and matching door are painted in Resene Daredevil with surrounding walls and ceiling in Resene Black White. The bright joinery on the back wall is in Resene Colour Me Pink. Design by Neil Fenwick.
Splash out with a colourful kitchen island. Resene has a smorgasbord of colour schemes to get your kitchen looking hot, hot, hot. Your kitchen island plays a major role in the overall feel of your kitchen and dining space. To achieve a cohesive look, base your island colour scheme on your pre-existing cabinets, or match your island to your kitchen splashback. This will ensure that whatever colour you choose won't disrupt the flow of the space. If you're after a more striking colour combination, try contrasting complementary colours with one another. For more info on complementary colour combos, click here.
5 more quick fire projects for under $500 to try: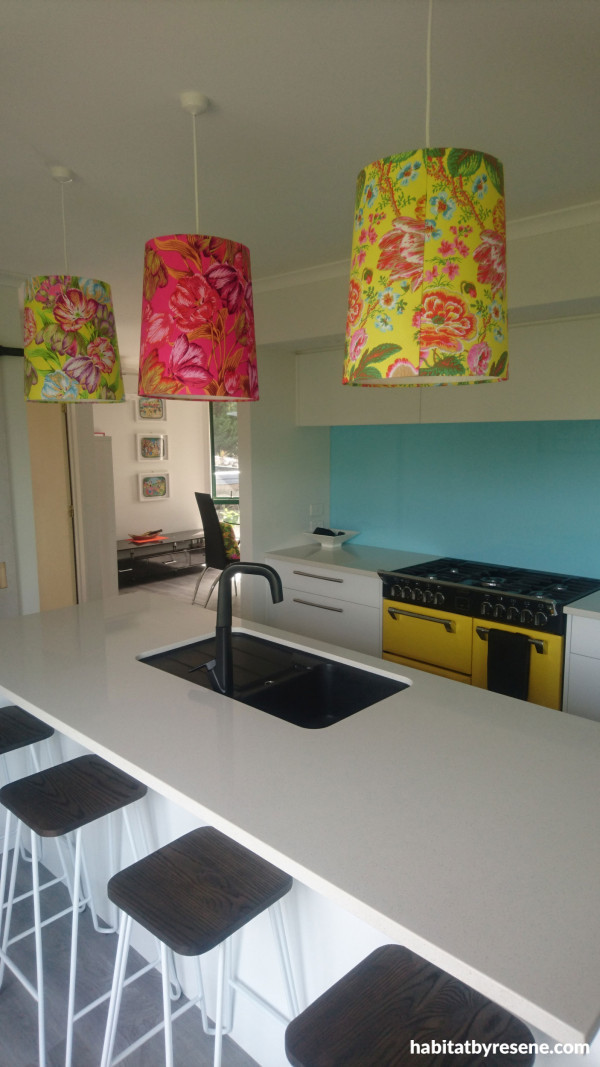 Homeowner Kirsten used clear, crisp blue Resene Charlotte for the splashback in this kitchen. Resene Fizz makes a dashing appearance on the Belling Range cooker. The walls of the kitchen are painted in clean Resene Black White.
1. Paint a kitchen splashback to match your décor.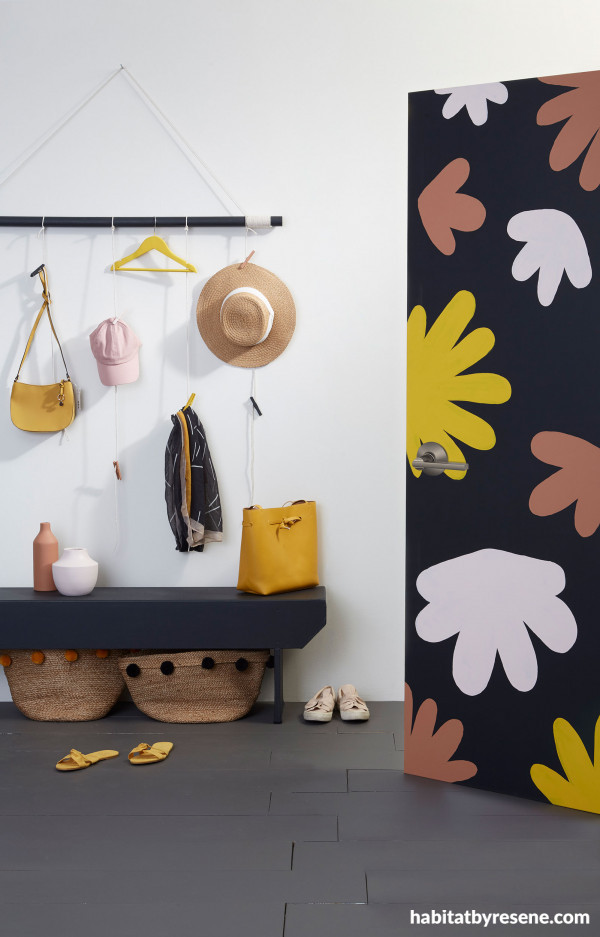 This colourful entranceway uses Resene Double Foundry, Resene Sante Fe, Resene Galliano and Resene Dust Storm for the interior door. Contrast is created by pairing a wall in Resene Double Alabaster with an upcycled bench in Resene Double Foundry. Project by Laura Lynn Johnston. Image by Bryce Carleton.
2. Revamp your entranceway with an upcycled bench and a funky interior door.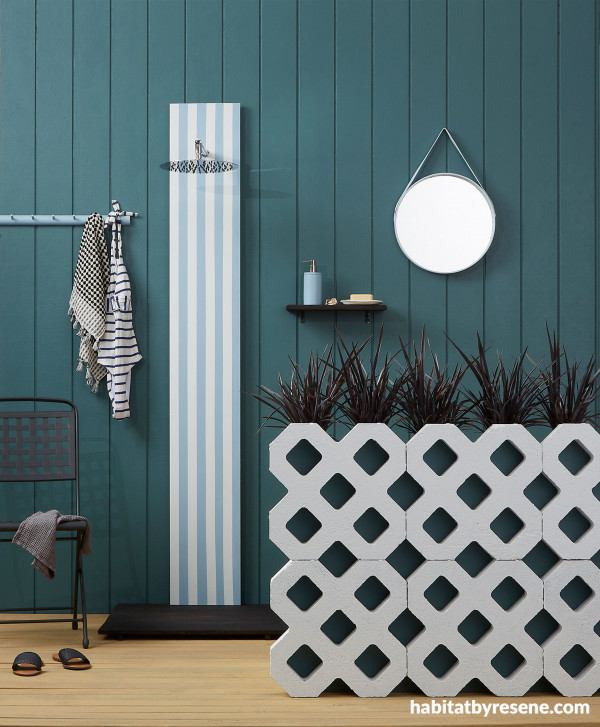 Building an outdoor shower out of recycled materials such as breeze blocks is a great idea to keep the sand outside and spruce up your outdoor living area. Wall in Resene Green Meets Blue, deck in Resene Woodsman Uluru, striped shower back in Resene Nepal and Resene Sea Fog, timber shower platform and shelf stained in Resene Woodsman Pitch Black, breeze block planter in Resene Sea Fog and Resene Green Meets Blue, hook rack and soap dispenser in Resene Nepal and mirror in Resene Breeze. Project by Kate Alexander. Image by Bryce Carleton.
3. Create an outdoor living area using recycled materials, such as breeze blocks or a strip of spare wood, painted in Resene colours.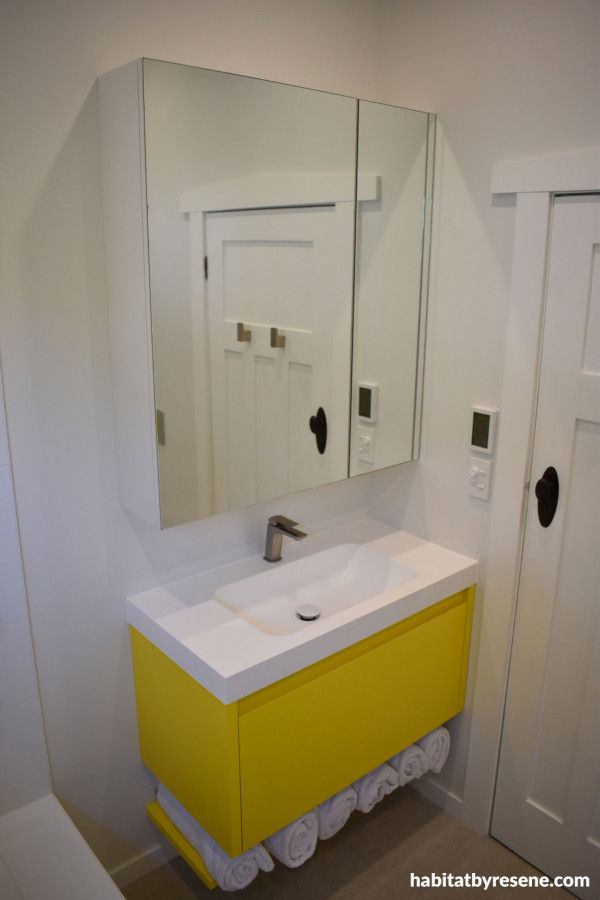 Colourful kitchen cabinetry can lift a space. Resene Turbo brightens this small bathroom, designed by Laura Lochhead of Pocketspace Interiors.
4. Upgrade your bathroom vanity or cupboard with a colourful paint job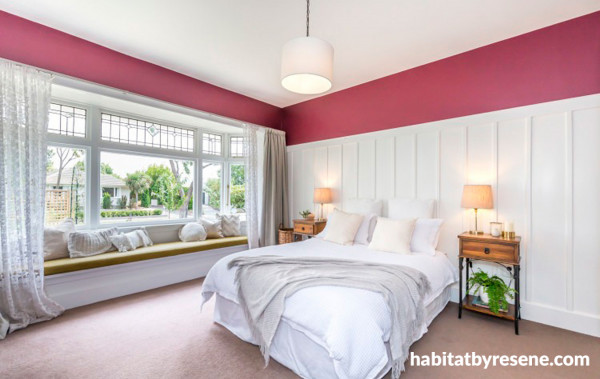 Homeowners Laura and Jarred updated this 1920s California bungalow with fresh contemporary colours in berry Resene Arthouse with a vintage beadboard in Resene Quarter Rice Cake.
5. Add a beadboard for a tongue-and-groove panel style that will give your room a vintage look.
Find lots of other weekend project ideas in the Resene online projects gallery.
Published: 27 May 2021
Do you have a home full of wonderful Resene paint and colour? Send us some snaps by emailing [email protected].
the look
If you're stuck on what
colour to use or need colour
advice, try out the Resene
Ask a Colour Expert service.