►
◄
latest
habitat tv
blog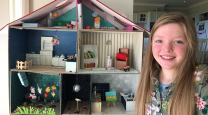 Rebellious colour: Rule-breaking colour combinations to try in your home
Should red and green really never be seen? Will brown and blue really never do? The old colour rhyme rules have been around for years, but sometimes 'rules' are made to be broken. Instead of following the tried and tested colour pairings, try embracing the unique and unusual with some rebellious combinations.
Knowing how colours work together helps to guide you on when to stick to the rules and when to successfully push the boundaries. For a harmonious and visually pleasing space, try using analogous or complementary colours on your walls.
How colours work together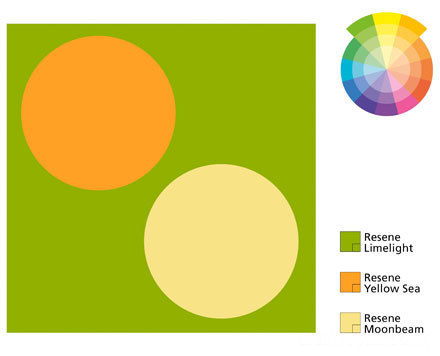 Analogous colours are any three colours that are side by side if you are using a standard twelve-part colour wheel. For example, yellow-green, yellow and yellow-orange are analogous. Pairing analogous colours together creates a seamless flow that has a peaceful effect.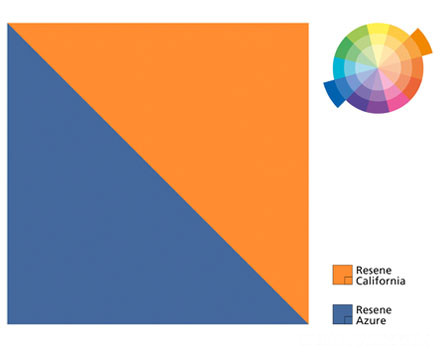 For a bolder look, use complementary colours. Complementary colours are any two colours that are directly opposite one another on the colour wheel. Colour combinations such as red and green or orange and blue create contrast and connote stability.
One additional thing to keep in mind is the context of where your colours will be painted. Colour behaves differently in relation to other colours and shapes, so it is important to test your chosen colours with Resene testpots in the space you are wanting to paint.
Creating unique colour combinations is also a great way to express your personality. If you're not sure where to start, we've compiled some unexpected colour combinations for all types of houses – from antique villas to modern apartments.
Orange you glad you tried something different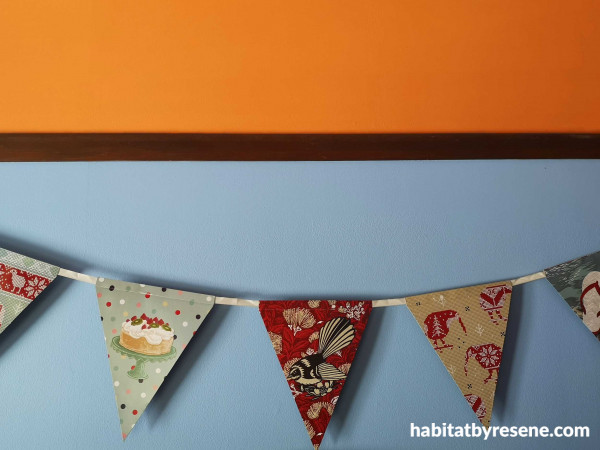 The bedroom wall of this Wellington home uses a daring colour combination of Resene West Side for the top strip and Resene Nepal for the rest of the wall. The two colours are divided by a strip of wood stained in deep Resene Mahogany Colorwood stain.
Plain walls got you feeling blue? Try this cheery colour combination of orange and light blue. Complementary colour theory suggests that when two contrasting colours are paired together, they create a strong, contrasting palette that makes a space pop. Often used in cinema, the orange and blue colour combination is reminiscent of the contrast between the earth and sky, land and sea, and fire and ice. When using this combination in your home, use the more vibrant of your two colours sparingly or as an accent colour. Three quarters of this bedroom wall is painted in pastel blue Resene Nepal, while the top quarter strip is in a sunny Resene West Side. To break up the transition between these two bold colours, add a strip of wood coloured with a dark wood stain. This will highlight the deep, warmer tones of your orange and keep your blue looking fresh.
Back brown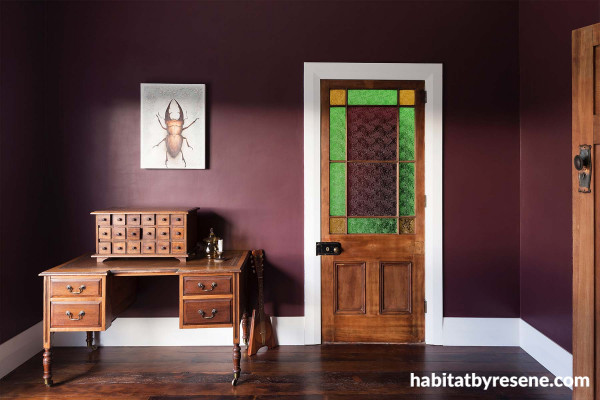 Homeowner's Jane and Pim took inspiration from a private men's smoking lounge and painted their elegant living room in Resene Cab Sav. They restored the original stained-glass door and painted the trim in fresh Resene Quarter Villa White.
Brown is not often associated with elegance, but it can add a distinguished touch to a room. Resene Cab Sav is a sumptuous brown that, depending on the light, can appear to be brown with red tones or red with brown tones. Rather than letting the brown recede into the shadows and darken the room, pair Resene Cab Sav with a clean, sharp-edged white, such as Resene Quarter Villa White. The white trim will instantly lift the room, framing your brown walls and defining your furniture. This restful, elegant atmosphere is, in part, due to homeowners Jane and Pim's bold pairing of this colour with dark wooden furniture. It is tempting to shy away from pairing brown with wooden décor, but the effect is one of sophistication and timelessness.
Blue and green – we're keen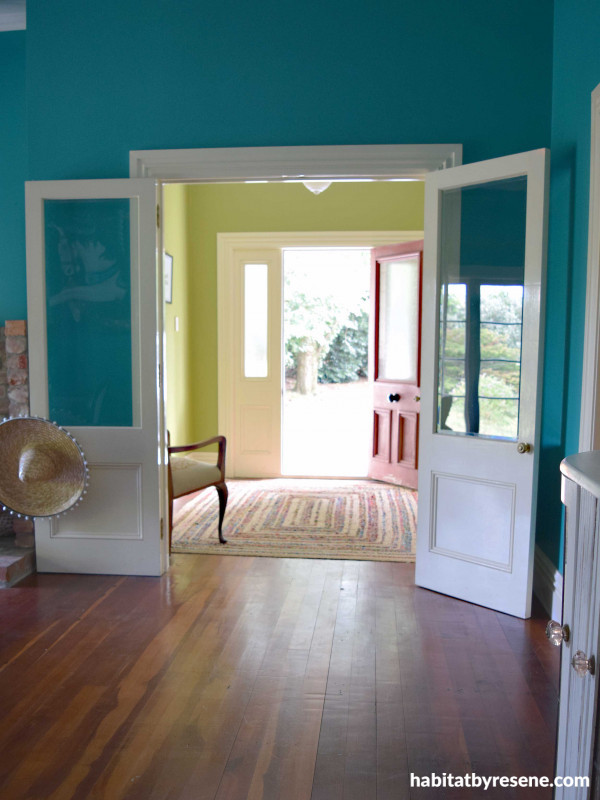 Homeowner Kim gave her home a splash of colour and painted her dining room in Resene Surfie Green. The entranceway ensures her guests get a vibrant welcome and is painted in Resene Citron. The trim and doors are in Resene Spanish White.
Homeowner Kim channelled the ocean when she painted her dining room in Resene Surfie Green, which combines a flash of sea green with a dash of sky blue. Peering through the Resene Spanish White doors, you'll be able to catch a glimpse of her zesty entranceway, painted in Resene Citron.
While the old colour rhyme said 'blue and green should never be seen, unless there's something in between' an easier way to make blue and green work together is by following a few easy colour theory concepts. Choose a primary colour; red, yellow, or blue, as a main wall colour. Your next colour choice, either for the adjacent walls, rooms or even the ceiling, should be a secondary colour. Secondary colours are colours that are created when two primary colours are combined, such as green, orange, or purple. In pairing a primary and a secondary colour together in a space, you can create harmony and a sense of balance, while still being bold with colour.
Black, white and everything in between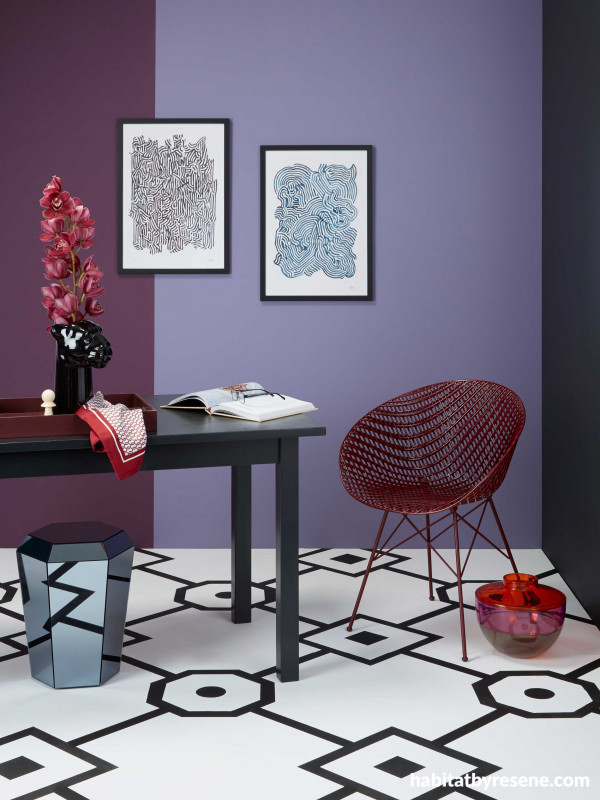 This room combines a daring black wall in Resene Blackjack, with deep purple Resene RSVP (left) and Resene Memory Lane (centre). Décor introduces the darker colours, such as the table in Resene Blackjack. The floor is painted in Resene Elderflower with a painted pattern in Resene Black. Project by Kate Alexander. Image by Bryce Carleton.
A black wall can have the effect of making a room seem smaller, but it can also be the perfect springboard to lift your room to new elegant heights and if combined with the right colours will not have a shrinking effect. Try pairing Resene Blackjack with deep harmonising purples. It is important to choose purples that use a similar base, such as a red base or a blue base, to ensure they do not clash. Resene RSVP is a moody red velvet, while Resene Memory Lane is a nostalgic and velvety mauve. Introducing a colour through décor will ensure that your wall sits peacefully within the space. The darker your wall colour, the more important it is to introduce it into the space subtly through your décor. Resene Blackjack has been introduced through the painted table and Resene Black has been used for the patterned floor, with a base of Resene Elderflower. Combining a patterned floor with bold, dark walls elongates the room and adds depth to a smaller space.
Back to the future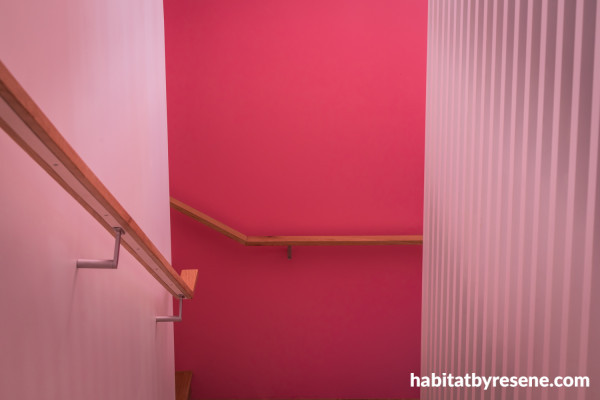 Architect Malcom Walker made a bold choice when he coloured this Grey Lynn home's stairwell in striking Resene Glamour Puss. The adjacent wall and balcony railing in Resene White reflect the pink hue of Resene Glamour Puss.
The colours of the 1950s are making a bold return. A small or enclosed space, such as your stairwell or small office, is the perfect place to try out a retro feature wall. Use pinks for an energetic atmosphere that will leave you feeling like a kid in a candy shop, or watery blues for a calmer look. Resene Glamour Puss is a Hollywood siren pink, full of sherbet and sweetness. If you're after a more passive colour that will still pack a punch, try Resene Vintage, a pastel pink Victorian rose hue. Resene Kitsch is perfect for a trip down memory lane and its teal blue hue keeps it young. If bold colours aren't your thing, try Resene Wedgewood, a sedate and refined cornflower blue.
While pairing a feature wall with adjacent white walls, such as Resene White, may seem tame, it's the overall effect of the combination that puts it in the unusual category. When painted in a small space, Resene White becomes highly reflective. A good example is the stairwell above, where the white walls reflect the bold Resene Glamour Puss feature wall, giving the illusion they are painted in a lighter shade of pink. Pairing your bold feature wall with white in a small space will give you an ever-changing and tonally diverse room.
If you're after more inspiration, or if you're looking for a good colour companion to your pre-existing feature wall, give the Resene Colour Palette Generator a try. Simply select and upload an image of your choice and the palette generator will create a unique and balanced colour palette for you, using the base colours in your photo. For more information on how to use colour in a space, visit our Crack the colour wheel article here. And if you need a colour wheel of your own, you can buy one at your local Resene ColorShop.
Published: 29 Apr 2021
Do you have a home full of wonderful Resene paint and colour? Send us some snaps by emailing [email protected].