►
◄
latest
habitat tv
blog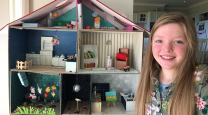 5 classic colour combinations that work virtually anywhere
From peanut butter and jelly to nuts and bolts, there are some combinations that you can never go wrong with. The same can be said of classic paintcolour pairings that will always look stylish and timeless in your home.Try one of these five tried-and-true Resene combos and apply our designer top tips to your own home to build a look you'll be sure to love for years to come.
White + grey
If you're looking for a softly-softly approach to adding depth to your interior, look to white and grey as a combo.
Grey amplifies and adds a crispness to white walls and trims, providing colour and texture without overwhelming. And by using the right tonesof white and grey, this combo provides a more tranquil, open feel to interiors than many other colour combos – think cool whites such as Resene Black White and Resene Quarter Rice Cake on the ceiling with blue-greys such as Resene Silver Chalice and Resene Alaska on the walls. Add a grey-white floorin Resene Double Rice Cakeand you have the perfect colour scheme for a modern kitchen and bathroom.
Published: 08 Apr 2020
Do you have a home full of wonderful Resene paint and colour? Send us some snaps by emailing [email protected].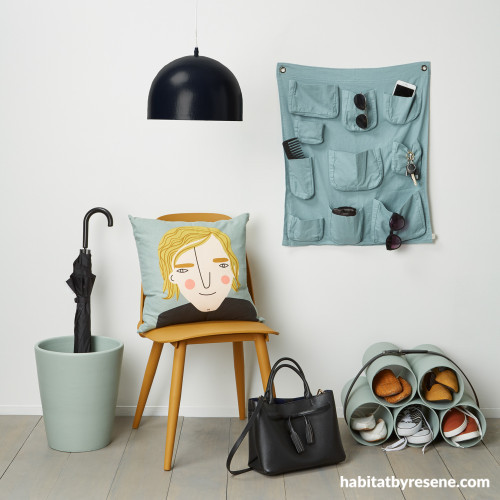 This white and grey entryway, with walls in Resene Alabaster and timber floor finished in Resene Colorwood Mid Greywash, makes great use of two other classic colours: black and pewter. Pendant lamp in Resene Jaguar, chair in Resene Swiss Caramel, umbrella stand and shoe holder in Resene Pewter. Cushion from Bolt of Cloth, chair from Mocka, handbag from H&M.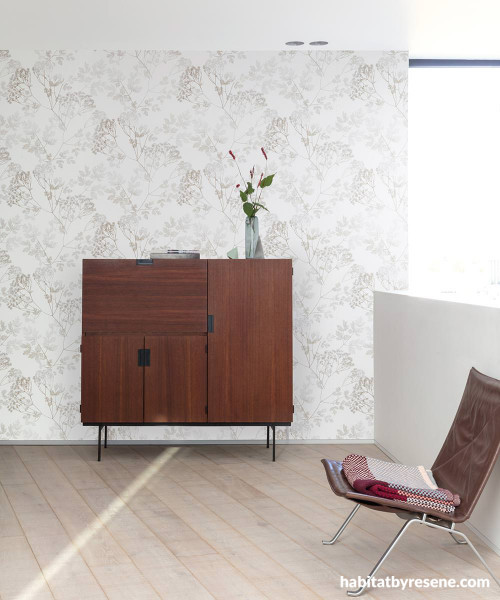 Resene Wallpaper Collection KOS201 features a leafy impression in white and grey and lends itself well to a wide range of interior schemes. Try it on a statement wall with adjacent walls in Resene Half White Pointer, timber floor finished in Resene Colorwood Whitewash, a sideboard in Resene Colorwood Natural and a classic chair in Resene Espresso.
Layered greys
In colour psychology, grey is a colour of compromise: neither white nor black, it's a calm, peaceful colour that creates a feeling of stability.
Layering up greys allows for a story to be told with a single colour in varying tints, without it being too busy. Instead, you're using a timeless interior colour that will bend to your whim, whether you're looking for a cosier feel (go towards black-greys and smoky-greys like Resene Foundry or Resene Armadillo) or a more open, brighter space (look to cooler white-greys and blue-greys like Resene Triple Sea Fog and Resene Half Surrender).
Play with varying tints of grey in places like the bedroom, making a mid-grey such as Resene Grey Seal a feature wall with adjacent walls in lighter greys and a complementary warm-white – think Resene Sea Fog and Resene Merino – for a look that designers love.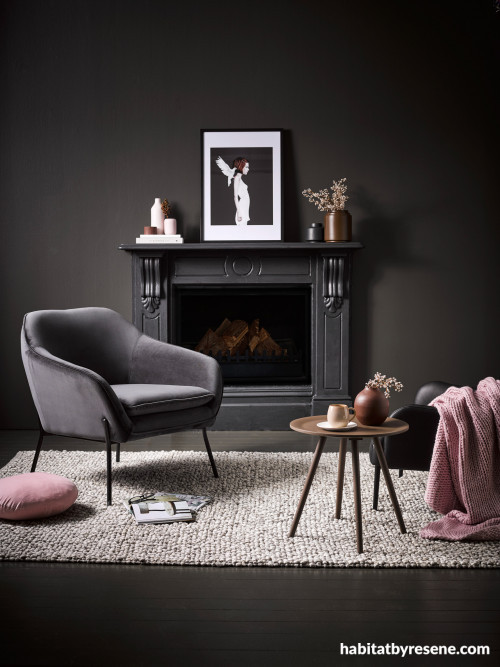 For a dramatic look, try layering slightly lighter greys over deep smouldering grey walls and flooring in Resene Suits. Fireplace in Resene Noir, side table in Resene Thunder Road Basket, vases in Resene Noir, Resene Poured Milk, Resene Route 66, Resene Grey Seal, Resene Ethereal, Resene Moccasin and Resene Barnstorm and cork tea light holder in Resene Barnstorm. Chairs from Me & My Trend, rug from Freedom Furniture, Reuben Ireland 'Only You' art print from Pop Motif.
Light blue + dark blue + cool white
Light blue on its own equals a relaxed, chill out zone, while dark blue brings a more dramatic look to interiors. Bring these together, add cool white into the mix, and you'll find yourself a sophisticated Scandi meets beach-house vibe.
When it comes to this colour combo, it's all about pairing the right kind of blues together. Duskier blues, light and dark, go well together, as well as blues with a hint of green, such as Resene Mystery and Resene Fast Forward - perfect for kitchens and bathrooms. Or go pastel for a kid's bedroom, and primary for teenagers.
Bringing cool white, such as Resene Alabaster or Resene Half Black White, into this combo provides a balance to the depth of blue on blue, helping to bring in natural light and to create a contemporary feel.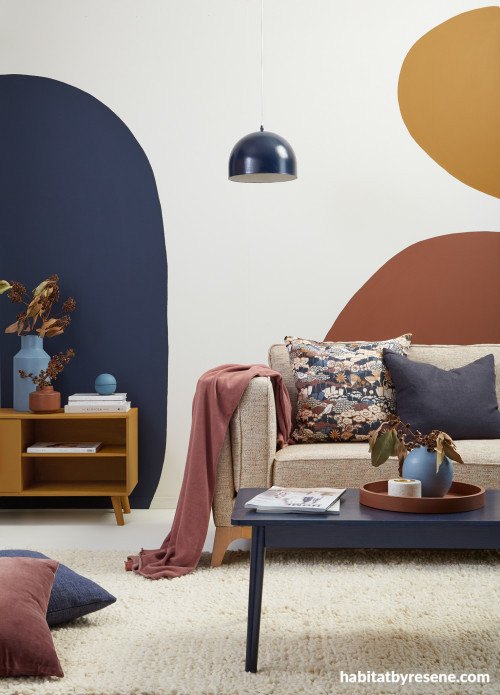 Wall in Resene Merino with small wall circle (top right) in Resene Swiss Caramel, large wall circle (left) in Resene Indian Ink and corner wall circle (bottom right) in Resene Route 66. Pendant lamp and coffee table in Resene Indian Ink, tray in Resene Route 66, round vase (on coffee table) and tall vase (on sideboard) in Resene Excalibur, round cork tealight holder in Resene Merino, sideboard in Resene Swiss Caramel with small vase on top in Resene Route 66. Sofa and rug from Freedom Furniture, cushions and throw from Citta.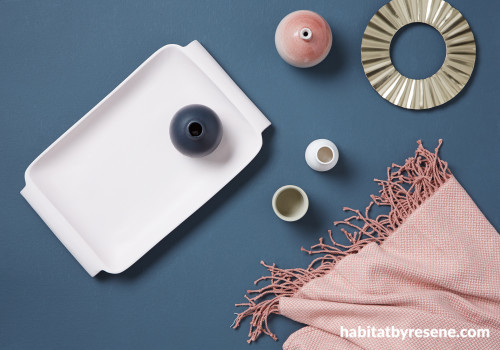 Background in Resene Coast, tray in Resene Ethereal, round vase (on tray) in Resene Indian Ink, small vases in Resene Poured Milk (centre) and Resene Grey Olive (bottom).
Earthy tones + orange tints
With mother nature as its inspiration, it's no wonder this combo just works. It hasearthy browns, spicedyellows, and pumpkin and sunset oranges that are at its heart.Keep it chic with duskier tones and be aware of its warmth. It's easy to dip into a combo of shades that bring too much warmth to a room, so balance is key.
Look to a soft earthy tone such as Resene Sand for the walls and add accessories in today's hottest shades, such as Resene Clockwork Orange, Resene Twisted Sister and Resene Hive. Or, go with a bolder shade on the walls, such as Resene Prairie Sand, and go lighter with other elements in the room such as a rattan lampshade in Resene Island Spice, furniture painted in Resene Manuka Honey and accessories in Resene Porsche and Resene Coyote.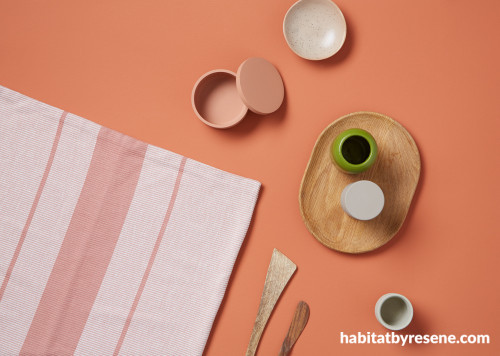 Try working backwards and bring earthy colours into a desert orange-based palette for a trendier look. Background in Resene Sunbaked and painted vessels clockwise from top in Resene Santa Fe, Resene Waiouru, Resene Stonewashed and Resene Grey Olive.
Greige + white
Greige, or grey-beige, is a balance of earthy tones and grey, bringing a subtle warmth to rooms that makes it cosy and sophisticated. And muchlike the above colour combos, white brings a modern, crisp edge to this combo.
Greige and white is a go-to for interior designers for many reasons. It's perfect for those looking for a timeless palette, yet aren't sold on black and white, grey teeters on a little too cool, and earthy tones just aren't for them. It's also a perfect backdrop for just about anywhere in the home, from the master bedroom to the living room, with its soft beauty allowing for furniture, art and other pieces to take centre stage, if you wish.
Just be sure to bring in one or two other statement colours or a sharp black to contrast and keep the space from looking washed out.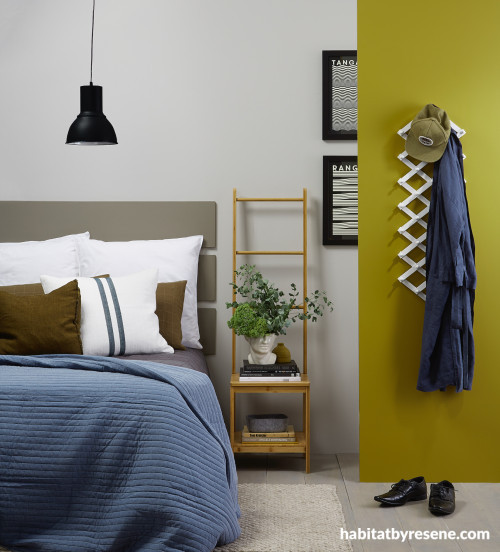 Main wall in Resene Eighth Stonehenge, a classic greige. Return wall (at right) in Resene Stinger, floor in Resene Colorwood Mid Greywash, slatted headboard in Resene Double Stonehenge, pendant lampshade in Resene Nero, hook rack in Resene Half Barely There and vase on chair in Resene Stinger. Duvet cover and pillowcases from Citta, cushions from Collect Living, quilt from H&M Home, Tangiroa and Ranginui art prints by Oslo from endemicworld.
No matter what palette you pick, you can be sure it'll be a winning one by keeping these designer top tips in mind:
styling Kate Alexander, Laura Lynn Johnston, Vanessa Nouwens
imagesBryce Carleton, Melanie Jenkins