►
◄
latest
habitat tv
blog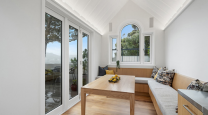 Master Builders' Chief Executive David Kelly shares his tips for building in the challenging climate.

Planning... more
Liven up your living space with a twist of lemon
Guided by the same prevalence that started on the catwalk, the colour yellow is now stealing the spotlight in our interiors – and not just the vibrant marigold/mustard 'Gen Z' version that's been popular throughout the past decade. Now, we're seeing every shade from lemon and primrose to deep and earthy ochres showing up on walls, furniture and textiles both in big doses and small ones.
Published: 24 Apr 2019
Do you have a home full of wonderful Resene paint and colour? Send us some snaps by emailing [email protected].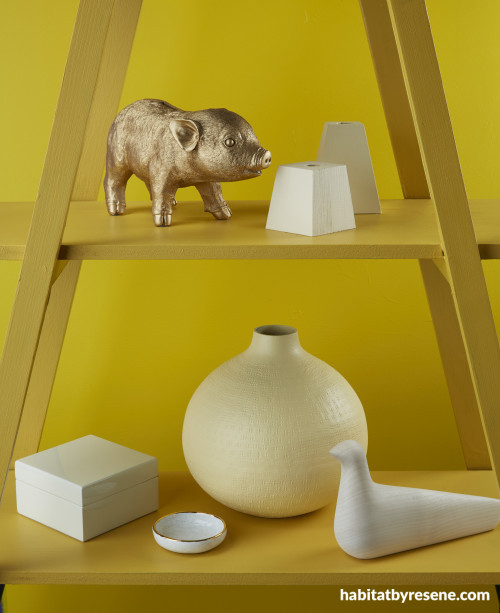 Resene Galliano is a spot-on representation of 'Gen Z yellow' – a popular shade that sits somewhere between marigold and French mustard – and it works beautifully as a base for building a tonal colour palette. The ladder shelf is in Resene Pizza, the vase is in Resene Marzipan, the candle holders are in Resene Astra and Resene Sand and the piglet is in Resene Solid Gold metallic.
"It's a natural colour," says Emma Wallace of Emma Wallace Design. "And everything in interior design is going back to nature right now."
"Yellows are definitely coming through because of the way they complement other colours. It's such a lovely, warm vibrant hue that goes well with so many different shades," says interior designer Juliet Coleman. She suggests pairing them with cooler greys and earthy tones, but that finding the right tone and sheen to suit your room is important.
"You also need to consider the effect of lighting," says Juliet. "Matte [flat] finishes are easier to work with on walls than high gloss yellows, which can be a little overwhelming in some spaces." However, high gloss yellows can make a stellar statement when used on furniture.
top tip: For a matte finish on walls and ceilings use Resene SpaceCote Flat to help bring out the depth and the luxury of the colour. It's ideal in master bedrooms and formal lounges.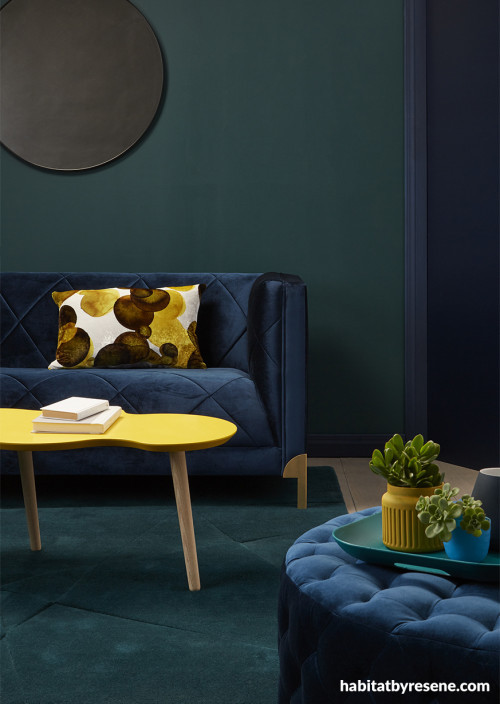 Blue, green and yellow complement each other as part of what's called an analogous scheme; and while they are very different intensities, they create a kind of balance rather than clashing with one another, bringing out the best in each. The 'puddle table' in Resene Wild Thing, the Resene Cleopatra plant pot and the cushion add a cheerful pick-me-up to this moody lounge, with walls in Resene Atlas and architraves and door in Resene Indian Ink. The petrol blue sofa and ottoman are from Me and My Trend.
Because it's so bright, yellow makes a big impact even when used in small doses. Yellow accessories are eye catching enough to completely change the look of a room. "Give a room a bit of a twist with just a touch of yellow to make it pop without overtaking the space," recommends Juliet. "It might be an artwork, a cushion, a beanbag, even drawer handles or hooks on the wall."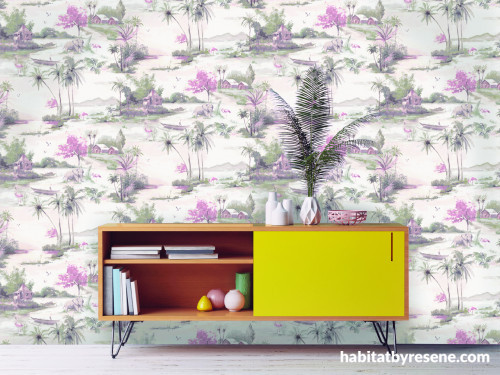 Try a truly citrusy yellow like Resene Switched On to add a lemon-lime twist to the door of a console. Pair it with Resene Wallpaper Collection 90310 for a tropical look.
"Black and yellow are an even stronger combination but is equally successful. It's a dramatic look," she says. To get the look, Juliet suggests trying a moody black wallpaper – something with a sheen or even glitter – with a glossy black architrave in Resene Noir. Pair it with yellow chairs in Resene Thumbs Up, a black table in Resene Charcoal and perhaps a bright yellow vase in Resene Turbo.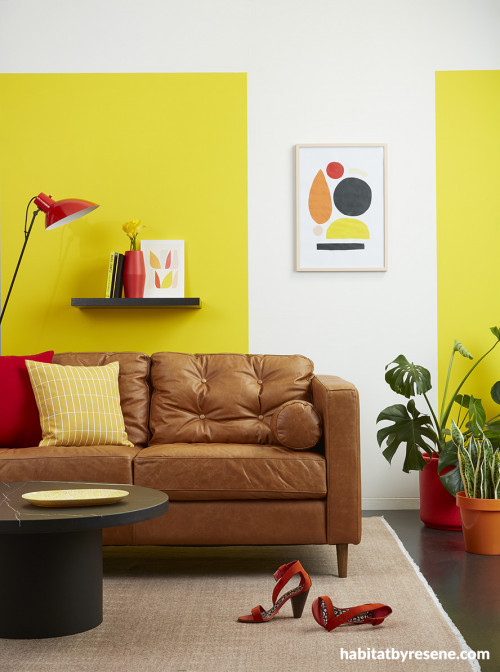 Yellow can be tricky to use in large doses, so how you use it and what you blend it with is what matters. Break it up with an interplay of contrast, texture and pattern. These Resene Black White walls have been completely recharged with a couple of blocks of Resene Turbo and a few splashes of Resene Roadster and Resene Party Zone accessories. To finish the look, create your own mid-mod artwork.
"It's difficult to combine yellow with other bright primary tones and make them work," admits Juliet, "You have to get the right tones." She recommends going for a deep rust red, like Resene Raging Bull or Resene Dynamite, paired with a warm yellow, like Resene Chorus Line.
A touch of blue adds a warm finish to yellow. Try blues that have yellow or green undertones, such as Resene Wishing Well or Resene Fast Forward. Or, try an ochre yellow like Resene Influential or a mustard like Resene Cleopatra paired with a forest green such as Resene Mother Nature, stained timber in Resene Colorwood Natural and some potted plants to liven up the space.

Fresher lemon yellows like Resene Wild Thing tend to be cooler and work well as a backdrop to schemes that pair shades of white, such as Resene Merino or Resene Sea Fog, with splashes of hot pink like Resene Pink Ribbon or Resene Irresistible. As an alternative, try a teal like Resene Yowza.
Remember that bold yellows will intensify when used on large areas or all walls inside. If in doubt choose a lighter version of your yellow.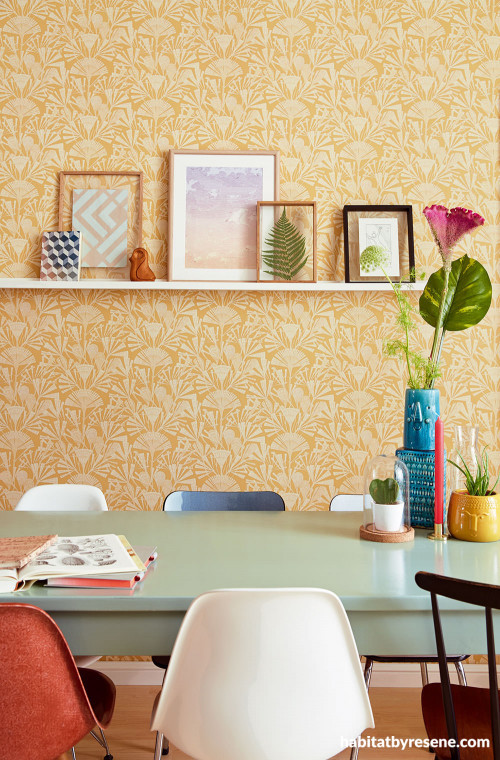 In this eclectic dining room, Resene Wallpaper Collection 366012 – a muted mustard retro floral print – looks bright and cheerful while lending itself well to a fun mixed palette. Build a similar look with a dining table in Resene Fringy Flower, chairs in Resene Rapture, Resene Lazy River and Resene Rice Cake, then add accessories in Resene Irresistible, Resene Thumbs Up and Resene Yes Please.

"A cooler canary yellow like Resene Honeysuckle or fresh lime yellow paired with crisp white and soft bluish greys or Resene Duck Egg Blue looks almost Scandi married with pale timber tones and milky whites," says Juliet. Cool and calming, this works well to deflect the light on the brighter northern side of a home. Remember the amount of light pouring into a room can have quite an impact on your scheme. If the room you're decorating is on the darker side of your home, choose warmer tones.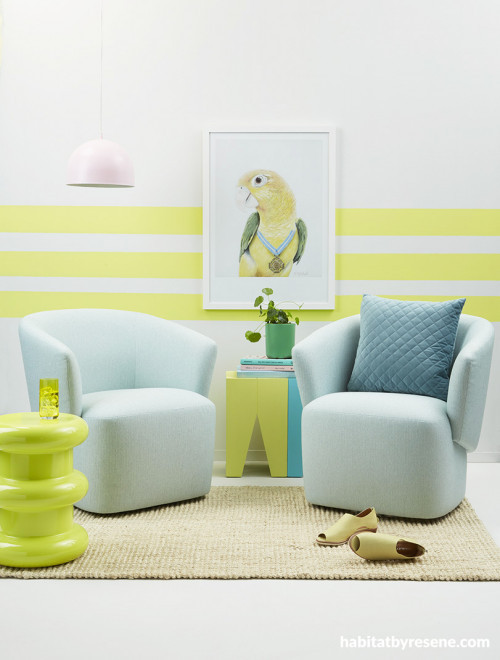 Pops of yellow completely define this retro throwback lounge by Kate Alexander of Places and Graces. Canary yellow stripes in Resene Honeysuckle have an undeniably 80s feel when combined with electric aqua of Resene Yes Please, pop pink like Resene Princess, Kelly green like Resene Away We Go and bright white floors and walls in Resene Alabaster.
Otherwise neutral palettes can be effectively brightened by yellow accents, says Emma. "Vibrant yellow can do wonders to enliven the cool clinical surfaces of dark industrial-style interiors, like those in converted warehouses." She notes that yellow is an ideal colour for warming up those grey toned man-made finishes that can feel inherently cold by nature.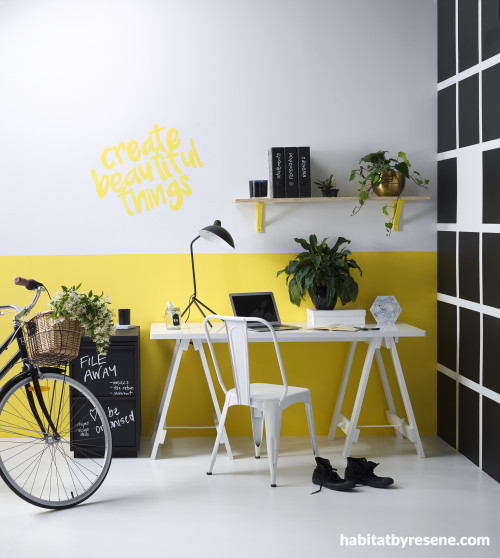 Resene Wild Thing injects energy into this creative office space on the bottom half of the wall. The upper wall and floor are in Resene White, while the grid wall feature and filing cabinet have been painted with Resene Blackboard Paint to make plenty of space to record bright ideas as they arise.
It's also true that yellow brings out the best in other colours. So, if you're tired of a neutral scheme, what better way to relieve the boredom with something as simple as a corn coloured cushion, art, picture frame or throw?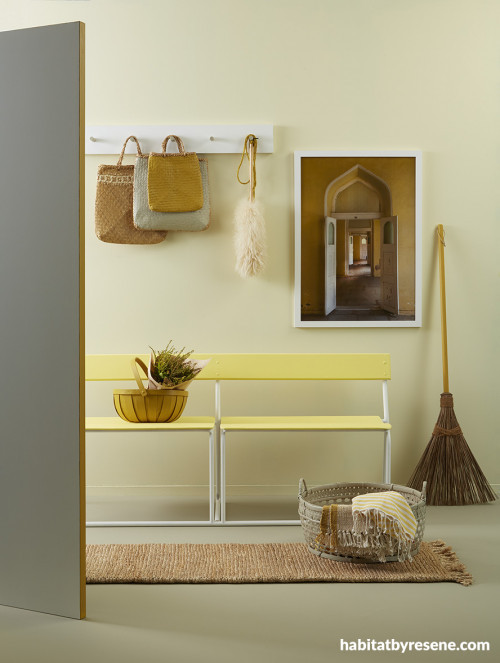 A single yellow focal point, such as the window frame of a kitchen, can transform a minimalist or neutral interior. In this entryway, stylist Kate Alexander painted the edge of this Resene Quarter Pearl Lusta door in Resene Influential as a happy surprise for those who enter. The reclaimed vintage bench was freshened up with seats in Resene Chorus Line and legs in Resene Quarter Pearl Lusta, and the yellowy tones of the walls in Resene Moonlight and floor in Resene Grey Olive provides added warmth to create a welcoming space.
styling Kate Alexander, Amber Armitage, Emily Somerville-Ryan?
images Bryce Carleton, Melanie Jenkins