►
◄
latest
habitat tv
blog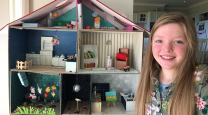 Minor changes that make a big impact: Ways to improve a rental property using paint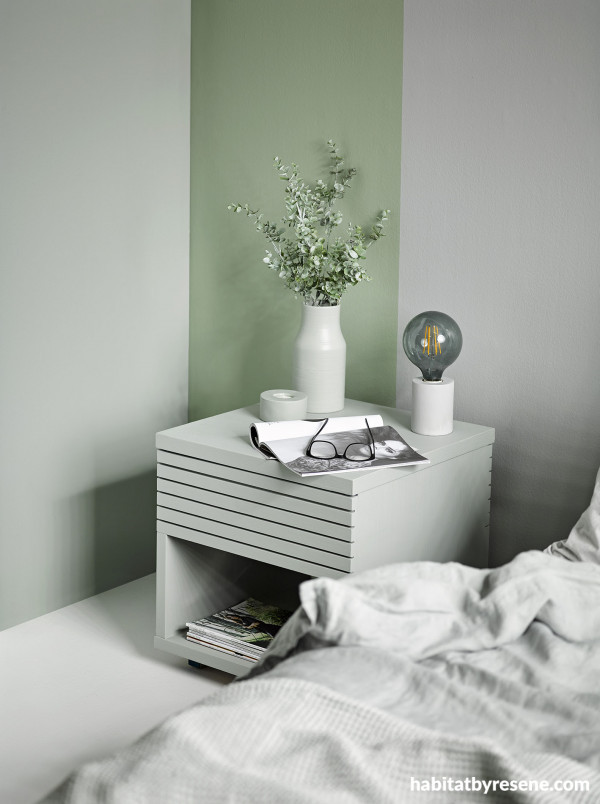 Painting walls and furniture are two minor changes you can make to rental properties. When painting walls seek written permission from a landlord. The green wall block is painted in Resene Peace and the adjacent walls are Resene Helix (left) and Resene Silver Chalice (right). The bedside table and vase are painted in Resene Helix. The lamp is in Resene Silver Chalice and the round tea light holder is in Resene Peace.
Minor changes you can make to a rental property using paint
Changes to the Residential Tenancies Amendment Act 1986 (NZ) come into effect on February 11. As well as a range of other changes, the updated Act will also give tenants the ability to make décor changes that will make their homes more comfortable and colourful using Resene paint.
Under the new law, tenants will be able to add "minor fittings" and make minor changes to their premises when the installation and removal of the fittings is deemed "low risk". In most cases, small changes would include painting rooms or adding garden features - small changes which make homes more pleasant to live in.
Under the rules the tenant must return the property to a similar condition before changes were made. This means if the tenants painted a wall of their home they would be required to return the room to its original colour, unless the landlord agrees for the wall colour to remain. Minor and unimportant differences will, however, be acceptable under the law. Luckily painting walls using Resene paint is simple and quick to do even for non-DIYers.
To make a minor change, the tenant needs to send the landlord an email or letter requesting consent to make the change. The landlord must respond to the request in 21 days. If the change is considered more than minor, the landlord can only withhold consent if the request is unreasonable.
The law changes are expected to affect up to 600,000 properties. The amendments aim to improve tenants' security and stability while protecting landlords' interests.
Here are six ideas to refresh your rented home using Resene paint. Make sure to follow the law and apply to your landlord for permission for all changes. Further reading on the rights of tenants and landlords here.
1: Make a basic feature wall
Painting one wall in a colour accent is a quick and cheap way to make a big impact on a space. Feature walls don't take long to paint and the wall can be easily painted over at the end of a tenancy agreement.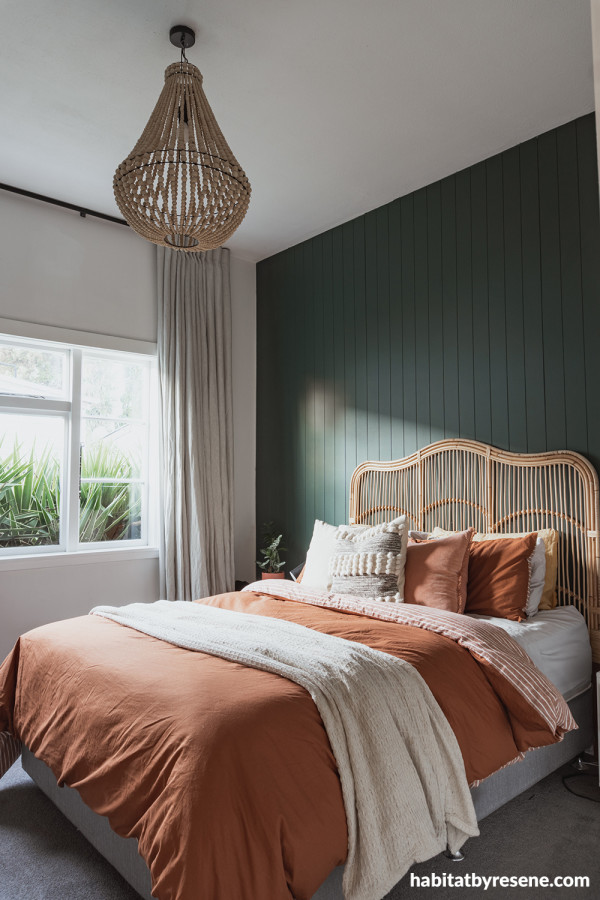 The homeowners chose Resene Celtic for the feature wall in this bedroom. Corresponding walls in Resene Black White and trims and ceiling is in Resene Alabaster.
Image by Shayden and Georgia www.moochstyle.com.
2: A more ambitious wall
Create the illusion of structural or architectural features such as columns or decorative moulding using colour blocking and panels of Resene paint. Pick hues that complement each other with enough contrast to keep the look dynamic. These features just need a little patience, imagination and painter's masking tape, and are easy to paint over to restore the wall back to the original colour. Though you might just find your landlord likes the new look as much as you and is happy to keep it the way you have painted it.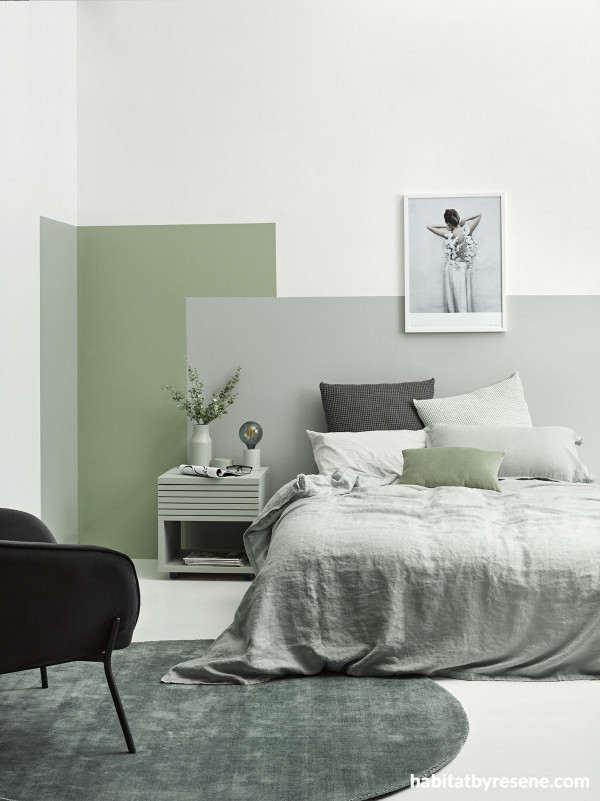 These expansive white walls and floor in Resene Alabaster have been grounded with a unique painted headboard feature in Resene Silver Chalice, Resene Peace and Resene Helix that echoes the rectilinear shapes of the pillows. The bedside table and vase are in Resene Helix and the lamp is in Resene Silver Chalice. Carry the tones of the colour blocks from the walls into the rest of the room. Project by Vanessa Nouwens, image by Melanie Jenkins.
The restful and romantic bedroom (above) uses contrasting colours of silvery grey and green in Resene Silver Chalice, Resene Peace and Resene Helix to create a gentle restful space.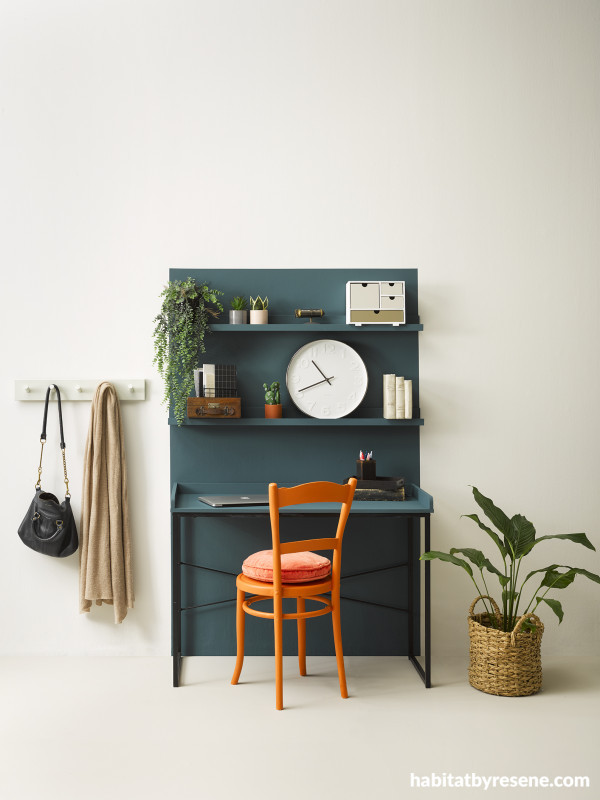 This painted office wall feature and matching shelves and desk are painted in the deep slate blue, Resene Fast Forward. The walls are in Resene Sea Fog, the floor is in Resene Truffle and the hooks are in Resene Secrets. The bright orange chair is painted in Resene Jailbreak and the hooks in Resene Secrets. The desk organiser is painted in Resene Alabaster with drawers in Resene Truffle and Resene Earthen. The small plant pots are in Resene Moccasin and Resene Soulful. Project by Annick Larkin, image by Melanie Jenkins.

3: Create home office spaces using paint
Working and studying from home are now an everyday reality. Use colour as a cue to demarcate spaces that are to be used for working. This hallway is transformed into a study nook using bold greeny blue, Resene Fast Forward. Green is a particularly good shade for an office as studies have linked the colour green with increases in concentration and reading ability.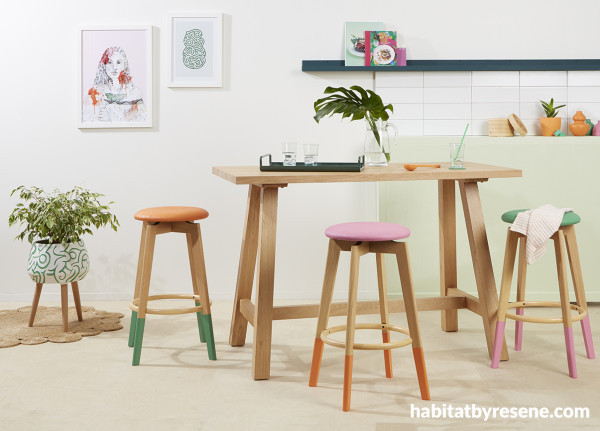 The stools of this playful kitchen and dining area are painted in Resene Away We Go, Resene XOXO and Resene Party Zone. The kitchen cabinet is painted in Resene Aura, the walls are in Resene Rice Cake and the ply floor is finished in Resene Aquaclear. The shelf is in Resene Atlas, the pot plant is in Resene Rice Cake with Resene Away We Go. The vases are in Resene Away We Go, Resene XOXO and Resene Party Zone. Project by Kate Alexander, image by Bryce Carleton.
4: Paint the furniture
If you prefer to start with a smaller project, add colour to your home by painting furniture. It's also a simple way to revive scratched or discoloured wooden furniture. To give wooden furniture a new lease of life, prime with Resene Quick Dry waterborne primer undercoat before painting in vibrant shades. For this colourful kitchen the stools were repainted in Resene Away We Go, Resene XOXO and Resene Party Zone to give the room a youthful vibrancy and contemporary look.

5: Make a detachable painted headboard.
By making your own MDF headboard, you can easily change the colours of a room with the seasons. The deco-style curves of these headboard panels echo the lines of the bed. The circular forms add to the comforting feel of the room.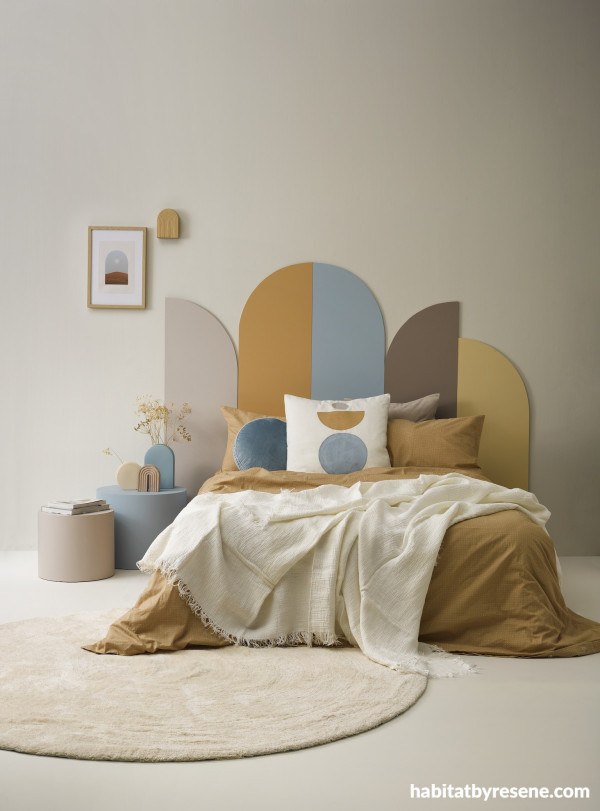 This headboard is painted in the following Resene colours (from left to right): Resene Tide, Resene Tussock, Resene Nepal, Resene Americano and Resene Smooth Operator. Wall in Resene Triple Merino and floor in Resene Merino. The bedside tables are Resene Nepal (large) and Resene Tide (small). The vases are in Resene Blank Canvas (small round flat), Resene Tussock (small arch hanging on wall and larger round flat) and Resene Nepal (large arch). Project by Vanessa Nouwens, image by Melanie Jenkins.
To create the headboard project
You will need:
Five pieces of MDF board which are 400mm wide and 8mm thick.
How to: (change from bulletpoints to numbered bulletpoints)
Cut the boards so you have two boards at 1.6m in length two boards at 1.4m in length and one board at 1.2mm. Alternatively get the pieces cut when you buy the board.
Draw your curved corners using the pencil and string method.
Using a jig saw, cut the curved shapes.
Give corners a light sand
Apply two coats of paint for each board using a small roller using your choice of Resene colours. We used Resene Tide, Resene Tussock, Resene Nepal, Resene Americano and Resene Smooth Operator.
Once dry, screw boards to the wall or attach some pine slats of wood to the back of the wooden arch panels so the headboard becomes one piece. It can then be lent up against the wall with the bed pushed in front to hold it in place.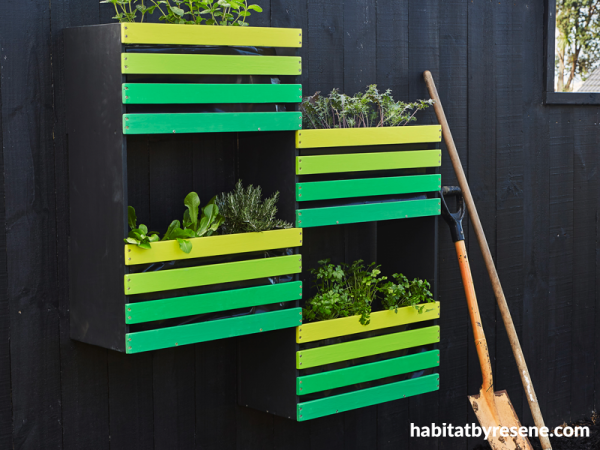 This vertical planter is painted in the vibrant greens Resene ASAP, Resene Left Field, Resene Wheel Of Fortune and Resene Limerick with side panels in Resene All Black. This looks striking against fences painted in dark wood stains such as Resene Woodsman Crowshead. Project by Andy Fraser, image by Bryce Carleton.
5: Make a garden
Under the new laws, gardens can be created if they can be returned to the original state at the conclusion of the tenancy. Planter boxes, pots and basic raised beds that can be dismantled are a good option for renters. A vertical vegetable planter attached to a fence is a good option for those with not much space. It can be dismantled at the end of the tenancy, or left in place if the landlord is happy to keep it.
Read how to create your own DIY vertical planter here Vertical vege garden | Habitat by Resene

The key changes to the Residential Tenancies Amendment Act 1986:
Landlords will not be able to end a periodic tenancy without a reason. The legislation will set out specified reasons that a landlord may use to end a periodic tenancy.
Fixed-term tenancies will become periodic tenancies at the end of the fixed term. This applies unless the landlord and tenant agree otherwise, the tenant gives notice, or the landlord gives notice using one of the specified reasons.
Tenants who need to leave a tenancy quickly due to family violence will be able to provide the landlord with a family violence withdrawal notice.
Tenants will be able to add minor fittings to their premises where the installation and removal of the fittings is low risk.
The Regulator will have new compliance tools to take direct action against parties who are not meeting their obligations.
The penalty amounts will be increased in line with rental increases since 2006 when the penalty amounts were set.
Soliciting rental bids, for example, by advertising a property without a rental price, will be prohibited.
The minimum period between rent increases has been raised from six months to twelve months.
A party who is successful in the Tenancy Tribunal can have their identifying details removed from the Tribunal's decision.
The reform also clarifies that the RTA does not apply to Government-funded transitional and emergency housing, unless the provider and the tenant chose to opt in.
Find out more details at Ministry of Housing and Urban Development (HUD)
Published: 20 Jan 2021
Do you have a home full of wonderful Resene paint and colour? Send us some snaps by emailing [email protected].