►
◄
latest
habitat tv
blog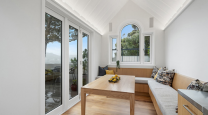 Master Builders' Chief Executive David Kelly shares his tips for building in the challenging climate.

Planning... more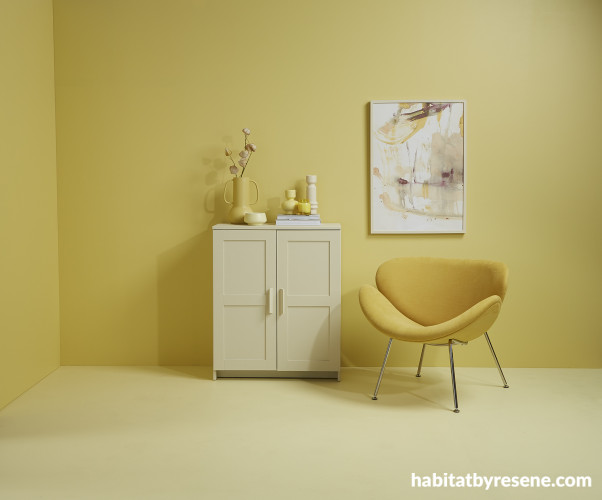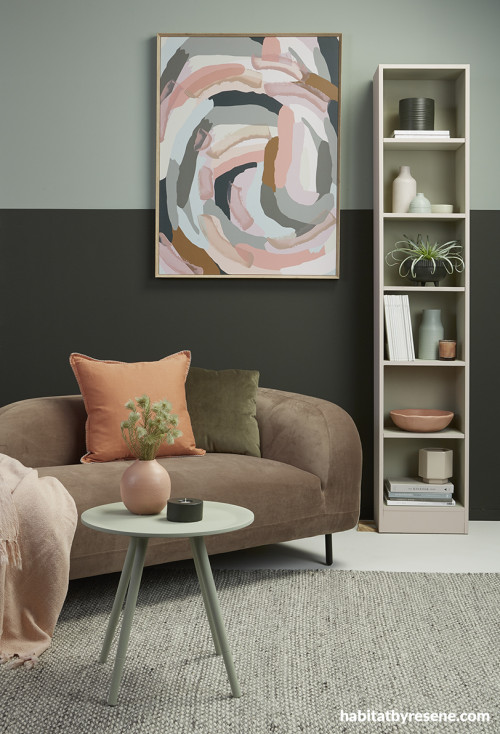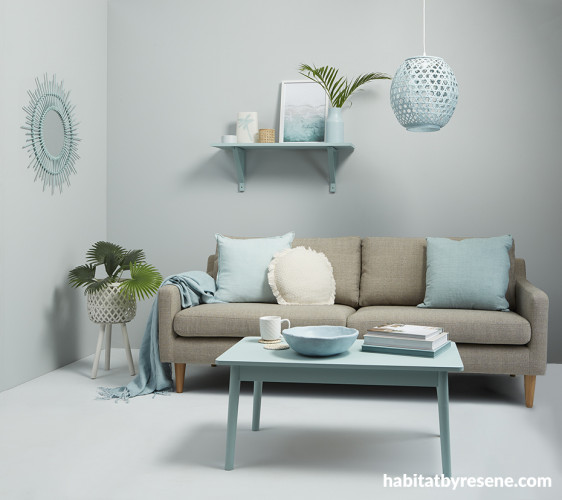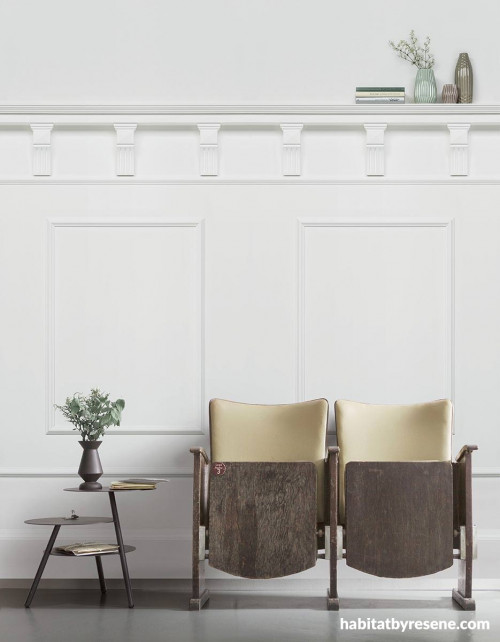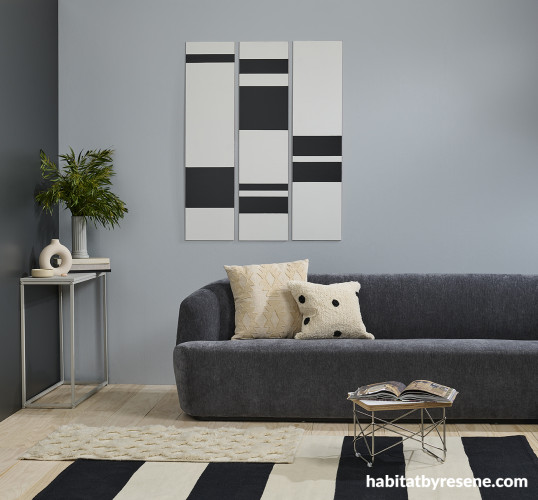 Our favourite colours for positivity and wellness
Colour yourself happy with our top calming colour picks. With many of us working from home, it's time to start creating spaces that work for us. Colour psychology states that different colours can evoke different emotions, moods and reactions. We've collected our top five colours to help you create bedrooms, living rooms and offices that will help soothe anxiety, clear your mind and lift your spirits.
Colour psychology also uses wavelengths to determine the relationship between colour and emotion. When we look at a new colour, our eye adjusts to its wavelength and our emotions adjust right along with it. The longer the wavelength, the longer it takes for our eyes to adjust. Warm colours such as yellows and oranges are considered to have longer wavelengths, while shorter wavelength colours like green and blue are known as cool colours.
While colour itself can directly affect our mood, some reactions to colours are shaped by cultural influences and individual experiences, which is why it is crucial to create a space that works for you. Dr Fiona Crichton, a health psychology specialist from Mentemia, stresses the importance of creating a positive space in your home. "The important thing is to create spaces in your home that you enjoy being in. Everyone is different," says Fiona. "Check how you feel when you enter any room of your house. Do your shoulders drop and your breathing slow, as you relax? Do you feel happy to be there, or slightly on edge?
"Adding a splash of colour can change a feeling of blah to a feeling of yea-ha!"
Give it the green light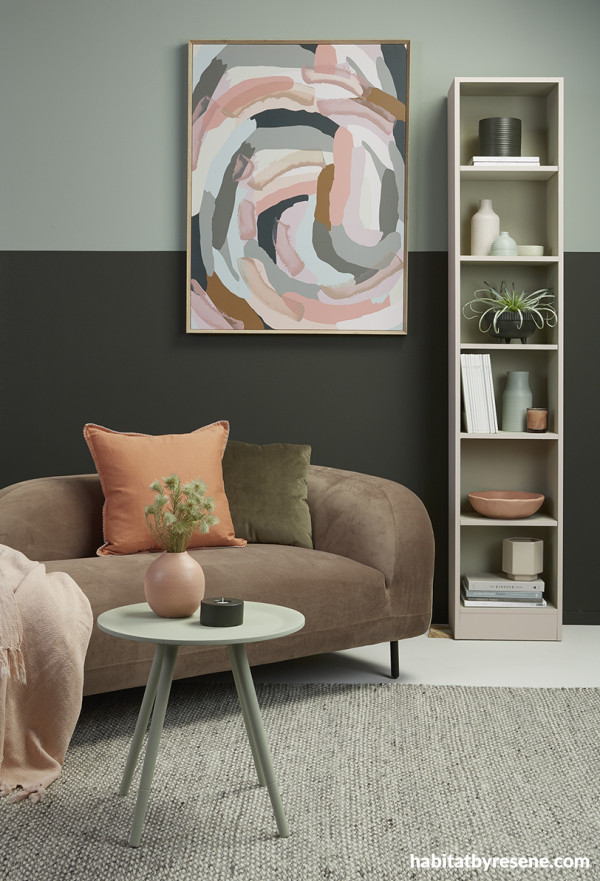 This calming green room has Resene Pewter on the top half of the wall and Resene Karaka on the lower half. The floor is in Resene White Pointer and the bookcase is in Resene Soothe. The table is in Resene Bud and the vase is in Resene Just Dance. Project by Vanessa Nouwens. Image by Bryce Carleton.
Go bold and go green with this soothing two-toned wall. Green's cooling tones and shorter wavelengths often have strong associations with nature and promote feelings of safety. Soothe anxiety with natural forest greens such as Resene Karaka paired with lighter, muted greens such as Resene Pewter or Resene Caper. This will give your space a restful, quiet atmosphere that attracts harmony and renews energy. Pale, neutral greens such as Resene Bud have been found to be the most stress reducing greens and studies have shown that green can play a part in improving reading ability – so splash some green on the walls of your office or workspace for a tranquil atmosphere.
Sit back and relax

This relaxing lounge's walls are in Resene Duck Egg Blue with floor in Resene Quarter Duck Egg Blue. The coffee table is in Resene Unwind and the bamboo pot is in Resene Quarter Tea. The pendant, mirror, bowls and vase are in Resene Raindance. Hugo Sofa from Contempa. Project by Vanessa Nouwens. Image by Bryce Carleton.
If you find yourself stuck on how to create a calm oasis in your home, it might be time for some blue sky thinking. A sense of peace can be created by using gentle, muted blue hues and will help reduce stress in key areas of the home, such as your living room or bedroom. Calm blues, such as Resene Duck Egg Blue, are known to help calm the mind, lower blood pressure and slow your heart rate, effectively reducing feelings of anxiety. However, choosing the right shade of blue for your space is key. Opt for lighter and softer blues for your walls, such as Resene Dreamer, and pair with accents of white and muted yellow décor for a calming space.
A bit of all white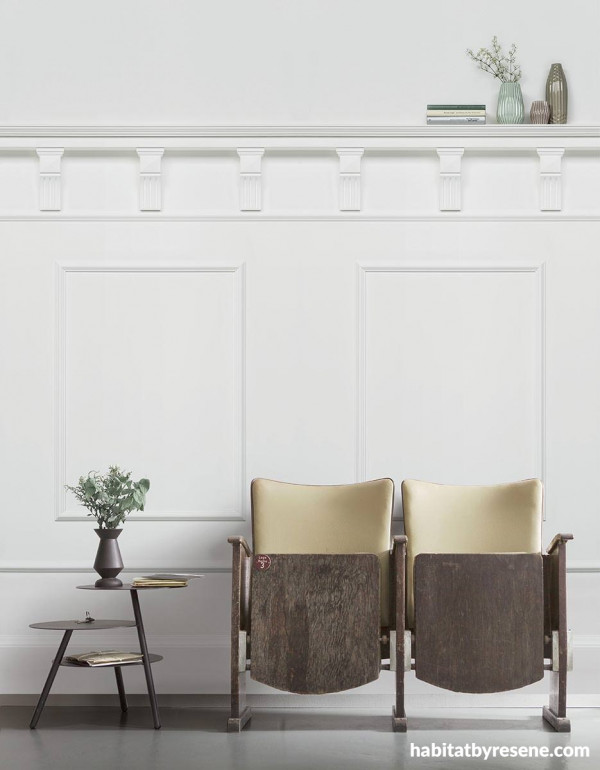 This wonderful white space is created with Resene Wallpaper Collection P022-VD2.
When it comes to colour psychology, white and wellbeing go hand in hand. White is associated with freshness and clarity of the mind, but there's a fine line between whites that keep your home feeling crisp and whites that look clinical. Your home's architectural nature will influence the type of whites that work best. In modern homes and apartments, Resene Black White walls will bring an added brightness to the space. In older homes and villas, try off-whites such as Resene Merino.
White is the perfect colour to be surrounded by if you're looking for mind clarity, but be sure to create a clean, bright atmosphere and avoid any whites that are dirty or dull in appearance, as this will alter your mood. Another creative way to introduce white into your space is through wallpaper. The Resene Wallpaper Collection has a wide range of wallpapers that will not only bring your home to life with colour but can also add unique architectural features with a range of murals.
Grey area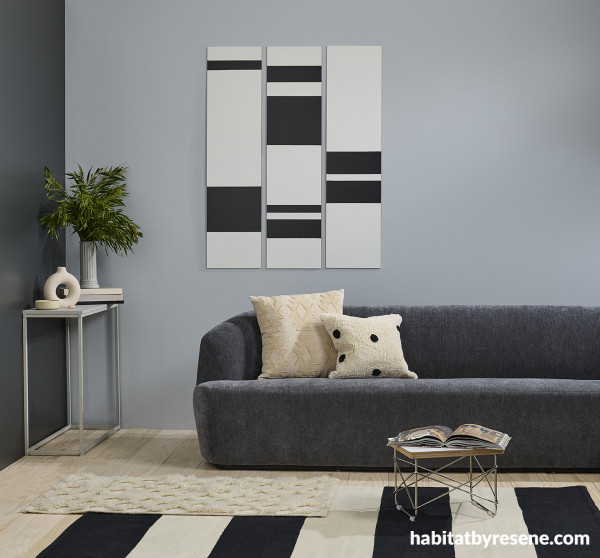 The back wall of this soothing living room is in Resene Half Gull Grey. The left wall is in Resene Element and the floor is in Resene Colorwood Whitewash. The console table and tall vase are in Resene Archive Grey. Byron Velvet Sofa from Dawson & Co. Project by Kate Alexander. Image by Bryce Carleton.
What better way to improve your grey matter than by painting your walls grey? People often avoid solid grey walls as they expect them to feel dull or depressing, but the right kind of grey can go a long way to create a calm and collected space. Resene Half Gull Grey is a pale pewter grey inspired by the sand and sea. It's soothing, cooling presence creates a calm atmosphere that you can easily build on with your choice of décor. Pair grey walls with deep navy blue elements and bright whites. The blues will bring out the blue undertones in your greys to create an atmosphere of tranquillity, while the whites will add sharp points of brightness to keep the space feeling crisp.
Happy camper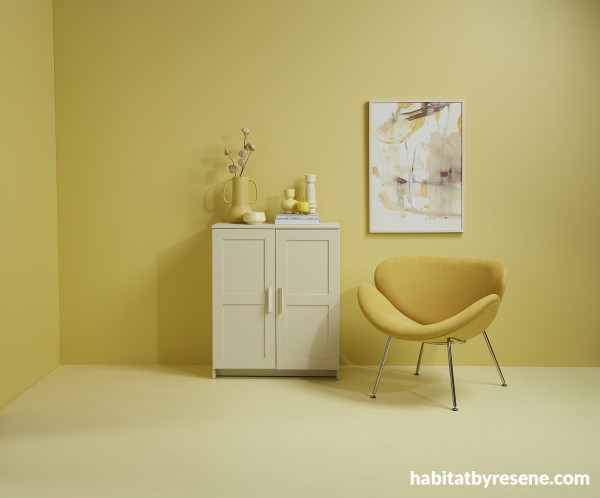 Bright, happy walls in Resene Chenin are complemented by the floor in Resene Mellow Yellow. The two-door cabinet is in Resene Double Spanish White. Chair from Nood. Project by Vanessa Nouwens. Image by Bryce Carleton.
Smooth, soft and buttery, Resene Chenin promotes optimism and adds richness and warmth to any space. Warmer shades of yellow enhance and illuminate white accents and décor, creating a space that is bathed in a comforting glow. Yellows in interior design have long been known for their ability to create happy and energised spaces, but it's only recently that softer, more muted yellows have come to the fore. When splashed across the walls of a kitchen or study, yellow creates feelings of confidence and joy. Recent research has found that people who work in yellow rooms appear to be more active and conscious. Jumpstart your day by painting a kitchen feature in Resene Mellow Yellow and pair with cabinetry in a warm white such as Resene Half Bianca. Keep the good vibes flowing with accents of blue and green for a summery look all year round.
With Resene's range of soothing blues, fresh greens and happy yellows, it's never been easier to create a space in your home that will brighten your mood. For more inspiration, learn how to create a cosy living space or check out how to incorporate soothing pastels into your home
Published: 25 Aug 2021
Do you have a home full of wonderful Resene paint and colour? Send us some snaps by emailing [email protected].
the look
If you're stuck on what
colour to use or need colour
advice, try out the Resene
Ask a Colour Expert service.