►
◄
latest
habitat tv
blog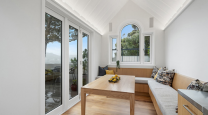 Master Builders' Chief Executive David Kelly shares his tips for building in the challenging climate.

Planning... more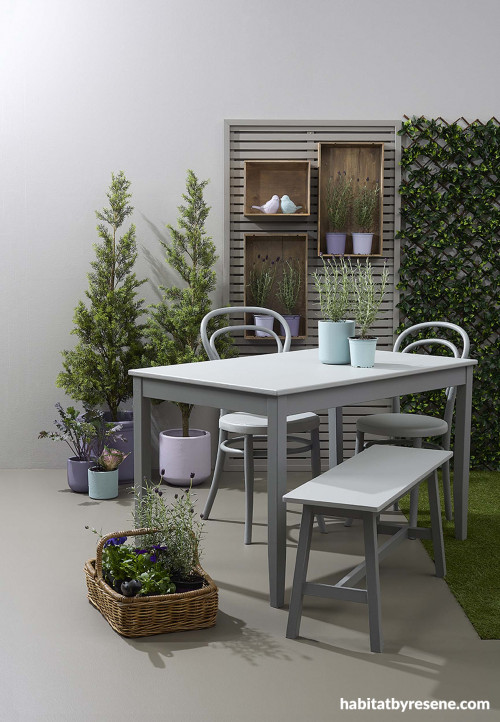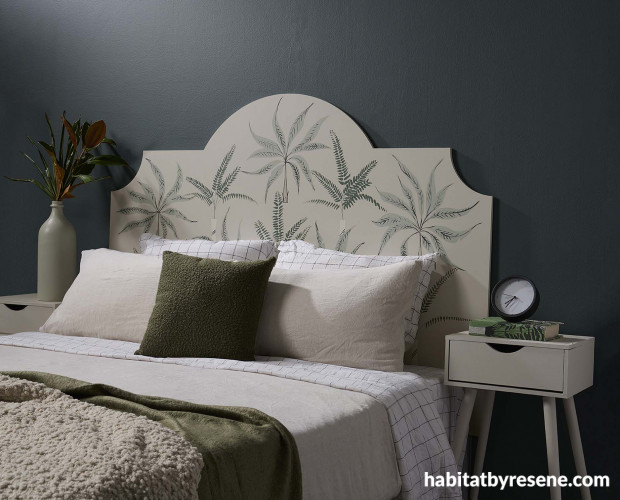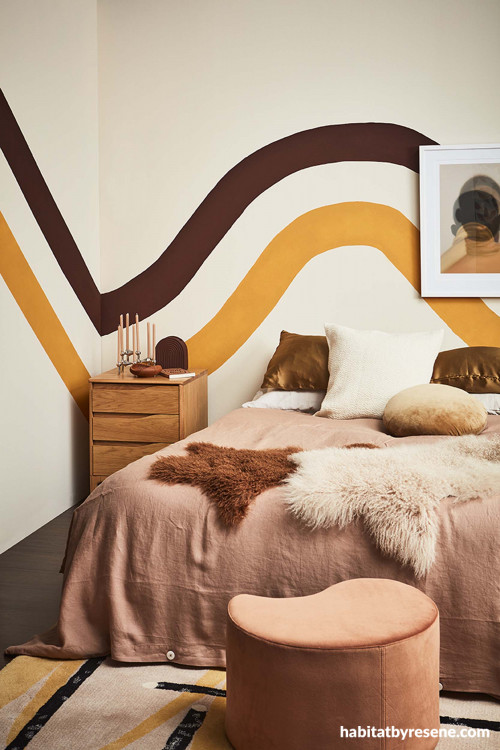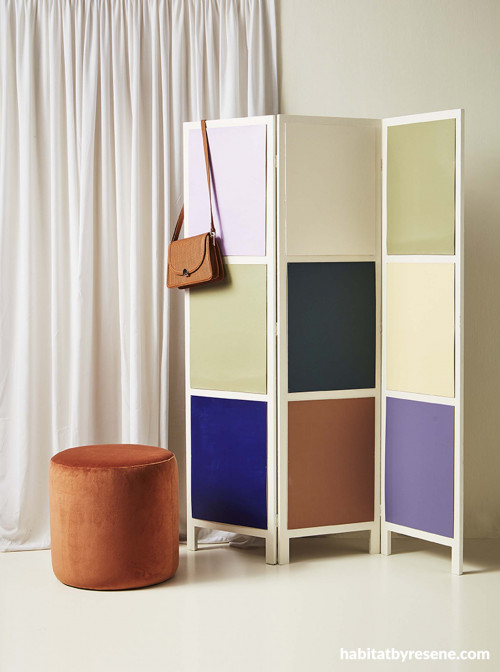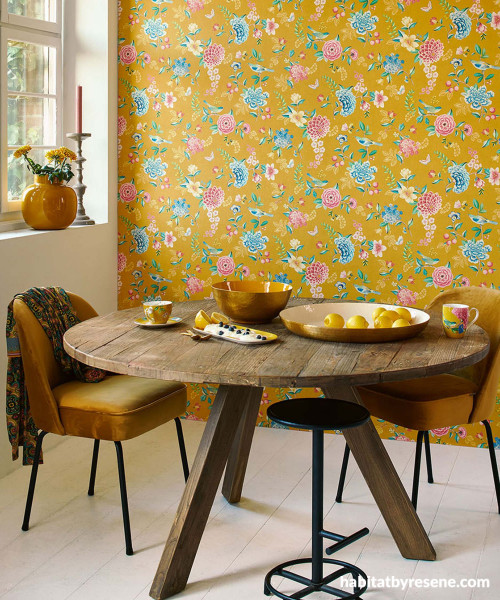 Recharging colour ideas to give your home a pick me up (in under 48 hours)
If you're after a splash of joy in your life, we have the perfect projects to give your home a revitalising renovation. Embrace the warmer weather and bright Resene paints with these colourful projects to improve your home. Easily completed in a weekend, these ideas can be adapted to suit any style of home and are sure to supercharge your space with good vibes.
A sure-fire way to give your space a quick pick me up is to inject it with warmer colours, such as sunshine yellows and vibrant oranges, or sprinkle the space with greenery. Often when we complete projects, we're only focussed on the end goal, but these projects aim to make the creating process just as calming and fun as the end result itself.
Courtyard capers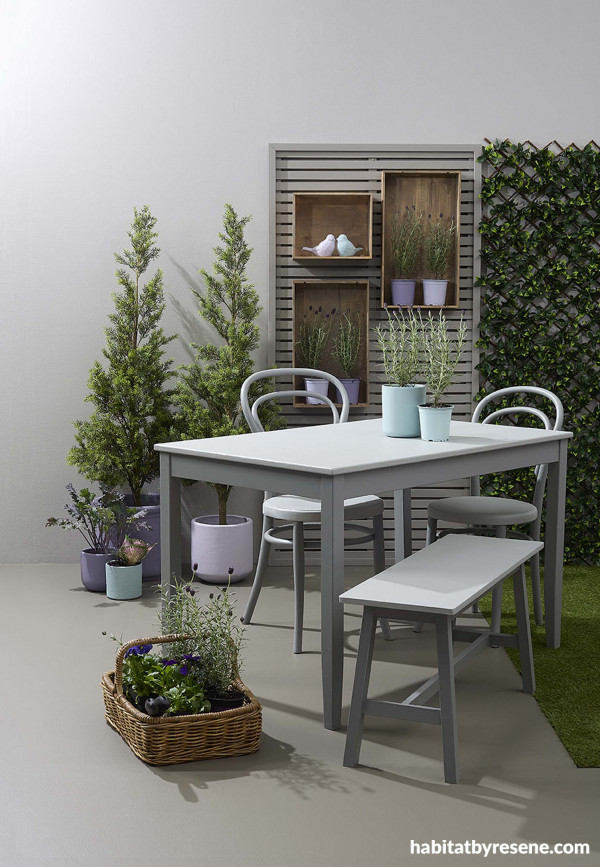 A calming courtyard could be just the thing to welcome in the warmer weather. Wall in Resene Quarter Friar Greystone, floor in Resene Triple Friar Greystone, trellis in Resene Friar Greystone, crates stained in Resene Iroko and Resene Equilibrium, table, chairs and bench in Resene Gunsmoke (bases) and Resene Delta (top/seats), pots in Resene Abbey Road, Resene Mamba, Resene Juniper, Resene Conch and Resene Opal and birds in Resene Abbey Road and Resene Opal. Project by Megan Harrison Turner. Image by Bryce Carleton.
Create a calming haven in your garden with this contemporary courtyard. No matter the size of your outdoor space, a weekend is all you need to create a stylish seating area perfect for those quintessential summer barbeques. To create a seamless indoor/outdoor flow, bring your interior colour palette into your outdoor space. Neutrals such as Resene Quarter Friar Greystone provide the perfect backdrop for colourful flowerpots and greenery. For a bold courtyard that packs a punch, consider darker colours such as rich Resene Forest Green and elements of ochre and wood. This will create a sense of depth in even the smallest of spaces. For a finishing touch, introduce a slatted screen painted in a dark hue. Screens have the capability to create privacy and block elements such as the wind and sun without compromising the cohesion of a space. To add extra interest, upcycle wine boxes or wooden crates, stain them in deep stains such as Resene Iroko, and attach them to the screen to create easy and functional shelves.
Leaf your worries at the door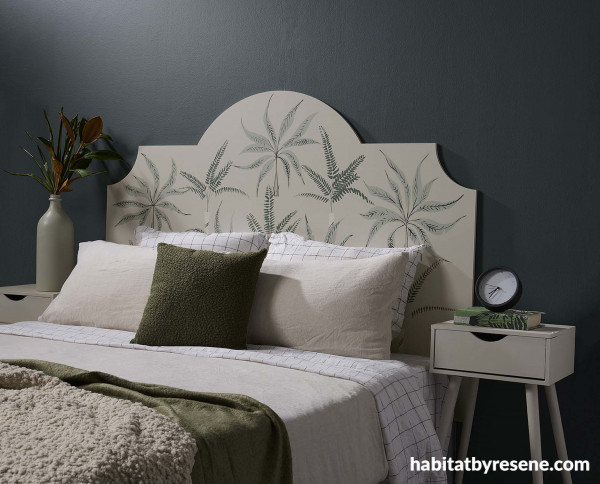 Unwind with this relaxing headboard straight from the forest. Wall in Resene Dark Slate, headboard in Resene Triple Blanc with palm tree design painted in Resene Yucca, Resene High Tide, Resene Half Bison Hide and Resene Rum Swizzle, bedside tables in Resene Triple Blanc, vase in Resene Half Lemon Grass and book wrapped in Resene Wallpaper Collection 537833. Linen from Container Door, sheets from Society of Wanderers, throws and bedside tables from Kmart. Project by Annick Larkin. Image by Bryce Carleton.
Find your Zen in the bedroom with a soothing painted headboard. With a relaxing fern design that introduces a slow sense of movement, this headboard captures the quiet elegance of nature and pairs it with muted greens such as Resene Yucca and Resene Half Bison Hide. Updating your headboard with a thoughtful design will not only leave you with a restful space to come home to, but the painting experience itself will also help you to relax. Painting has had a huge rise in popularity over the years, as people embrace the wellness benefits it has to offer. Research has shown that when we undertake creative activities such as painting, we produce the same brainwaves as we would if we were to meditate.
To begin, use your existing headboard, upcycle one from a second-hand store or prime a simple piece of plywood with Resene Quick Dry primer. Start with a base colour that complements your existing bedding and furniture. When it comes to background colours, it's best to keep things as light as possible to create the most contrast. Then comes the fun part – painting your design. The world's your oyster when it comes to the designs you could paint; try leaves or florals for a natural connection but keep the colours muted to ensure a sense of peace. If you're not a confident painter, start with a stencilled outline, simple geometric patterns or even bold stripes. To really make your headboard feel at home in the space, paint a vase, lamp or side table in a similar hue to encourage a nice flow.
Between the lines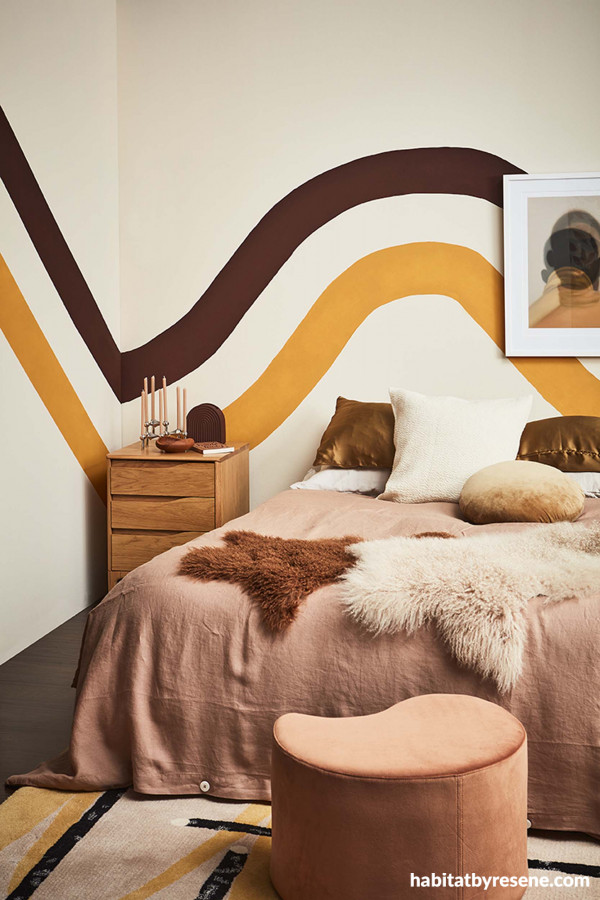 Go for a funky look that channels the 70s with these sweeping stripes. Walls in Resene Anglaise with top stripe in Resene Digeridoo and bottom stripe in Resene Fuel Yellow, floor in Resene Colorwood Bark and vase in Resene Digeridoo. Bedside table, candleholder, bowl and rug from Good Form, duvet from Father Rabbit, pillowcases from Penney + Bennett, cushions from Città, ottoman from Contempa. Project by Amber Armitage. Image by Wendy Fenwick.
Retro is in and what better way to introduce cheerful colours of positivity and wellness than through classic designs inspired by the 70s? Brown and yellow are back with a twist in this contemporary bedroom. The trick to pairing these colours together in a contemporary space is to use small amounts of each and connect them with a warm neutral, such as Resene Anglaise. Use deep browns such as Resene Digeridoo and warm Resene Fuel Yellow in playful stripes – two bold lines are best for this effect, any more and you run the risk of the space feeling cluttered.
This stripe method proves that you don't need straight lines to create a sophisticated space. With a touch of playfulness, these bold stripes work well in living areas as well as bedrooms. Alternatively, if you're after a beachy Hamptons look try deep Resene Blue Night with a lighter stripe in Resene Sand. The hand-painted nature of these stripes is what gives the space its cheerful charm, so don't worry about little bumps or wobbles along the way.
Screen time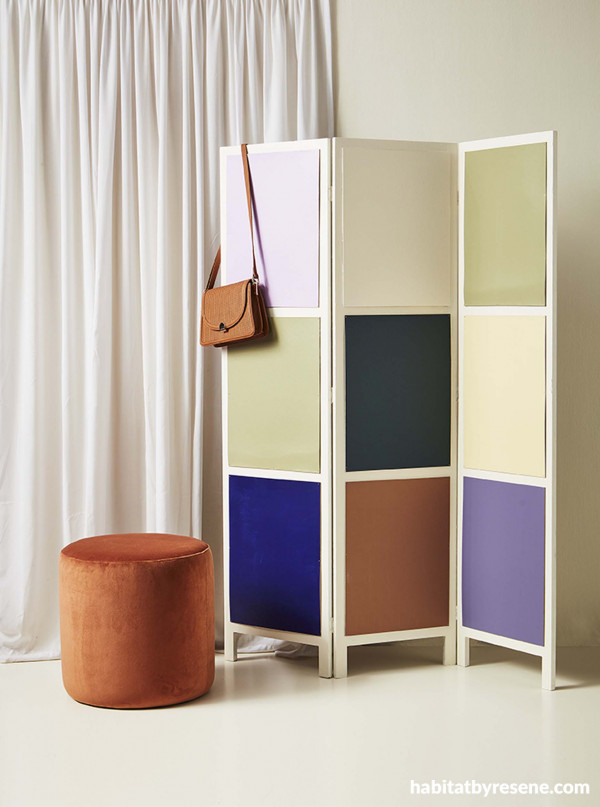 Spruce up your space with a stylish screen in an array of colours. Wall, floor and divider frame in Resene Half Scotch Mist with divider panels in Resene Wonderland, Resene Half Scotch Mist, Resene Flax, Resene Elephant, Resene Lemon Twist, Resene Paua and Resene Leather. Ottoman from Contempa. Project by Amber Armitage. Image by Wendy Fenwick.
This striking screen blurs the line between sculpture and furniture. With colours that encourage positivity such as Resene Wonderland, Resene Paua and Resene Lemon Twist, this dividing screen is sure to be a showstopper. Brighten up your bedroom by painting the panels in various cheerful Resene colours or if you're after a more muted look, choose a calming colour such as Resene Elephant and paint the squares in varying strengths of the same colour. The movability of screens makes them a valuable furniture staple. If you need some time away from the busy world, surround yourself with colour by simply sectioning off a corner of a room with your screen to create an easy reading nook or meditation space.
Build me up buttercup


This cheerful dining room is brought to life with a luscious feature wall in Resene Wallpaper Collection E300104.
Roll with the sunny days and create a golden feature wall in your home. Creating a feature wall with wallpaper is a quick and easy way to introduce a multitude of colours into a room and will immediately add interest to your space. If you don't feel like revamping the entire room, work with your home's original layout, décor and existing colour palette to find the perfect wallpaper for your feature wall. We often talk about bright yellow being a mood-booster, but if you're after something a bit more subtle touches of deeper yellow or ochre introduced through décor and wallpaper will also do the trick.
Fresh from the new Pip Studio 5 collection, Resene Wallpaper Collection E300104 is here to brighten your day – and your wall. With its bold golden hues, pops of blue and hints of green, Resene Wallpaper Collection E300104 is a great addition to a cottage kitchen or dining space. If florals are not to your taste, Resene has a range of colourful wallpapers in contemporary, traditional and retro styles to choose from.
For more interior inspiration and to see our tops colour picks for positivity and wellness, click here
Published: 14 Oct 2021
Do you have a home full of wonderful Resene paint and colour? Send us some snaps by emailing [email protected].
Resene Quarter Friar Grey
the look
If you're stuck on what
colour to use or need colour
advice, try out the Resene
Ask a Colour Expert service.