►
◄
latest
habitat tv
blog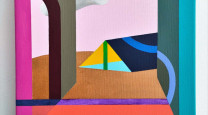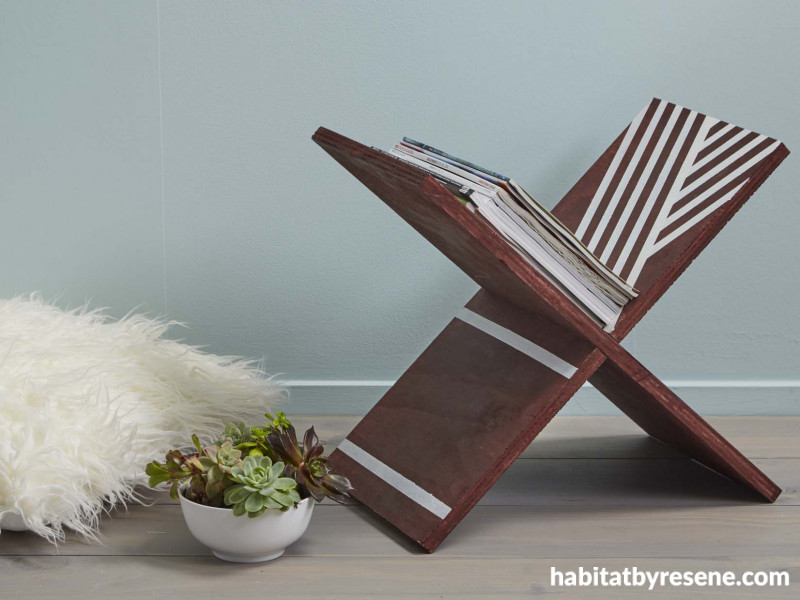 Keep yourself busy with these DIY décor ideas for any room
30 Aug 2021
Spend an afternoon crafting and spruce up your home with these fabulous DIY ideas. DIY isn't just limited to the shed or the kid's craft table anymore; it's become a décor staple in homes everywhere. You'll be amazed at how even the smallest décor addition can lift a room and bring a space to life. Here's some great DIY décor ideas for any room of the house that will help you get creative with paint.
Get crafty in the kitchen: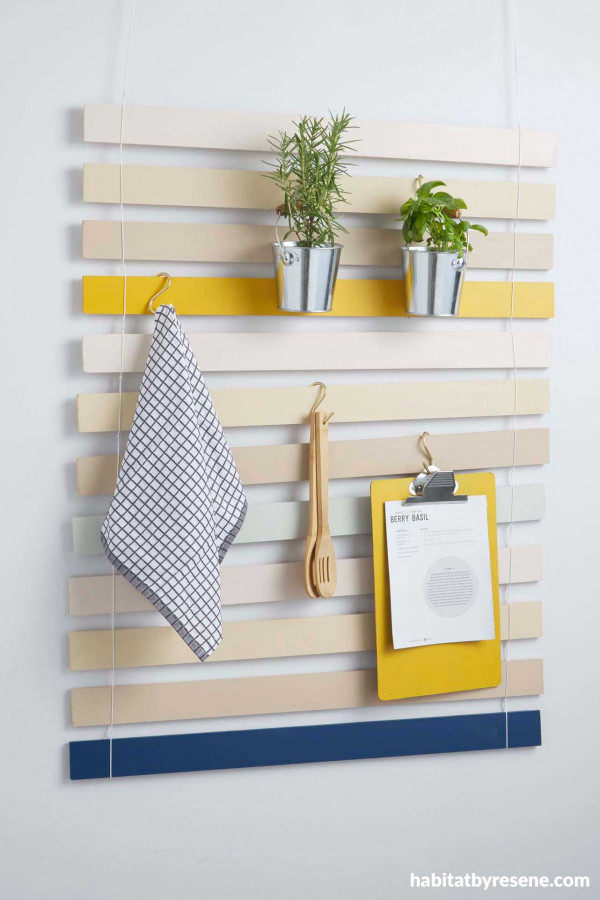 Make the most of the wall space in your kitchen with this beautiful and functional slatted organiser. All you need are some plywood slats, a length of rope, a dash of your favourite Resene colour and a splash of creativity.
DIY here: DIY slatted kitchen organiser | Habitat by Resene
Dine in style: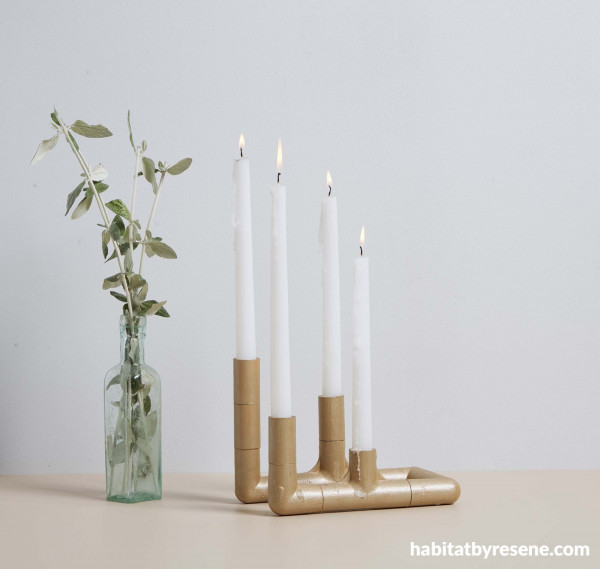 Bring some sparkle to the dinner table with this DIY candle holder idea. PVC piping has never looked more sophisticated than in this industrial-style candelabra finished in glittering Resene Rose Gold metallic. Try colour matching the candleholder to your existing décor to create classic elegance in your dining room.
DIY here: Create your own industrial-style candleholder | Habitat by Resene
Liven up the lounge: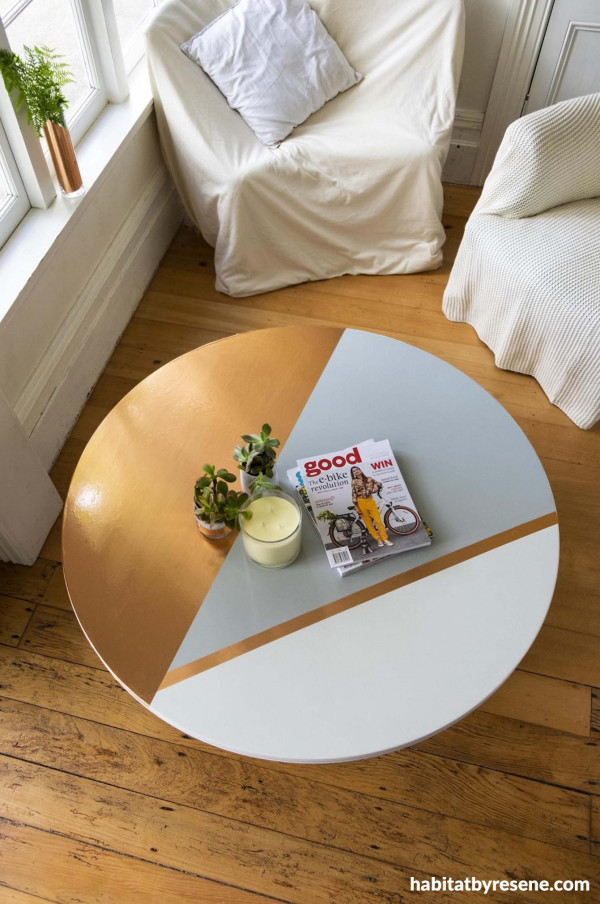 This trendy coffee tables proves that glamorous living can also be easy living. Rather than creating something from scratch to brighten your living room, why not upcycle a piece of furniture you already own? Not only is it a great way to help the environment, but it's simple and cost effective too. Coffee tables are a great place to get creative. Get a vinyl look using painter's tape and your choice of vibrant Resene colours, or paint your table a bold, solid colour to give your lounge an immediate talking point.
DIY here: Give a coffee table a glamourous upgrade | Habitat by Resene
Hallway hack: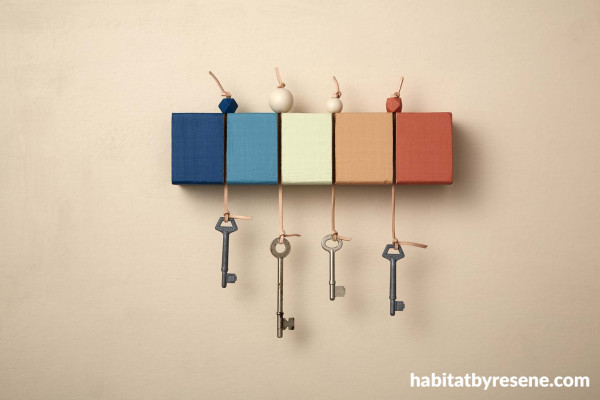 Add a happy pop of colour to your hallway with this DIY key holder. If you're someone who's always losing their keys, this hallway hack is a great way to get organised. With a vibrant array of Resene colours, this DIY is functional while still looking stylish.
DIY here: How to make a key holder | Habitat by Resene
Masterful décor for the master bedroom: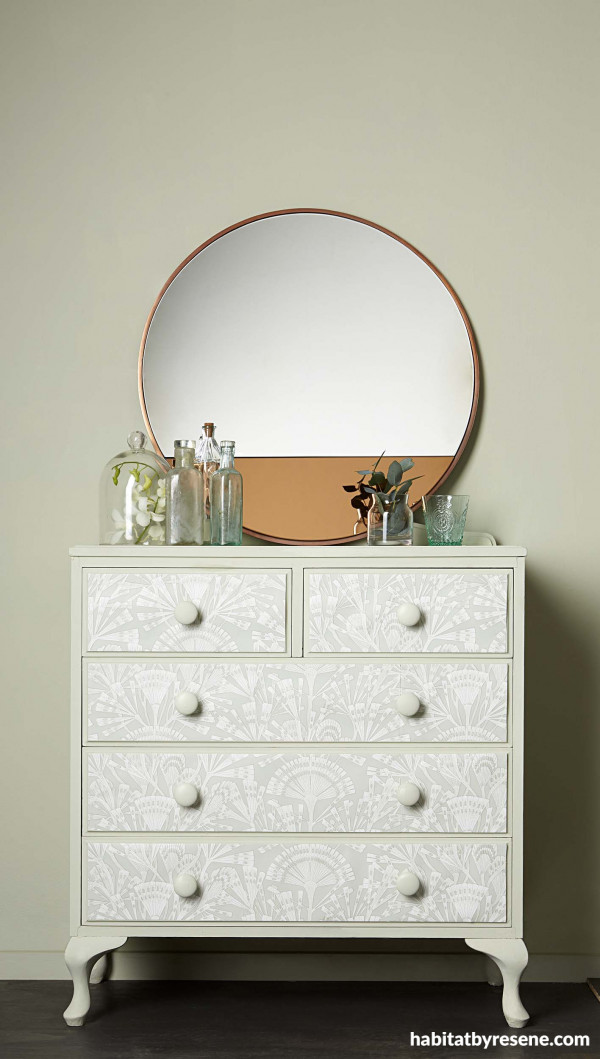 Dress up your drawers with this unique upcycling hack. Bring a whole new dimension to your old bedroom drawers with a lick of Resene paint and wallpaper from the Resene Wallpaper Collection. This DIY won't just get your drawers looking grand, it'll also refresh your room and create an area of interest.
DIY here: Dress up your drawers | Habitat by Resene
Themes and dreams in the guest bedroom: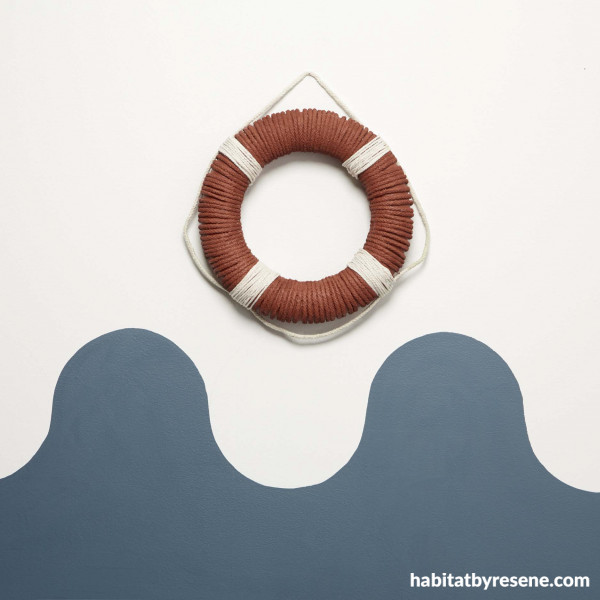 The guest bedroom is a great place to start a theme. Why not create a nautical theme in your guest bedroom with this charming rustic wrapped rope life preserver décor? Using soft Resene blues and calming whites, your guests will be sailing away to dreamland in no time.
DIY here: DIY life preserver wreath | Habitat by Resene
Learn how to create a nautical-themed room here: America's Cup fever: Sailing away with nautical inspiration from Resene | Habitat by Resene
Kid's bedroom, kid's rules:
Let your child's imagination run wild with this quick and colourful DIY. Let them add their own creative twist to a shop-bought art print using a few Resene testpots to bring fun colour and personalisation to their room.
DIY here: Personalise your own print | Habitat by Resene
A study in colour: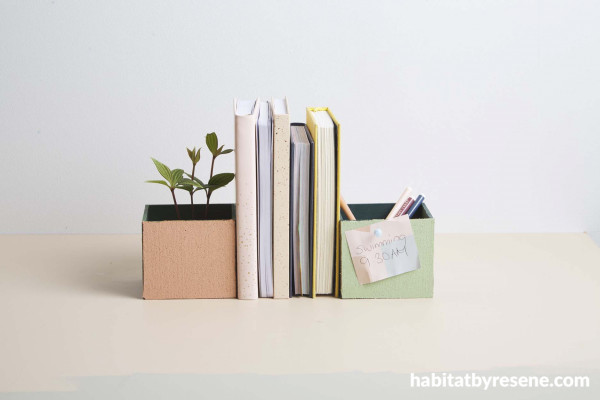 If you're searching for a way to organise your office space and bring colour to the room, look no further than these DIY cork bookends. Simply paint up wooden boxes and cork sheets and voila – you'll have a nifty place to store pens, place memos and keep your books looking tidy.
DIY here: Organise your desk with these DIY cork bookends | Habitat by Resene
All set for reading: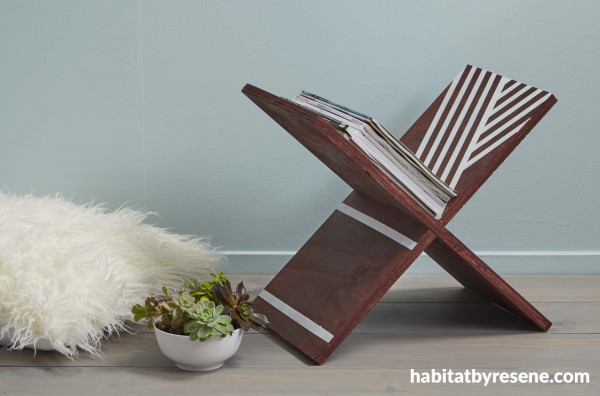 Looking for a way to keep your collection of magazines tidy? This Scandi-inspired magazine rack is finished in a beautiful Resene stain and will look sleek and stylish in your home, while keeping your magazines raised off the floor.
DIY here: Scandi-inspired magazine rack | Habitat by Resene
Pretty up the porch: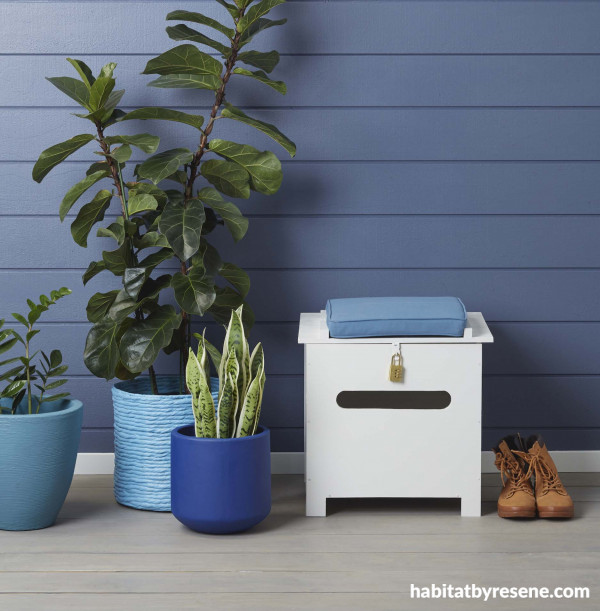 Keep daytime deliveries secure with this simple to build box that doubles as a seat. Not only will this handy box keep your parcels safe, it's also a great opportunity to start a new colour scheme for the front of your house without needing to paint the exterior. Paint the box in your chosen colour, then move outwards, painting flower pots in similar colours and get a matching doormat. You could even paint your front door! To come up with a colour palette that works, try the Resene Colour Palette Generator.
DIY here: Make your own courier box | Habitat by Resene
Published: 30 Aug 2021