►
◄
latest
habitat tv
blog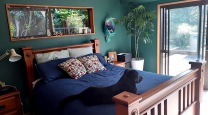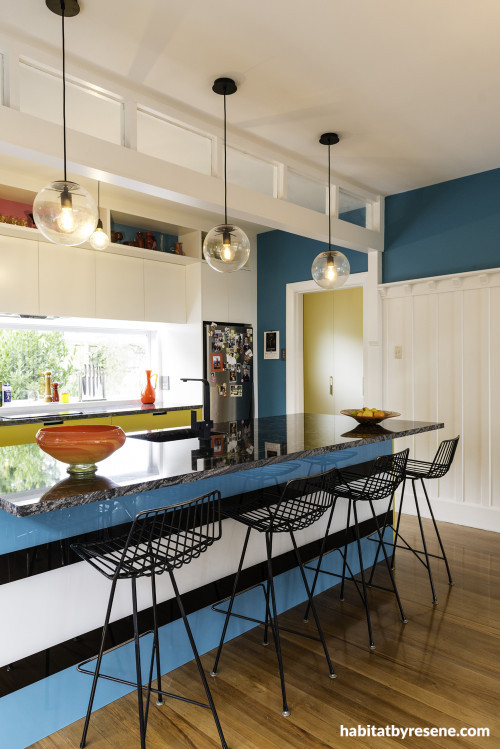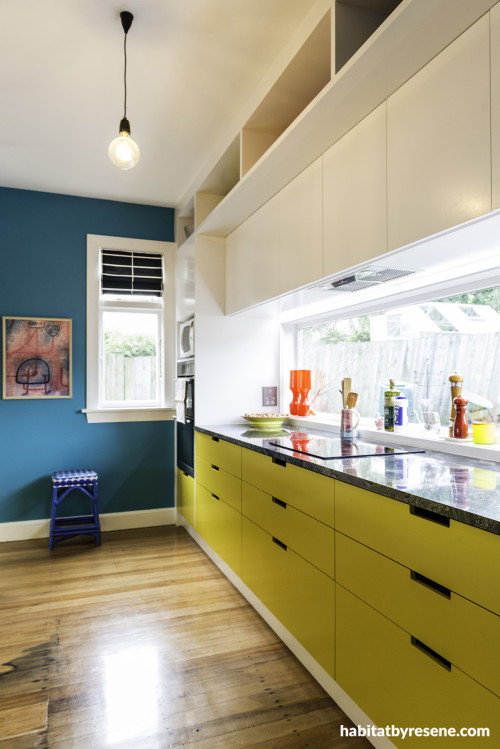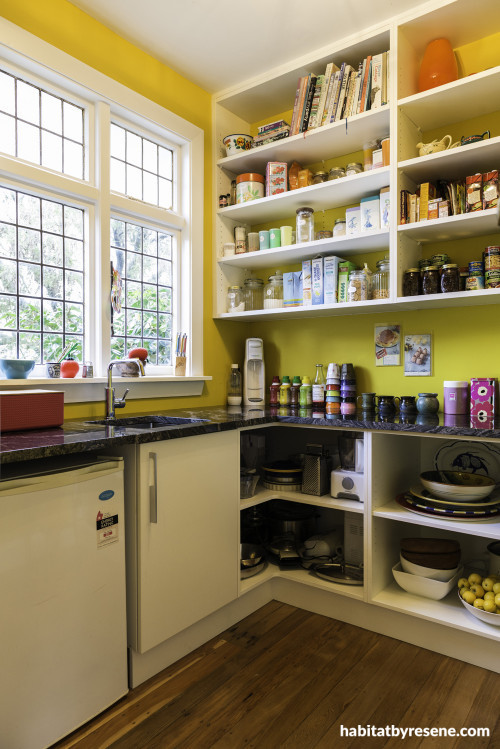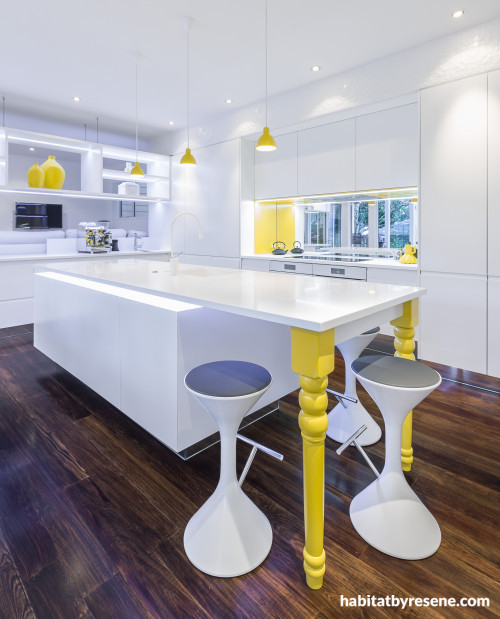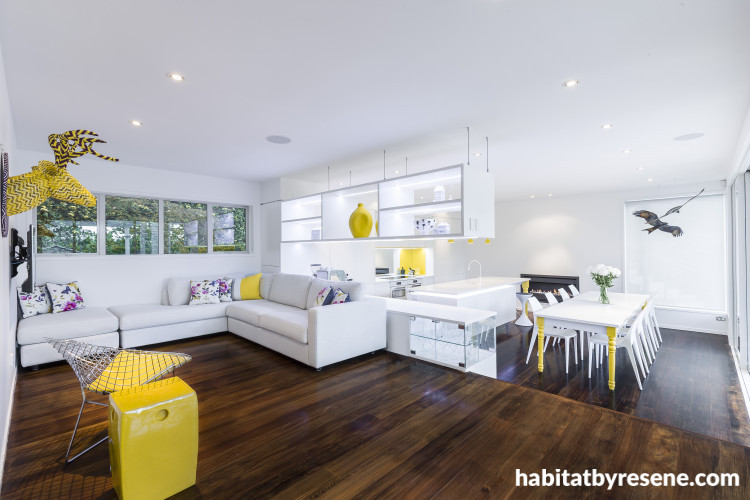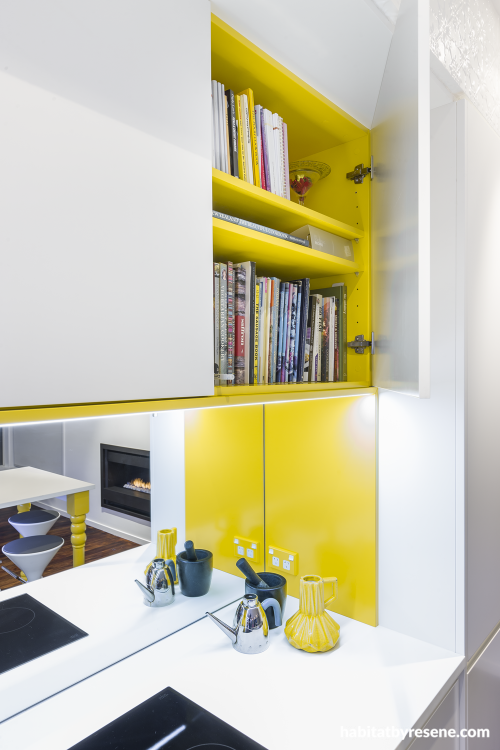 Two colour-sweet kitchens
We so often play it safe with our kitchens when it comes to colour. The fear of spending that much cash on something that won't be timeless or will deter potential future home-buyers drives us to… white, and more white.
There's nothing wrong with that, but you have to admire those homeowners who go 'yeah, nah' to the whole white philosophy and choose ultra-bold colours for their kitchens. A shot of bright yellow, anyone? How about a bit of intense turquoise with that? Here are two homeowners who buck the trend and go bright.
Like a liquorice allsort
This colourful kitchen is part of a larger renovation by owner and designer Lou Barker of Blue Scarlet. She wanted the open-plan kitchen, dining and living room to work together but be functional and look good in its own right. Say Lou: "To me colour speaks volumes and I like it loud."
See the rest of Lou's house here.
A view through the house to the Southern Alps was important so a large window replaced two smaller ones. Not only did Lou want the view to be taken in but she wanted the inside to marry with the exterior - hence the use of Resene Hive which graces the exterior window sills and back door.
While Lou's colour palette is bold, she works with two or three common colours throughout the house (in this case Resene Seeker and Resene Alabaster) so the interiors don't end up looking too untidy. "I do like to add a feature or two; hence the top display shelving with Resene Seeker and Resene Hive, and here I have introduced Resene Smitten." On the front of the kitchen island, Resene Black joins Resene Seeker and Resene Alabaster in a look that was inspired by a liquorice allsort lolly
For more about Lou and her work, see www.bluescarlet.co.nz.
Be happy
This kitchen doesn't totally spurn white. In fact, when you work out the proportions, most of it is white. It's just that the secondary colour is, well, so bright. Resene Golden Dream is described by Resene as 'an energetic fantasy of strong yellow', which says it all, really.
It certainly transports this kitchen beyond the norm.
When kitchen designer Celia Visser was asked to deliver a "happy, joyful and contemporary" kitchen for a client, she re-organised the spaces and delivered a sophisticated multi-use area in which to live, cook and socialise.
Extending the island bench into a table-like form adds humour and character, while painting the turned legs of both this and the table in Resene Golden Dream challenged convention, and pops out against a backdrop of pure white (Resene Alabaster). Celia used Resene Enamacryl on the table for durability, and Resene SpaceCote for other surfaces to cope with this high-wear zone.
In another quirky addition to the kitchen, Resene Golden Dream was used to frame the cooking area, and on the inside of the cupboard above. "When you open the cupboard and see the yellow, it makes you smile," says Celia.
The pattern of the pressed tin on the bulkhead above the cooking area adds to the eclectic nature of the kitchen.
Three Louis Poulsen Toldbod Yellow Blossom lights hang above the island. Says Celia: "Even though Resene Golden Dream had been chosen first, it was amazing how close the colour of the yellow Blossom lights matched the Resene colour."
The outlook of the room was an important design element so a mirror was used as a splashback to allow the landscape to be viewed from every angle of the space.
For more about Celia and her work, see www.visserdesign.com.
Published: 14 Feb 2017
Do you have a home full of wonderful Resene paint and colour? Send us some snaps by emailing [email protected].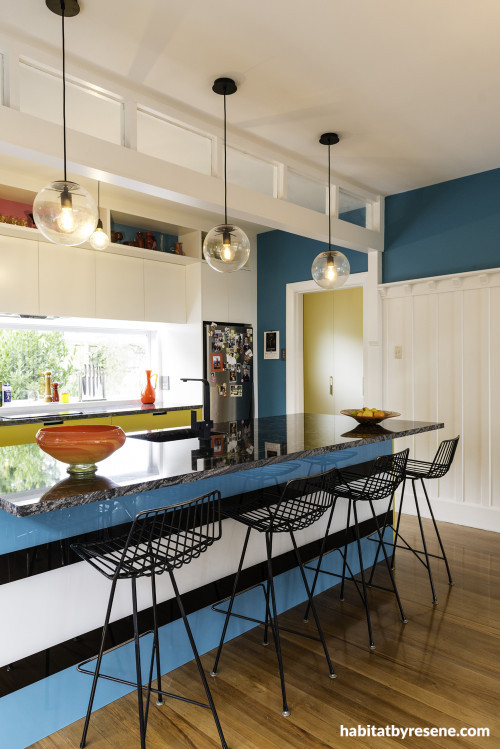 Using Resene Seeker, Resene Black and Resene Alabaster, the front of the kitchen island was inspired by a liquorice allsort. There's also a peek of hot pink Resene Smitten in the high shelves on the back wall.
pictures
Kate Claridge, Kaleidoscope Photography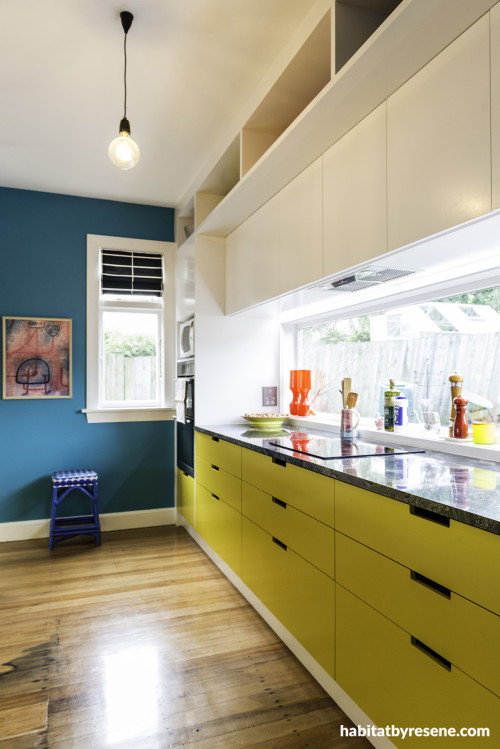 Looking along the kitchen at those striking Resene Hive cabinets. The far wall is in Resene Seeker.
pictures
Kate Claridge, Kaleidoscope Photography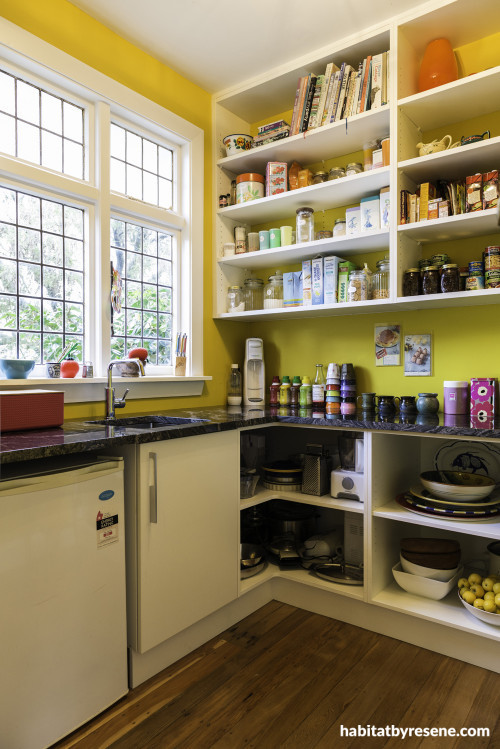 The inside of Lou's pantry has walls painted in Resene Hive. Using this colour ties the kitchen to the exterior where the sills and door are also painted in Resene Hive.
pictures
Kate Claridge, Kaleidoscope Photography
Lou's laundry carries on the yellow theme, in Resene Hive.
pictures
Kate Claridge, Kaleidoscope Photography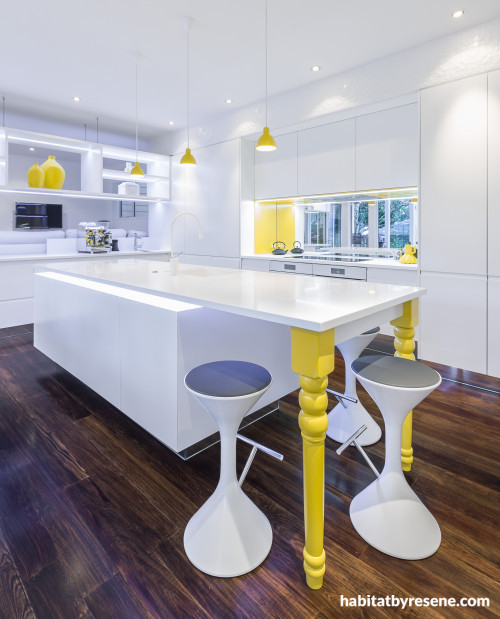 This kitchen by designer Celia Visser also uses yellow as an accent, this time in Resene Golden Dream against a white backdrop of Resene Alabaster.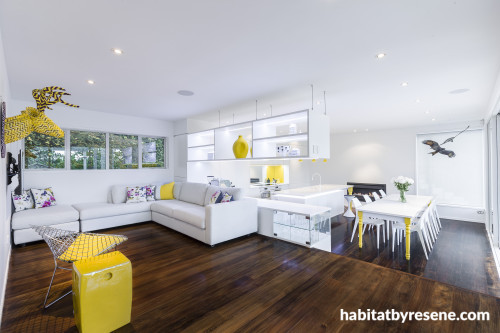 The kitchen is part of a new welcoming and airy open-plan living space.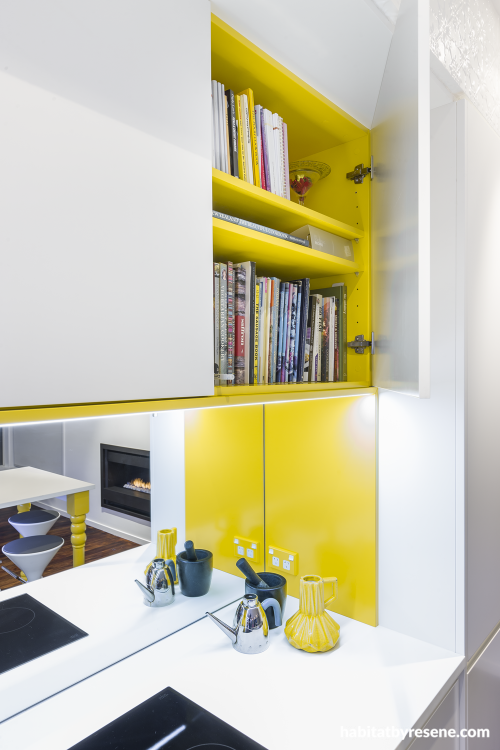 Unexpected colour is used around the cooking area and inside the cupboard above. "It makes you smile," says designer Celia Visser. The yellow is Resene Golden Dream and the white is Resene Alabaster.
the look
If you're stuck on what
colour to use or need colour
advice, try out the Resene
Ask a Colour Expert service.