►
◄
latest
habitat tv
blog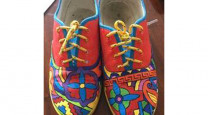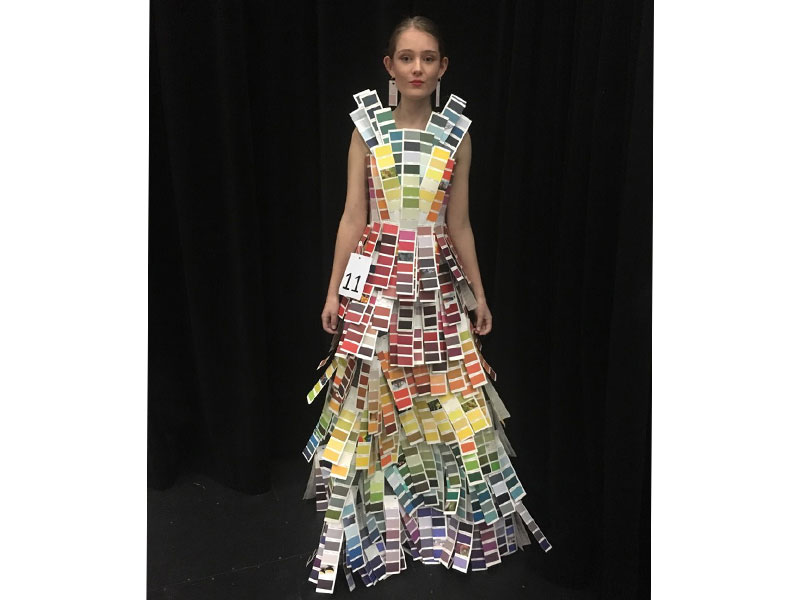 Resene colour palettes take high fashion to another level
18 Sep 2019
Design inspiration can come from practically anywhere. While we have been frequent witness to Resene paint colours inspiring countless fashionable buildings both inside and out, we've recently seen some spectacular uses of Resene colours that have led to a whole new breed of fashionable looks.
Sarah McDougall, Aria Lyver and Caitlin Watson – who are all in Year 9 at Lincoln High School – designed and constructed a colourful garment out of Resene paint swatches during their school's Wearable Arts Club meet-ups, which take place during one lunch hour per week. According to their teacher, Emma-Jane Paterson, they made the underskirt themselves, learning new sewing skills along the way, then stitched and hot glued the Resene swatches onto the dress and skirt.
"They had multiple designs drawn up that developed and evolved as they went on. The girls were inspired by using the palettes for the bright rainbow colours associated with the acceptance of the LGBTQ+ community." says Emma-Jane.
Their creation, which is titled 'Acceptance', earned them third place in the Northern Canterbury Wearable Arts Competition, and the team at habitat by Resene couldn't be prouder of them.
Sarah, Aria and Caitlin are also entering another competition, Art Couture, on 12 October with the same garment, and we're crossing our fingers that theirs will be the winning entry.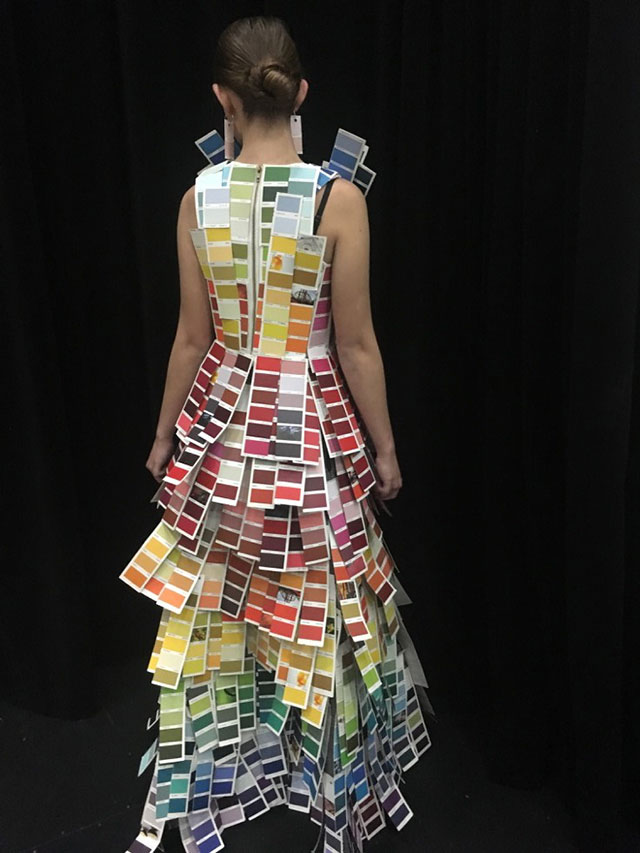 This colourful dress created by Year 9 students Sarah McDougall, Aria Lyver and Caitlin Watson during their lunch hour Wearable Arts Club meet-ups is constructed out of Resene The Range fashion fandeck pages. It's seen here modelled by classmate Mikal Van Heerden.
But Sarah, Aria and Caitlin's dress isn't the first time in the past month that Resene colours have taken to the runway. In fact, Resene The Range fashion colours inspired a whole show worth of haute couture looks during New Zealand Fashion Week, which took place in late August at Aotea Square in Auckland.
More than a dozen Auckland University of Technology (AUT) students were provided with a length of silk dyed to match some of the hottest current Resene paint colours around, and the cutting-edge creations they came up were both inspired, and inspiring.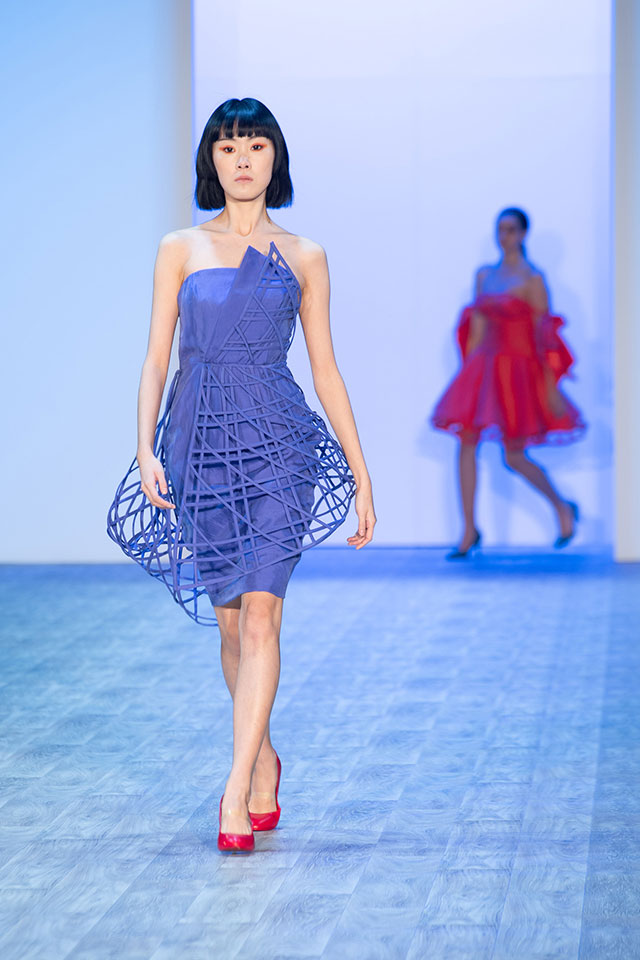 Bryony Acraman's architectural garment opened the show with head-turning mesh features that created an accentuated silhouette. The dress is coloured in Resene Valour, which looks lovely with soft greens, blackened whites or soft yellows. Try it with Resene Aura, Resene Alabaster or Resene Moonlight.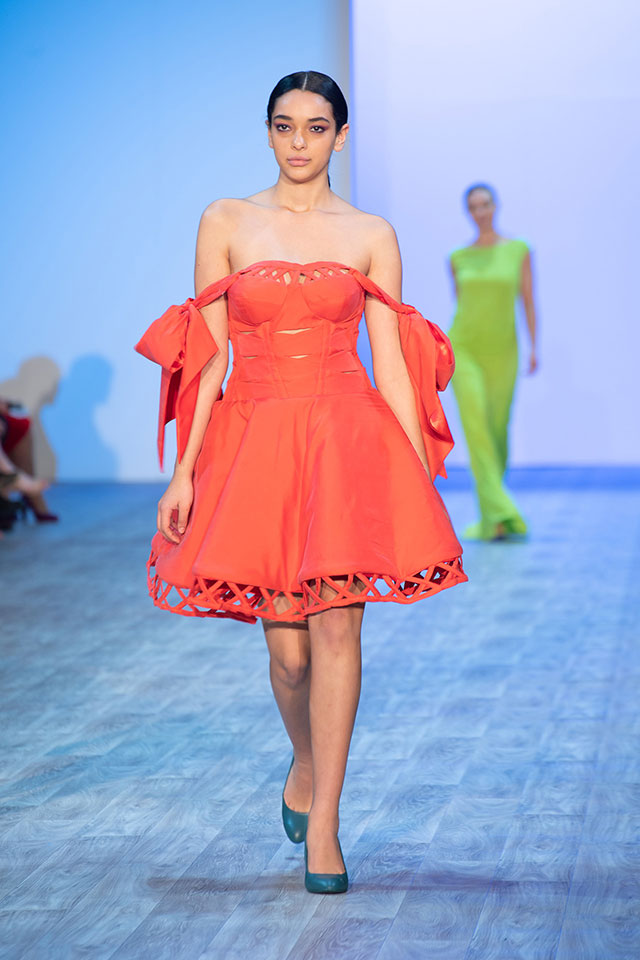 Fun and feminine, this dress by Helen Yuliana Diaz Calisto looks especially eye popping in Resene Roadster. Try a pure chromatic red like this one with summer greens, delicate blues or serious navy blues like Resene Freelance, Resene Mystery or Resene Bewitched.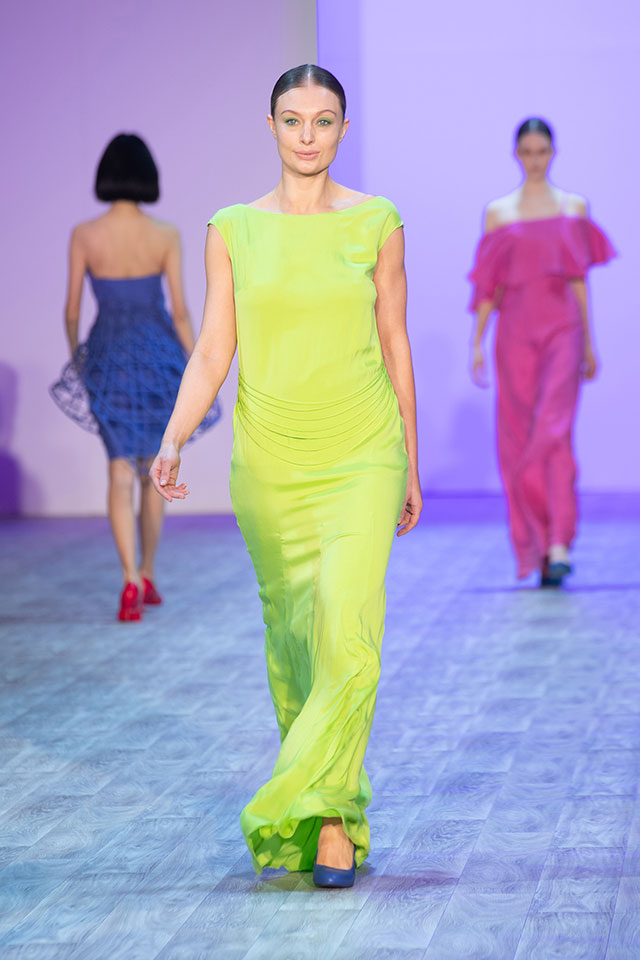 With its romantic flapper-style shape, Emily Verhaaren's breath-taking creation in Resene Kryptonite looks otherworldly. Partner up this razor sharp green with true blues, vibrant teals or rich purples such as Resene King Tide, Resene Yowza or Resene Machiavelli.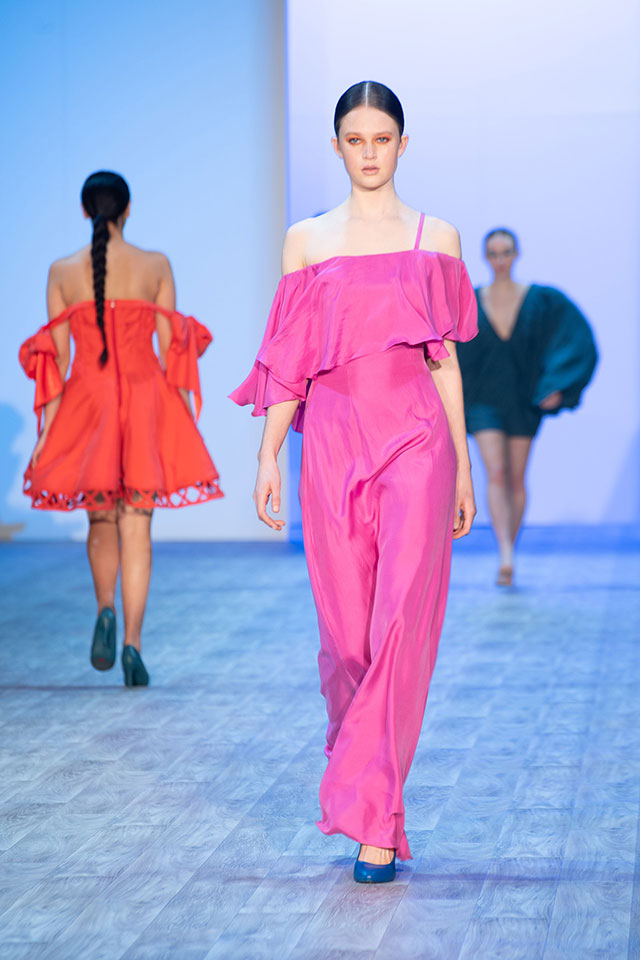 With its demure salute to the 70s, we've fallen head over heels for this shapely off-the-shoulder jumpsuit designed by Rolieta Pritchard, coloured in Resene Pink Ribbon. Try this vivacious fuchsia pink with warmed whites, red-violets or teal blues such as Resene Elderflower, Resene Eye Candy or Resene She'll Be Right.
Puffed sleeves and a plunging v-neck punctuate this design by Michelle Israelson, coloured in Resene Fast Forward. Complement its moody undertone with sharp yellow whites, yellow greens or blue-greys such as Resene Rice Cake, Resene Green Smoke or Resene Raindance.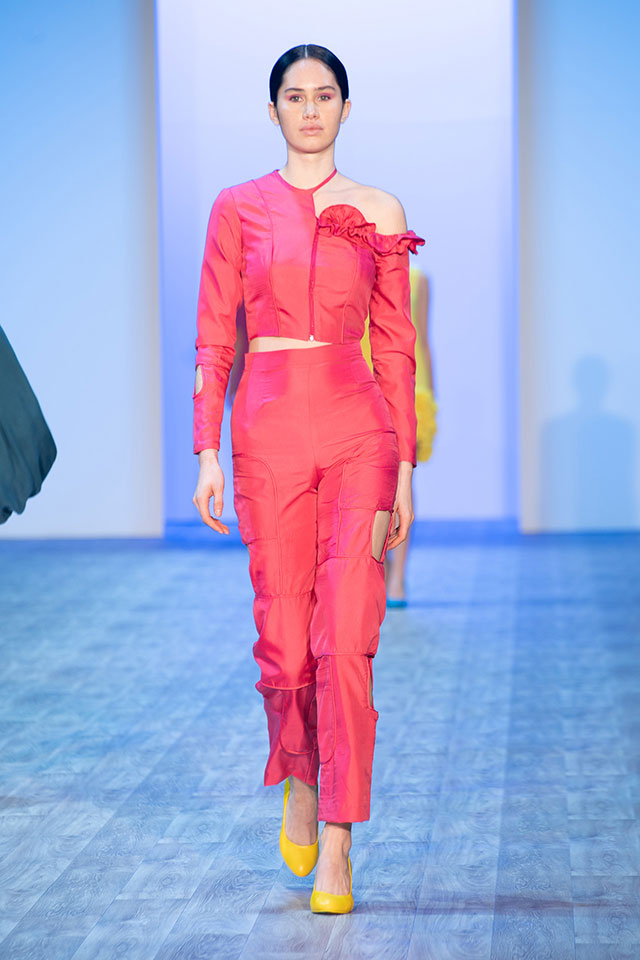 These delicious looking asymmetrical separates designed by Georgina Harmon-Hohua are coloured in Resene Irresistible. Try this explosive pink with vibrant teals, rainforest greens or aqua blues such as Resene Yowza, Resene Kandinsky or Resene Yes Please.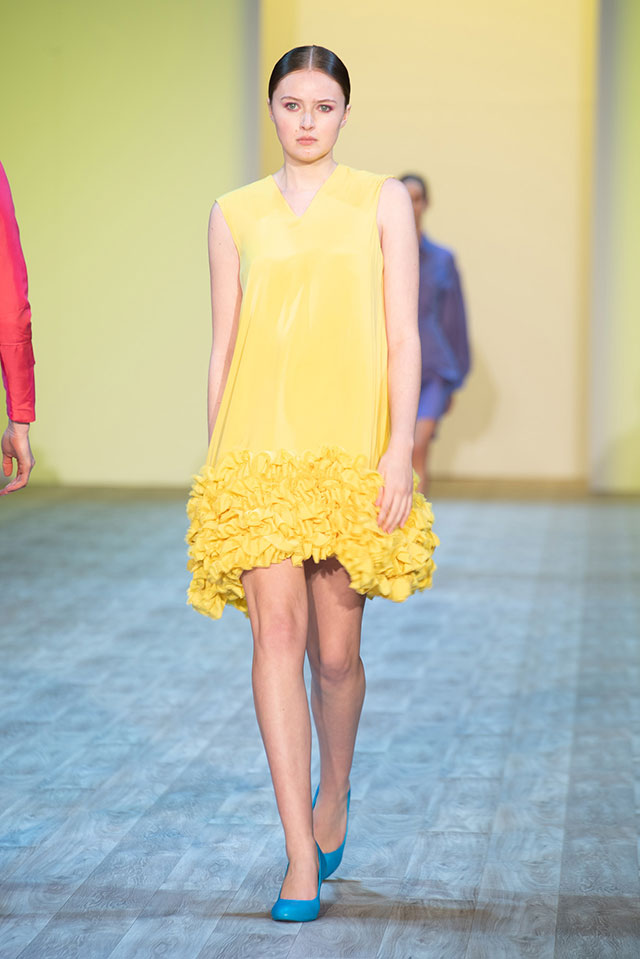 We'd sure to be dancing up a storm in this ruffled number, designed by Samantha Parr, in Resene Wild Thing. This bright and happy yellow looks beautiful with aqua blues, yellowed whites and frenetic oranges such as Resene Yes Please, Resene Elderflower or Resene Party Zone.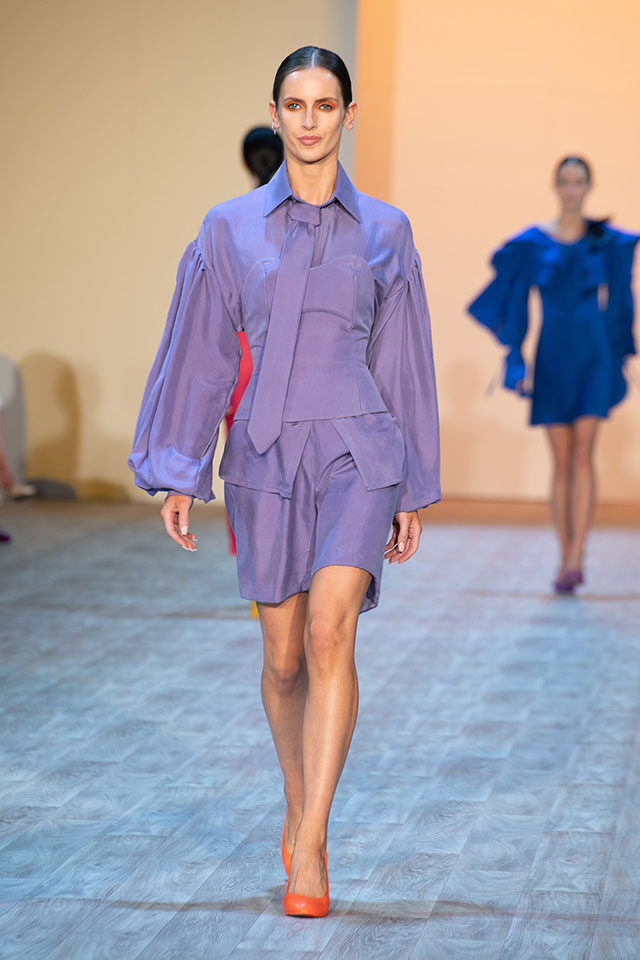 This unique look by Josephine Williams in Resene Harmony doesn't look like anything we've seen before. Try this velvet mauve with pastel lilacs, cool whites or pale shell blues such as Resene Dreamtime, Resene Half Black White or Resene Duck Egg Blue.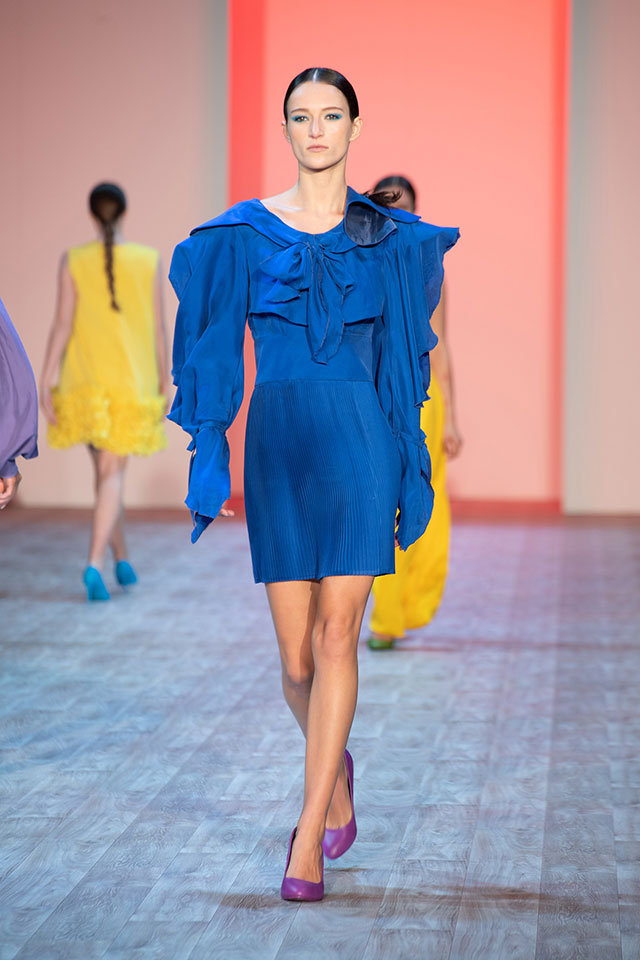 Cascading silk drapes from the shoulders of this subtly sailor-inspired silhouette by Marina Khak, coloured in Resene Submerge. Balance this surf blue with a hot pink, a clear blue or an electrifying green such as Resene Candy Floss, Resene Tomorrow or Resene Kryptonite.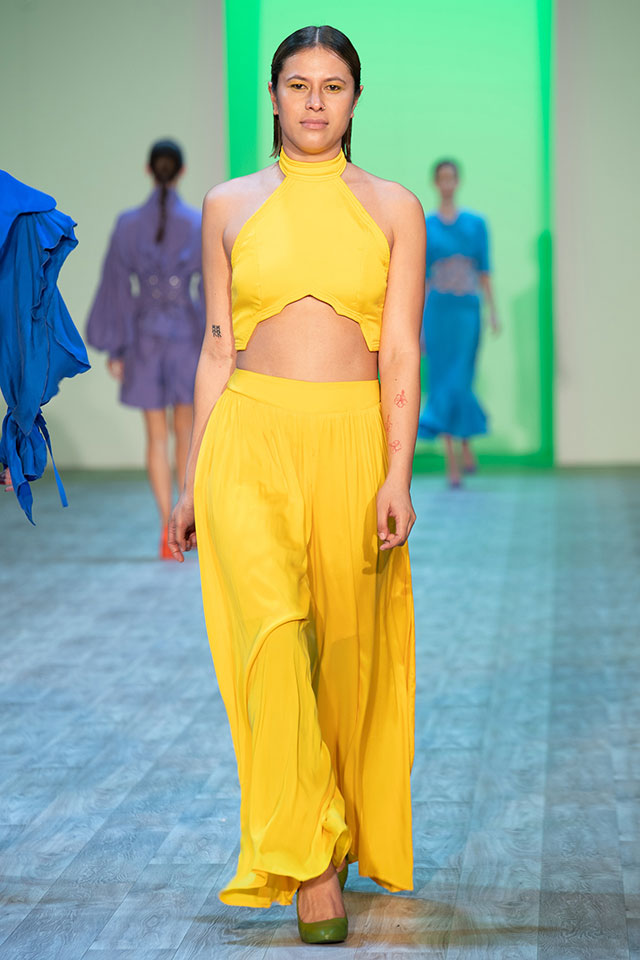 These show-stopping separates in Resene I Dare You by Eva Martin serve up neo-retro shapes in one of the season's hottest shades. Try this energetic yellow with hazy forest greens, bright reds or bold blues such as Resene Atlas, Resene Roadster or Resene Wet N Wild.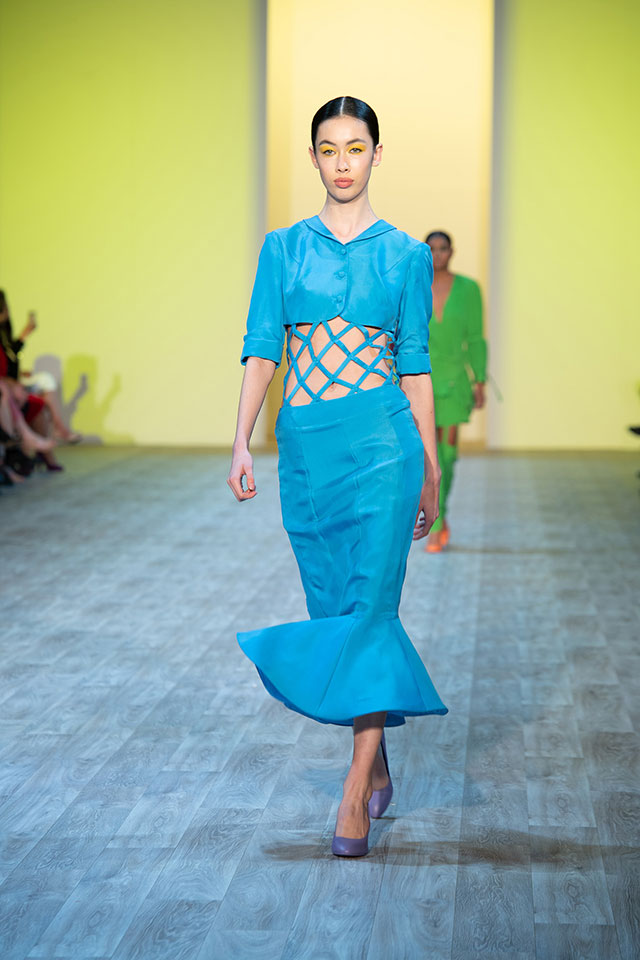 A spin on shapes that were popular in the 50's with a completely original twist was Michael Barlow's dress, coloured in Resene Moana. This aqua makes a strong impression when it's paired with bold greens, golden whites or spicy rich reds like Resene Kryptonite, Resene Rice Cake or Resene Pohutukawa.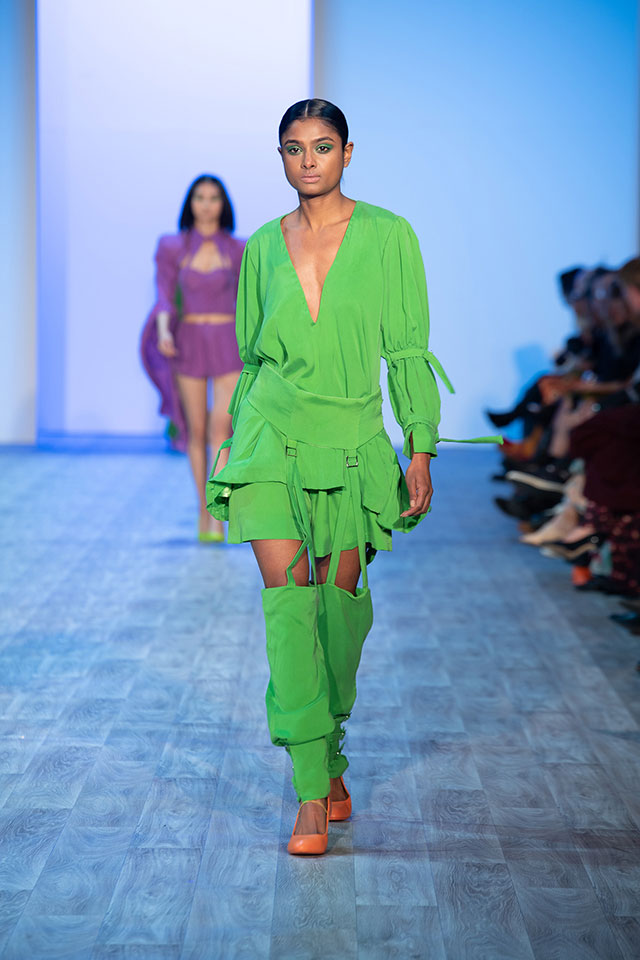 A creative play on a pantsuit, this outfit by Elle James coloured in Resene FOMO isn't missing out on anything. You too can have it all by balancing this electric hue with teal blues, warm whites or bold blues like Resene She'll Be Right, Resene Elderflower or Resene Wet N Wild.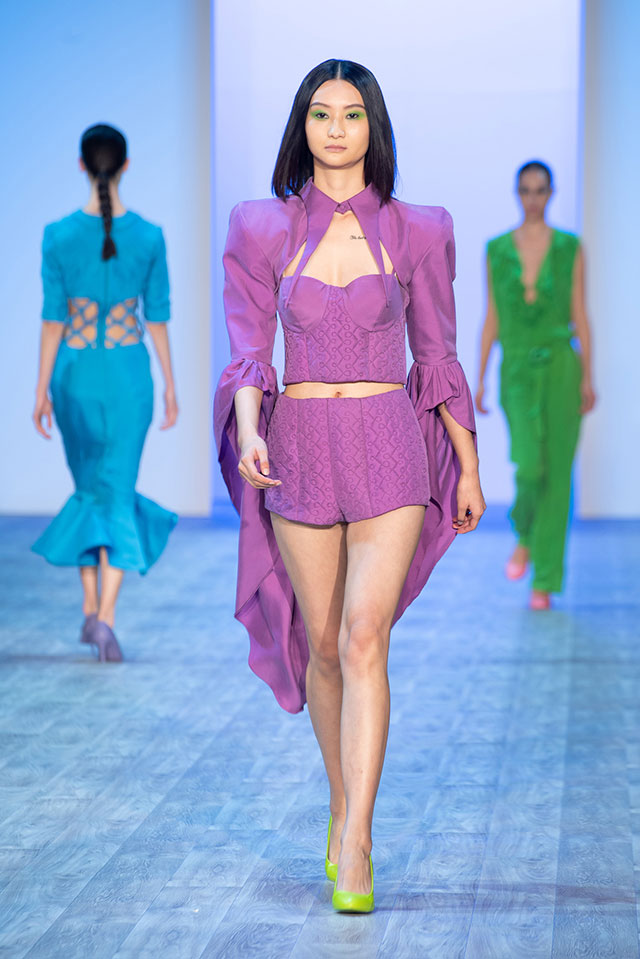 To contrast the amount of skin the bustier and shorts were showing, this outfit designed by Angelika Olsen features sleeves that create a shroud of drama in their wake. It's coloured in Resene Eye Candy, which looks exceptional with warm mauves, fizzy warm whites or blackened blues such as Resene Mozart, Resene Elderflower or Resene Indian Ink.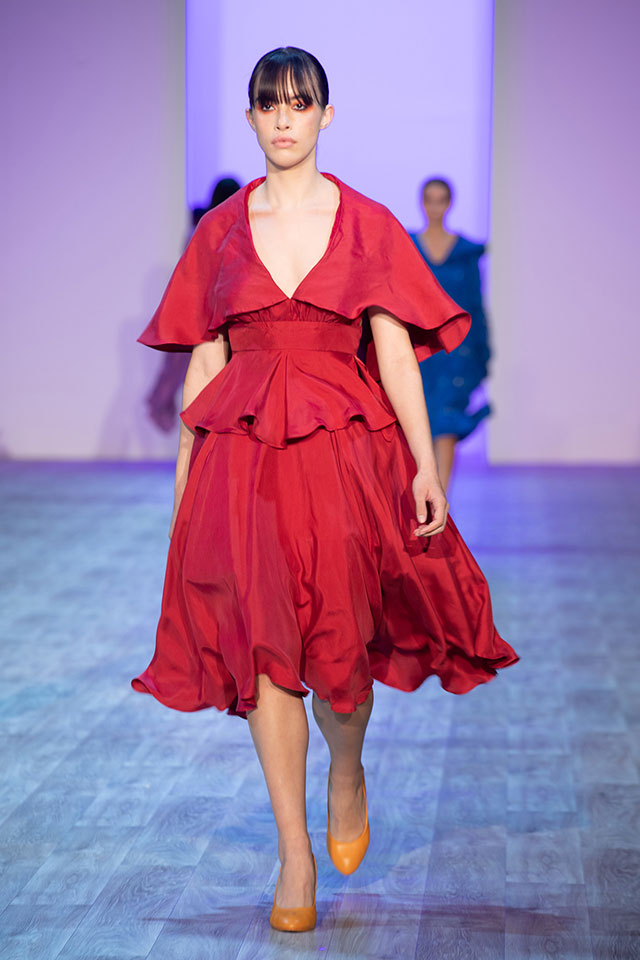 One of our favourites was this dramatic dress in Resene Code Red by Janesa Boreham. A fine blend of poppy and pomegranate, this hue looks especially gorgeous when paired with colours tinted by the other side of the colour wheel like clean timber greens, greened browns and green off-whites. Try it with Resene Permanent Green, Resene Grey Olive or Resene Merino.
You can read the full story on the Northern Canterbury Wearable Arts Competition on the Lincoln High School website and see more of the Resene and FashionTech Colour of Fashion gallery here.
images Emma-Jane Paterson, Nigel King