►
◄
latest
habitat tv
blog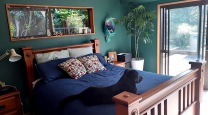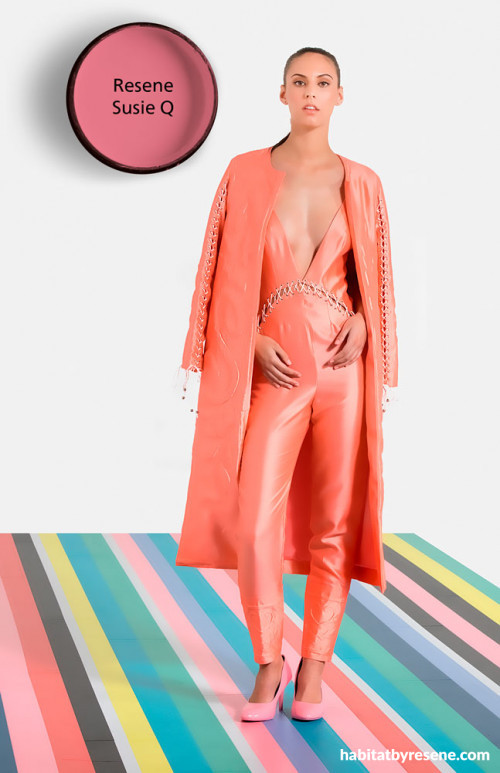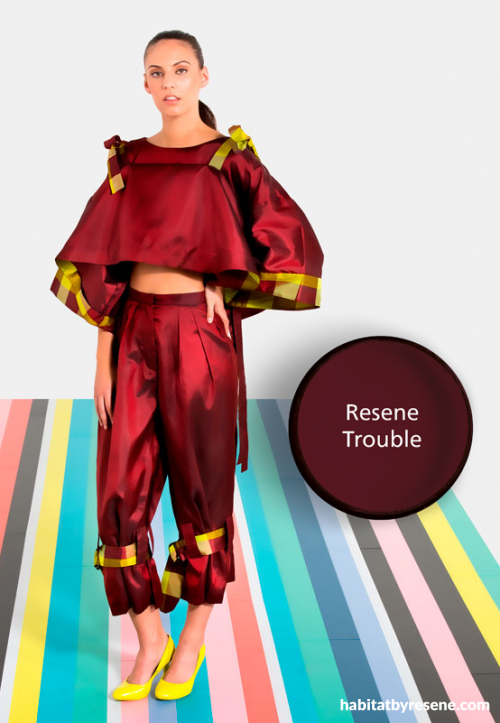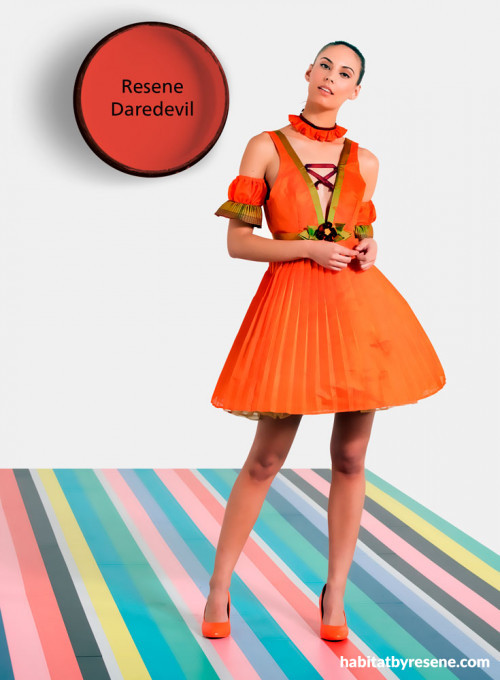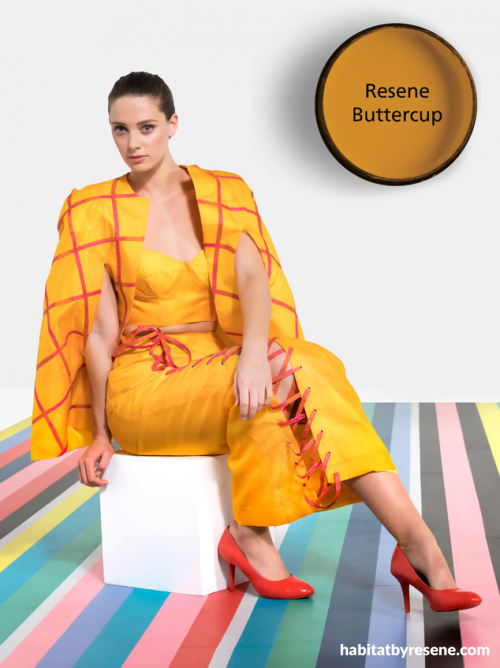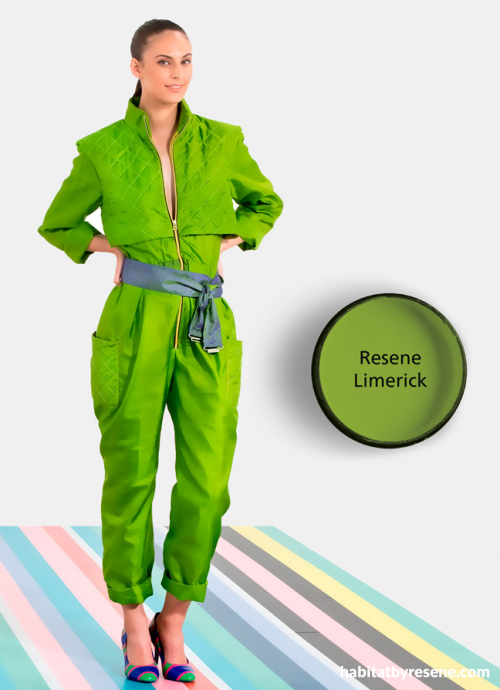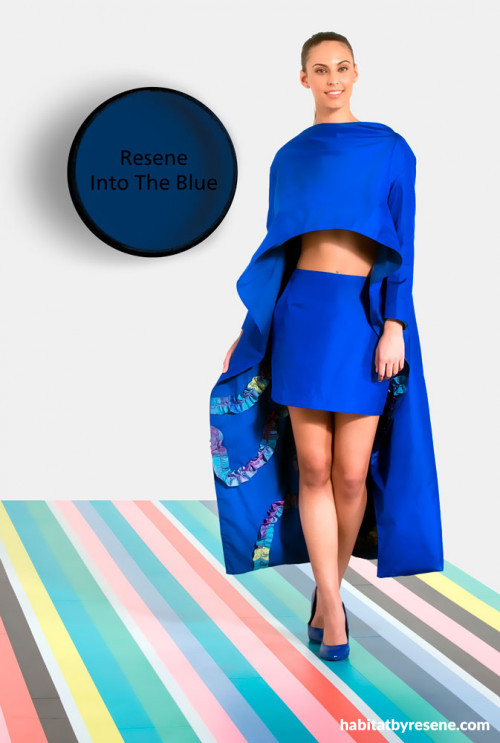 Colour on the catwalk
Sixteen key looks, 80 metres of silk, Resene's latest fashion colours... this New Zealand Fashion Week, a colourful parade of beautiful designs will hit the catwalk as part of the Resene Designer Runway shows.
The designs are part of the 2017 Resene NZ Fashion Tech Colour of Fashion project, an education-meets-colour collaboration staged every year in the lead-up to Fashion Week. The words of the fashion students' brief were clear. Ordinary wouldn't do... and the judges would be looking for colourful looks.
Watch out for colours from the latest Resene fashion fandeck as they step onto the fashion runway, including Resene Suzie Q, Resene Ruby Tuesday, Resene Trouble and Resene She'll Be Right, before gracing Kiwi paint brushes and paint rollers around the country this summer.
Student Susan Colton's winning work will open the Resene Designer Runway, with her take on Resene Susie Q, using her own form of embossing on silk, a coat and pantsuit look described by judges as a "masterpiece".
The opening show starts at 8.30pm on Thursday 31 August, and runs until Sunday 2 September. Get your tickets from iTicket here.
Published: 16 Aug 2017
Do you have a home full of wonderful Resene paint and colour? Send us some snaps by emailing [email protected].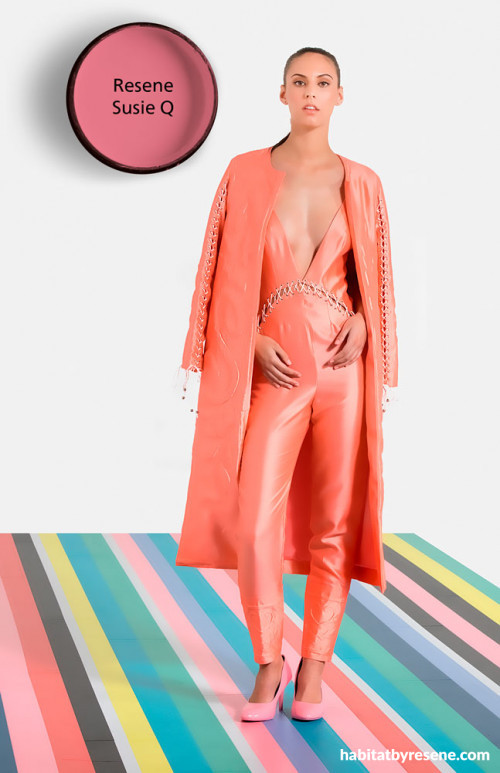 Susan Colton's winning outfit uses Suzie Q as the muse, a fitting colour that matches her own name. Susan says: "With the plunging neckline her heart is left open, barely holding it together. Only by the lace and eyelets, her more vulnerable self is protected by armour in the form of a coat. She wears her memories embossed into the fabric."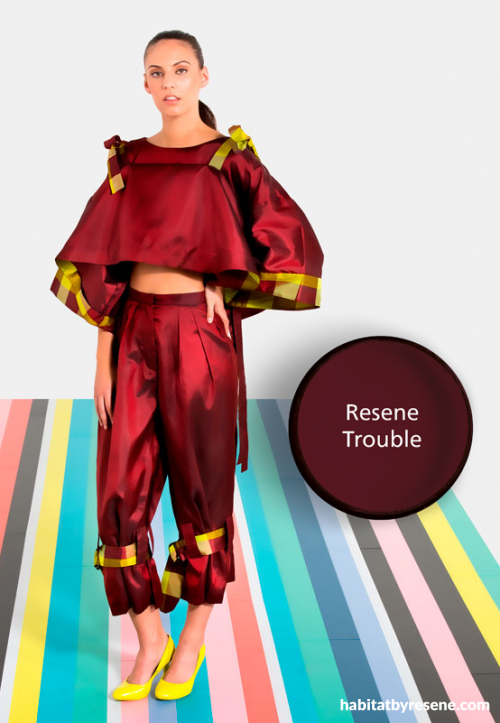 Taking inspiration from Tokyo and the colour Resene Trouble, Matthew Baitson had this to say about his design: "Keeping in mind the words trouble, mayhem and mischief. I came across a story in Japanese folklore of a 600 year old spider Jorogumo... that could transform and change shape into a gorgeous Geisha who lured men in and ate them. With my design I have eight straps to represent the legs of Jorogumo."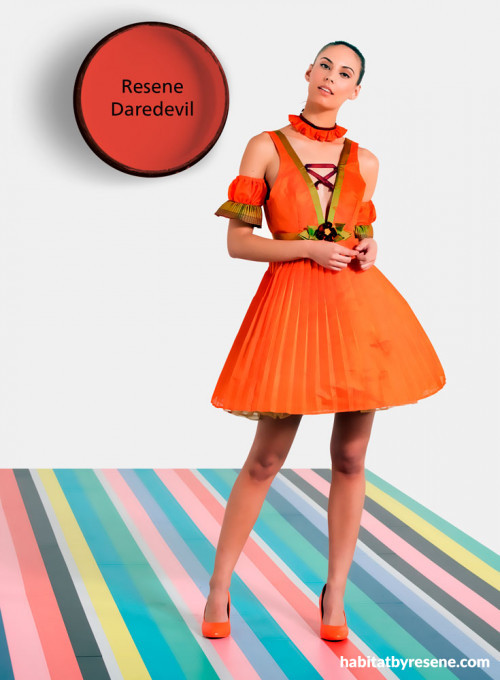 Hayley Smith's imaginings, with Resene Daredevil as her colour, led her to Germany's "beautiful castles, notorious parties and amazing food." Her design is a nod to the eccentric King Ludwig, a king who "spent his life pursuing beauty through building elaborate fairy-tale castles, hunting in the black forest, collecting swans and attending the opera."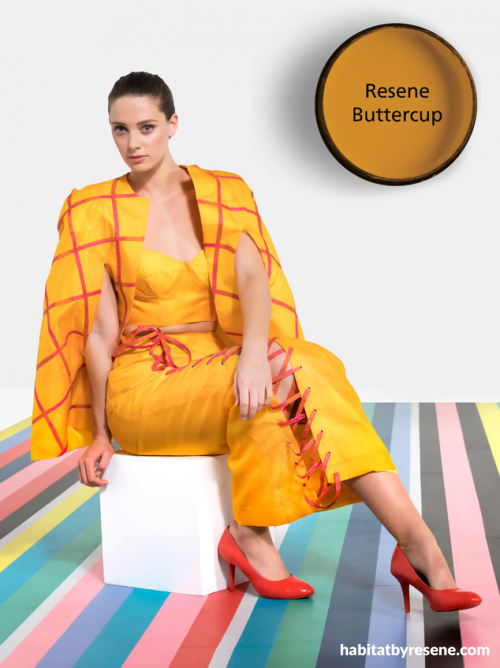 Drawn to striking architecture in London for inspiration, along with the colour Resene Buttercup, Katie Flanagan created this design. "I found some breathtaking structures and I saw a similarity with honeycomb. I wanted my cape to add drama, structure, and the idea of manipulating views on positive and negative space."
With Resene Ruby Tuesday as inspiration, Sara Rezai says this about her outfit: "I think of a woman from another world. A world where oppression towards women is everywhere, where women are told to shroud their bodies in fabric to cover their creativity." Sara's design "breaks free" and encourages women to follow their own dreams and passions.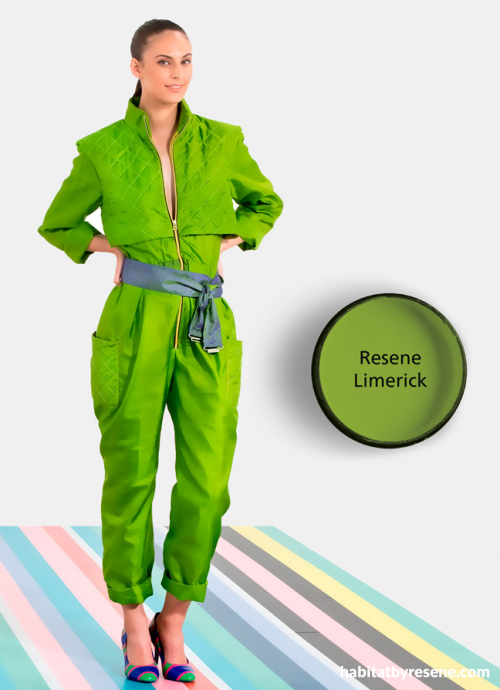 Raishal Harrison says her most profound fashion influence is her homeland India. "It's the land of colours, culture, festivals, prints, textiles and mostly utter chaos," she says. "My goal is to be a designer with purpose, providing work for women and contributing to the education of children." Her design in Resene Limerick is the first step along that path.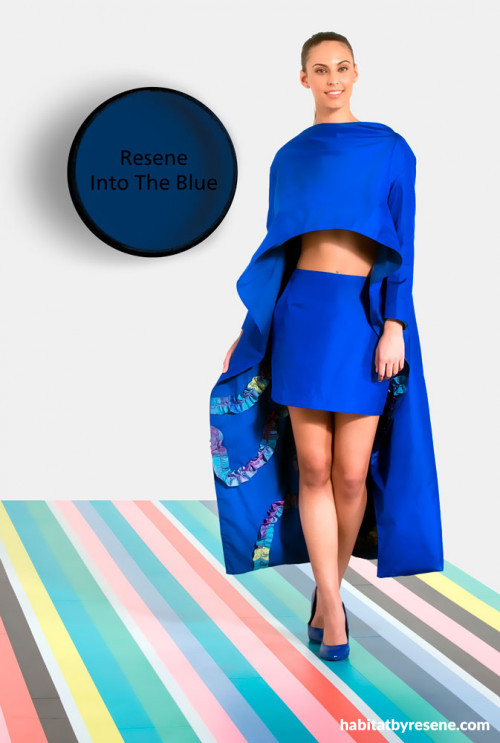 Olivia Dunn's design draws from her Samoan heritage. "Resene Into the Blue speaks to my Pacific people as explorers of the ocean," she says. "The shadows and depth each ruffle provides is mesmerising."
the look
If you're stuck on what
colour to use or need colour
advice, try out the Resene
Ask a Colour Expert service.