►
◄
latest
habitat tv
blog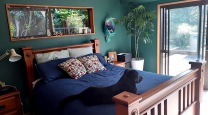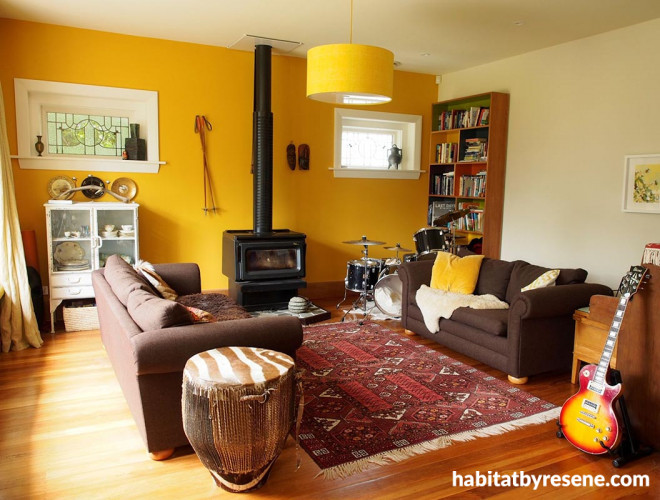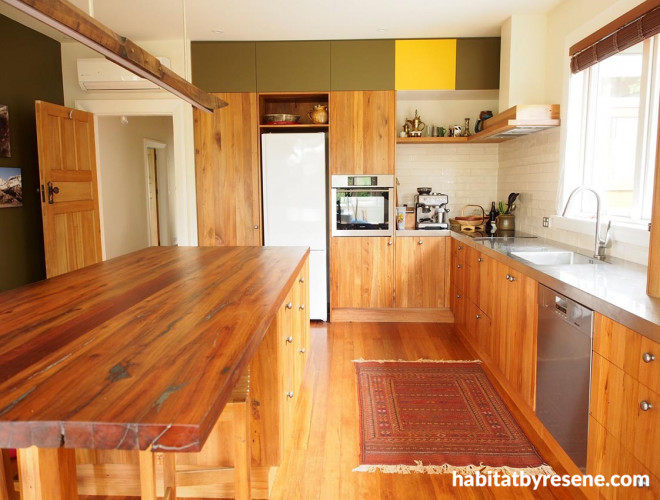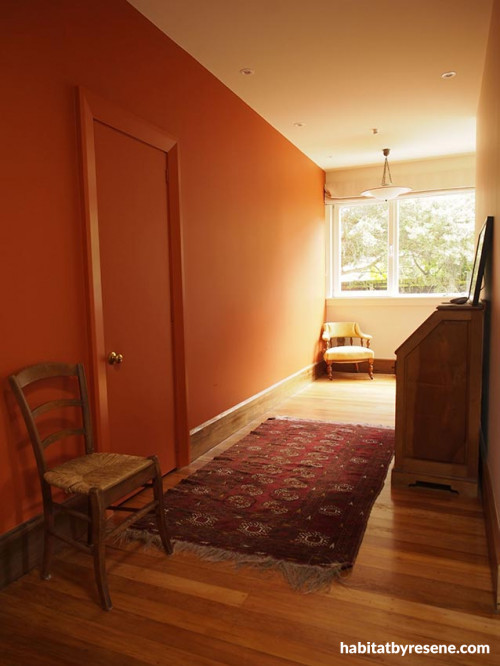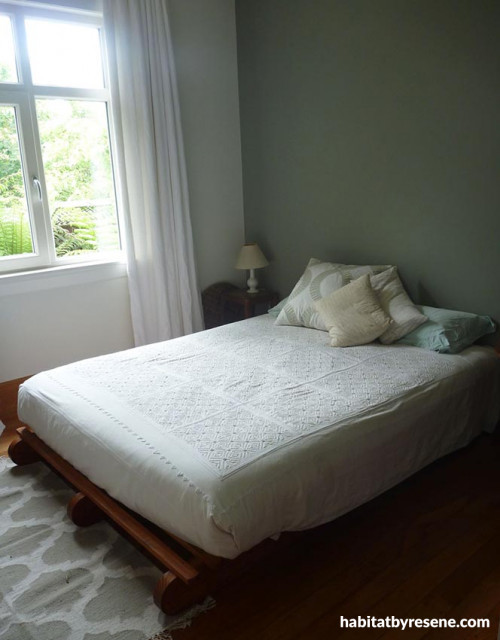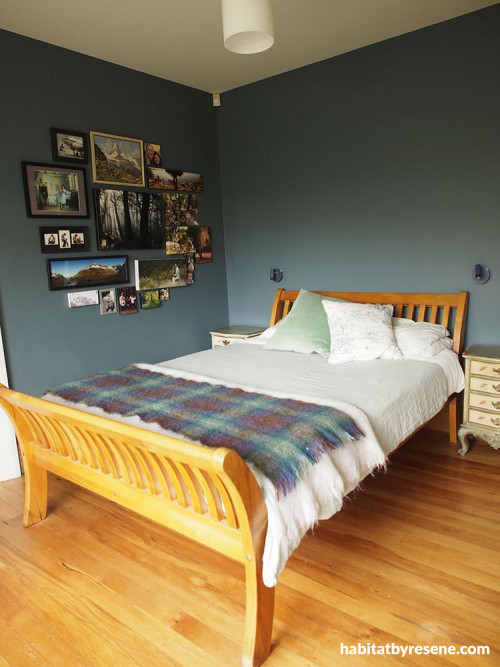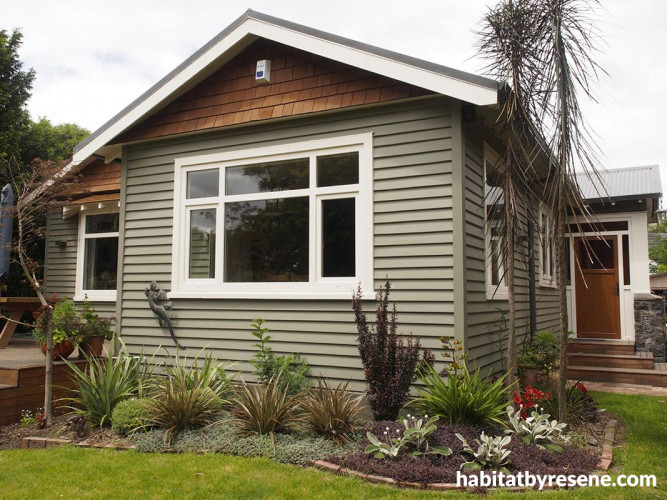 Jane and Rory bring modern earthiness to their reno
After the Canterbury earthquakes left their house damaged, Jane and Rory were 50/50 on whether to renovate or rebuild their 1929 bungalow.
The Christchurch couple chose to keep their old house alive, but this time with a colour scheme of modern Resene colours that still stay true to the rustic feel of the home.
The renovation also saw the home gain a new kitchen, remodelled bathrooms and a large lined attic space with a skylight, as well as a 'boot room' to suit their style of living ("outdoors and messy," says Jane).
Jane tells us more.
How did you decide on the overall look of the interiors?
We wanted to make the most of what we had. The decor had to fit with the look of the 1929 bungalow and all the rimu that was in it.
We love wood and wanted to retain, recycle, reuse and restore stuff – so most of our kitchen is made from rimu that has been recycled from our house and others. It's made the home into something stunning as well as retaining an old, lived in feel.
We restored our old skirting boards (where we could) and reinstated them. We bought most of our light fittings from a vintage store and Rory made an awesome 'ski light' over the kitchen island from wooden vintage skis.
I wasn't really too interested in trendy colours, but colours that I loved and felt right sitting alongside the wood. We have polished wooden floors throughout the house (another recycling project) and they all go beautifully with the floors.
The colours seem to go really well alongside each other. They are slightly 'off' colours – with grey or muddied tones that make them more restful than really bright.
I wanted a dark house but all the painters told me that I couldn't paint a wooden house a really dark colour without inviting trouble. And so, we decided on Resene Evolution and are really happy with it. Resene Quarter Sisal around the windows perfectly matches our PCV double glazed units.
What part of the house are you happiest with?
I love our kitchen. It just feels so 'us'. The camouflage green against the wood looks gorgeous. I also love our bedroom – the blue feels restful but interesting.
What is your advice for someone trying to achieve a similar look?
Don't compromise on taking short cuts with cheap new stuff. See how you can use and re-love old things. Repurposing stuff often takes more energy and time but saves money and is beautiful in its own way.
Think about the colours you love, even if they are not trendy, and then get a whole selection of that colour until one stands out that grabs you. You don't always have to take the advice of decorators who point you in the direction of what everyone else is doing.
What was the biggest decorating, renovating or building challenge for this project?
The polished wooden floors were a little bit epic. We had to replace about 40 per cent of them. This required going to the salvage yard, hand picking second hand boards and then paying a very patient and perfectionist old builder to lovingly replace them (and finally sanding and polishing).
Do you have a favourite colour, and if so why is it your favourite?
I love Resene Camouflage. It's admittedly a bit trendy but it just complements the rimu so restfully and beautifully.
Is there anyone else you would like mentioned?
Murray Hewitt joinery made our kitchen and it was a labour of love.
Richard Keown did our building renovations and they were a cheerful happy team, who persisted with all our annoying recycling ideas, as well as staying true to the character of the house (not taking nasty short cuts).
Jackie Nicholls from House on the Hill design helped with choosing the colours.
Published: 01 Feb 2018
Do you have a home full of wonderful Resene paint and colour? Send us some snaps by emailing [email protected].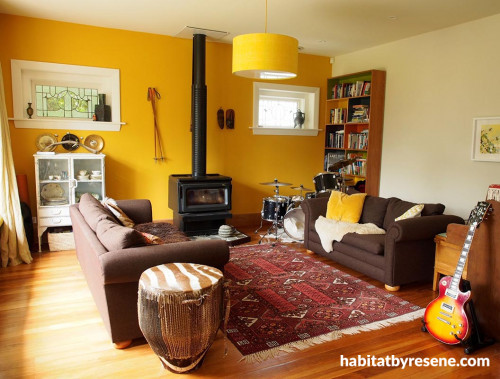 In keeping with the earthy feel of the bungalow, the feature wall in the lounge is painted in Resene Afterglow. The other walls are painted in Resene Quarter Sisal.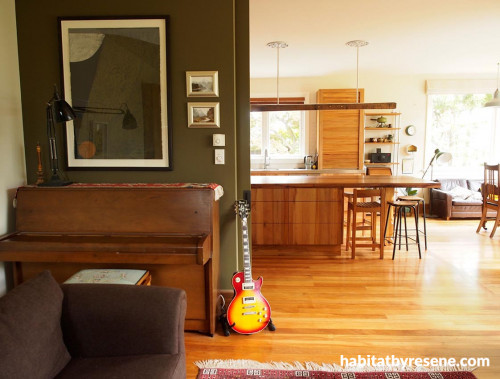 A wall painted in Resene Camouflage separates the lounge and the kitchen.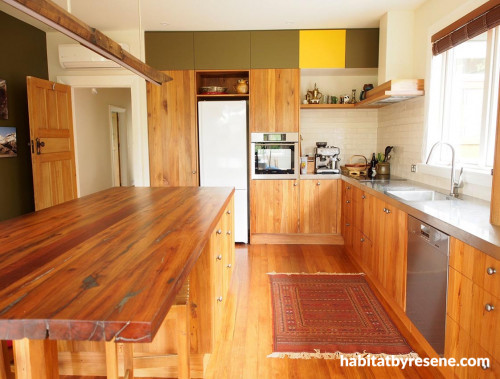 The kitchen was built using mostly recycled rimu. The top cupboards are painted in Resene Afterglow and Resene Camouflage, linking up the colour scheme to the lounge area.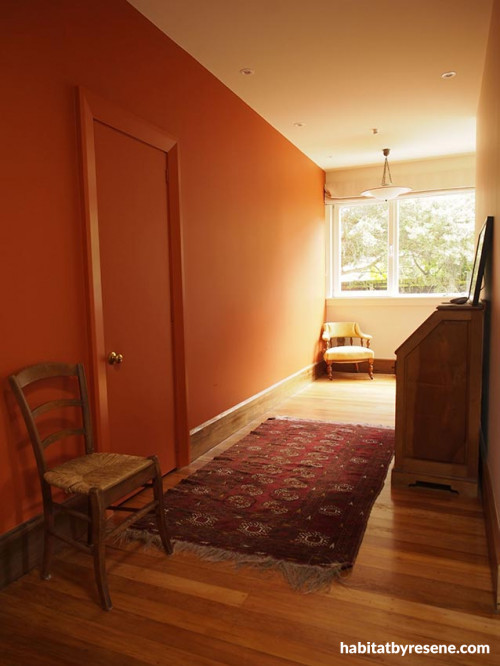 The entranceway is painted in vibrant Resene Ayers Rock.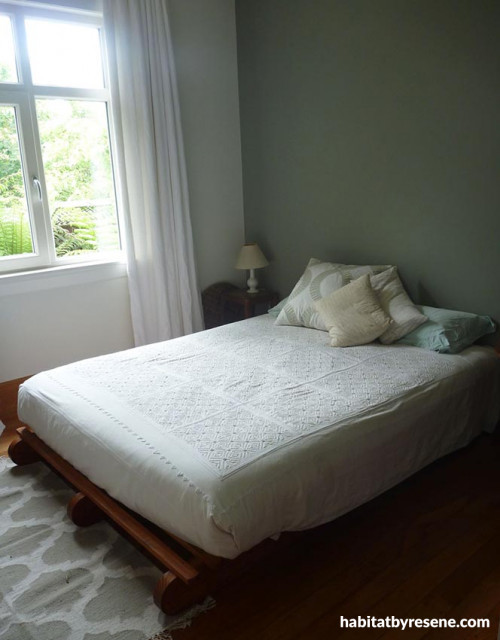 The master bedroom has a feature wall painted in Resene Balderdash, a colour chosen to bring out the beauty of the vintage Sanderson curtains. The other walls are painted in Resene Quarter Sisal.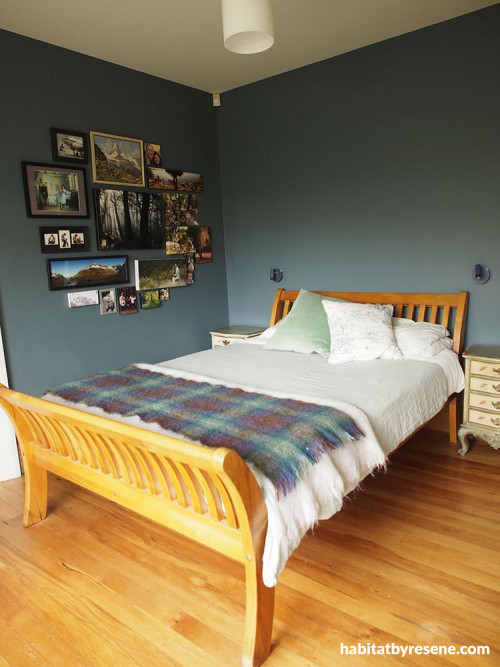 In the spare room, the couple used Resene Washed Green as a feature wall, against Resene Quarter Albescent White on the ceiling.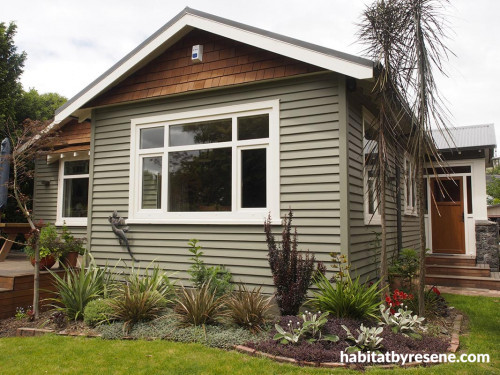 Jane originally wanted a dark colour for the exterior, but decided to go lighter with Resene Evolution. The window trims are painted in Resene Quarter Sisal.
Resene Quarter Albescent White
the look
If you're stuck on what
colour to use or need colour
advice, try out the Resene
Ask a Colour Expert service.