►
◄
latest
habitat tv
blog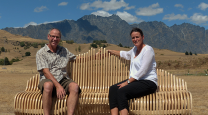 Sarah's cute and colourful family home in Invercargill
Choosing a location to purchase a property is often a challenge. But for Sarah Chapman, husband Riki and their three children, relocating to Sarah's home town was an easy choice. Positioned at the southernmost part of New Zealand and dubbed the 'City of Water and Light', Invercargill is a beautiful place to raise a young family. However, when Sarah struggled to find the perfect home and after debating over purchasing a renovation project or a home in a less desirable area, the couple decided to take action. After crunching numbers, they decided to build a home – and do it smartly. Now their brand-new property is complete and is painted roof to foundation in a striking and confident celebration of bold Resene shades.
"Our aim was for a modern home with clean lines that we could inject our voice into," Sarah explains. "So, for the exterior, we chose a combination of black board, batten and cinder block. A mono-pitched roof works to set us apart from most of our neighbours."
For the interior kitchen and living areas, Sarah wanted a neutral background to allow bold shades to speak for themselves, introduced either through plant life or cushions, while emphasising the natural light that floods through the building. Stepping further into the home, the couple have flexed their creative fingers. To decide upon an overall colour palette for the interior, Sarah gathered her ideas into a scrapbook.
"So much of my interiors are done on the fly. I don't muck around too much when it comes to making decisions. I just go with it. The main thing I wanted to achieve was a good vibe, and for each room to have a voice. I'm a thrifter, this in turn has meant my style is more eclectic. I was worried how this would work in a new build, but my colour choices I believe have made it cohesive," she says.
Sarah's experimental palette is echoed in the lounge, where all four walls are painted in Resene Spinnaker. It's a moody, cosy hue that's framed by a striking sliding door in Resene Magma. The door was taken from their former home, the colour acting as a transition between one room to the next. Further through the property, colour intensifies.
"In my experience kids are drawn to bold and bright shades, so I wanted to play into that. I decided to go bold on one wall in Resene Tangerine, and only paint two thirds up the wall. The painters thought I was mad but came around in the end. I also wanted the room to be versatile and suit any future kids," Sarah says.
Experimenting with a solid, bold hue on a feature wall enables soft furnishings and furniture to stand out and hold their own. The two-tone effect also allows for colours to be swapped out and replaced as time moves on and tastes change. Sarah's love and creativity for her home is demonstrated throughout, from the sponge-print wall in the second bedroom, to the master bedroom.
It was important for the master bedroom to be a space both Sarah and Riki could retreat to. To create both a calm, natural environment they painted half the walls in Resene Goblin and the other half in Resene Merino, which created height and light.
"We waited until we had lived in the space before we chose a shade for our bedroom. I had been drawn to the deep earthy greens and after some Pinterest browsing, decided to again paint the walls only two thirds up. I wanted a sharp edge so more prep was required. After a few testpots we decided on Resene Goblin, it had just the right amount of earthiness and boldness."
This statement hue paired with bold, contrasting soft furnishings makes for a striking room. It's a versatile shade, meaning bed linen and accessories can easily be swapped out for different colours. That's why Sarah's favourite room in the house is the lounge, as it allows for various tastes and moods.
"It's an evolving space. I'm a big room shifter and am constantly shuffling furniture and rearranging things. Everything works everywhere – my mantra, mix don't match!"
Published: 15 Aug 2019
Do you have a home full of wonderful Resene paint and colour? Send us some snaps by emailing [email protected].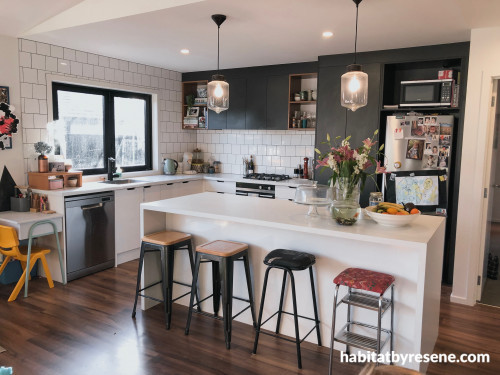 Sarah and Riki chose a soft, neutral colour palette for the kitchen and dining area to allow for furniture and soft furnishings to stand out. The walls, doors and skirting boards are painted in Resene Half Merino while the ceilings are painted in Resene Quarter Merino.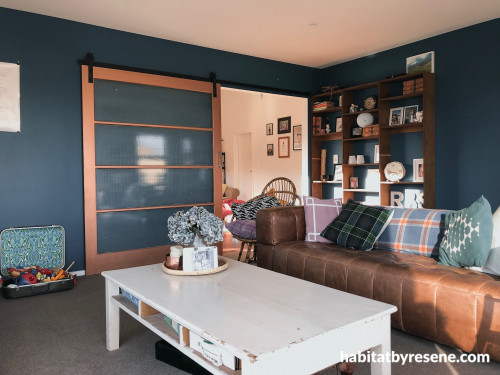 Sarah's second solid colour choice for the property was Resene Spinnaker, which she painted on all four walls of the lounge. It's a rich, moody colour, framed by a sliding door painted in Resene Magma. The ceilings and skirting boards are painted in Resene Merino.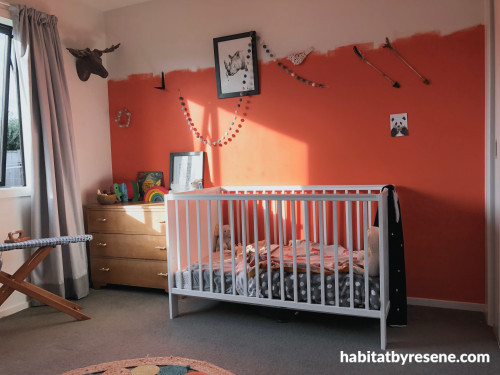 The couple painted Resene Tangerine two thirds of the way up the feature wall of the bedroom to enable a dramatic effect using a 'scumble' technique. The surrounding walls are painted in Resene Merino.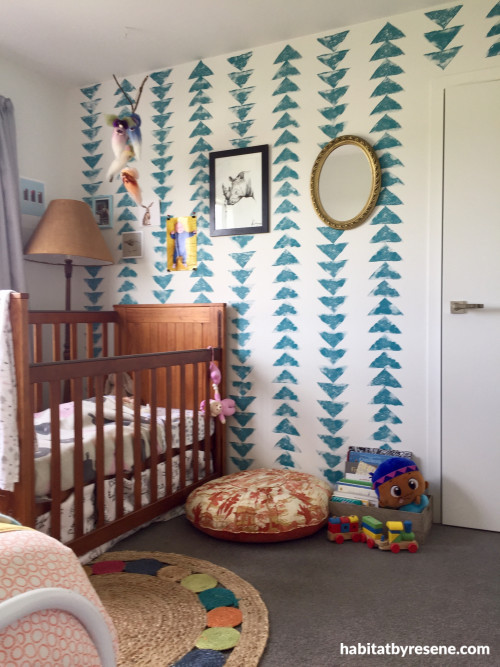 The second children's bedroom features a unique accent wall painted in Resene Sea Crest. Sarah used a tape measure, chalk line and sponge cut into a triangle for a tribal effect. The wall and ceilings are painted in Resene Merino.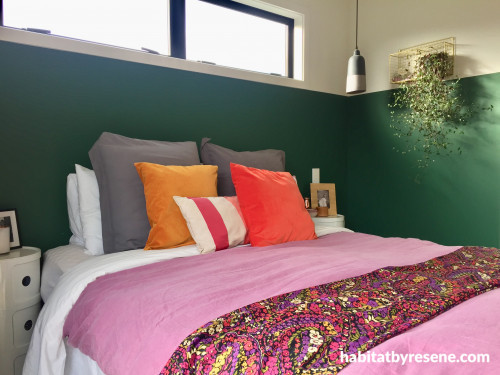 The master bedroom is painted in Resene Goblin (bottom) and Resene Merino (top), enabling a deep, earthy vibe while giving the illusion of more height to the space.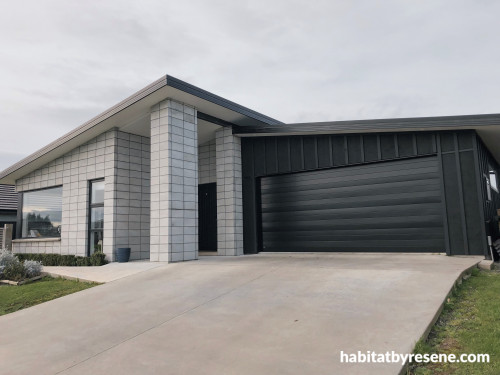 With help from Jennian Homes Southland, Sarah and Riki built a modern home with clean lines that they could inject their voice into. The exterior board and batten are stained with Resene Woodsman Pitch Black waterborne wood stain.
images Sarah Chapman
special thanks to Jennian Homes Southland
the look
If you're stuck on what
colour to use or need colour
advice, try out the Resene
Ask a Colour Expert service.