►
◄
latest
habitat tv
blog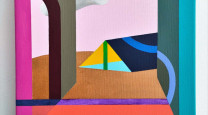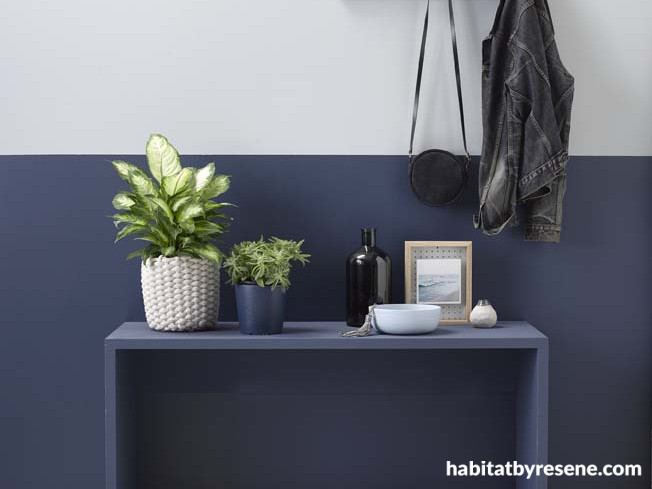 Jobs and DIY projects to do around the house to keep busy (with leftover paint)
25 Aug 2021
Revamp your home office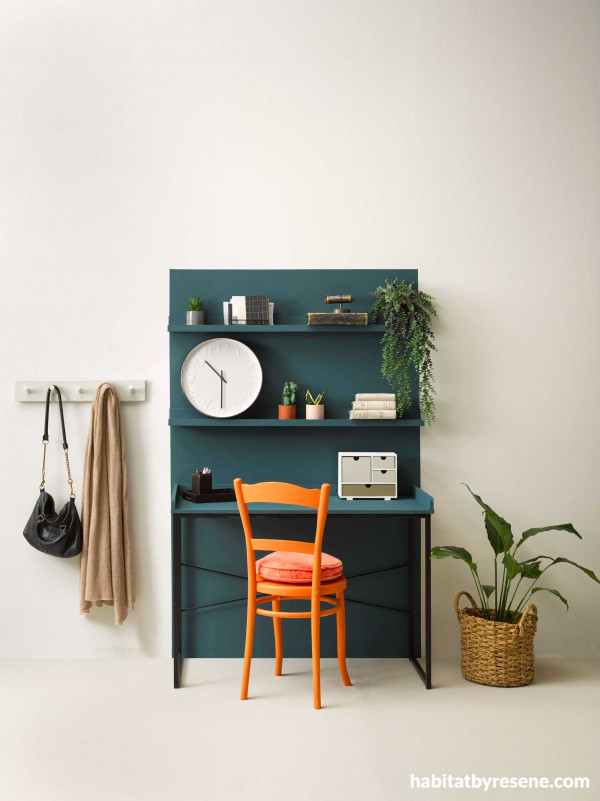 This painted colour blocked feature in Resene Fast Forward clearly defines this workstation. Surrounding walls in Resene Sea Fog, floor in Resene Truffle, shelves and desk top in Resene Fast Forward, chair in Resene Jailbreak, desk organiser in Resene Alabaster with drawers in Resene Truffle and Resene Earthen. Project by Annick Larkin. Image by Melanie Jenkins.
Working from home is back and – with a few paint hacks – better than ever. Whether your home has an office or you're having to carve out a desk space in an existing room, it's important to separate your working area from your home life. Creativity and focus come from working in a place you're comfortable with that inspires you. Using Resene paint, it's easier than ever to use colour to define your space. Try creating a visual boundary such as the office hallway space above or bring a pop of bright contrasting colour into the room to make your office a fun place to be.
Check out these five ways to use colour to define your desk space here
For more tips on how to upcycle a wooden desk or table, click here
Give your walls some TLC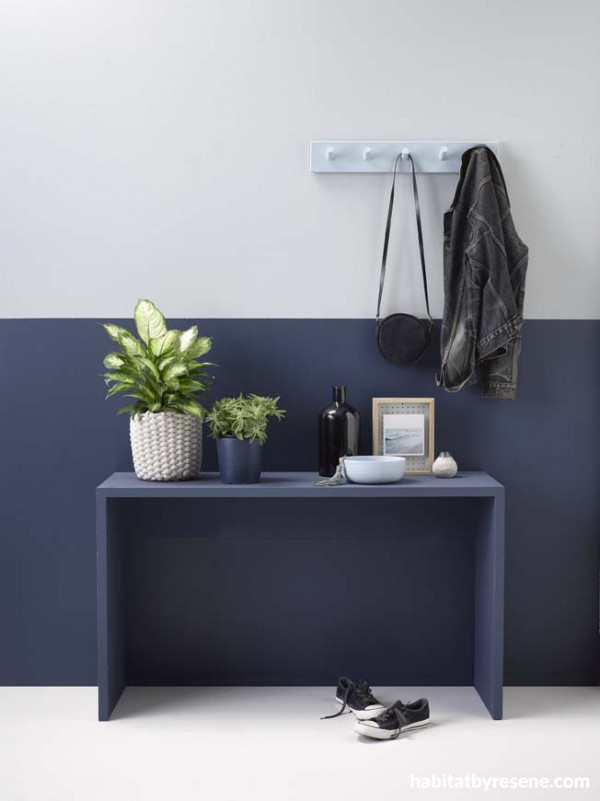 The bottom of the wall in this hallway is in Resene Biscay, while the upper half is in Resene Half Dusted Blue. The floor is in Resene Chalk Dust and the hooks are in Resene Frozen. Project by Vanessa Nouwens. Image by Wendy Fenwick.
Now is the perfect time to tidy up your walls and give your home some tender loving care. Use leftover Resene paint to cover up scratches and scuffs. Clean the damaged area before applying two layers of the same wall colour. If you're thinking of completely renovating or repainting, try opting for a two tone wall to help hide signs of wear and tear. Read how to touch up paint here or get more flaw-some ideas here
Spruce up your garden with this DIY pallet screen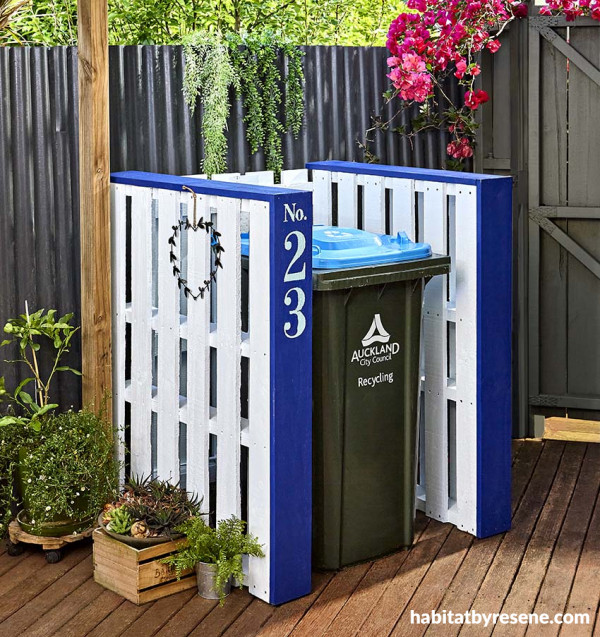 Turn your trash into a treasured area of colour in your garden. Rubbish bins can be an eyesore but need to be close to the house and driveway for practical reasons. A pallet is just the right height for hiding a standard rubbish bin. For this project, three pallets were screwed together and painted with Resene Zircon, Resene Aviator on the edges and Resene Morning Glory for the street-number detailing. Pallets come in different sizes, so make sure your pallet is tall enough to hide your bin.
Learn how to create this pallet screen here
Create these cute cubby holes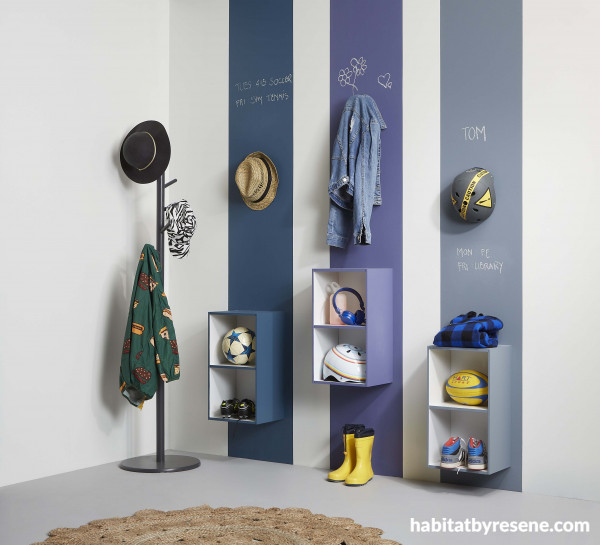 This creative entryway has walls in Resene Rice Cake and floor in Resene Mountain Mist. The colour block stripes and cubbies are in (from left to right) Resene Cello, Resene Enigma and Resene Quarter New Denim Blue. Project by Annick Larkin. Image by Bryce Carleton.
Spruce up your messy mudroom with a lick of Resene paint. These painted stripe storage areas not only provide much needed space for each child to stash their shoes and outdoor gear on their own handy hook and in their own convenient cubby, but they also work as a place to leave helpful reminders. Use Resene SpaceCote Low Sheen or Resene FX Chalkboard Paint tinted to your favourite colour to create vibrancy in your entryway that doubles as a writing board. To get the striped look, simply measure and mask the width of your cubby and then roll on two coats of your chosen colour. For a crisp line, be sure to use high-quality painter's masking tape and remove it as soon as your final topcoat is dry to the touch.
Get colourful with crates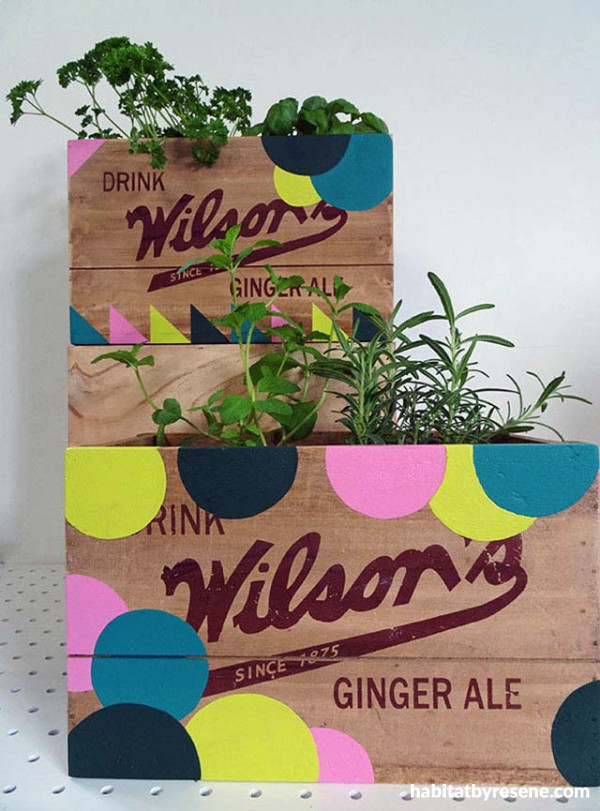 If you have old wooden crates or scuffed storage cubbies, why not use this time to give them a creative colour update? This DIY uses unexpected patterns and bright colours to update a couple of retro wooden crates. These crates are perfect for the kitchen and you can use them to store spice jars, cupboard condiments or napkins. They also look great in the garden or on the porch as herb planters. Learn how to upcycle these wooden crates here
Create a beachy bathroom with this DIY driftwood ladder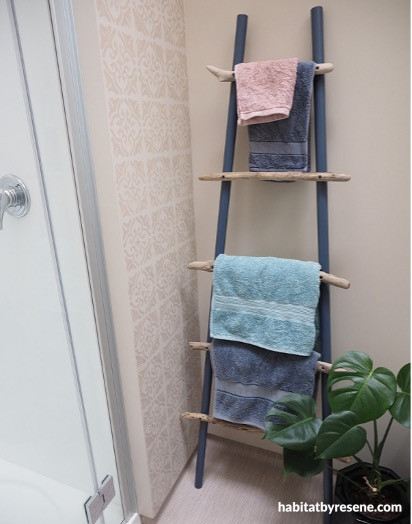 Bring a touch of the beach to your bathroom with this easy to make driftwood ladder. Rustic and fun, this ladder's simplicity makes it a great companion to any existing bathroom décor. Simply choose Resene colours for your ladder that match the colour palette of your bathroom – or take the opportunity to introduce a pop of bright colour. This ladder is best used for hanging lightweight goods, such as towels or cloths. Learn how to create this driftwood ladder here
Projects for the family:
DIY board game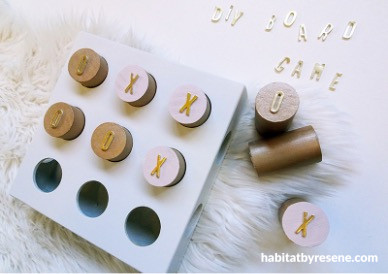 Keep the family stimulated without turning to the TV. Get crafting with your little ones with this upcycled DIY noughts and crosses board game, coloured with your favourite Resene testpots. It's the perfect rainy day activity and you can have just as fun making it as playing it.
DIY here: DIY board game | Habitat by Resene
Create your own snack jars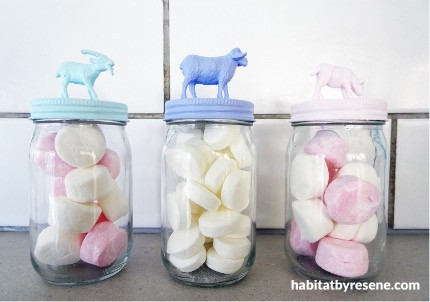 If there's one thing we know about lockdown, it's the need for snacks. These cute jars are a fun afternoon project and look great with colourful Resene paint. Try creating a snack jar for each member of the family, or one jar for each day of the week and fill it with your choice of snacks – nuts, dried fruit and chocolate go especially well together. For the lid, you can use plastic farm animal toys or any bits and bobs lying around your house.
DIY here: Create your own animal lolly jars | Habitat by Resene
Published: 25 Aug 2021