►
◄
latest
habitat tv
blog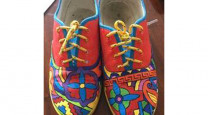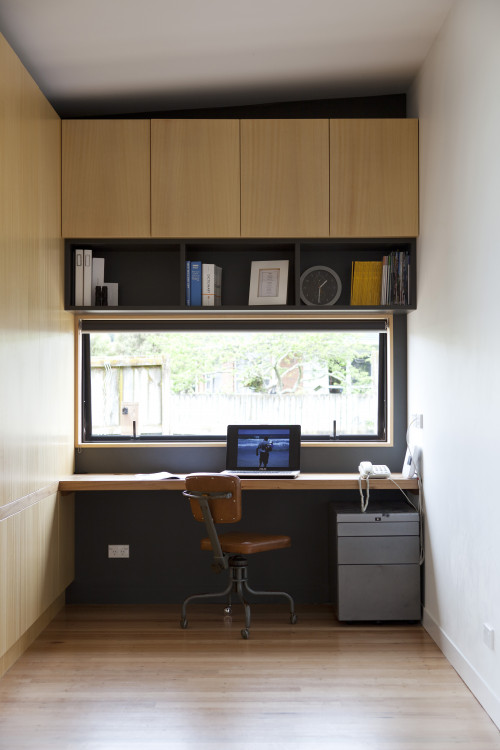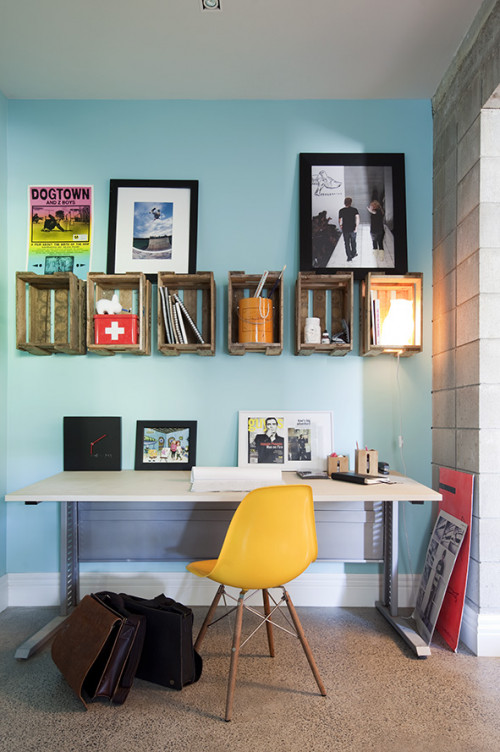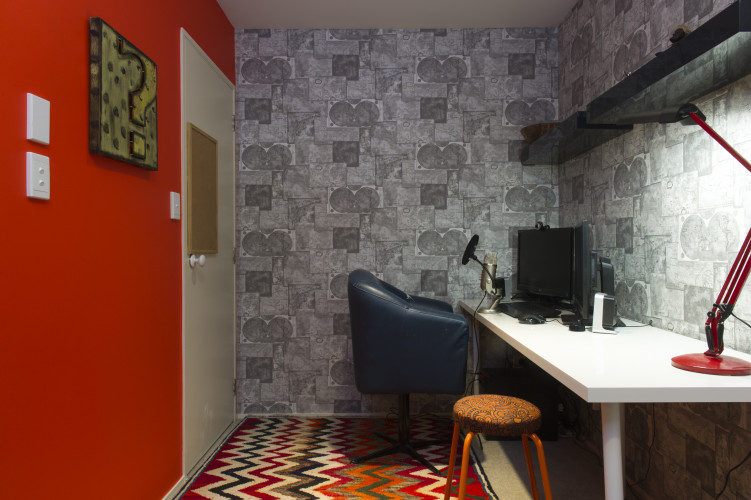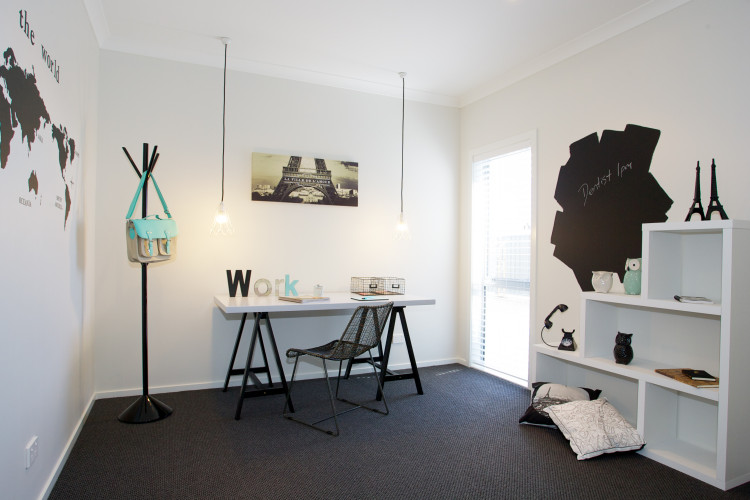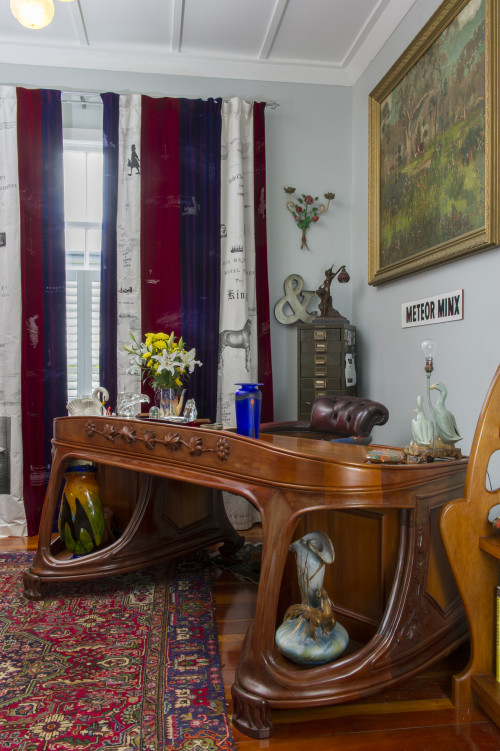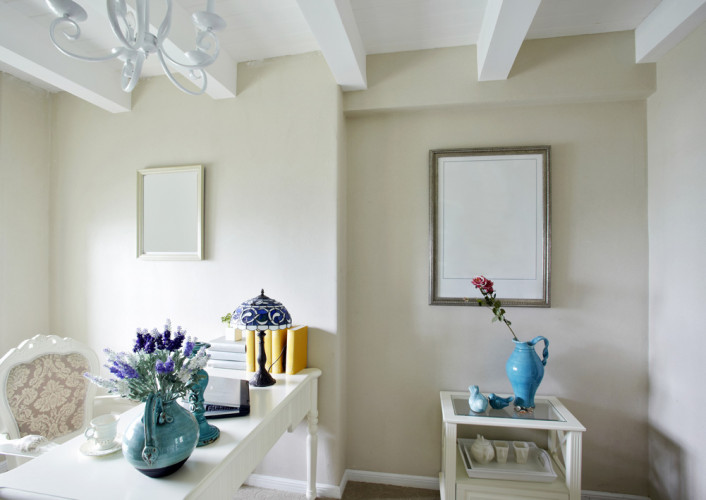 Here's to a happy home office
08 May 2014
Do you have a home full of wonderful Resene paint and colour? Send us some snaps by emailing [email protected].
Future-proofing this flexi space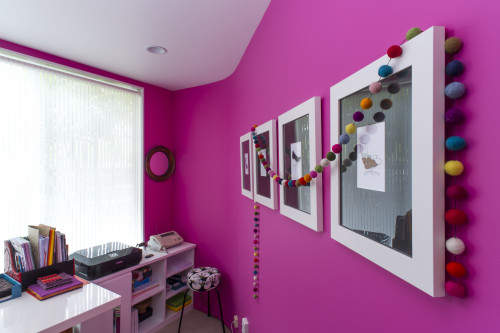 There's a debate going on in our house at the moment. We're planning major renovations, and have included a fairly generous study or home office on the plans (I imagine it finished in a restful smoky blue like Resene El Nino with crisp Resene Black White furniture). Our kids looked at it and said "what's that for?"
"So you can do your homework and your dad and I can work from home, pay the bills and keep our invoices and other records somewhere," I replied. They shrugged in that 'mum's just being old-fashioned' sort of a way. With their laptops and tablets, the idea of having a fixed work station is outdated. They perch in the kitchen and cradle their tablets in front of the TV. They do currently, however, do homework on their laptops, on a desk in a corner of the living room.
Dinosaur or necessity?
So will the home office or study become a thing of the past? Certainly not if it's what is now termed a flexi-room – a space that could be converted into another living space, or a bedroom.
With flexible workplace arrangements, there are many of us who do paid work from home either some or all of the time. And while so much data is now stored online or on our computers, there are still some records that need to be committed to paper. I'm a fan of having all of that in one place, and essentially out of sight.
When it comes to decorating a study, good furniture is key. It needs to be comfortable and generous enough to answer your needs. While storage capacity may not be as large as in the past, you still need the right shelves, drawers and cupboards to store the necessities of working life… or of simply running a household. Also, if more than one person is using the same work space, you may need individualised storage.
Are you the sort of person, like me, who likes to pin notices and lists on a board? Or are you like my husband who transfers all data, no matter how temporarily he may need it, to his smart phone? Do you need pen pots, trays, folders?
Top tip: Take advantage of some of the clever Resene products available to make a wall or area of your study into a practical noticeboard. You can use Resene Blackboard Paint to create a chalk board, or Resene Write-on Wall Paint to create a whiteboard (although you can paint your favourite Resene colour on first and have a coloured 'whiteboard' instead). You can also combine either of these, or straight wall paint, with Resene Magnetic Magic paint to create a magnetised board.
When it comes to colour, you could take two or three approaches. One is to use the same colour schemes as the rest of the living space so that it blends in. Another is to use a different colour, given that the home office is often a separate room. Do you want a calming background colour so that you can concentrate on your tasks and work? Or do you want a more vibrant shade to stimulate your mind and creativity? And how do those colour needs suit the whole family if everyone is using the same space?
And while you're renovating, remember to allow for plenty of power outlets, at desk level, to charge and run all of those devices we're so dependent on these days.
pictures
A vibrant shade for a creative mind, designer Debra Yearsley of Chair Squad (she refits retro furniture), bravely chose Resene Smitten for her home office. Photograph by Mark Heaslip.
Designer style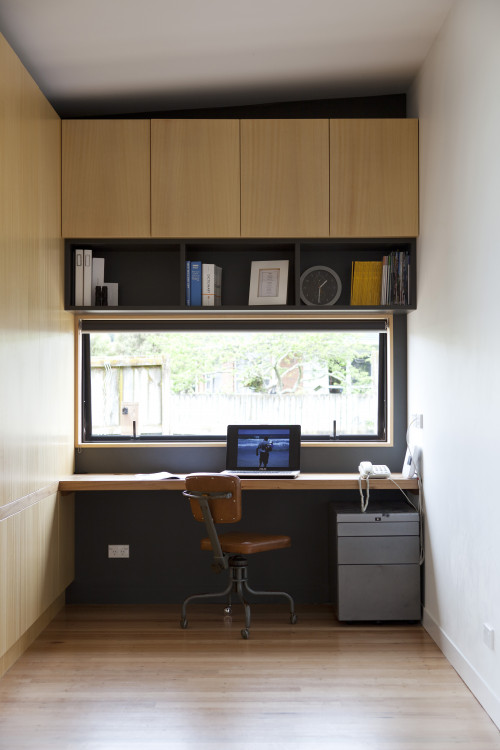 This very designer study space, designed by Peta Davy of Yellowfox, uses a rear wall of Resene Armadillo to offset the warm tones of the plywood furniture.
pictures
Photograph by Tessa Chrisp
Vintage revival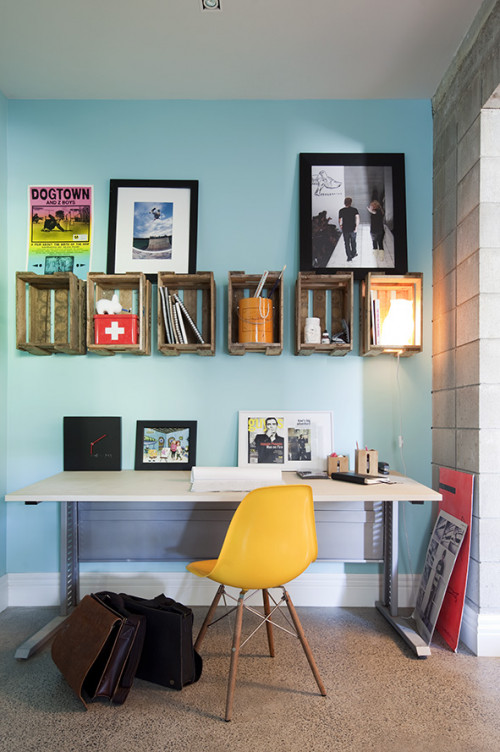 A wall in Resene Onepoto helps define this study space within an open-plan area. Wooden crates screwed to the wall create an eye-catching display. This photograph appears in the book New Zealand Interior Style by Larnie Nicolson (photos) and LeeAnn Yare (words).
pictures
Photograph by Larnie Nicolson
A bit of both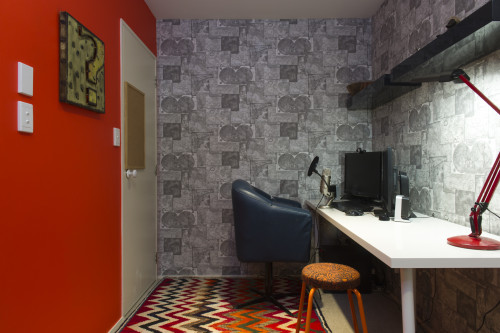 Traditional meets contemporary with this study corner in Debra Yearsley's house where a Norwall wallpaper (no 6643-27) from Resene and a wall in hot orange Resene Daredevil are the backdrop for a simple desk and retro leather office chair.
pictures
Photograph by Mark Heaslip
Restful space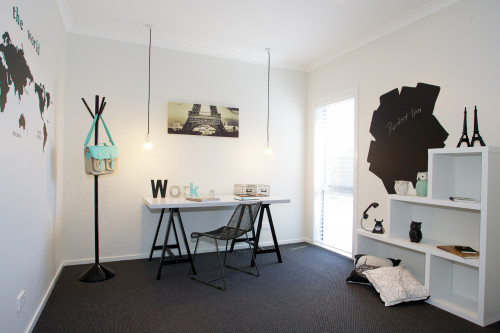 Jodie Robertson of Smoke N Mirrors made this home office a restful space by using the same neutral throughout this Jennian Heart Foundation Lottery house – Resene Merino.
Quiet companion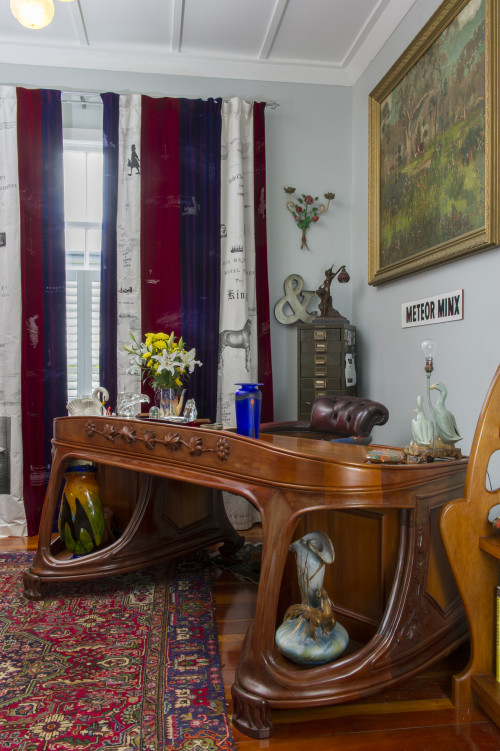 A restful backdrop of Resene Oxygen is a quiet companion to unusual Art Nouveau antiques in this room owned by Fiona Sheffield.
pictures
Photograph by Mark Heaslip
Elegant immersion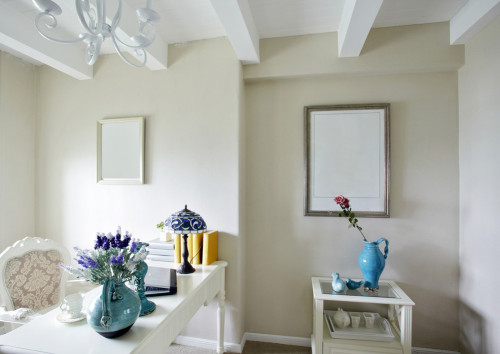 This home office leans heavily on the theme of the rest of the house – an elegant Cape Cod style look and can be achieved with Resene Half Parchment for the walls and Resene Alabaster for the ceiling.
pictures
neutral office, neutral study