►
◄
latest
habitat tv
blog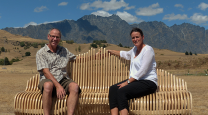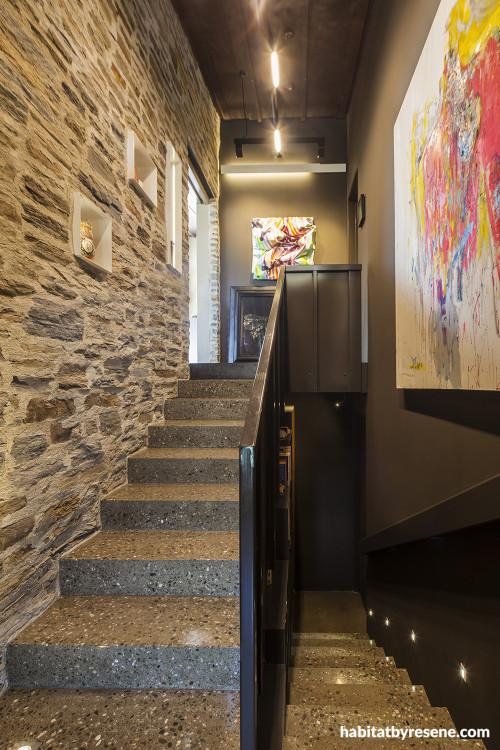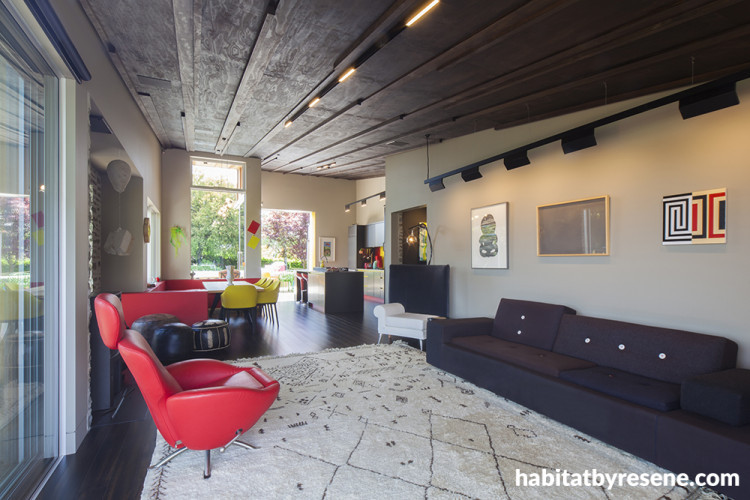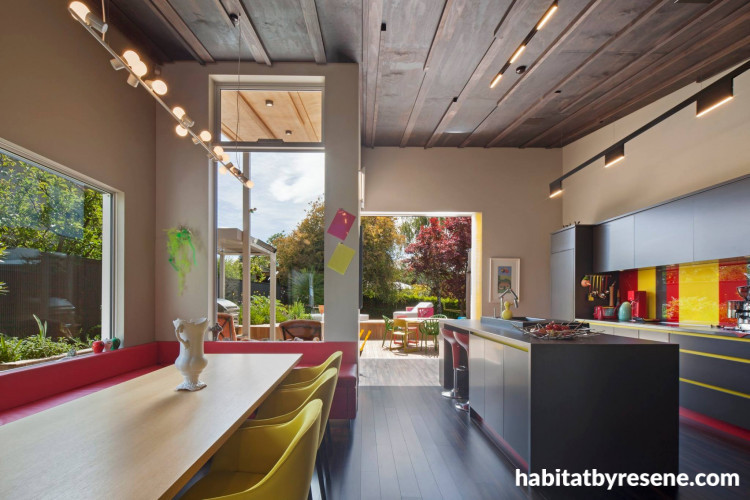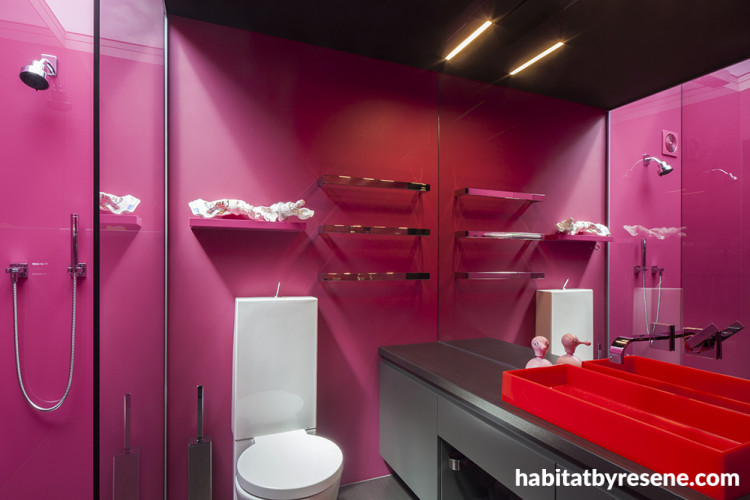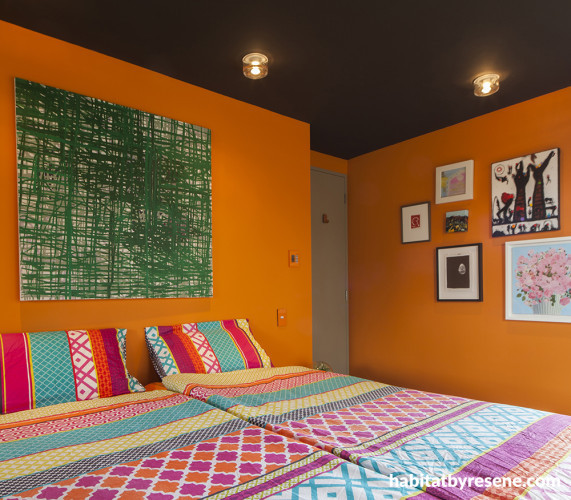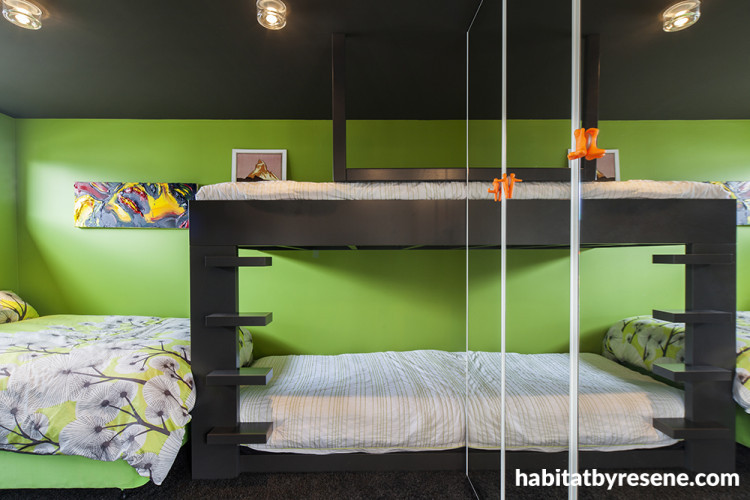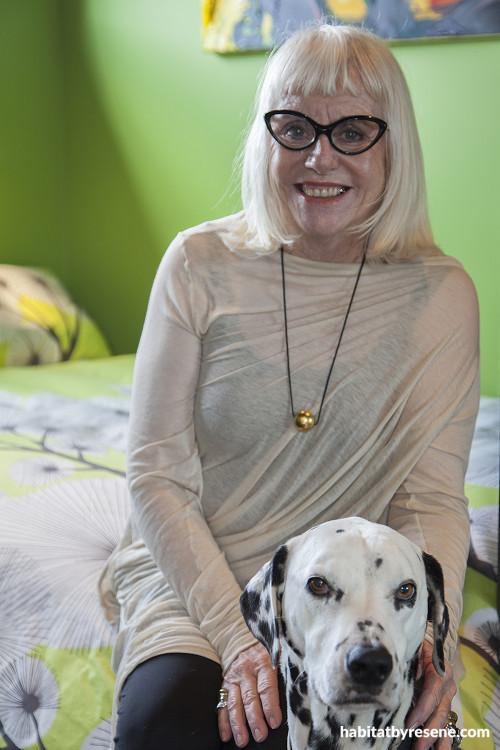 Jan's off-the-wall home design
This house is all about texture… and unexpected use of Resene colour. Where a bold red, yellow and grey kitchen is joined by a bright pink bathroom, a grass green bedroom and dark stained ceilings are patterned with irregularly placed battens.
Jan Warburton's keen eye for detail and love of bold colour have transformed this 1990 Central Otago spec home, which was originally owned by her parents. When she decided to alter the house in 2012, her vision of creating a haven for herself and her adult daughters meant that the project became a complete rebuild on the existing footprint.
She enlisted the help of architect Sarah Ritchie who recently won a regional award from the NZ Institute of Architects for the house.
When it came to deciding on the interior palette, colour-loving Jan drew inspiration from an unlikely source – a neutral woollen floor rug she'd bought in Morocco which sits in the living room. "The living area is actually quite neutral, but I wanted my living area colour scheme to be built around the rug," Jan explains. "I decided I wanted a colourful splashback in the kitchen that went with the rug."
Jan chose a striking Resene Spotlight, Resene Bullseye and Resene Ironsand-striped splashback. Resene Ironsand joinery in the kitchen is accented with Resene Spotlight and Resene Bullseye highlights in the recess pulls of the drawers and toekick, and the theme continues to the dining area. A red leather bench seat and yellow Vitra seats make for vibrant seating around the dining table, while a light feature – clusters of light bulbs on a bar, representing sparrows on a wire – hangs above the table.
The red bench seat also houses the living area's television. Controlled by home automation, the TV slides away discreetly into the arm of the couch when not in use.
Walls in the living and dining areas are purposely kept neutral – painted in Resene Craigieburn and Resene Quarter Craigieburn – to draw attention to Jan's vast and varied art collection. The interior has an embracing effect thanks to the unusual dark battened ceilings stained in Resene Colorwood Dark Oak, and the timber floor.
Extensive use of natural lighting, plus indoor-outdoor flow, allows the living area to feel spacious.
Architect Sarah Ritchie recalls: "The dark ceilings confronted some people on site [during construction] but it was fascinating to hear one person come in and say they felt like it had fallen in on them while the next person commented it was like being under a night sky, so totally expansive."
Jan says the master bedroom area was the hardest colour scheme to choose, but drew inspiration from a red rubber basin that she'd bought for her ensuite bathroom.
"I said to my daughter Clare, who is a fashion designer, 'Whatever colour am I going to use with this?' and she immediately said lipstick pink. So we have Resene Lipstick on the walls of the ensuite."
With the ensuite sorted, Jan chose Resene Erotic for her bedroom walls and Resene Spitfire for the bedroom feature wall, which continues on to the ceiling. "It's really unusual but I'm very pleased with it. It works," she says.
The two guest bedrooms are based on the favourite colours of Jan's other daughters, Fiona and Andrea. Resene Gold Drop is in one room, which has views out to the outside living area, while the nearby bunkroom is painted in Resene Sushi. Ceilings are again in Resene Ironsand.
The front entrance hall is a bold statement of colours and textures. Polished concrete stairs lead either down to a wine cellar, bookcase and wood store or up to the main living area. Divided by a steel balustrade in Resene Ironsand, custom-made to reflect the board and batten look, one wall is painted in Resene Ironsand while the other is made of schist stone.
Top tip: Protect concrete floors and benchtops with Resene Concrete Wax, a tough waterborne satin glaze that's quick and easy to apply.
pictures Marina Mathews
words Celia Crosbie
Published: 13 Aug 2015
Do you have a home full of wonderful Resene paint and colour? Send us some snaps by emailing [email protected].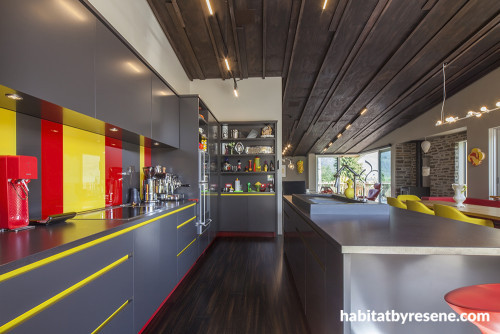 Jan's striking kitchen uses Resene Ironsand as the main cabinetry colour, with accents in Resene Bullseye (red) and Resene Spotlight (yellow). The board and batten ceiling is stained in Resene Dark Oak.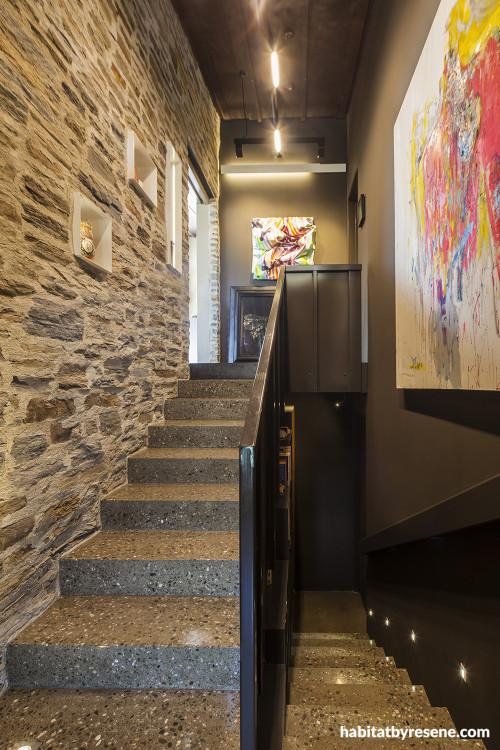 Resene Ironsand is a moody complement to the schist wall and polished concrete floor.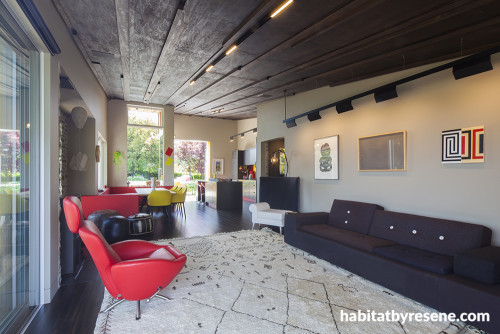 Jan chose Resene Craigieburn for the living room walls as a quiet counterpoint to her many pieces of art. The unusual board and batten ceiling is stained in Resene Dark Oak, and has attracted much comment.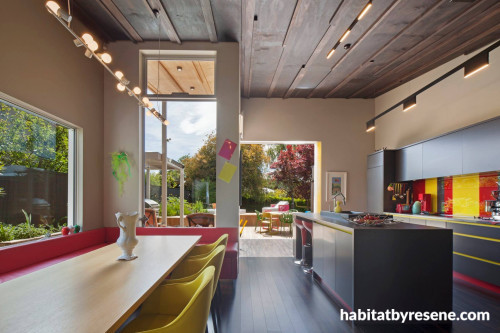 Colours from the kitchen are echoed in the dining area with its cheerful red bench seat and yellow chairs. The walls are Resene Quarter Craigieburn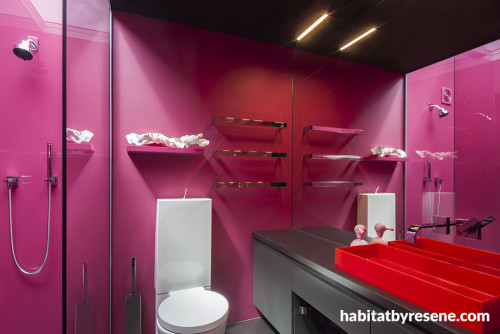 Jan's fashion designer daughter Clare suggested the hot pink Resene Lipstick walls in the ensuite to go with the red rubber basin.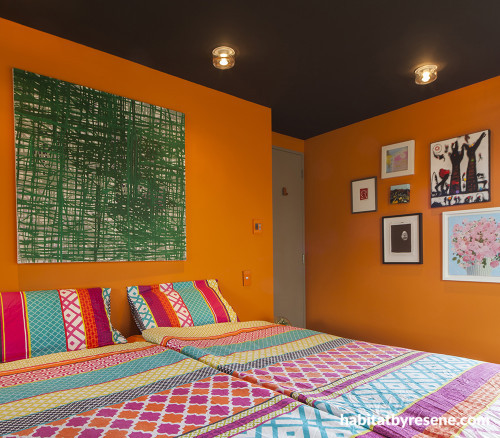 The colour keeps on coming in the bedrooms, with Resene Gold Drop for this room. The ceiling is Resene Ironsand.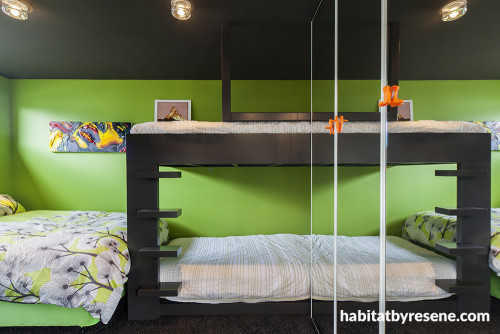 The bunk room is finished in fresh green Resene Sushi, with a Resene Ironsand ceiling.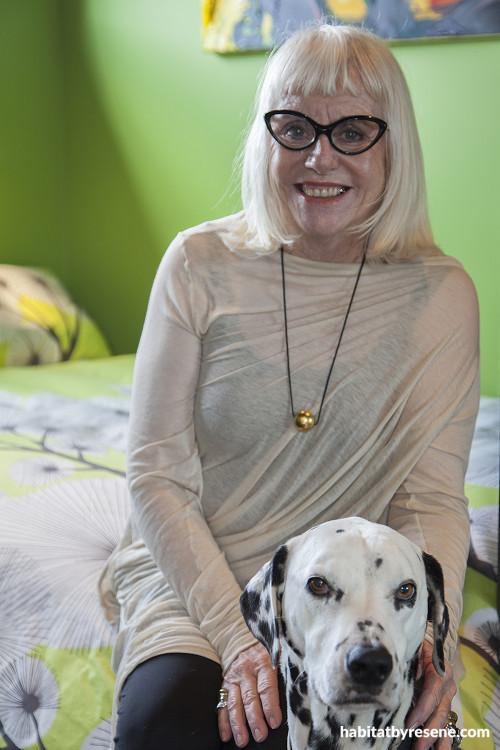 Jan has created a home of texture and unexpected colour for herself, her grown daughters and dog Jackson.
Resene Quarter Craigieburn
the look
If you're stuck on what
colour to use or need colour
advice, try out the Resene
Ask a Colour Expert service.