►
◄
latest
habitat tv
blog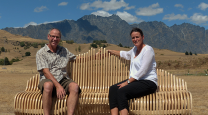 Start with the art
Have you ever finally settled on just the right colour to paint a room and then felt completely lost for what to hang on the walls?
While it's a common decorating conundrum, designer Kate Alexander of Places and Graces says this approach employs a bit of backwards thinking.
"I can't even begin to count the number of clients who come to me asking to pick artwork for their space," says Kate. "Artwork is such an integral part of a decorating scheme and it's essential to complement it with the right colours, so when I'm beginning a new design for a space, I always start with the art."
While there will always be styles that experience waxing and waning popularity, the artwork you choose for your space should feel very personal. Whether you opt for an investment piece or simply want to display something that holds sentimental value, the key is picking something that really speaks to you – or something you at least enjoy looking at.
"If you really love something, you can always find a way to make it work in the space," says Kate.
Kate says her go-to place to start browsing for artwork is Endemicworld. "They stock plenty of original artwork and prints by talented New Zealand-based artists but it's still very affordable and supports the makers directly."
If you feel overwhelmed by the choices, Kate recommends that you go with your gut. "I know I've found the right piece as soon as I see it, and then I create a colour scheme that plays off those tones and really put it in the spotlight."
Here are some examples of her keen eye at work.
Published: 28 Mar 2019
Do you have a home full of wonderful Resene paint and colour? Send us some snaps by emailing [email protected].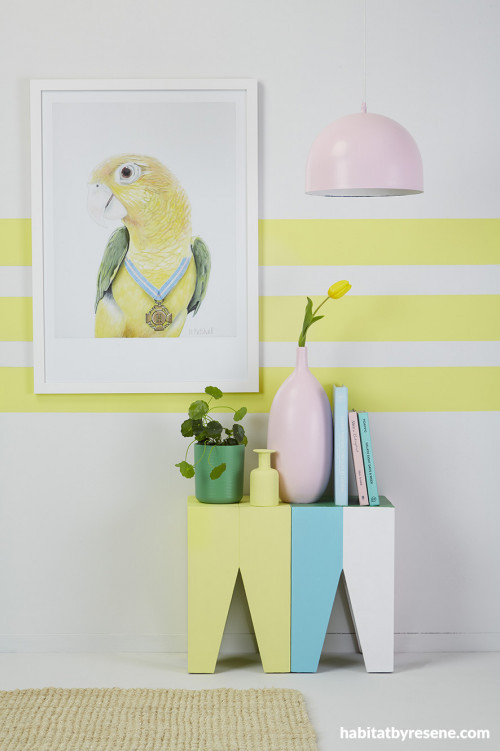 Kate electrified the Resene Sea Fog walls in this lounge with stripes of Resene Honeysuckle to reflect the canary tones in this parrot art print by Margaret Petchell. The pendant lamp and large vase in Resene Princess pinks up the pink undertones of the feathers while the plant pot in Resene Away We Go plays off the wings and the section of the peg stool in Resene Yes Please brings the blue of the ribbon off the wall and into the space.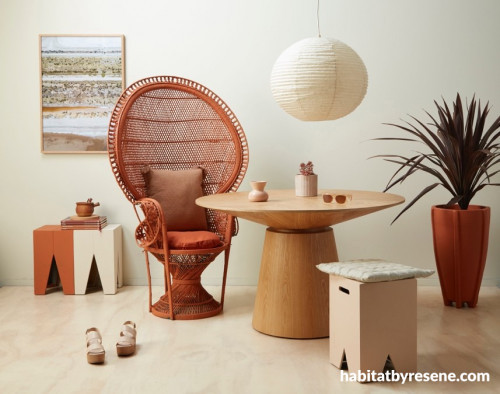 Kate says that she built this scheme around 'Salt Lake 2', a photographic art print by Petra Leary and created a look by layering sandy tones like Resene Despacito and Resene Shabby Chic over Resene Half Spanish White walls and then picked up the pops of terracotta in the artwork by painting the peacock chair, plant pot and one of the peg stools in Resene Sunbaked.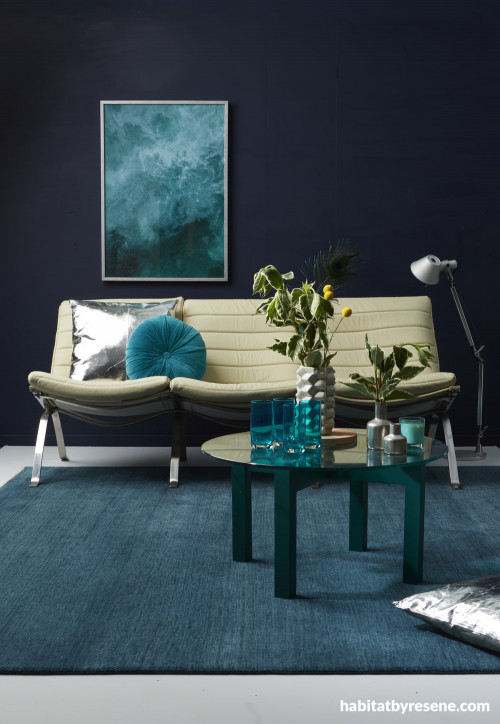 For this room, Kate first chose a photographic art print by Petra Leary titled 'Glacial'. From there, she chose to go for deep, dark walls in Resene Indian Ink and a contrasting floor in Resene Midwinter Mist, to brighten and balance the room and painted the base of the coffee table Resene Deep Teal to match the deepest tones of the artwork's frozen aqua. Then, she layered on teal accessories and painted the frame metallic silver using Resene So Cool to reflect the legs of the sofa. To bring a similar colour as the leather into your own space, try painting a major piece of furniture in Resene Yuma.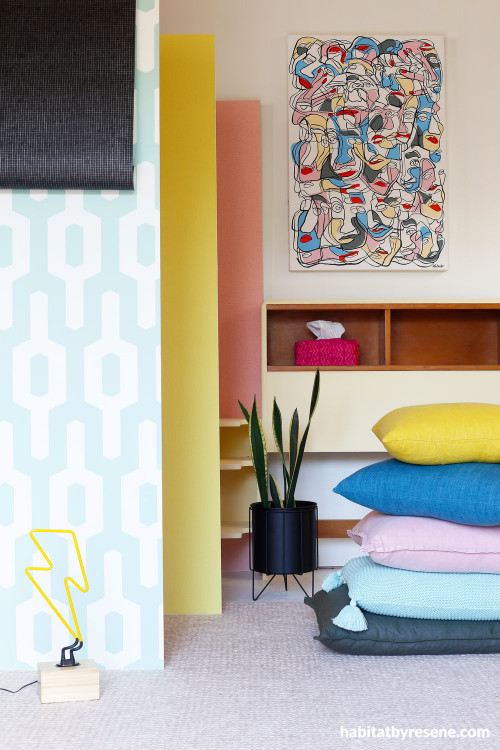 "This room is all about colour," says Kate. "It's a little bit retro and a lot of fun and was inspired by the colour and contours of an original painting titled 'Watching' by Holly Schroder. We put together a scheme of Resene paint colours that worked with the artwork, but weren't necessarily an 'exact' match. We chose to combine both paint and wallpaper – in patterns large and small – balanced with texture and flat colours, giving the room a kick of interest without too much complexity."
While the walls have been kept neutral in Resene Black White, Kate picked up the pink with a section of wall in Resene Gelato, pale yellow Resene Melting Moment on the built-in bookshelf, the red accessories in Resene Havoc and the black planter with Resene Noir. To echo the bright blues of the painting, she recommends mixing in some Resene Tomorrow or hanging a boldly patterned wallpaper like Design 34124-3 from the Resene Wallpaper Collection, like on the wall at the left.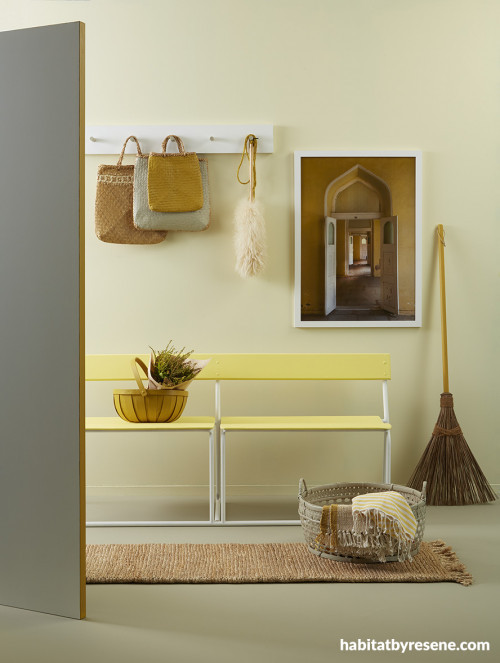 Kate brought the organic colours of this photographic art print of an arched doorway – which she snapped herself in India – into this entryway through the natural textures of the woven accessories. The soft, buttery walls in Resene Moonlight and earthy floor in Resene Grey Olive provide a warm neutral backdrop for the baskets in Resene Influential, Resene Hive and Resene Quarter Tea. The seats of the bench make a statement in cheerful Resene Chorus Line while the legs, hooks and door look fresh in Resene Quarter Pearl Lusta.

For more design ideas from Kate, check out her blog Places and Graces.
styling Kate Alexander
images Bryce Carleton, Kate Alexander