►
◄
latest
habitat tv
blog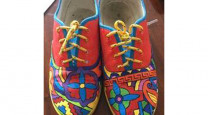 Winning ways with wallpaper
05 Jul 2012
Do you have a home full of wonderful Resene paint and colour? Send us some snaps by emailing [email protected].
Adding drama to a bedroom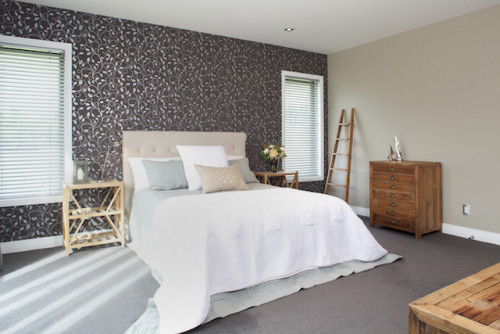 If you thought plants were confined to the garden, or that you had to water them to keep them looking good, think again. They've romped inside in the form of whimsical over-sized botanical prints in the some of the latest wallpapers to be released, along with hyper-real effects, graphic prints and classics like stripes and damasks.
Designers and homeowners are making good use of all types of wallpapers, mainly as feature walls complemented by Resene paints – up stairwells or behind headboards are popular choices - but also has whole room solutions. This Organza 45722 paper is an exuberant swirl of classic floral silhouettes, teamed with walls in Resene Tea.
Of course, Resene ColorShops aren't just about paint. As well as it's own exclusive wallpaper collections, Resene stocks a huge range made and imported by Vision Wallcoverings.
Wallpapers have even made it to more unexpected rooms of the house - the littlest room has become a receiver of some decadent wallpapers in a few projects we've seen lately!
Here's the latest in international wallpaper trends. You can also click on each photograph in the website gallery for the ranges that reflect what's hot in wallpaper.
Stone, brick and wood: Before you cringe at the thought of replicating natural elements in wallpaper, you've got to see it. The manufacturing techniques that produce these designs lift them above kitsch and into a realism that looks almost 3D.
Stripes: Always a favourite, stripes are strong and range in scale from narrow pin stripes and chalk stripe effects to bold large scale multi colour pyjama stripes.
Classical: The classic damask is alive and well, in fact it never seems to go out of date.
Glitter and gloss: This is a trend that appeared a couple of years ago and now appears to be growing in popularity. Sparkly and glossy effects add dimension to the wallpaper for more visual excitement.
Florals: Simple floral designs, emphasising more of a silhouette image, is combined with flowing lines and stems.
Looking ahead: Look out later this year for toile du jouy designs featuring olde-world rural scenes and floral patterns trending towards more detailed, almost photographic imagery. These patterns traditionally use just one colour on a white background. Also look out for linear geometrics with a spirographic quality.
pictures
Photograph from Yellowfox.
Replicating stone, brick and wood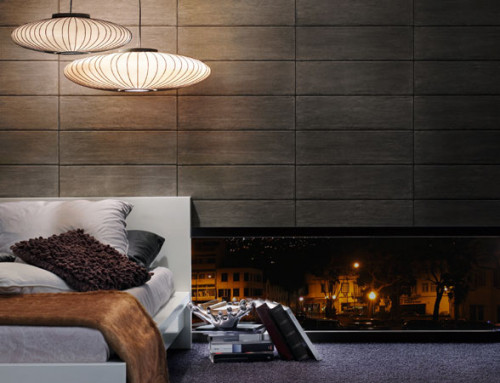 Hyper-realism as featured in the Murano collection. You have to touch it to believe it's not actually stone tile.
pictures
Photograph from VIsion Wallcoverings.
Stripes, a perennial favourite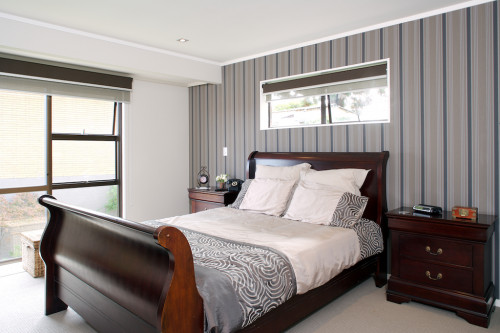 Always a favourite, this pyjama-style stripe is perfect for a bedroom, designed by Yellowfox, using Carnaby C942612 complemented with walls in Resene Quarter Bison Hide and the trims, doors and ceilings in Resene Eighth Thorndon Cream.
pictures
Photograph from Yellowfox.
Classical damask style keeping on going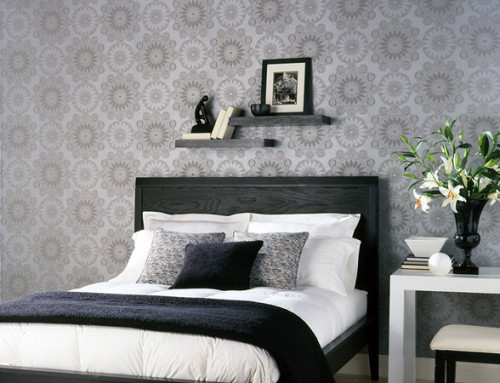 The classic damask is alive and well, in restrained colour palettes or those with a bit more zing. Here, Tuxedo TU27121 gives an almost retro lace doily look to the classic damask repeating pattern.
pictures
Photograph from Vision Wallcoverings
Glitter and gloss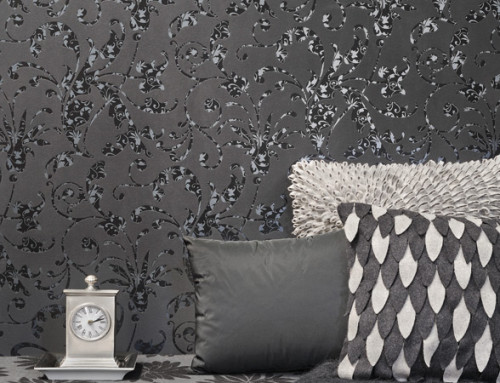 If you want just a touch of glamour and gloss, thispaper from the Bloomsbury (no 25011) collection is a good option.
Stylised florals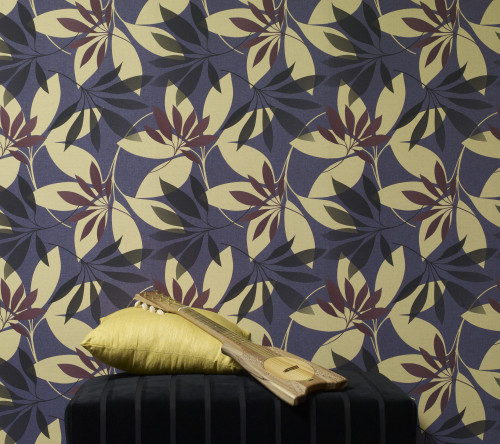 Simple silhouette floral designs with flowing lines and stems. Everglade from Resene's Walltrends II collection is a great example.
pictures
Photograph from Resene.
Glaming up the littlest room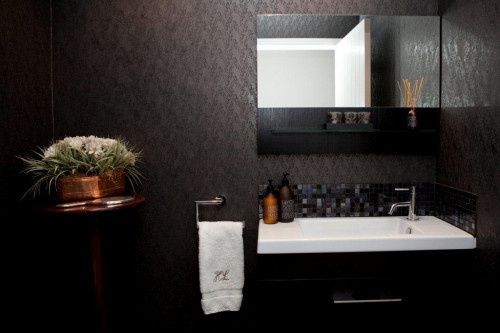 Even the littlest room gets the glam treatment. Auckland designer Jackie Jones has been making good use of wallpaper in recent projects including this sophisticated use of charcoal tones in a guest bathroom. The paper is Organza 45260.
pictures
Photograph from Jackie Jones Interior Design.
Graphic good looks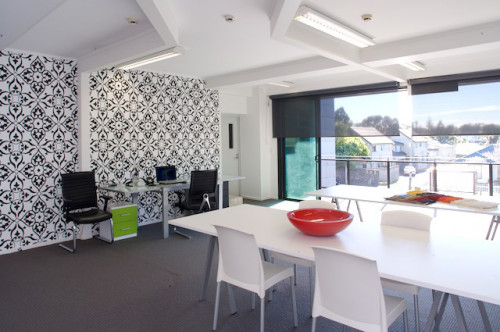 Black and white is always striking with Glamour G943066. The walls are Resene Eighth Thorndon Cream in a scheme by Yellowfox.
pictures
Photograph from Yellowfox.
Feature wall fun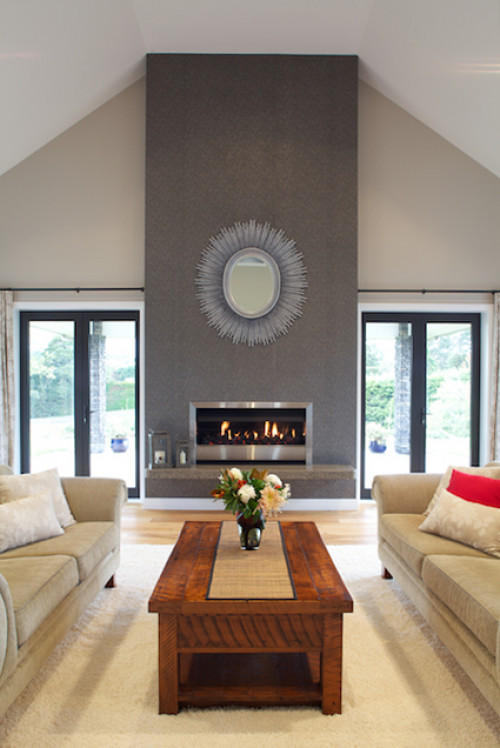 Wallpapers look fantastic on feature walls but also to highlight features within a room, like this soaring chimney breast. Covered in Neo N943808, the walls are Resene Tea and the trims and ceiling are Resene Alabaster. The design is by Yellowfox.
pictures
Photograph from Yellowfox.
Fauna not just flora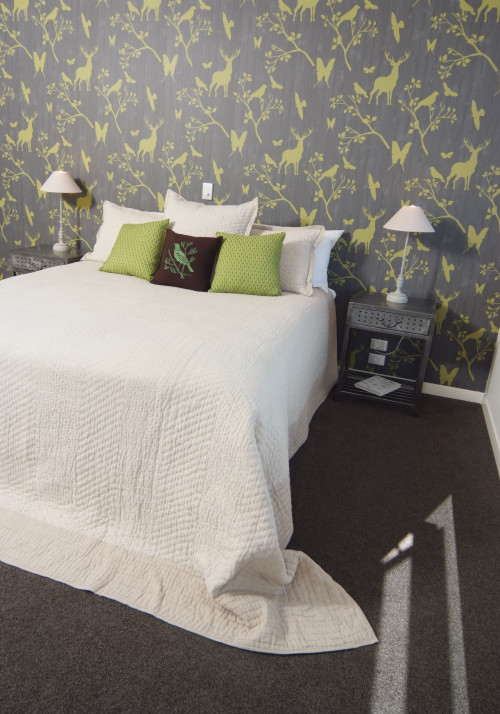 Have a bit of fun with this Neo wallpaper used by Jenny Harris at Yellowfox, in a house entered in the Resene Total Colour Awards. Perfect for a lodge-style home in the Kaimanawas.
pictures
Photograph from Yellowfox.
Resene Quarter Bison Hide
Resene Eighth Thorndon Cream
the look
If you're stuck on what
colour to use or need colour
advice, try out the Resene
Ask a Colour Expert service.